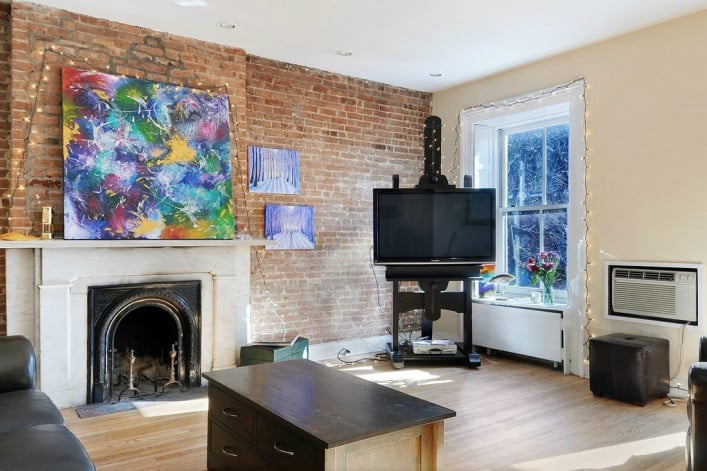 After a winter like we've had, any sane person would want to spend as much time as possible in the spring air. If you're shopping in brownstone Brooklyn, guest broker Andrew Westphal of Ideal Properties Group outlines your al fresco options in this week's Buy Curious.
THE WISH LIST:
I'm counting down the minutes to warm weather, and would love to buy a brownstone apartment in Brooklyn with outdoor space. What kind of space can I get, and what kind of premium should I expect to pay?
THE REALITY:
Outdoor space is one of the rarest and most coveted of amenities in NYC. Brooklyn can offer a bit of an advantage over Manhattan since much of the housing inventory consists of small three- to four-family townhouses, and some have yards. But that still doesn't make purchasing an apartment with a slice of skyline easy… or cheap.  
How much more you'll pay
Doing an apples-to-apples comparison on units with and without outdoor space in townhouses is extremely difficult, but the best example I can find is in a newly converted condo project at 371 Sixth Ave. in Park Slope. One unit whose owners get private use of the roof recently sold for just under $1.35 million. Another unit that seems to be virtually identical except for the roof access went for $1.23 million, or $120,000 less.
That would mean that the roof deck added about 11% to the price of this specific apartment--but it's probably a good indicator of the premium overall.
Four outdoor options
If you want access to private outdoor space in a brownstone, your choices will mostly be limited to a garden, balcony, terrace or roof deck--each of which have pros and cons.
Gardens
In brownstone Brooklyn, the gardens are a big draw for ground-floor apartment dwellers. In Prospect Heights, for example, gardens can be 70 feet long and over 20 feet wide. In a garden, you'll have the freedom to build a patio, install a koi pond or plant flowers and trees. Some buyers find the lack of stairs appealing, and converting the garden apartment for handicapped access is easier.
Often, however, these units are partly below the level of the sidewalk and can have a distinct subterranean feel. While the lack of light sometimes turns people off, just remember that only one floor gets that coveted garden access. This means that only between one-third and one-quarter of all brownstone apartments have gardens. And the fact that there's never really a plentiful supply means that those apartments that are lucky enough to have gardens will have higher property values than those without. 
Roofdecks
Sometimes owners on the top level of brownstones share the roof, dividing it into two areas. But when a single owner has full use of the roof, it can really be something special--a single vision, rather than a mishmash of different people's styles.  I've seen everything from fire pits to picnic areas with hammocks to greenhouses.
That said, residences with exclusive roof decks can be the most expensive units in the building because the square footage is almost doubled. You also have to walk up multiple flights to get to your home.
In addition, historic districts abound in brownstone Brooklyn—and whatever you put up on a roof in such an area cannot interrupt the historic look and feel of the street. Brooklyn Heights has a large swathe of blocks that are required to maintain their Victorian or turn-of-the-century aesthetic. Other areas with substantial landmarked districts are Cobble Hill, Fort Greene, Prospect Heights, Clinton Hill, Park Slope and Bed-Stuy.
In these districts, roof decks are generally allowed by the Department of Buildings, but approval from the Landmarks Preservation Commission must be sought for substantial work that can be seen from the street, such as a greenhouse. Find out what you have the right to build up there before you buy. 
Terraces
Terraces are rare in brownstone Brooklyn, but when they are present, they're usually attached to parlor floors. It's fine to build on terraces in historic districts because they are not usually visible from the street.
Balconies
Balconies are even rarer than gardens in brownstone Brooklyn as the only ones available were built on custom houses and are typically quite old--so if you find a place with one, you should grab it quickly. You won't have as much space compared to some of the other options, but you also won't have to live underground or climb up four flights with your groceries.
Balconies are built onto the sides of buildings and are usually smaller than terraces—think Juliet gazing toward her Romeo. And as long as they're on the rear of a property, they won't violate any landmarks rules. 
Since you don't specify how many bedrooms you'll need or what your budget is, I've included listings that run the gamut price-wise and size-wise.
Want a studio with outdoor space?
Here's a 1-bedroom that might work:
Here are some 2-bedrooms you ought to consider:
Need a 3-bedroom?
Related posts:
Buying, renovating or refinancing next year? 5 mortgage trends to watch in 2014 [sponsored]
What 8 first-time buyers wish they had known
Here are the 7 most likely reasons you'll get turned by a co-op board
7 questions to ask about the building before you buy an apartment there [sponsored]
Everything you ever wanted to know about sponsor apartments but were afraid to ask
How to buy an apartment that's not for sale using PropertyShark.com [sponsored]
6 hurdles that can stand between you and a mortgage -- and what to do about them
7 things to consider before buying in a landmarked building
Top 12 questions New Yorkers ask their mortgage bankers [sponsored]
What I learned from 150 apartments before I finally bought one
Diary of a First-Time Buyer: 13 lessons learned after 60+ apartments, 2 attorneys, 3 brokers and 2 board applications
---
Buy Curious is a weekly column in which NYC real estate brokers help buyers develop a realistic search strategy. Want some advice on your search? Send us your wish list.  
Brick Underground articles occasionally include the expertise of, or information about, advertising partners when relevant to the story. We will never promote an advertiser's product without making the relationship clear to our readers.