Renovation
How to stay on top of your NYC co-op or condo renovation from a distance
Some NYers reduce renovation stress by timing the work to line up with a vacation (a 'renocation'!)
You'll need to use a tech-savvy contractor who has experience working with long-distance clients
It's a good idea to connect construction milestones to communication touchpoints in the contract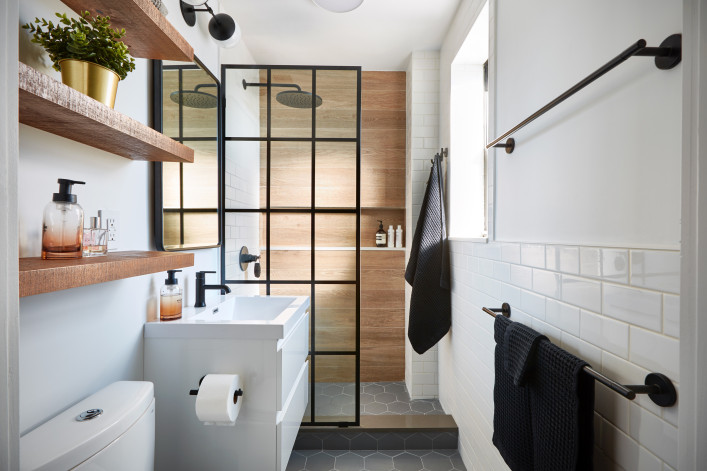 When renovating a co-op or condo apartment in New York City, moving out is often advised or even necessary. Construction work stirs up lots of dust and other harmful particles, and going without a kitchen or bathroom makes life super inconvenient. Projects tend to go faster when workers don't have to tiptoe around you or your stuff, too.
On the flip side, finding another place to live in the city, such as a short-term rental or furnished apartment, can be difficult—and they tend to be pricey. 
Some owners take advantage of remote work and extended school breaks to put that money toward an extended vacation or renting a home-away-from-home with different scenery—say, a beach or mountain retreat. 
"This happens all the time," says David Ackerman, founder of Urban Standard, a Brooklyn-based general contractor company (and a Brick sponsor) with over a decade of experience renovating co-ops and condos across NYC. 
Nick Katz, head of project planning for Block Renovation, a digital platform that matches clients with vetted contractors and provides resources for their renovation, agrees. He says they've worked with homeowners who have relocated to another part of the country or even other countries.
"It's often aspirational because it's another big cost to consider, but if you are able to afford that luxury, it's a great way to knock out two big things at once—a vacation and a renovation," he says. And instead of the typical post-vacation stress of coming home to the same tired space, he adds, you have a much more pleasant experience.
If you are worried about keeping tabs on the project from far away, Katz says there are countless ways to stay connected, including frequent text messages or email updates, video chats, virtual meetings, and other modes of communication. Block and other renovation companies have developed proprietary portals and apps to enable this exact scenario—because as any contractor will tell you, renovating a vacated apartment is generally easier than when occupied. 
Here's what to expect when planning your own "renocation"—and how to stay in touch while out of town. 
Lessons from real-life examples
Two owners who worked with Block share their remote-reno experiences and lessons learned.
Vicki Shapiro, who owns a prewar one-bedroom, one-bath co-op at West 20th Street in Chelsea, decided to renovate the bathroom after living there for several years. ("It was like 16 different tile colors!") "I timed a trip to visit my family in Aspen with the start date, which was ideal because I was able to begin the process with them in person and pick the contractor, and then I let them take over from there," she says, adding, "I couldn't have been happier."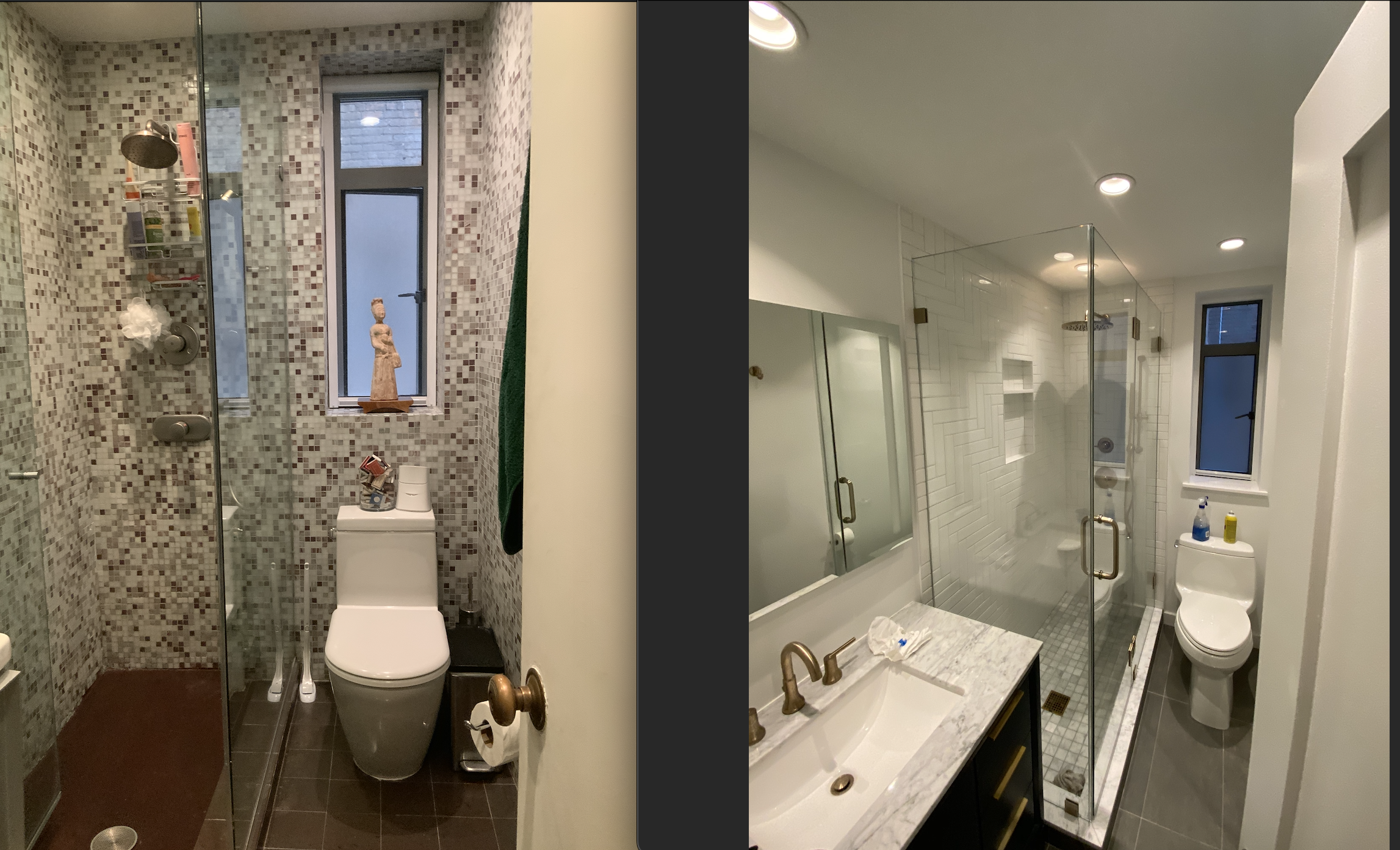 Jason Sylva and Susy Jackson also timed the renovation of their primary bathroom during a planned summer getaway to Cape Cod (where Jackson grew up) after discovering a leak from upstairs.
"They had to rip open the ceiling to make the repairs, and having a hole in the bathroom was untenable. We thought that if we have to vacate the apartment, why don't we go ahead and renovate the bathroom like we've always wanted," Sylva recounts, "We came home to a brand-new bathroom, so it was about the most stress-free version of a renovation I could imagine."
The bathroom renovation went so well, the couple did a repeat the next year so they could renovate their kitchen—renting the same cottage for a few weeks and then staying with Jackson's family for the duration, and putting the kids in camp on Cape Cod.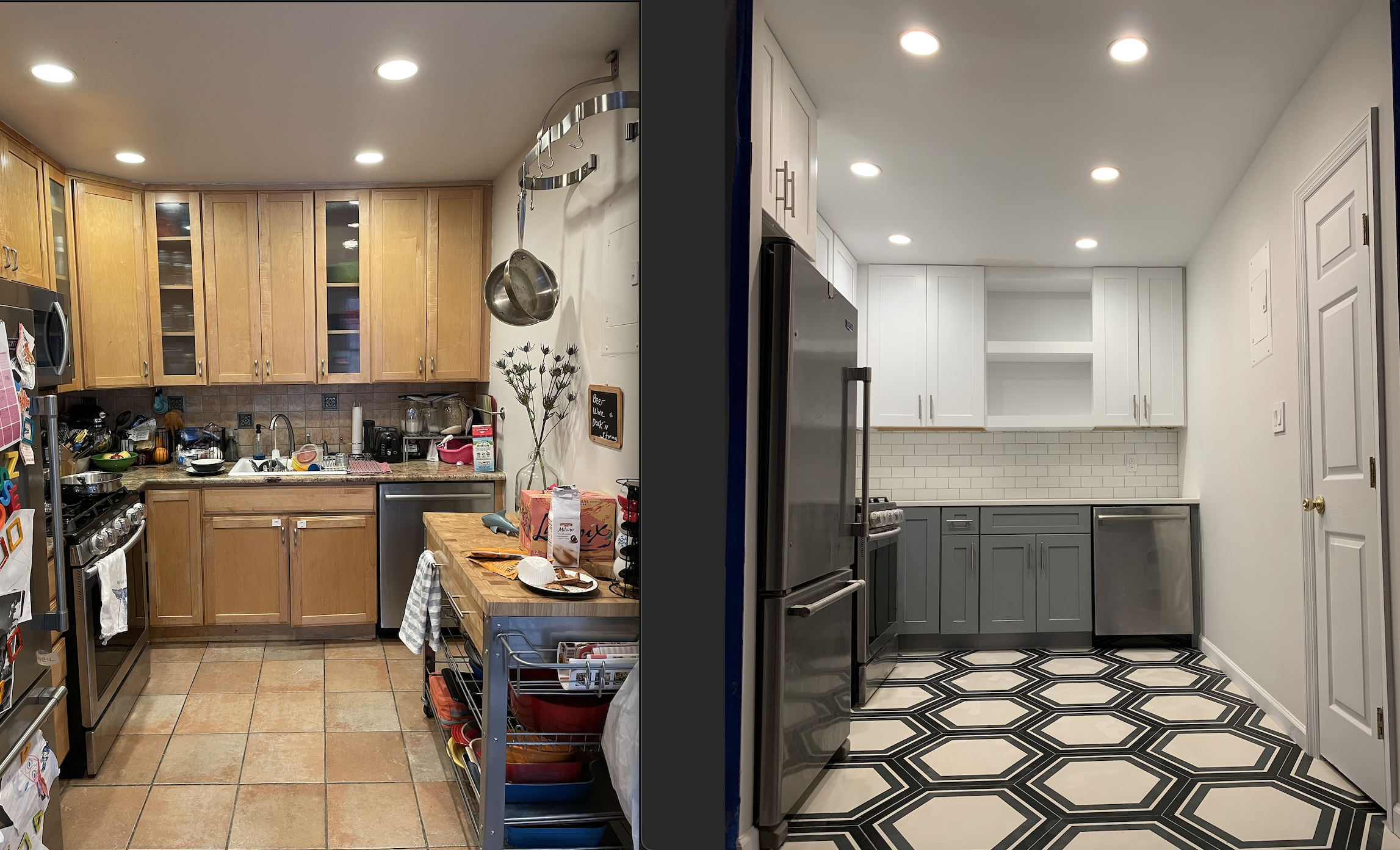 Plan—and design—ahead
Finding the right renovation team is always essential, especially if you are going to be hundreds of miles away while they are working in your home. Take time to do the usual due diligence in vetting candidates until you find someone you can trust.
When possible, conduct an in-person walk-through of the space to make sure you have a meeting of the minds. Both Shapiro and Sylva said they did this before leaving town, for extra peace of mind. 
Ackerman encourages choosing all your materials and making all other design decisions before the start date, as well as checking that those materials are able to be delivered on time, too—nothing like discovering midway through that the sink is on backorder or the custom countertop has a six-month lead time. The more pre-planning you do, the less likely the project will experience delays. 
This way, Ackerman says he can better time the start date of the construction phase as close as possible to your departure date. 
Sometimes life intervenes. Sylva says they were already cutting it close when they reached out to Block because they had already booked their vacation cottage before discovering the leak. "We needed the bathroom renovation to start by X date and be completed by Y date so our eldest child could start preK. We worked quickly with Block on the design, then left the keys in a lockbox, and they would send us photos periodically through the portal."
Figure out how you will stay connected
You'll also want to find a company that has experience working with long-distance clients—old-school pros may do great work, but you want someone who is tech-savvy. 
"There's a misconception that contractors are all pencil-and-paper people, but we find many are using the same tools that we as a tech company are using—they're creating Slack channels with their clients, or asking to get on a Zoom meeting," Katz says. "So you can still be part of the decision-making process and troubleshoot if a plan B, C, and D needs to be evaluated."  
Block, for example, has a platform that allows you and your matched contractor to manage the renovation from a single place—not just updates on the actual build but all types of communications.
Get everything in writing
Your renovation contract should include a timeline of milestones such as demolition, framing, plumbing and electrical, drywall, installation of cabinets and surfaces, painting, etc. 
Equally importantly, connect each milestone to a communication touchpoint, whether that's an email with photos or a virtual meeting.
"We have a weekly site meeting with the project manager via Zoom or Facetime to keep the owner informed of what has happened and what's coming next," Ackerman says. 
Payment expectations and due dates should similarly be assigned to specific needs and events, often the signing date, material delivery, and final sign-off. 
Shapiro says she passed on an option to pay upfront (for a discounted fee) "because you never know what can happen." Instead, she chose to pay upon completion blocks. "At each stage, they provided photos and status updates, so I had no issue paying," she says. "I'm such a detail person and I appreciated how thoughtful their emails were—things like 'this is what it will cost to do this,' or 'here's what this means or how long it will take.'" 
She credits the company with going the extra mile when, right after they demoed her bathroom, the upstairs apartment flooded for unrelated reasons. "It was the day I landed in Colorado and my phone lit up. The workers were so sweet —they went upstairs and took photos of all the flooding in that bathroom and documented where the flooding was and other details. I remember being so thankful that they gave me exactly what I needed to get reimbursed for the minor damage."  (It's worth noting that the neighbors totally lucked out that her bath was already stripped.)
Alert the neighbors
Letting your neighbors know you are renovating is common practice. (Check out Brick's guide to writing a courtesy letter.)
That's even more true when you will be leaving town and won't be able to swing by in case any problems crop up. 
"It was definitely a conversation we had," Sylva says, pointing out that his wife is on the board, and they are very friendly with their neighbors. "Our biggest concern was the perception of 'hey, we're leaving town and leaving behind loud construction.' We emailed the entire building [20 units] to let them know the details and provided them with our personal contact information since we don't have a full-time property manager." 
The feedback was positive: "Our neighbors said the workers were fastidious about cleaning up and it was only loud for the first couple of days of demolition," Sylva says. (And the upstairs neighbor who had the leak ended up hiring the same company for her own renovation.)
For her part, Shapiro says she "bought her neighbors little chocolates and left them at their door and they were like, 'you're the first person who has ever done that!' This actually worked out in my favor because when the upstairs bathroom flooded, my next-door neighbor called to let me know." 
Designate a proxy
Ackerman says many clients have their architect or designer do periodic site visits and report back to them. If you are renovating before moving in, your broker might be a willing candidate.
Otherwise, consider enlisting a trusted relative, friend, neighbor, or colleague to be your eyes and ears. 
"My sister lives in Brooklyn and happens to be an interior designer, so she was able to visit on a particularly important day and send me a video," Shapiro says. "It was nice to know someone was there if needed."
If no one fits the bill, consider working with a design-build firm, as they will assign a project manager to oversee the renovation, from start to finish. Block also serves as an intermediary between the client and contractor. 
"Having that third-party contact was essential," Sylva says. 
Devise a backup plan in case of delays
Construction delays happen. "A lot of what we do at Block is help people plan for the renovation in its entirety, including planning for the unexpected," Katz says. "Having a very proactive communication plan between the homeowner and the contractor is of the utmost importance. We keep track of key milestones throughout the project so we can anticipate delays." 
In his experience, the bulk of unexpected issues arise during the demo phase, which is early enough to diagnose any problems and make a plan of action to address those. "For example, let's say you wanted to convert a tub to a shower, but a drain issue requires you to raise the drain or some other work to allow that to happen. Then you can have that discussion with the contractor and project manager to decide whether it's worth the additional time and expense or not."
Shapiro says they were able to stick to the projected timeline. "We started in October and ended in January. I was very understanding if they needed more time since it spilled over the holidays." (She even had them replace all the doors in the apartment as a "while they were there" addition.) She did hedge her bets, though, by holding off on buying her return airline ticket until she was confident of the end date. (Or you can pay extra for a ticket that doesn't have change fees.)
Sylva says the bathroom was finished in less than a month, well before they needed to be back for school. The kitchen was also able to be completed in about seven weeks. 
"We saw periodic pictures, and I visited mid-construction in August and was overwhelmed by the amount of work that needed to be done," he says. "Everything on our main floor was pushed into a corner and covered in plastic. It was on schedule, but I was hoping it would be done early."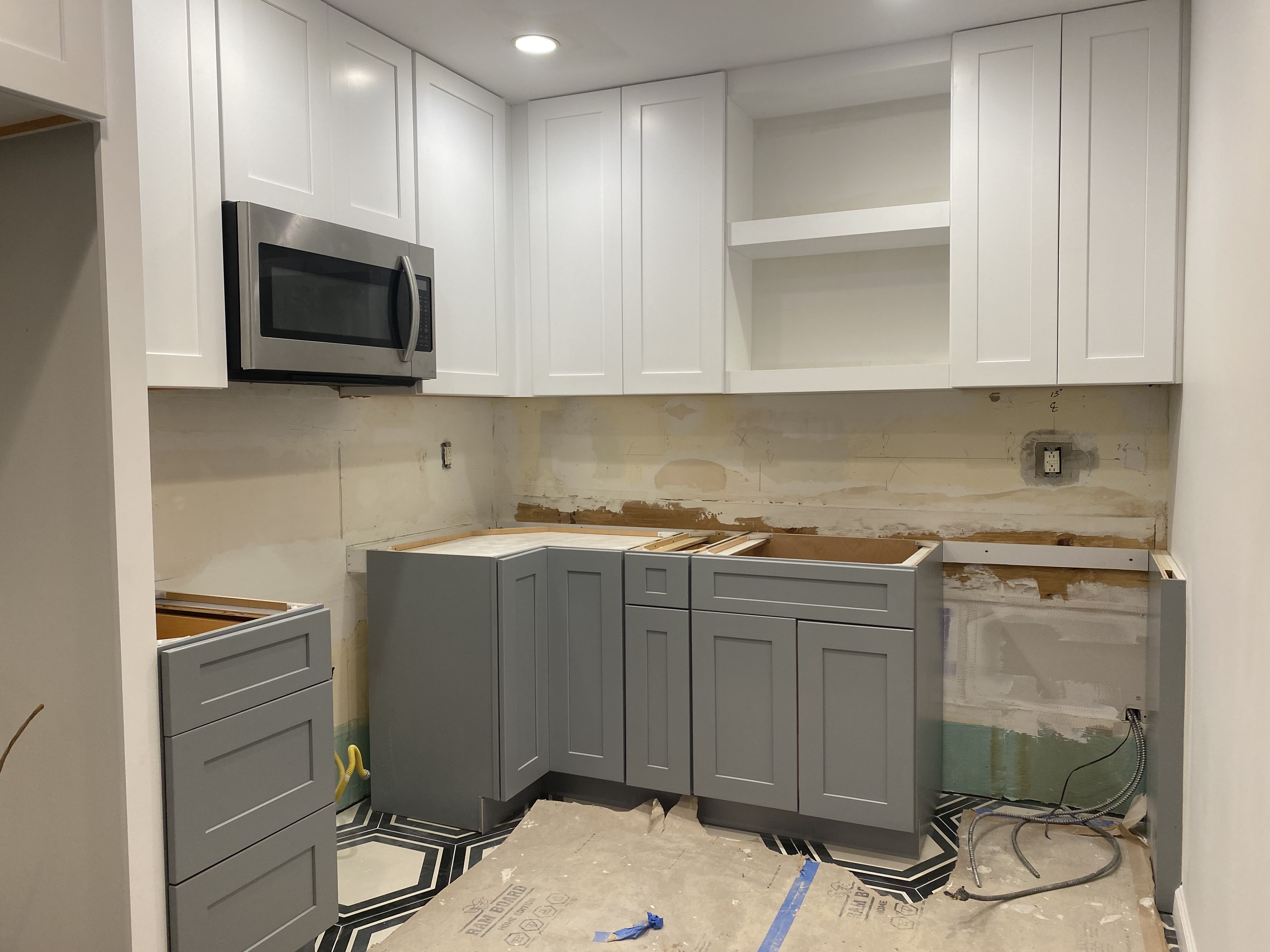 Unlike with the bathroom, Sylva says they were prepared to move back in even if the kitchen wasn't ready and then find other places to work—like a coffee shop or co-working space— during the day while the kids were at school or daycare. Fortunately, that didn't happen, though the "reveal" moment did have to wait because they arrived home around 1:30 a.m. after an eight-hour drive, followed by 12 trips to unpack the car. 
"I remember looking at the kitchen and saying, 'Huh, there's the new kitchen' but it was pitch black and all the furniture was still stacked. Then I woke up to a sunny September morning and walked up to the main floor, and it was perfect. We are very happy with it," she says.
Would they do it a third time? "We tell everyone who asks, 'If you can ever go and stay with family for the summer or find an affordable place to stay, it is totally worth it," Sylva says. "Besides being able to avoid the stress of renovating, we made some life-long friends from these summer trips."
Brick Underground articles occasionally include the expertise of, or information about, advertising partners when relevant to the story. We will never promote an advertiser's product without making the relationship clear to our readers.