NYC Renovation Q's
At what point in the buying process should you hire a contractor to renovate your new co-op or condo?
Hiring a contractor as soon as you get approved by the board means the work can start sooner
You'll save money by not having to pay carrying costs for two apartments for months on end
Expect to pay a deposit when signing a renovation contract to lock and hold the dates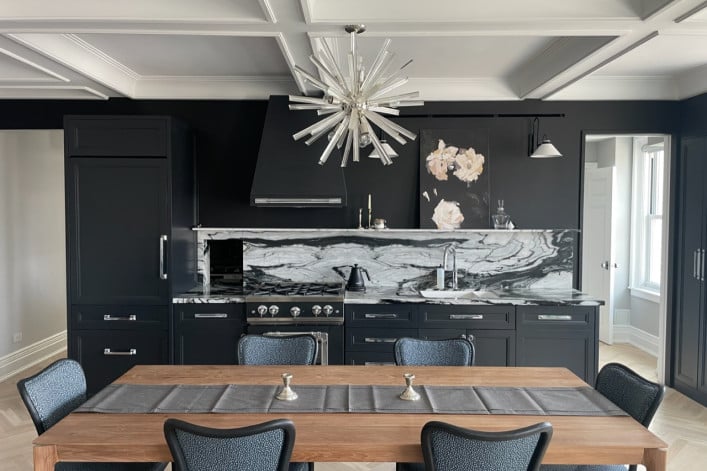 We're thinking of making an offer on a dated apartment that will need renovating before our family moves in. When in the buying process should we hire a contractor to do the work?
"If time is of the essence, which it usually is, I recommend engaging a contractor and design professional as soon as you have a closing date," says David Ackerman, founder of the general contracting company Urban Standard, which has renovated dozens of co-ops and condos across Manhattan and Brooklyn.
"What often happens is that people have high carrying costs for two apartments while waiting for the renovation, or there are drop-dead dates that people need to move in by," he says.
For example, you may have conditioned the sale of your existing apartment on only being allowed to stay for a certain period after closing. Or maybe you are starting a new job or having a baby and need to be settled by that time.
What are the benefits of hiring a contractor early on?
The short answer is: You'll potentially save time and money.
Ackerman paints the all-too-typical scenario in which an architect recommends Urban Standard for a project and provides the design plans, which Ackerman then uses to gather cost information and submit the proposal for construction to the client, who is soliciting other proposals simultaneously. 
"At the end of that cycle, the project often ends up being over budget," he says—and now the architect has to go back to re-value the engineers and other consultants, reduce the scope and price, and then resend the plans to contractors for new proposals. 
"All the while, you're paying for both apartments and the back-and-forth is eating into the time you have to do the renovation," Ackerman says. "The best way to avoid this is by assembling your team after you've been approved by the board, so the architect and contractor are working on the preliminary steps before you even close on the apartment."
They'll review your must-haves and like-to-haves with any leftover budget. They'll also use this time to look over your building's alteration agreement and gather the necessary paperwork in terms of insurance certificates and the like required by the board.
"Working this way, final plans are usually ready within as little as 30 days of closing instead of three or four months," he says. 
Having your contractor involved in the planning phase has other advantages. 
In Ackerman's experience, "When we start out with the whole team together, the plans are more likely to be at your budget and reflective of your goals. Plus, the project itself goes a lot faster and smoother because all parties were at the table together during the planning phase."
How to find a good contractor
Most of Ackerman's clients are referred by an architect or designer, though the reverse is also true—someone finds Urban Standard through a word-of-mouth recommendation from a friend, neighbor, broker, or other trusted resource, and then he refers the client to one of the design professionals he routinely collaborates with. 
Pro Tip:
Whether you're breathing new life into a classic Brooklyn brownstone or transforming a high-rise Manhattan apartment, you deserve an exceptional experience—no shortcuts, no compromises. "At Urban Standard, we've been redefining New York City renovation for over a decade," says founder David Ackerman. "For us, it's not just about delivering a flawless final product—it's about forging friendships and laying the groundwork for a partnership that lasts a lifetime. We take pride in ensuring that when the project is complete, our clients are also our friends.'"
[See what our clients are saying >>]
However you locate a contractor, always do your due diligence in vetting them. 
"Specifically, you want to know the contractor is safe and reliable, the quality of work is suitable for the project you are doing, and the price is likely to be within your budget," Ackerman says. "You don't need to wait until the closing to figure these things out." 
Ask prospective contractors about past projects that were similar in size and scope to yours, which will give you a sense of what the build cost will be—and then get references from those clients. 
"Let's say you are renovating a two-bedroom apartment in a prewar building, and you speak to a previous client who did something similar for $350,000," Ackerman says. "That gives you an apples-to-apples comparison where the price would be close to the same—or there should be logical reasons why it was more or less than that amount because of the scope or extenuating circumstances."
For example, you might be upgrading the HVAC system or adding custom millwork throughout the space, which would justifiably drive costs up.  
Ackerman also encourages asking for references from other renovation pros the contractor has worked with. "In my opinion, trade references are even better than client references because an architect or interior designer is qualified to analyze the contractor's work and has likely collaborated with them on more than one project. They are also tying their professional reputation to the contractor and will not endorse someone that might not be up to par." 
What your upfront costs will be
Expect to pay a deposit to lock a contractor in and hold the dates. 
Ackerman says Urban Standard collects a deposit of 25 percent of the target budget, with 10 percent due at contract, and 15 percent before the start date. "Then, once the construction cost is finalized, we reconcile any difference on the second part of the deposit." 
For example, if your target budget is $400,000, you would pay $40,000 as a retainer when you sign a renovation contract, and another $60,000 before construction can begin.
If that sounds like a lot, just consider how much you can potentially save by beginning the renovation as soon as possible after closing. "You can avoid having to pay a carrying cost of $5,000 to $10,000 a month for all those additional months—that alone is a tremendous savings," Ackerman says.  
Another payoff is that the contractor will be contributing expertise to the planning phase—thereby minimizing the risk that the project will be over budget or drag on before the start date (as described above). 
The ultimate advantage? "No one wants to lose money that could have been captured and used toward the renovation itself."
In their decade of experience in residential and commercial construction in New York City, the team at Brooklyn-based Urban Standard, led by founder David Ackerman, has remained proactive in problem solving to provide a high-quality client experience. If you are ready to get started on your next renovation project, send us an email or call us at 718-669-0526 to discuss your goals. 
Brick Underground articles occasionally include the expertise of, or information about, advertising partners when relevant to the story. We will never promote an advertiser's product without making the relationship clear to our readers.