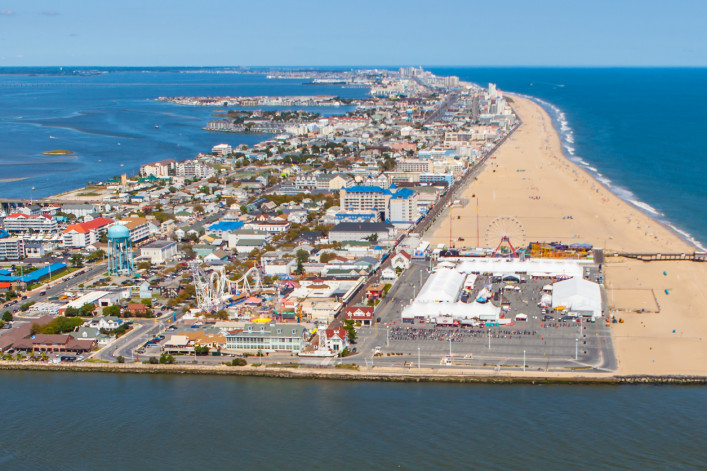 Though it's most popular as a beach destination for residents of nearer Washington, D.C., Baltimore and Philadelphia, Ocean City, Maryland also serves as an off-the-beaten-path vacation destination for the New Yorkers. Those fortunate enough to be in the know count the area's nightlife, food, waterfront activities and, of course, the beach among its many charms.
Situated roughly four hours south of New York, Ocean City sits on the southernmost edge of Fenwick Island, a barrier spit that extends roughly 10 miles from the Delaware state line in the north to the inlet in the south. Named for Englishman Thomas Fenwick, who once owned the land the city was built on and much of the surrounding area, Ocean City began playing host to beachgoers in the late 1800s. Known as "The Ladies' Resort to the Ocean" for its legacy of women entrepreneurs, the spot grew popular with the families of prominent businessmen from nearby Baltimore, Philadelphia and Wilmington, according to the city chamber of commerce.
The first recorded of Ocean City's many women entrepreneurs is Zipporah "Zippy" Lewis, who after being widowed in 1845 began combing the beach for treasures washed ashore, according to the Delmarva Almanac. Over time, she amassed a fortune that enabled her to purchase two island lots and build a house that she left to her daughters. Following the Civil War, women hotel owners grew more prominent, playing host to war veterans looking to relax and a growing moneyed class that feasted on caviar from the sturgeon in the waters off the Delmarva Peninsula (occupied by most of Delaware, the eastern shore of Maryland and the easternmost shore of the Virginia coast). Following the Second World War, Ocean City rapidly expanded with the completion of the Chesapeake Bay Bridge in 1952 and the Chesapeake Bay Bridge-Tunnel in 1964. Thanks to this new connectivity, which cuts 95 miles from the journey between Virginia Beach and points north of Wilmington, Delaware, Ocean City became one of the largest vacation areas on the east coast. 
Today, the town supports a year-round population of just over 7,000, according to the most recent census, and welcomes around eight million visitors annually, according to the city's official website. The high season is May to September – "super peak" is July through August – and winter tourism has grown as well, thanks to golf and convention center traffic, according to the chamber of commerce. Still, many bars and restaurants scale back after Thanksgiving, opening only Thursday through Sunday, and slowly kick back into gear after Presidents' Day weekend in late February.
What to do
Ocean City's nightclub scene is a regular fixture on national rankings, consistently landing on lists just below heavy-hitters like New York, Miami Beach and Los Angeles. Seacrets, a Jamaica-themed bar directly on the bay at 49th Street, is considered ground zero for the city's nightlife (and reportedly fabulous jerk chicken) – you'll find it atop many a bachelor party destination ranking.  
The area just north of the Boardwalk/inlet is a bit quieter than Downtown, and known for its bayside dining and nightlife. Things spread out as you head north of where 528 meets the Ocean City Expressway (which goes west to the Isle of Wight). The area is home to movie theaters and green space like Northside Park, a 58-acre complex on the bay side with baseball fields, a fishing lagoon and footbridge, two playgrounds, a picnic area and jogging paths.
Ocean City is also famed for its food, which ranges from classic boardwalk fare like pit beef (Maryland's answer to barbecue, a large hunk of beef rubbed with a savory spice and herb mix, cooked dark and crispy on the outside but rare on the inside, sliced thin and served on a roll or rye bread) and overstuffed sandwiches, Thrasher's French Fries and taffy to Chesapeake Bay crab cakes.
"We loved catching our own crabs and steaming them, or eating at Phillip's, where the lines were usually wrapped around the block," said Donna Smith, an Asheville, NC native who has vacationed in Ocean City since 1964. "You also can't leave Ocean City without sampling a funnel cake, salt water taffy and the famous Thrasher's fries."
West Ocean City, which is actually located on the mainland, is a peninsula that juts into the Isle of Wight Bay, with the Fenwick Island barrier spit to the east. This popular jumping off point for fishing charters and outlet shopping is accessible via the U.S. 50 Bridge. And of course, a perennial must-see is the wild ponies on Assateague Island, a protected barrier island off the coast of Maryland and Virginia. The island's famous ponies roam the beach, the north entrance to which is just eight miles south of Ocean City via Route 611. 
The lay of the land
Ocean City is made up of seven main areas: Ocean Front or Ocean Block, east of the Costal Highway, and Caine Woods, Montego Bay, Caine Keys, Little Salisbury, Saint Louis Avenue and Downtown, west of the highway.
Caine Woods occupies the expansive north region of town, extending from 136th Street to the Maryland/Delaware line. A green enclave of single-family homes, townhouses and condominiums, many of the properties here are located on canals, of which there are many on the bay side of the island, offering boat dockage, according to the Caine Woods Community Association website. South of Caine Woods is Montego Bay, which started out as a modular home and trailer community, but in recent years has been converted into "stick builts", wooden homes that are built entirely on-site, and other permanent housing, according to Jay Wise, manager of Berkshire Hathaway Homeservices/Pen Fed Realty in Ocean City.  
South of that is Caine Keys, which like its namesake neighbor to the north is named for the Caine family, which filled in bits of bay area wetland and developed it in the 1970s and 80s. A livelier version of its northern counterpart, the neighborhood is a hub of activity such as shopping, restaurants, boating and mini-golf.
Below Caine Keys is Little Salisbury, so named because many of the residents here are second-home owners who live in nearby Salisbury, Maryland, a university and agriculture town home to Salisbury University and Perdue Farms. From there, Saint Louis Drive extends south from 32nd Street to Penguin Drive, reaching the oldest part of Ocean City at the island's southernmost tip. This area is referred to as Downtown, and is home to the famous Boardwalk: the beating heart of Ocean City.
The classic three-mile Boardwalk dates back to 1902, when the movable walkway was removed at high tide and stored on hotel porches. It became a more permanent fixture in 1910, at which point it stretched only five blocks. A decade later, the Boardwalk was extended north to 15th Street, and after its destruction in the great storm of 1962 was refashioned to its current length, running from the inlet through 27th Street, just before the Dunes Manor Hotel. In 2012, it underwent a full restoration.
Philadelphia Avenue, also known as the Coastal Highway, is another major divide. West of the highway is all considered bay side, which consists of the neighborhoods outlined above. Housing stock throughout is a mix of single-family homes and condominiums. On the ocean side, east of the highway, housing stock is mostly condos, according to Wise.
Locations more to the north tend to attract families with young kids, or vacationers who seek out a quieter beach experience. Families with small children also often seek out properties east of the Coastal Highway, according to Wise, so that they don't have to worry about their children crossing the busy road to get to the beach. The "partying crowd" varies according to the demographic, but for the most part tends to seek out a central location downtown, around 33rd or around 50th streets, where Seacrets and Mackey's, another popular nightlife spot, are located.
The hot ticket
As with any coastal destination, oceanfront is king. "Regardless of price, it's what everybody wants most," said Wise. And because they have the highest demand, they also command the highest prices.
Most of this housing stock is condominiums, and there are also several high-end, single-family properties. This popular sector of the market is also the most resilient: while the Ocean City took a hit overall during the market downturn, oceanfront homes were less affected than their counterparts in the interior.
Of the neighborhoods away from the beach, quieter enclaves with more single-family inventory like Caine Woods, Caine Keys and Little Salisbury are also in high demand, according to Wise, due to both the relative scarcity of single-family homes overall and these areas' comparatively low-key ambience. Third in terms of popularity are bay front properties – "bayside interior," in local broker parlance – that may or may not have a water view. But even if they don't, you're never far from the water.
"Ocean City is 10 miles long and at most 3.25 miles across at the widest point – think of it as a very narrow version of Miami Beach," Wise advised.
The bay is a hub activity, with access to water sports like parasailing, jet skiing, water skiing and fishing. Most of the area is swimmable as well, as with the exception of the main channel, most of the bay is shallow (less than 5 feet deep).
In terms of housing type, condominiums are far and away the most popular – and most plentiful in the city as a whole. At the end of May, Ocean City had 812 active units for sale, and of those only 114 were single-family, non-condominium offerings, according to the Coastal Association of Realtors' (CAR) Ocean City Residential Market Report for last month.
The average price for condominiums is roughly $300,000 for the "middle of the road," according to Wise and data from the CAR report, which typically means a two-to-three-bedroom unit. Comparable single-family homes trend slightly higher at around $375,000. Rentals in this size range on the oceanfront can fetch as much as $3,500 per week in the peak summer season (again, roughly May through September). At the low end, rentals can dip to below $1,000 for a one bedroom or "efficiency" (studio), according to cbvacations.com.
Getting there
If you're looking to vacation here, a number of brokerages cater specifically to rentals. Sites like VRBO and Airbnb also have a heavy presence in Ocean City, and there are over 100 hotels at a mix of price points and locations. The city is served by nearby Salisbury-Ocean City Wicomico Regional Airport (SBY), which is about 30 miles away. The closest major airports are Washington-Reagan National (DCA), Dulles International (IAD) and Baltimore Washington International (BWI), each about a three-hour drive. BayRunner operates a shuttle service from BWI to Ocean City, which takes about three-and-a-half hours and costs $214 round trip, at the time of reporting. Access via Amtrak or Greyhound bus is trickier, as there is no direct service from Penn Station or Port Authority to Ocean City. The former connects at BWI and transfers to Thruway bus, for a total travel time of over six hours, while the latter requires a stop in Wilmington, Delaware and change in Salisbury, Maryland, taking upward of nine hours in total. By car, the trip takes roughly four hours from New York, traffic gods permitting, via the New Jersey Turnpike.
Below, a few sample rental and sales listings, if your interest is piqued to start poking around: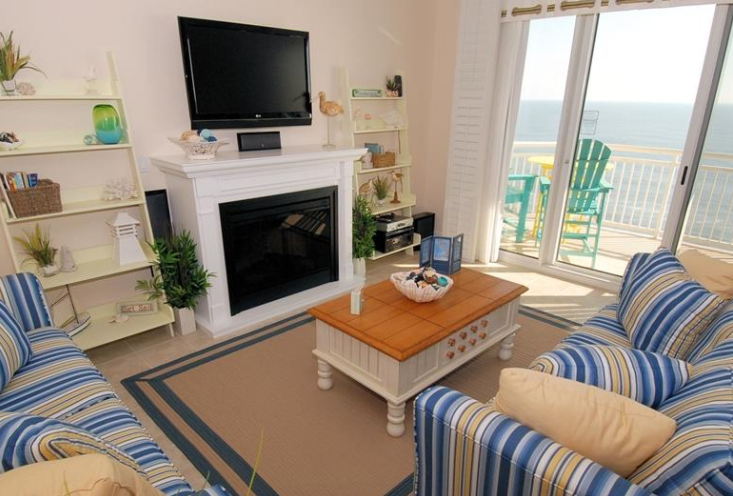 A three bedroom, three bath ocean front condo, renting for $5,895 per week at peak season (July 15-August 12). (via cbvacations.com)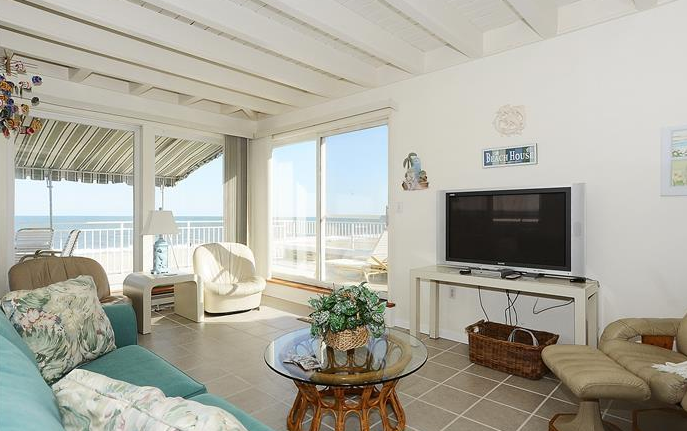 A two bedroom, two bath ocean front condo, renting for $3,750 per week at peak season (July 29-August 12). (via cbvacations.com)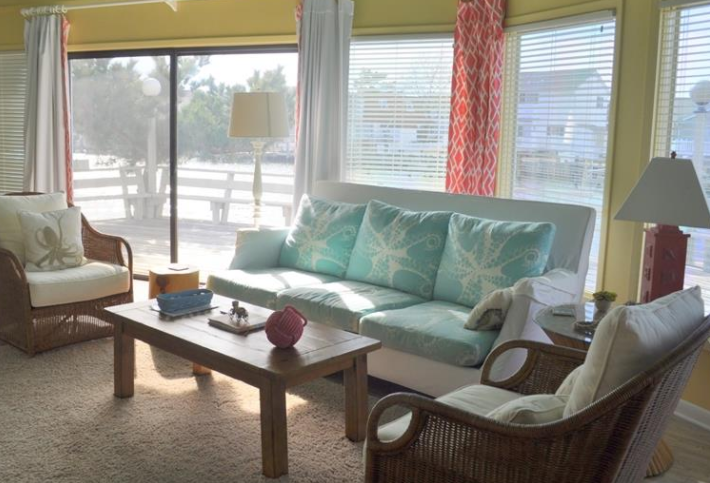 A four bedroom, two bath canal front house, renting for $2,195 per week at peak season (July 15-August 12). (via cbvacations.com)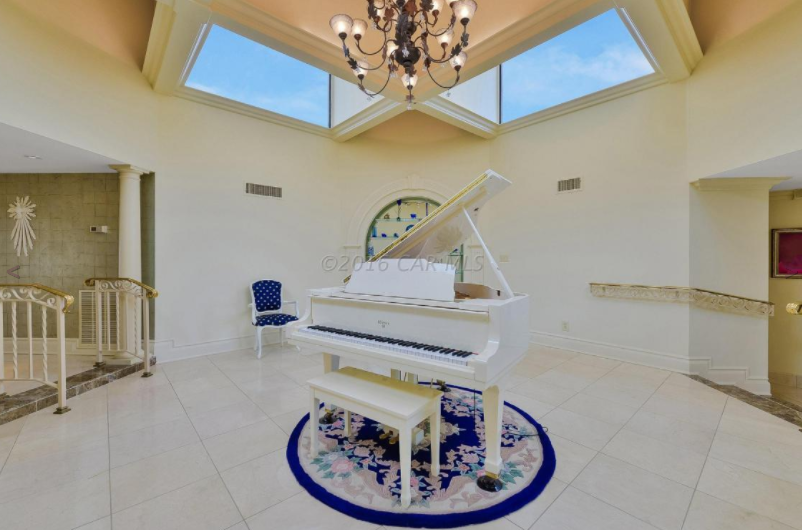 A 4,288-square-foot partially-furnished four-bedroom, four bath ocean front penthouse condominium priced at $1.98 million. (via Berkshire Hathaway HomeServices PenFed Realty)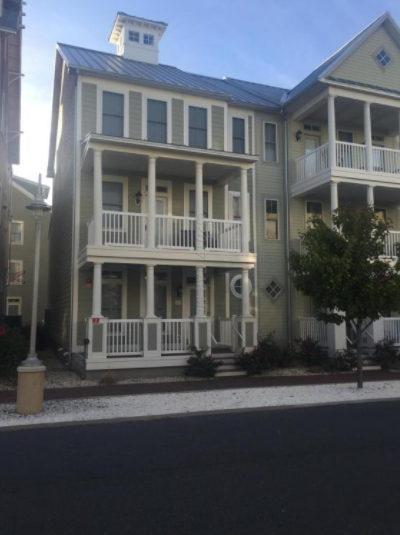 A 2,378-square-foot four bedroom, five bath townhouse on the bay side, priced at $624,900. (via Berkshire Hathaway HomeServices PenFed Realty)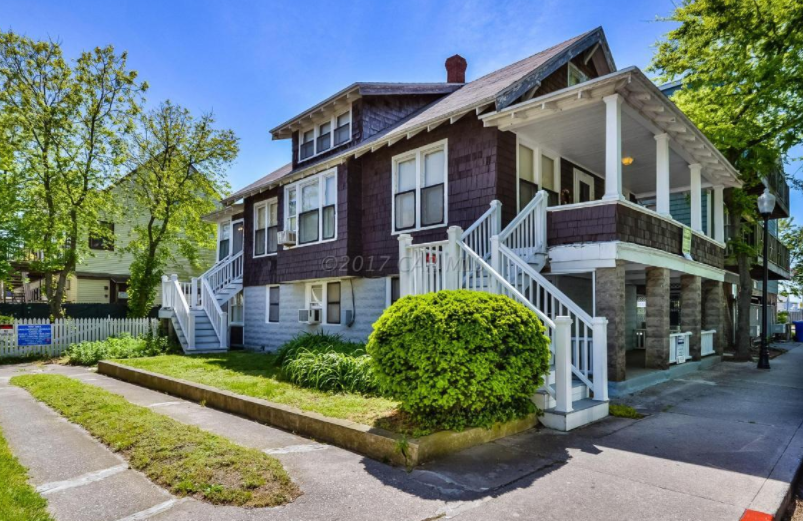 A 2,502-square-foot three bedroom, two bath house in Downtown Ocean City priced at $429,900. (via Berkshire Hathaway HomeServices PenFed Realty)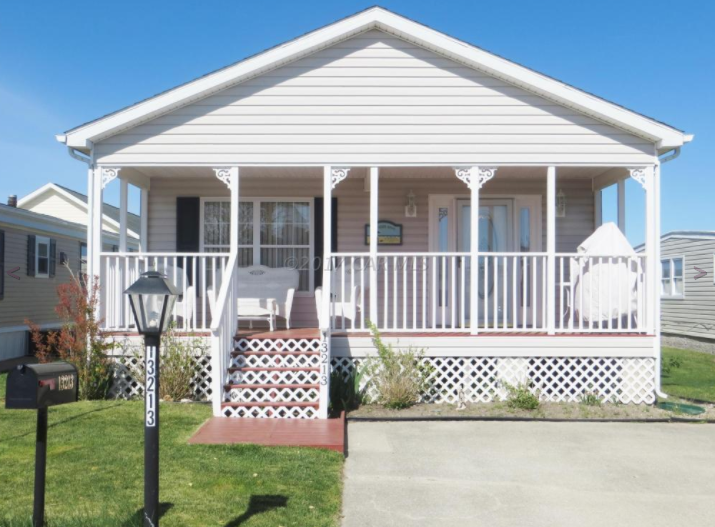 A 1,248-square-foot three bedroom, two bath house in Montego Bay, priced at $269,900. (via Berkshire Hathaway HomeServices PenFed Realty)
Brick Underground articles occasionally include the expertise of, or information about, advertising partners when relevant to the story. We will never promote an advertiser's product without making the relationship clear to our readers.