Bruce Springsteen may have made Asbury Park a household name, but its Jersey Shore neighbor just across a bridge—Ocean Grove—holds just as much allure for many beachcombers.
Situated just 60 miles from New York City, it's one of the most accessible shore towns for daytrippers to access, but has more than enough for visitors looking to stay awhile, especially those hoping to unplug from life's everyday stresses. "It's a serene and historic town, and people describe when they're coming through the gates [on the bridge] that they feel calm," says Rebecca Cavanaugh, executive director of the Ocean Grove Area Chamber of Commerce. Here, five facts about this seaside oasis:
1. It's royalty (sort of). 
According to the Chautauqua Trail, which charts the history of a religious, social, and cultural movement—known as Chautauqua—that firmly implanted its roots in Ocean Grove in the 19th century, the town is considered "the "Queen of Religious Resorts." Ocean Grove was, in fact, founded in 1869 as a Methodist camp meeting ground, and today holds the distinction of being the "longest-active" assembly site in the country. The Chautauqua camp meetings and the Methodist assemblies were both part of a religious camp movement that swept the country in the late 1800s after the Civil War, says Ted Bell, an Ocean Grove historian; campers retreated to the idyllic surroundings for the warm months for fellowship and renewal, and still do to this day.
2. It's a tent city (primarily in the summer).
Campers back then didn't live in houses and cottages. Instead, they camped out, literally, in tents. "The whole idea for Ocean Grove was that it was just going to be a summer retreat, that's why they were camping out," says Katie Schultheiss, museum administrator of the Historical Society of Ocean Grove. (The original tents were recycled from the Civil War, adds Cavanaugh.) But many of the visitors ended up staying put, and newcomers began to arrive from elsewhere, too, and as the town grew in the 1870s, cottages started being built, as well as single-families and duplexes. 
Though the Civil War-era tents no longer exist, there are 114 made of canvas that still stand today. They surround an architecturally impressive structure called the Great Auditorium, an ornate space with dormers and barrel-vaulted ceilings where large meetings are held; eight presidents have given speeches at the auditorium, says Cavanaugh, including Ulysses S. Grant, Teddy Roosevelt, and Richard Nixon. (It cost the Methodists about $70,000 to build the auditorium 1884, says Bell, and now holds 6700 people at one time.) Tents are comprised of two sections; one part is the platform and framing, where one hangs the tent; and the other is a cabin (or shed), a permanent fixture that stays year-round and houses the kitchen and bathroom. Campers usually start erecting the tented sections and move in on May 15, and take them down by September 15. For more on these tents and the tent community, check out the video below:
Here's another peek inside:
3. Victorian architecture reigns supreme here, too. 
Though it has the tents and the expected spate of beachside accommodations (including the Sea Spray Inn, a popular B&B), Ocean Grove is celebrated for its collection of homes from the Victorian era, reportedly one of the highest concentration in the nation—no small feat given that the town is just one square mile. Ocean Grove now sits on the state and national historic register as a late-Victorian community. There are about 1900 Victorian-style houses in Ocean Grove, says Bell, and they're not very large; about 90 percent of the lots are 30 feet by 60 feet, though some occupy two parcels. 
4. The Suffrage movement has its place in town history.
By the late 19th century, women—them were widowed by the Civil War—owned 69 percent of properties in Ocean Grove; Schultheiss says they ran boardinghouses to make money. "We also had a female doctor [at that time], which was very rare, who practiced alternative medicine at the turn of the century," adds Cavanaugh. So it's no surprise that the women's Suffrage movement found many supporters in Ocean Grove. (If you're in town and want a detailed accounting of Ocean Grove's feminist past, start with the Historical Society's popular Women's History walking tour.)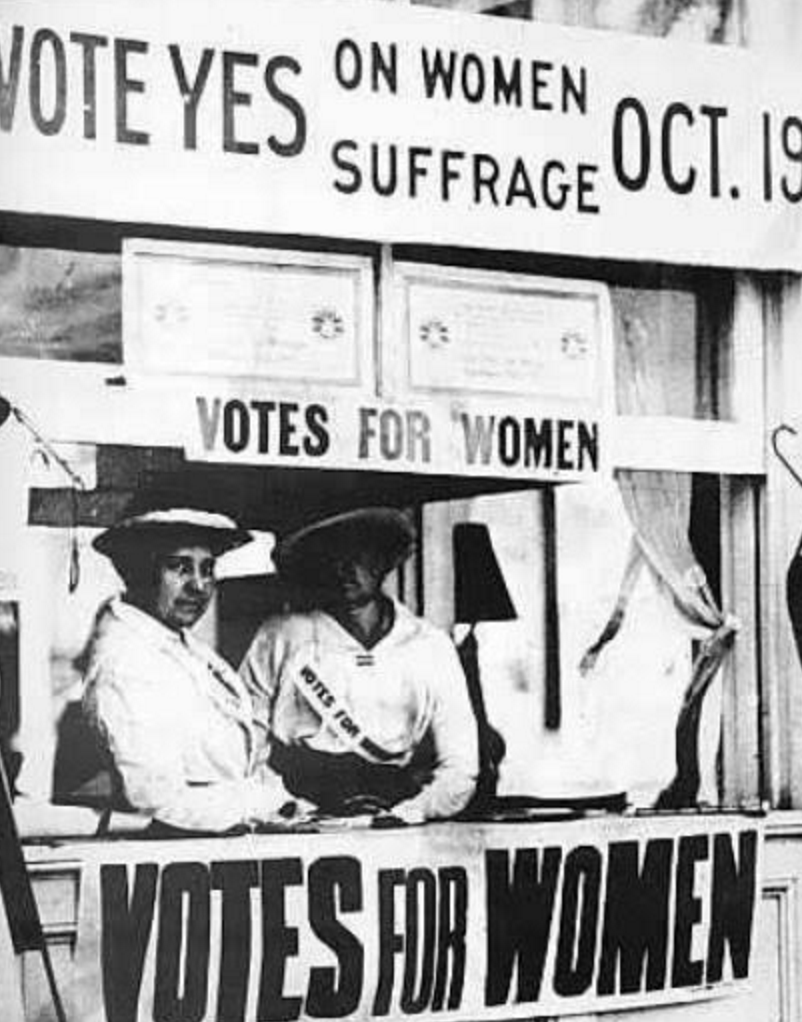 Ocean Grove suffragettes get out the vote. (Photo courtesy of the Historical Society of Ocean Grove, New Jersey.)
5. You can't buy liquor here—but it's still a fun place to visit. 
Given its religious roots, Ocean Grove played a big role in the temperance movement as well, says Schultheiss, and remains a "dry" town, meaning you won't find liquor stores in its retail mix. Nearby Asbury Park isn't dry, however, and some restaurants invite diners to BYOB. Then again, drinking establishments are hardly the attraction for vacationers: There's the gorgeous stretch of sandy beach, of course, that beckons to New Yorkers who want a simple and relaxing getaway, with a dose of history to boot. "People think about Ocean Grove as very old-fashioned and quaint, which is both true, but it's also very family friendly and very accessible," says Cavanaugh. "It's a great town for everyone." 
If you're looking to vacation here, there are over a dozen inns and bed and breakfasts in town, says Cavanaugh. A quick search of rentals here that can house at least four guests yielded 36 properties on Airbnb; you could try VRBO and HomeAway, too. And local brokerage firms such as Century 21 Coastal Realtors also have some getaway offerings.
Brick Underground articles occasionally include the expertise of, or information about, advertising partners when relevant to the story. We will never promote an advertiser's product without making the relationship clear to our readers.