Your Next Move
What you can get for $1 million in West Chelsea, a cultural hot spot that's home to the High Line and Chelsea Piers
Housing is mostly prewar co-ops and condos with some newer mid- and high-rise developments
At $1 million, you may find a not-so-new studio condo or unrenovated one- or two-bedroom co-op
Have you always wanted to live in West Chelsea but assumed you were priced out? In this new series, Brick looks at listings in New York City's most in-demand neighborhoods for under $1 million—roughly the median sales price for Manhattan co-ops and condos—as well as higher-priced options below $2.5 million. 
If your goal is to live large, think small: Buying a studio or one bedroom is a way to net the nabe of your dreams. New to buying NYC real estate? Be sure to wrap your head around the difference between co-ops and condos. Co-ops are generally less expensive but also are older and have fewer bells and whistles than condos—plus more rules. With that in mind—happy hunting!
In this week's Your Next Move, Andrew Barrocas, founder/owner of MNS Real Estate NYC, and Faisal Gilani, an agent at NYSpace Finders, give us the inside story on the artsy waterfront neighborhood of West Chelsea, bounded by Ninth Avenue on the east, the Hudson River on the west, West 14th Street on the south, and West 30th street on the north.
What draws buyers to the neighborhood?
A variety of factors—notably art galleries, the central location, and attractions like the High Line and Chelsea Piers—make West Chelsea a popular choice for buyers, Barrocas says, adding that Avenues New York, a private school that enrolls toddlers through high school students, is another big attraction.
Gilani says housing options that range from modern high-rises to traditional brownstones, cultural attractions, the waterfront, and the proximity to other neighborhoods draw "people from different walks of life. West Chelsea is a crossroads. You can make it what you want."
What are housing and pricing like?
West Chelsea offers a mix of condos, co-ops, and townhouses, with many of the condos being newer construction.
StreetEasy lists 139 properties for sale, which Barrocas says is a "fair amount" of inventory.
Pricing, according to Barrocas, is as follows: Condos generally sell for $2,000 to $4,000 per square foot, depending on age and amenities; you can get a 1,000-square-foot, one-bedroom unit for about $2 million to $5 million. 
Co-op prices start in the low millions for a 1,000-square-foot, one-bedroom unit and can reach $2 million to $5 million for larger ones.
Townhouses start at $5 million to $6 million.
What type of property can I get for under or around $1 million?
There's not much selection in this price range—StreetEasy lists only 14 properties—and Barrocas says that at $1 million, you may be able to find a not-so-new studio condo or a one- or two-bedroom co-op that has not been recently renovated.
I can stretch my budget. What can I get for $2.5 million?
There are more options at this price point. "You can get a nice, new one-bedroom condo, or a two-bedroom condo that's about 10 years old and has not been recently renovated," Barrocas says, adding that you also can buy a three-bedroom co-op that's "probably decent."
Are there any newer condo developments I should check out?
Newer condos typically offer the most luxurious amenities and finishes, features that attract many buyers.
One Highline Residences, at 76 11th Ave., is a pair of twisting glass and travertine towers designed by Danish architect Bjarke Ingels. Scheduled to open in winter 2024, the development has 235 condos. The least expensive unit is a 957-square-foot one bedroom with one full bath and a half bath that's listed for $2.22 million.
Lantern House is near the edge of the Hudson River. Built in 2020, the 22-story building has 181 units. Amenities include a spa and pool, co-working lounge, garden, fitness center, roof terrace, and children's playroom. A pavilion-style glass lobby links it to the High Line. The least expensive new unit, which is 1,430 square feet and has two bedrooms and two baths, is listed for $3.95 million (and is in contract). The cheapest resale unit, which is 1,135 square feet and has one bedroom and two baths, is on the market for $2.6 million.
The Cortland Condominium, which opened in 2022, has 25 stories and 144 units. A collaboration between Robert A.M. Stern Architects and Olson Kundig, the green development has concierge service, a fitness center, media room, roof deck, pool, and parking garage with valet parking. The least expensive unit, a 1,758-square-foot, two bedroom, two bath, is asking $3.75 million.
Which attractions do you show buyers who have never been to the area?
No tour of West Chelsea would be complete, Gilani says, without a stop at the High Line, "which is what makes the neighborhood; it really put West Chelsea on the map." He also takes clients to the waterfront and Hudson Yards; for dinner, he points them to the restaurants on Eighth Avenue.
 
Barrocas' favorite stops are the High Line and Chelsea Market.
What are the nearby neighborhoods, and are they less expensive?
You may be able to find some less expensive properties in Hell's Kitchen, Barrocas says.
Check out these listings that are around $1 million in West Chelsea.
Listed for $995,000, this 1,100-square-foot two-bedroom, two-bath duplex apartment has an eat-in kitchen with a dishwasher, crown moldings, hardwood floors, and a fireplace. The five-story, 1900 co-op building has 32 units, a live-in super, laundry room, and video security system.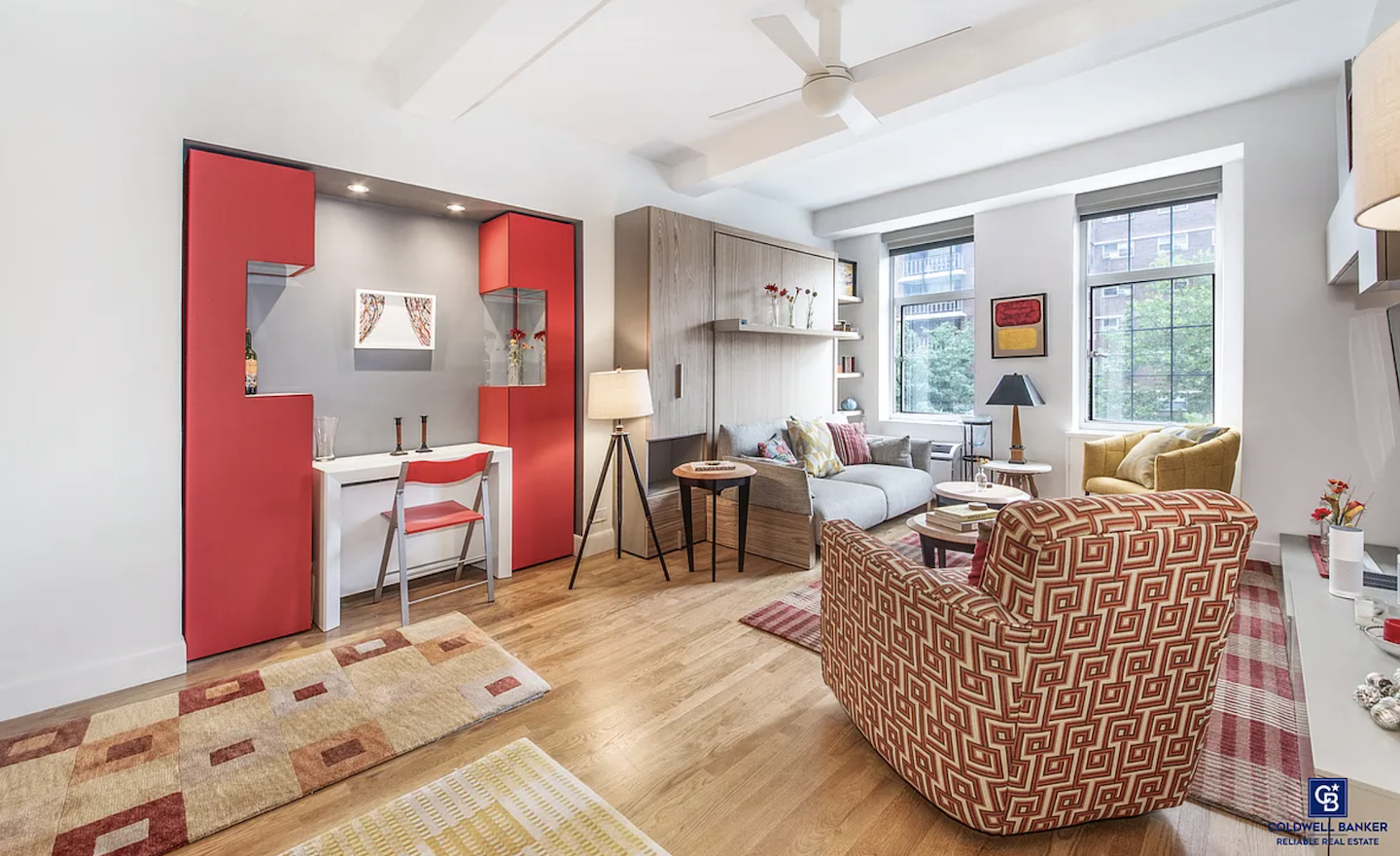 Located in London Terrace Towers, this 300-square-foot, studio co-op is fully furnished, including a built-in queen-size sofa/wall bed, and on the market for $525,000. It's one of 702 units in the historic four-building complex, which dates to 1932 and has 24-hour doormen, porters, a gym, heated pool, laundry room, and landscaped roof deck. Unlimited subletting is allowed.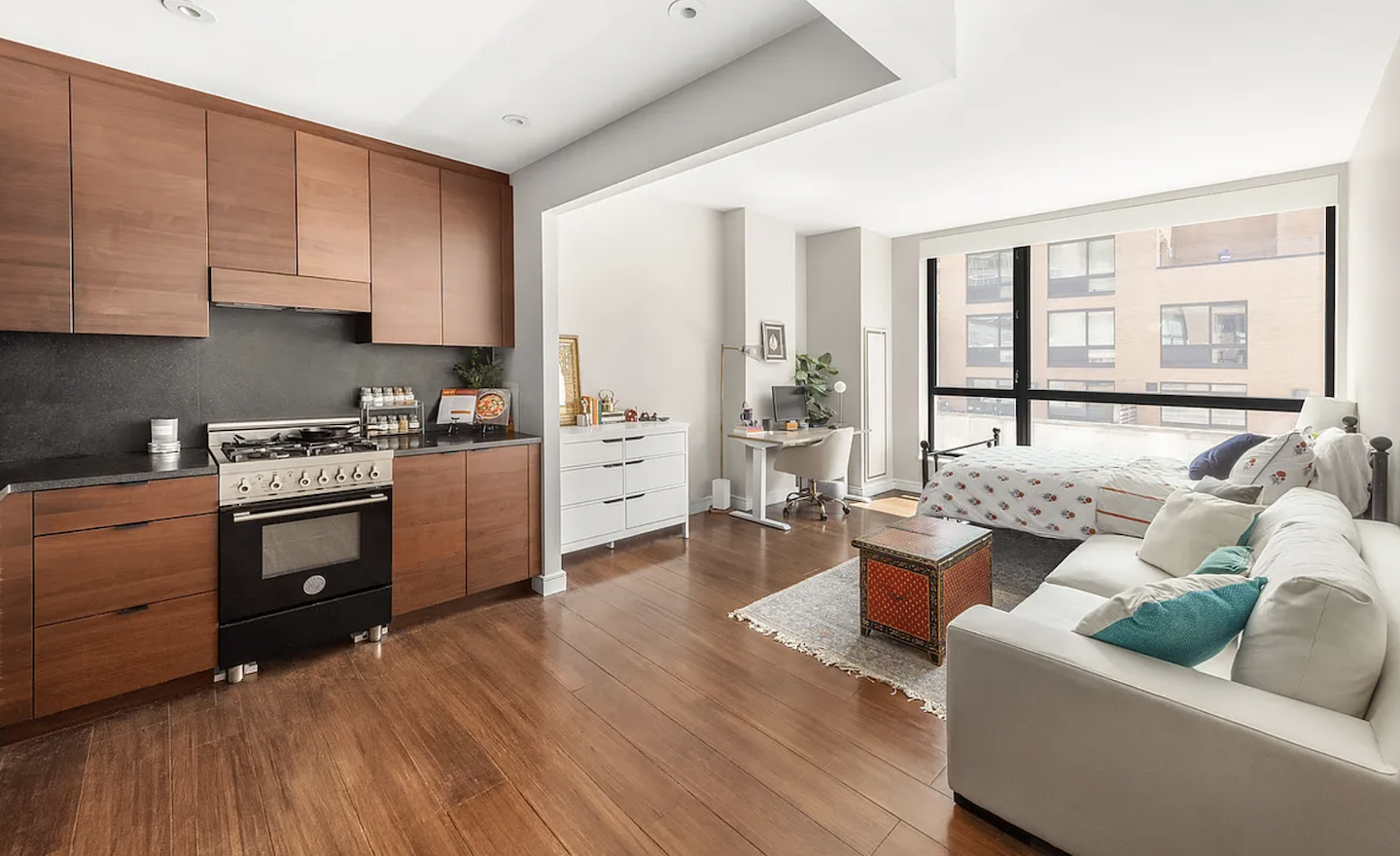 This 445-square-foot "loft-style" condo has been reduced from $785,000 to $765,000. The unit has a washer/dryer and a dishwasher. It's in the circa-2009, 13-story +art development, which has 90 units, 24-hour doormen, a gym, yard, and landscaped roof deck.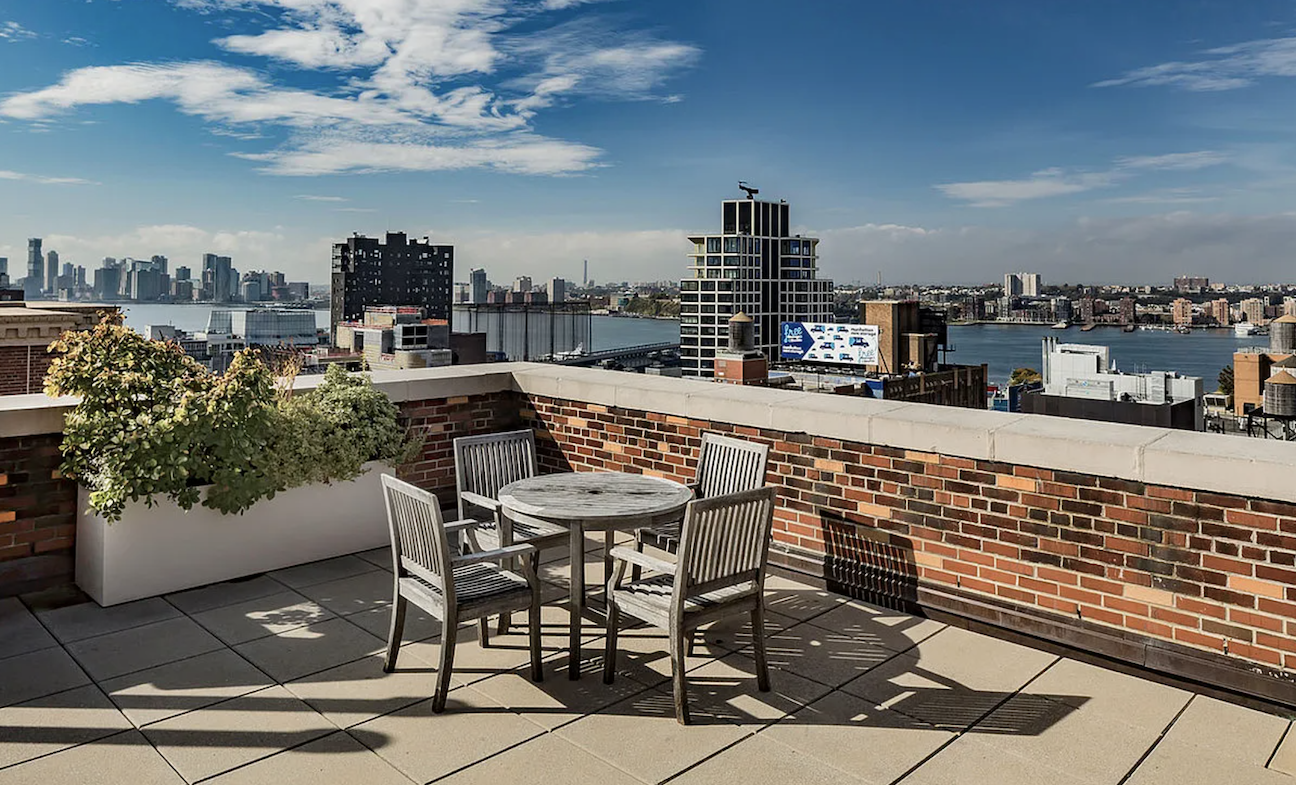 Also in London Terrace Towers (see amenities in second listing above), this 875-square-foot one-bedroom, one-bath co-op has the original solid oak hardwood floors and nine-plus foot beamed ceilings. It is asking $875,000, down from the original $985,000. Unlimited subletting is allowed after the first year.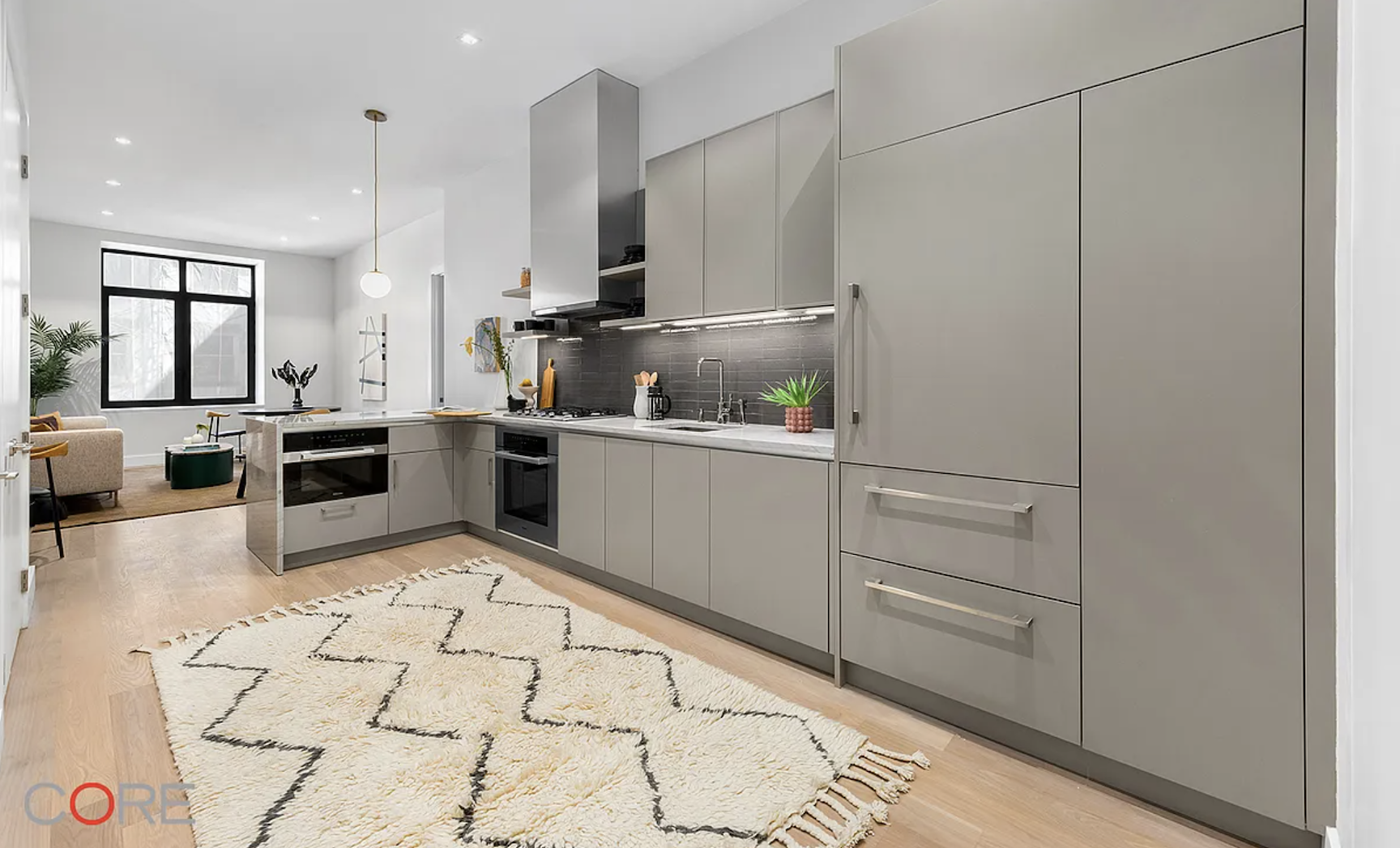 Listed for $1.6 million, this new-construction 842-square-foot luxury condo has one bedroom, one full bath, and one half bath. The baths are marble, and the kitchen is custom. The eight-story building, opened in 2023, has 21 units, a 24/7 lobby attendant, fitness center, rooftop terrace, and bike storage. 
Nancy A. Ruhling is a freelance writer based in New York City.
Brick Underground articles occasionally include the expertise of, or information about, advertising partners when relevant to the story. We will never promote an advertiser's product without making the relationship clear to our readers.