Your Next Move
What you can get for $1 million in Greenwich Village, where 'you see art everywhere'
You'll find mostly low-rise prewar buildings as well as some post-war white brick and new condo developments
Studios or small one bedrooms can go for less than $1 million; $2.5 million may get you a larger place near NYU
Have you always wanted to live in Greenwich Village but assumed you are priced out? In this new series, Brick looks at listings in New York City's most in-demand neighborhoods for under $1 million—roughly the median sales price for Manhattan co-ops and condos—as well as higher-priced options below $2.5 million. 
If your goal is to live large, think small: Buying a studio or one bedroom is a way to net the nabe of your dreams. New to buying NYC real estate? Be sure to wrap your head around the difference between co-ops and condos. Co-ops are generally less expensive but also are older and have fewer bells and whistles than condos—plus more rules. With that in mind—happy hunting!
In this week's Your Next Move, Meris Blumstein, an agent at Corcoran, and Ellen Leon, an agent at Compass, give us the inside story on Greenwich Village, a vibrant, art-centric neighborhood whose three colleges—New York University, The New School, and Parsons—give it its perpetual air of youthful energy and vitality.
Greenwich Village, which lies between the East and West Villages, is bounded by 14th Street on the North and Houston Street on the south. The other boundaries are just west of Third Avenue and just east of Seventh Avenue.
What draws buyers to the neighborhood?
Leon says "the youth scene," with its attendant music, fashion, and intellectual components, sets the scene and the vibe. "There's always so much good spirit, so much activity," she says. "You see students walking in the street, and you have all kinds of food, everything from high end to takeout. A Wegmans' giant, incredible food emporium is going to be opening in the fall—this is a big deal for the neighborhood."
The fact that it's a major transportation hub—Union Square Station has eight subway lines—only adds to its allure.
"Greenwich Village has all the things a village has," Blumstein says. "It's friendly and low-key and not overwhelming even though it's in Manhattan. It has a lot of restaurants and shops and college students. And you see art everywhere—in the streets, in the galleries, in homes, and in restaurants."
What are housing and pricing like?
It's the mix of classical architecture—there's every style from Federal to Greek Revival—that gives the neighborhood its urban charm.
"You can walk down winding streets that look like they're from the 1800s," Leon says. "You can see prewar and post-war buildings; it's not cookie cutter, and the streets aren't on a grid."
The housing stock is as diverse as the architecture, Blumstein says, adding that most of the buildings are low rise.
"You have everything from college dorms to new condos—and the condos are a new feature of the neighborhood," she says. "The prewar buildings are prized, and there also are some beautiful post-war white-brick buildings."
Blumstein notes that because many of the buildings are light-industry factories that have been converted to housing, with each unit covering a single floor, "inventory is not plentiful."
StreetEasy lists only 257 properties for sale.
"It's a fair market for buyers right now," Blumstein says, "but it's Manhattan, it's not inexpensive."
Single-family townhouses generally command $7 million to $25 million, she says, adding that condos average $2,000 per square foot, and co-ops range from $1,200 to $1,800 per square foot.
What type of property can I get for under or around $1 million?
A studio or one-bedroom co-op is the only type of housing available for this price, Blumstein says. The selection includes 78 properties on the market, according to StreetEasy.
I can stretch my budget. What can I get for $2.5 million?
Blumstein says you'll have more options at this price point; it's even possible to buy a "nice" two-bedroom or three-bedroom co-op or a small condo without outdoor space.
"There also are some buildings with smaller apartments that are closer to the East Village or that are in New York University territory," she adds.
Are there any newer condo developments I should check out?
Newer condos typically offer the most luxurious amenities and finishes, features that attract many buyers.
Blumstein notes that there are several newer developments on University Place between 14th Street and Washington Square, including the following: 
Designed by Kohn Pedersen Fox, 64 University Pl. has 28 units and 11 stories. Although it isn't scheduled to open until early next year, it's already sold out.
Located between Union Square and Washington Square Park, 21 East 12th St. was completed in 2018. It has 22 stories and 52 units, only one of which – a 1,478-square-foot apartment with two bedrooms and two baths—is on the market. It is asking $4.35 million.
The eight-unit, 12-story 12 East 13th St. has loft-style units and opened in 2015. The least expensive condo is a unit with three bedrooms, three full baths, and one half bath that's listed for $8.47 million.
The nine 4,500-square-foot units at 17 East 12th St., which opened in 2016 and has 11 stories, are grand: They have 50-foot living rooms, large salons, and libraries with fireplaces. None are on the market.
Opened in 2018, 116 University Pl. has only five units and six stories. Each of the residences is over 3,000 square feet and has, among other amenities, private elevator access and a laundry room. There are no units for sale.
Another project, 14 Fifth Ave., is between East 8th and East 9th streets just north of Washington Square Park. The 19-story, 20-unit building was designed by Robert A.M. Stern Architects and is slated to open in 2024. 
Which attractions do you show buyers who have never been to the area?
"Greenwich Village has a preponderance of everything: shops, grocery stores—we have Whole Foods and Trader Joe's—and clothing boutiques," she says, adding that a walking tour gives clients the best views of the Village. "And the dining scene ranges from places that are a hole in the wall to elegant, fabulous, starred restaurants."
Leon takes her clients on a walking tour that includes Union Square and its year-round farmer's market and Washington Square Park. "We look at the shops, the restaurants in University Place—which has so many it's like a food court—and the architecture."
What are the nearby neighborhoods, and are they less expensive?
The East Village, Blumstein notes, "is less expensive because it's a different type of housing. Greenwich Village's prices are in between those of the East Village and the West Village. As you move from the East River to the Hudson River, prices get higher."
Check out these listings that are around $1 million in Greenwich Village.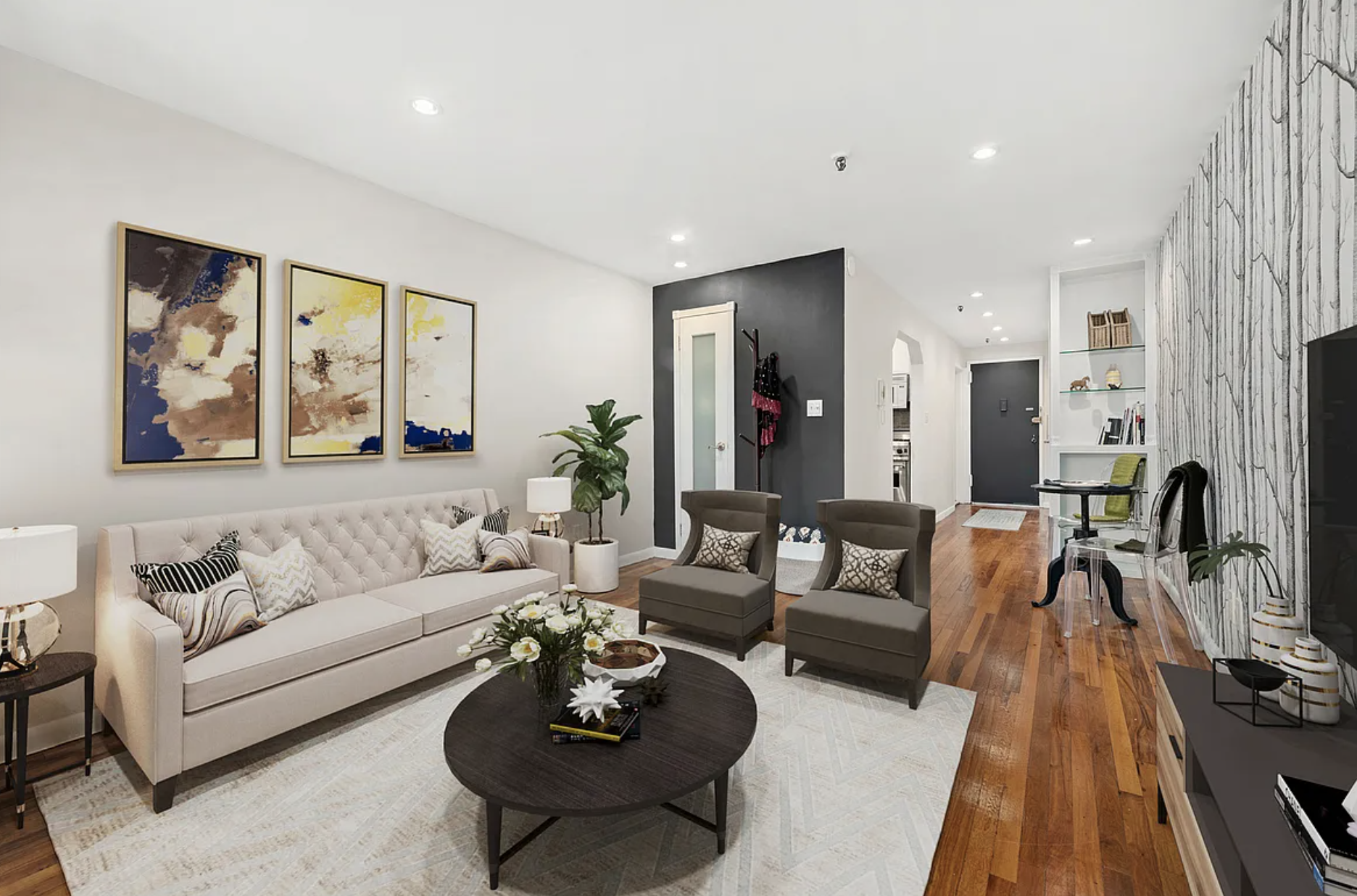 Located in the circa-1930 Cast Iron Buiding, this studio has hardwood floors, three custom closets plus a closet in the living space, built-in bookcases, and a renovated kitchen with high-end appliances, including a dishwasher. The asking price has been reduced to $600,000 from $620,000. With seven stories and 144 units, the elevator co-op building features a full-time doorman, live-in super, concierge services, laundry room, bike room, rooftop deck, and storage for rent.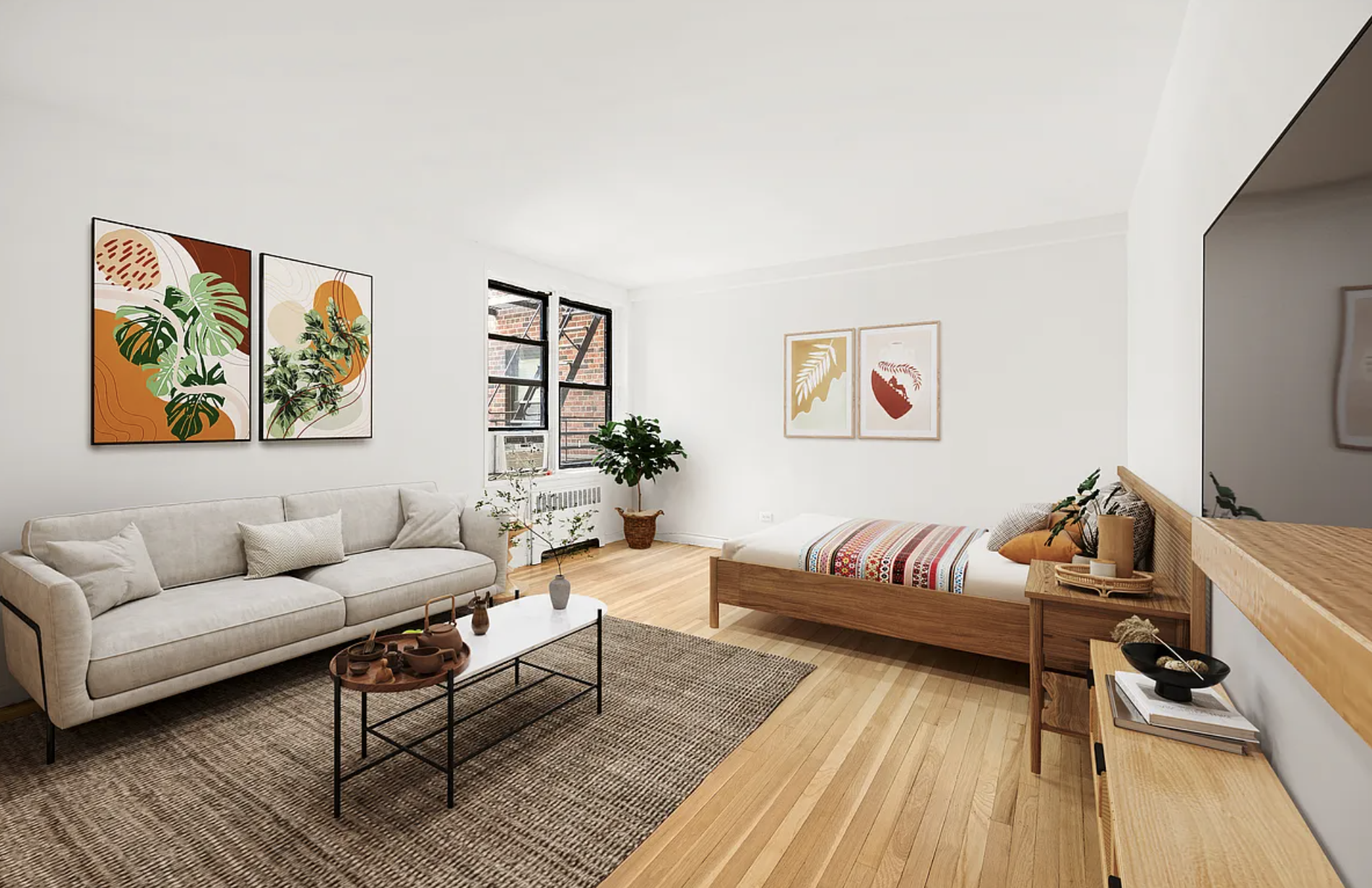 This studio, on the market for $475,000, is one of 214 units in a six-story elevator building. The unit has a galley kitchen, large windowed bathroom, and three closets. Opened in 1954, The Hamilton is a full-service doorman cooperative with a resident superintendent, landscaped garden, central laundry room, and bike and storage rooms.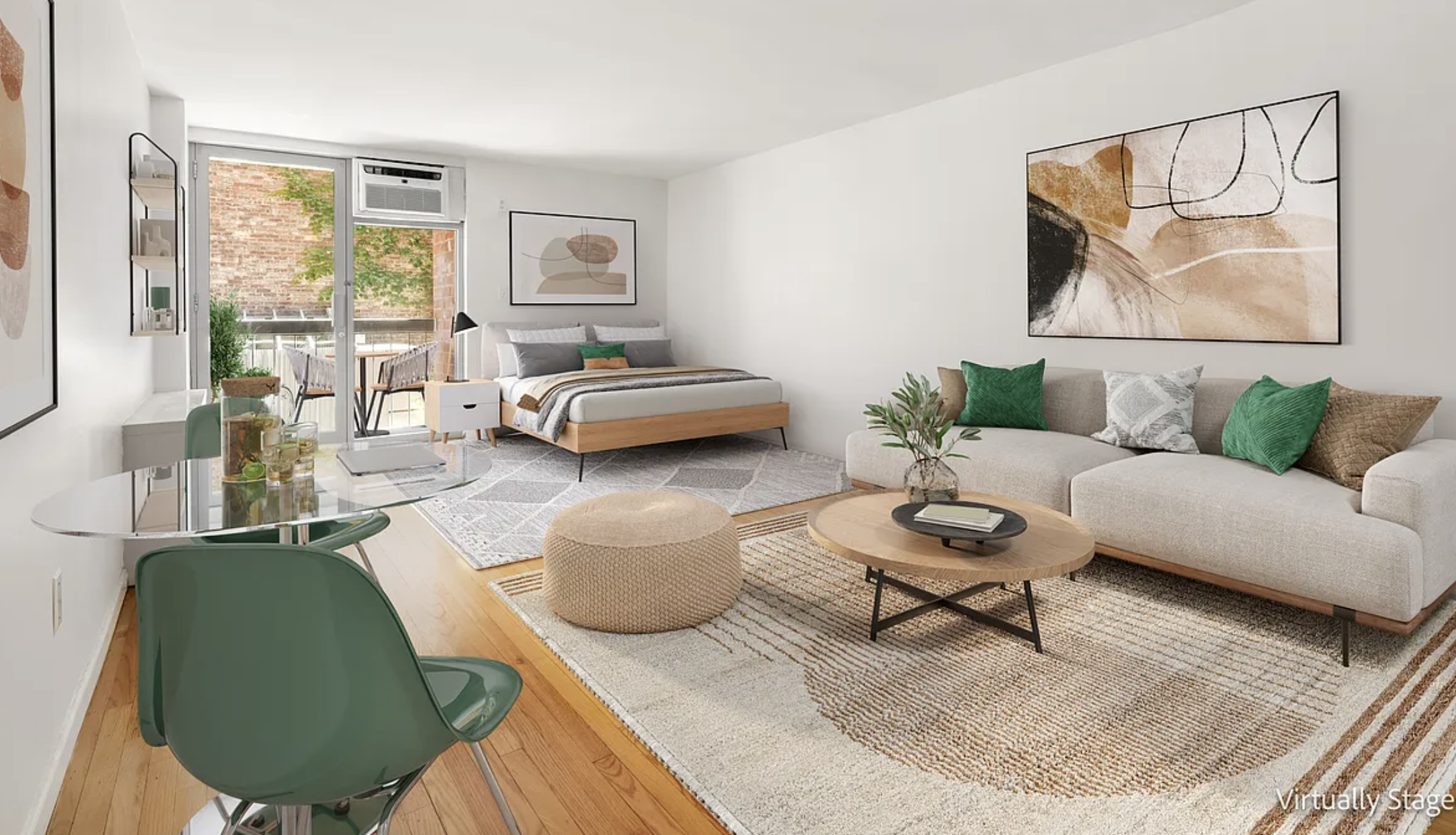 Listed for $749,000, this 490-square-foot studio has an open floor plan with a balcony, hardwood floors, a separate kitchen with a dishwasher, and a wall-through air conditioner. It's located in 184 Thompson Streeet, a nine-story, 144-unit building dating  to 1910. The full-service condo has a live-in superintendent, 24/7 doorman, an elevator, laundry facilities on each floor, and a package delivery notification system.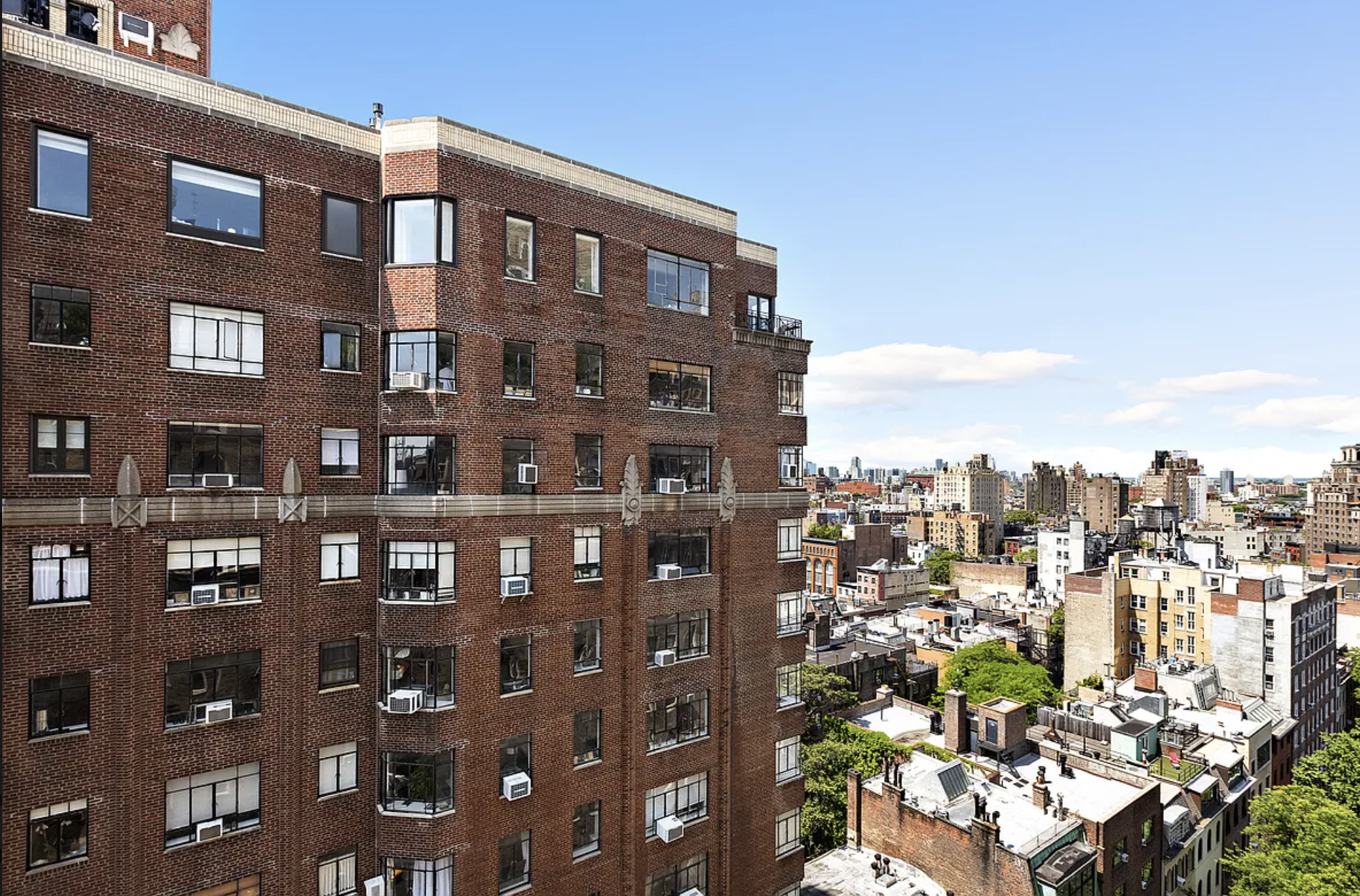 This high-floor, south-facing studio co-op has nine-foot ceilings with exposed beams and prewar details. The 21-story elevator building, originally The Fifth Avenue Hotel, dates to 1926 and was designed by Emory Roth. It has 420 units, a 24-hour doorman, live-in super, on-site management, a fitness center, storage for rent, bike room, and laundry facilities. The unit is on the market for $425,000, reduced from $450,000.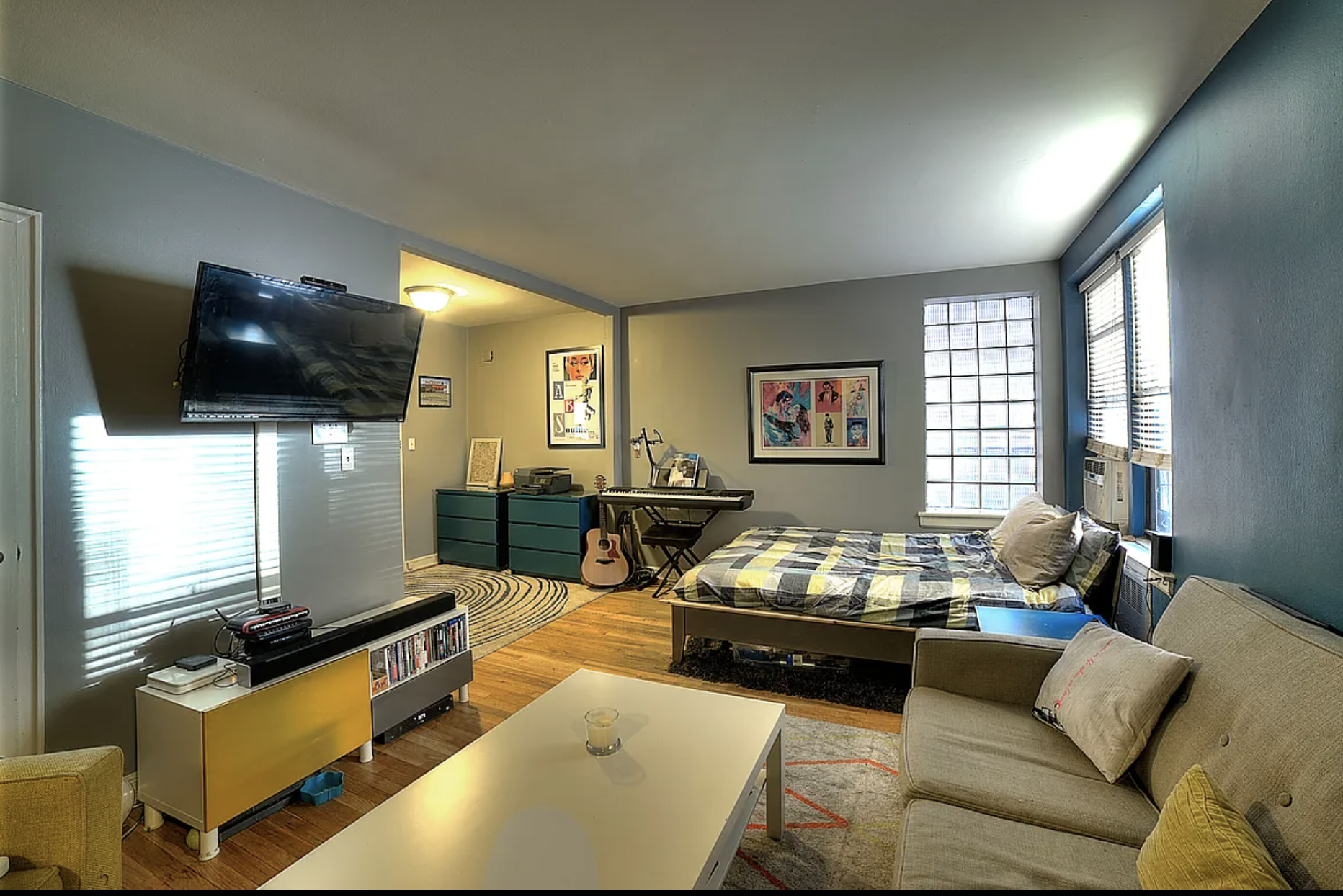 Listed for $430,000, this 450-square-foot corner studio co-op has a separate kitchen with tile floors, hardwood floors and high ceilings in the living space, and three closets. The six-story building, which dates to 1952, has 121 units, an elevator, a courtyard, live-in super, and package room.
Nancy A. Ruhling is a freelance writer based in New York City.
Brick Underground articles occasionally include the expertise of, or information about, advertising partners when relevant to the story. We will never promote an advertiser's product without making the relationship clear to our readers.