Your Next Move
What you can get for $1 million in Brooklyn Heights, an iconic waterfront nabe with skyline views and quick commutes
Besides brownstones, housing options include prewar co-ops, buildings that have been converted to condos, and new condo developments
You can find studios and small one bedrooms for under $1 million, stretching your budget to $2.5 million opens up two and three bedrooms
Have you always wanted to live in Brooklyn Heights but assumed you are priced out? In this new series, Brick looks at listings in New York City's most in-demand neighborhoods for under $1 million—roughly the median sales price for Manhattan co-ops and condos—as well as higher-priced options below $2.5 million. 
If your goal is to live large, think small: Buying a studio or one bedroom is a way to net the nabe of your dreams. New to buying NYC real estate? Be sure to wrap your head around the difference between co-ops and condos. Co-ops are generally less expensive but also are older and have fewer bells and whistles than condos—plus more rules. With that in mind—happy hunting!
In this week's Your Next Move, Leslie Marshall, an agent at Corcoran, and Lior Cohen, an agent at Brooklyn Heights Real Estate, give us the inside story on Brooklyn Heights, known for its tree-lined streets with grand, historic brownstones that lead to the waterfront promenade.
What draws buyers to the neighborhood?
Brooklyn Heights is popular because it's so close to Manhattan, Marshall says, adding that "it's a lifestyle decision to move here—you have the waterfront, Brooklyn Bridge Park, and it's a quiet neighborhood."
In fact, it is so silent, Cohen adds, that "you can hear the birds singing in the morning when you wake up."
Commuters love being only one to two subway stops from Wall Street; some people even walk or bike over the Brooklyn Bridge to Lower Manhattan.
Brooklyn Heights' beauty—it has a historic district—is another draw, as is its proximity to Trader Joe's, which is within walking distance right across the border in Cobble Hill.
What are housing and pricing like?
Brooklyn Heights offers a variety of types of housing options for buyers. There are one- and two-family townhouses, townhouses that have been converted to co-ops, prewar co-op buildings, carriage houses and other buildings that have been converted to condos, and even some newer high-rise condos.
At this point in time, whether it's a buyer's market or a seller's market comes down to each particular property, Marshall says. "A well-priced property in excellent condition in an excellent location will sell well," she says. "One that needs heavy renovation and that is a little farther from the subway may be slower to sell."
She adds that this means that in the current market, "buyers can be more aggressive in negotiating, and sellers are being forced to price realistically."
Inventory exists: StreetEasy shows 113 condos, co-ops, and single-family houses on the market. But only 25 of them are $1 million or less.
According to Marshall, one- and two-family townhouses start at $5 million and go all the way up to the teens; some have sold for $16 million to $17 million.
One- and two-bedroom co-ops and condos generally are $1 million to $3 million, though "there will be some opportunities in the $800,000 to $900,000 range."
Two-bedroom to four-bedroom condos and co-ops typically sell for $2.5 million to over $5 million.
What type of property can I get for under or around $1 million?
Marshall says that a small studio or one bedroom are the only choices in this price range.
I can stretch my budget. What can I get for $2.5 million?
This budget "opens your options" to a two- or three-bedroom unit or a floor-through in a brownstone that has been converted to co-ops, Marshall says. "There are not, however, many townhouses that have been converted to condos."
Are there any newer condo developments I should check out?
Newer condos typically offer the most luxurious amenities and finishes, features that attract many buyers.
The 38-story One Clinton, completed in 2020, has 134 units and is anchored by a branch of the Brooklyn Public Library, the largest in the borough. Units are available; the smallest, two bedrooms and two bathrooms, start at $2.495 million. Amenities include a full-time doorman, 2,000-square-foot fitness center, 3,500-square-foot residents' terrace, and children's activity center and outdoor play area.
The metal and glass Quay Tower, in Brooklyn Bridge Park, was completed in 2019. The 30-story, 126-unit complex has a roof deck, 2,500-square-foot fitness center, 1,500-square-foot children's center, music room with a grand piano, and 24-hour concierge services. Units are available; the smallest, which are two bedrooms and two baths, start at $2 million.
Located in a landmarked 1900 building, 16 Monroe Place is a new condo conversion. It's a boutique development—there are only nine units in its five stories. It has a bike room, package room, and storage space. Units are available starting at $1.25 million.
Love Lane Mews is at 9 College Place and opened in 2011 in what once was a garage. The complex has five stories and 38 condos. The lobby is staffed 25/7 and appointed with African teak, marble, and exposed brick. Other amenities include a live-in super, fitness center, bike room, and an indoor garage with an attendant. There are no units on the market.
Opened in 2015, Pierhouse at Brooklyn Bridge Park has 106 one- to five-bedroom duplex condos, some of which are on the market. The building has a doorman, valet, roof deck, swimming pool, gym, and bike room. There are no available units. 
Cohen notes that recently investors have been buying brownstones and converting them to condos, creating four to six units in each.
Which attractions do you show buyers who have never been to the area?
Marshall likes to show clients Brooklyn Bridge Park, which is on the waterfront and has wonderful views. "It's world class," she says, adding that she also points out the shops and dining options on Atlantic Avenue.
Cohen's first stop is the Brooklyn Heights Promenade because "it's beautiful, especially in summer."
And Marshall and Cohen also take clients to Montague Street, which, Cohen says, "is filled with shops, restaurants, and coffee shops."
What are the nearby neighborhoods, and are they less expensive?
Although you still may be able to get "more bang for your buck" in some of the adjoining neighborhoods, such as Cobble Hill, Boerum Hill, Carroll Gardens, and even Dumbo and Fort Greene, their recent popularity has pushed prices up, Marshall says, making them "more competitive" with Brooklyn Heights.
Cohen agrees, adding that prices in Boerum Hill and Carroll Gardens are "only slightly cheaper because they are still prime Brooklyn neighborhoods."
Check out these listings that are around $1 million in Brooklyn Heights.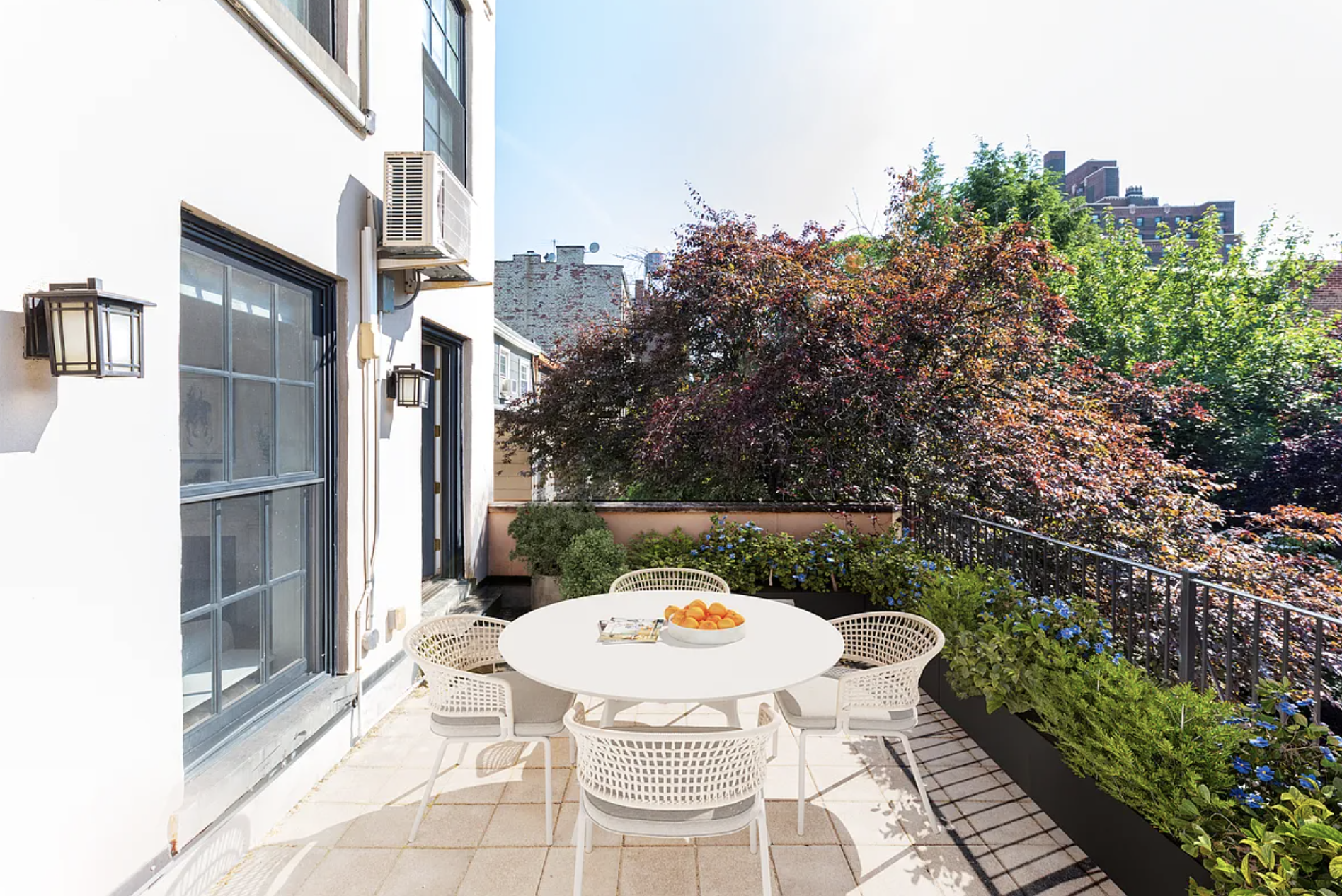 Located in the historic district, this one-bedroom, one-bath co-op is one of nine units in a landmarked brownstone. The unit features a large private terrace, decorative fireplace, hardwood floors, and a renovated kitchen with island seating. It is asking $695,000.  Laundry and storage are available in the building. Cats are permitted on a case-by-case basis with board approval. Dogs are not allowed.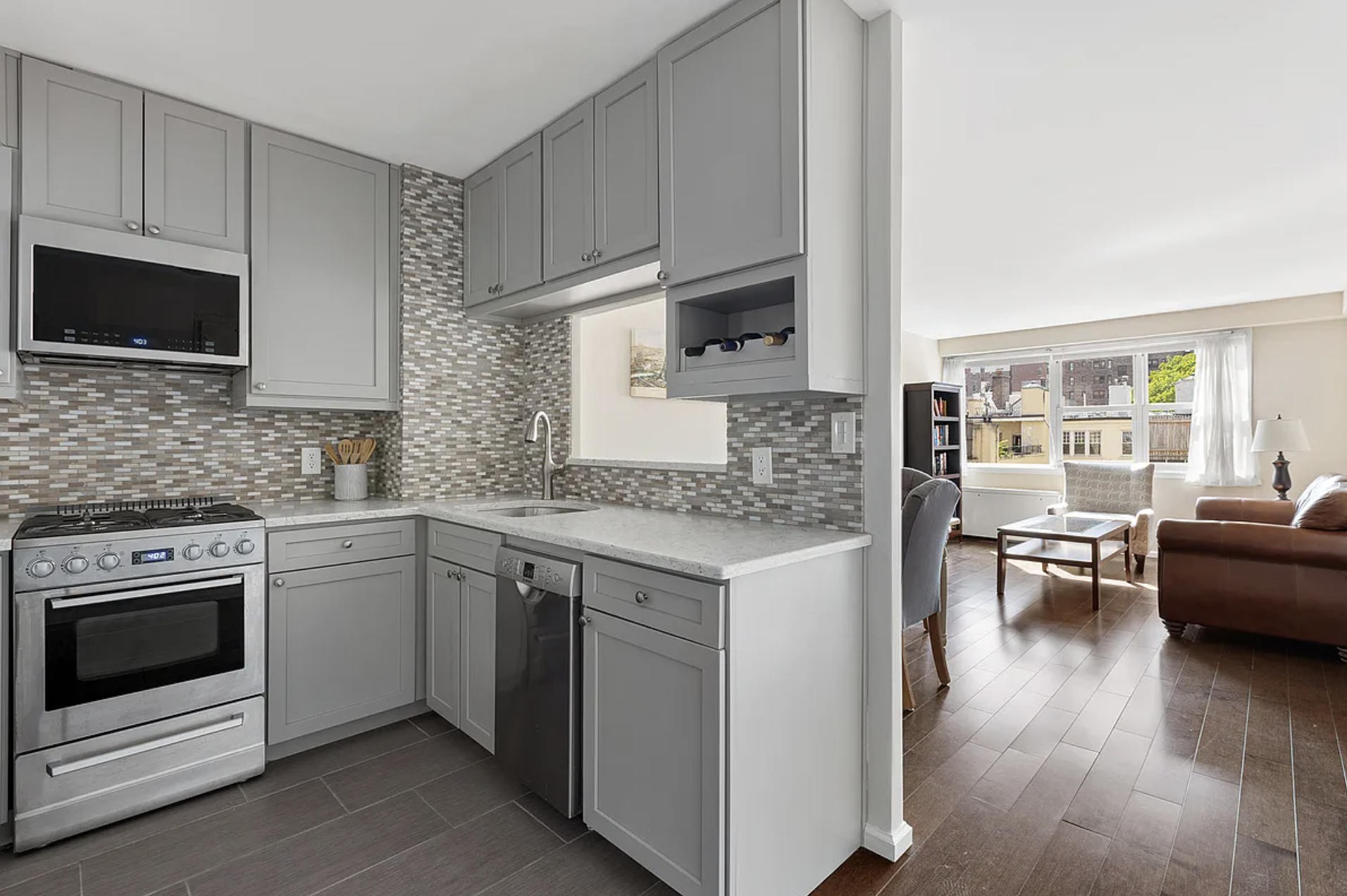 Listed for $635,000, this one-bedroom, one-bath co-op has been recently renovated. The new kitchen has granite countertops and stainless steel appliances, including a dishwasher, and there are hardwood floors throughout. The 11-story elevator building, which dates to 1964, has 153 units. The building features a community roof deck, laundry room, garage (for an extra fee), bike room, part-time doorman, and live-in super.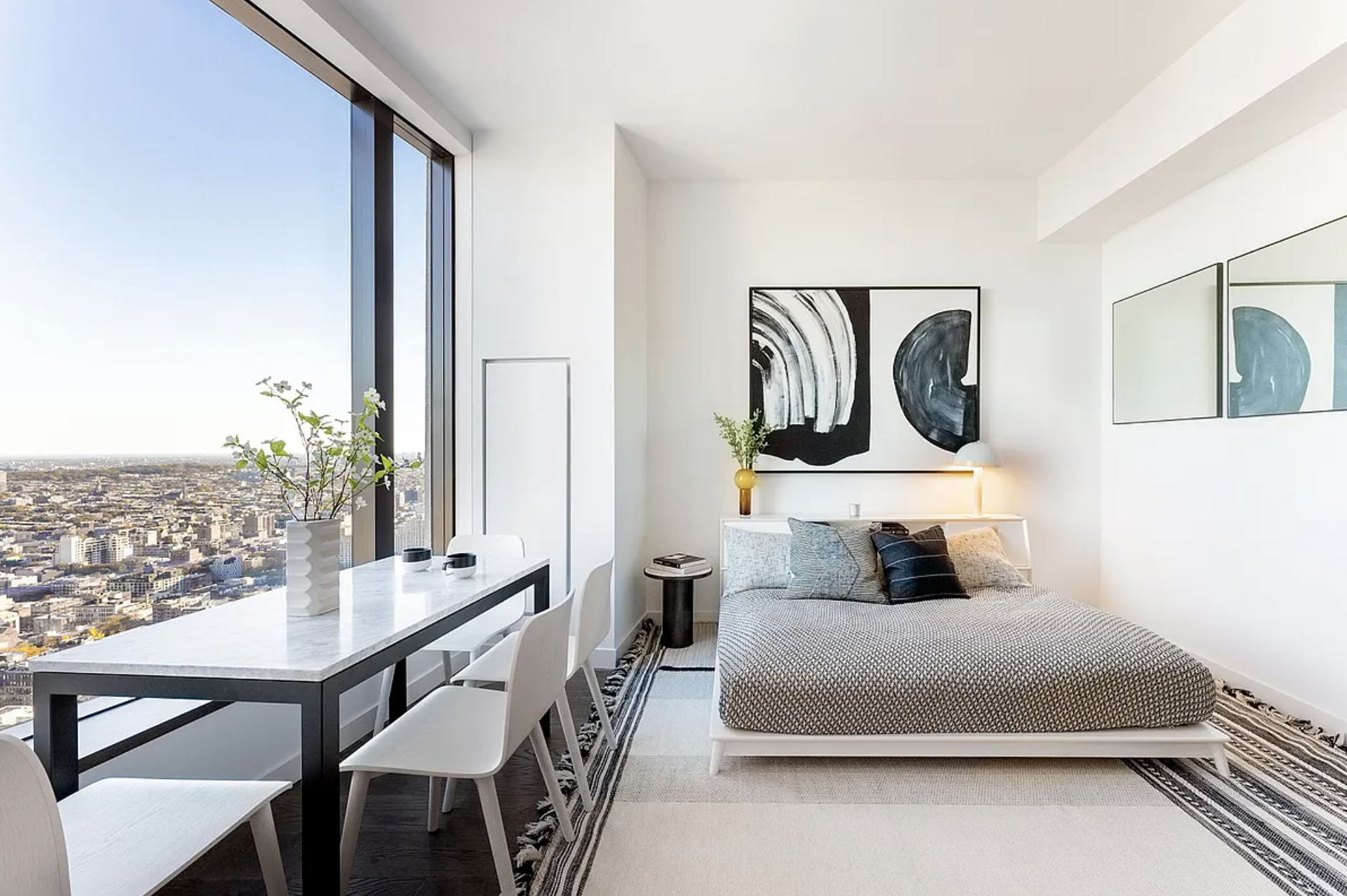 This 473-square-foot studio condo is in Tishman Speyer's LEED Gold-certified luxury development 11 Hoyt, which opened in 2020. It is asking $875,000. The unit has 10-foot ceilings, a washer and dryer, Wifi-enabled smart thermostats, smart-entry door looks, and views of Downtown Brooklyn and brownstones. The open chef's kitchen has high-end appliances, including a dishwasher, as well as Italian custom cabinetry and lava stone countertops. The listing shows it is in contract.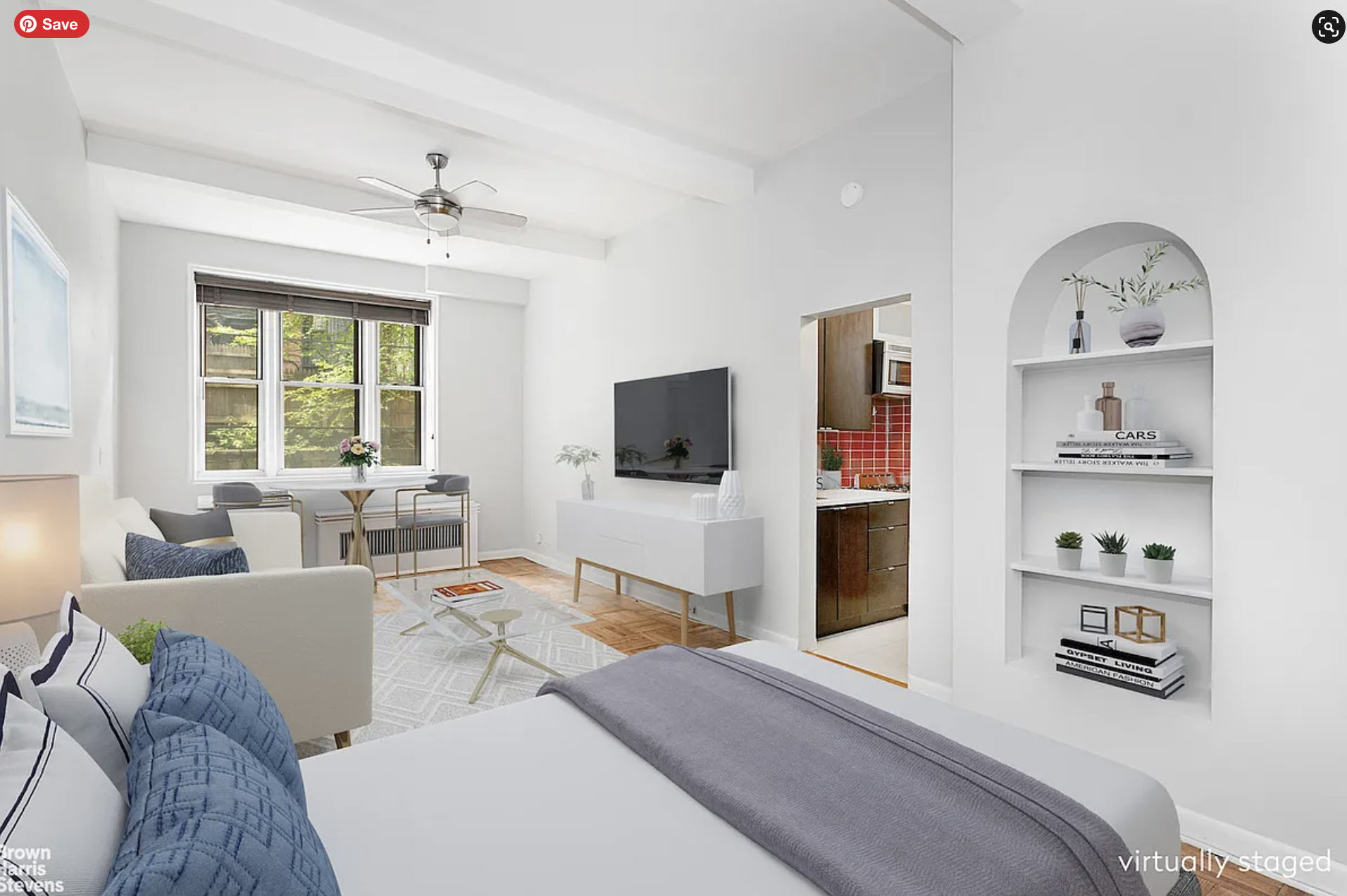 Listed for $330,000, this studio co-op has 11-foot-high ceilings, hardwood floors, and a renovated bath and galley kitchen with stainless steel appliances and Caesarstone countertops. The six-story 1958 elevator building has 40 units, a laundry room, and bike storage. There is no live-in super or building storage. Cats, not dogs, are allowed.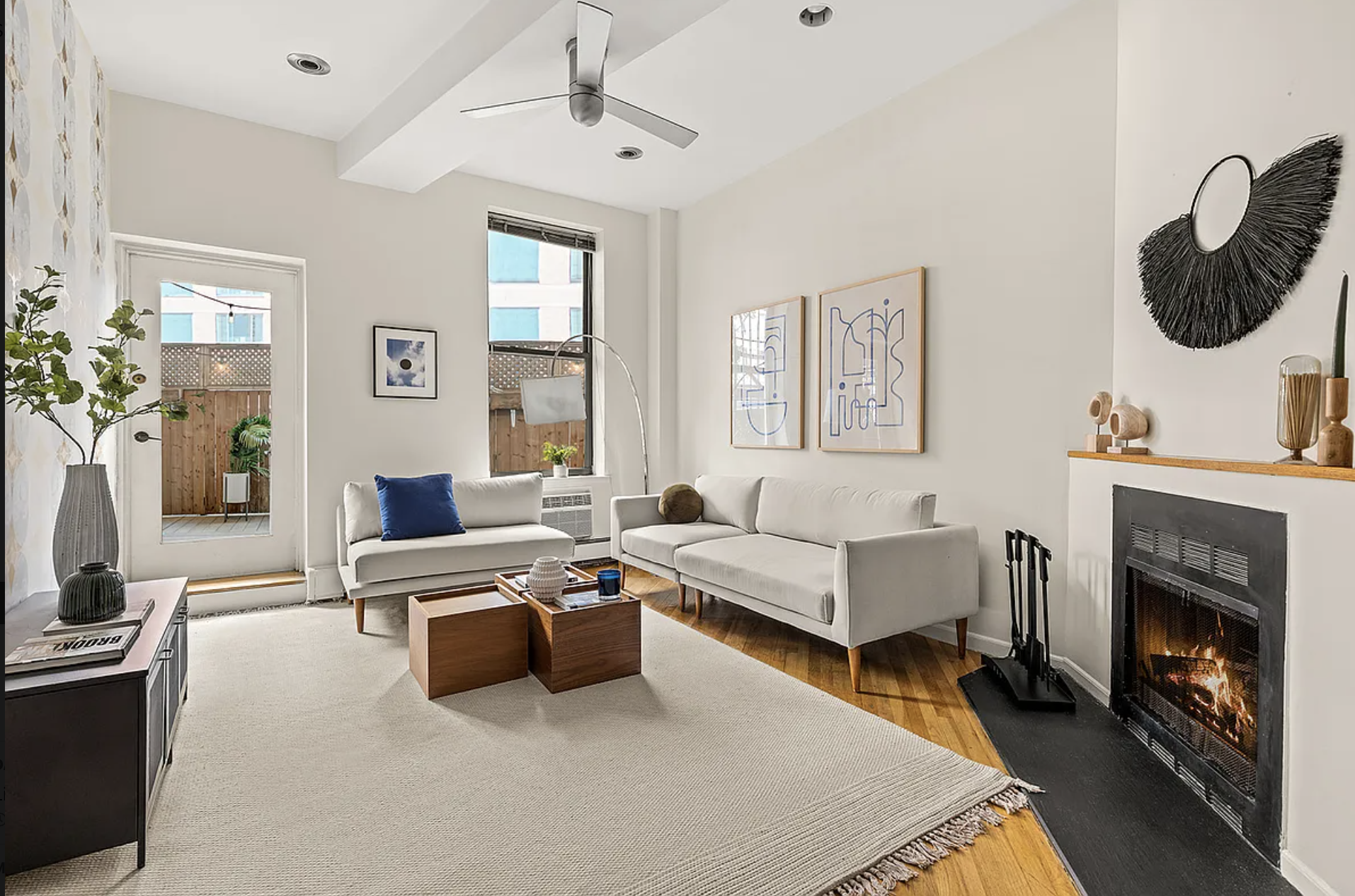 With 10-foot ceilings and hardware floors throughout, this one-bedroom, one-bath co-op has a private enclosed deck and galley kitchen with stainless steel appliances, including a dishwasher, and ceramic counters. The open dining/living area features a custom built-in desk and wood-burning fireplace. Built in 1930, the pet-friendly, seven-story building has 18 units, elevator service, a shared roof deck, common laundry, and storage. It is on the market for $699,000. 
Nancy A. Ruhling is a freelance writer based in New York City.
Brick Underground articles occasionally include the expertise of, or information about, advertising partners when relevant to the story. We will never promote an advertiser's product without making the relationship clear to our readers.