Your Next Move
What you can get for $1 million in DUMBO, a cool nabe with an edgy, progressive vibe
Housing options are largely limited to condo buildings, either newly built or converted warehouses
Condos run $1,000 to $1,300 per square foot, and prices soar to $20 million for some penthouses
Have you always wanted to live in DUMBO but assumed you are priced out? In this new series, Brick looks at listings in New York City's most in-demand neighborhoods for $1 million—roughly the median sales price for Manhattan co-ops and condos—as well as higher-priced options below $2.5 million. 
If your goal is to live large, think small: Buying a studio or one bedroom is a way to net the nabe of your dreams. New to buying NYC real estate? Be sure to wrap your head around the difference between co-ops and condos. Co-ops are generally less expensive but also are older and have fewer bells and whistles than condos—plus more rules. With that in mind—happy hunting!
In this week's Your Next Move, Matthew Bizzarro, the broker/owner of Bizzarro Real Estate Agency, and Laura Marquardt, an agent at Douglas Elliman, give us the inside story on DUMBO, the cool neighborhood with the edgy vibe whose name—Down Under the Manhattan Bridge Overpass—literally puts it on the map.
What draws buyers to the neighborhood?
DUMBO's aesthetics—"it's where old-world charm meets industrial meets progressive urban"—set it apart, Bizzarro says. "It's super cool—you have the Brooklyn Bridge, cobblestone streets, old warehouses being converted to condos, and new developments. There's such a buzz about it."
He adds that it's "ideal for people who like to see the Manhattan skyline—the views are awesome—but who don't want to live in Manhattan."
Marquardt notes that in addition, DUMBO's attractive because "of its proximity to the Manhattan and Brooklyn Bridges. And it's vibrant and alive—there's always a lot going on, and it makes you feel like you're in the center of things."
What are housing and pricing like?
DUMBO's a relatively new neighborhood, so condos are virtually the only option, Bizzarro says, adding they've either been converted from old warehouses or in the many new-construction developments. "This makes it attractive to investors and other people who want the flexibility of owning and renting out," he says.
He notes that your choices run the gamut: large developments, boutique buildings, condos with no amenities, and those with an abundance of them.
Calling the market "strong," Bizzarro says, "we aren't having the crazy bidding wars that were happening a couple of years ago, but there are a lot of transactions happening, and there's a lot of movement. If you're a buyer, it's not a good strategy to look and then wait six to eight months to buy."
According to StreetEasy, there are 78 condos on the market, which Bizzarro says is "about average." He also notes that "they're not sticking around."
Condos typically command $1,000 to $1,300 per square foot, and prices soar to $20 million for some of the penthouses in the newest, most luxurious buildings, he says.
What type of property can I get for under or around $1 million?
Bizzarro's answer is succinct: "Not much."
For $1 million, you might get a studio or a one-bedroom condo, but "there are a small number of options," he adds.
Only three properties within this price range are on the market per StreetEasy.
However, Bizzarro points to "a healthy amount of two bedrooms" starting at $1.4 million to $1.5 million.
I can stretch my budget. What can I get for $2.5 million?
"Your options open substantially at this price range," Bizzarro says, adding that you can get a "massively expansive" 2,000-square-foot one bedroom or a "nice" two bedroom.
Are there any newer condo developments I should check out?
Newer condos typically offer the most luxurious amenities and finishes, features that attract many buyers.
"DUMBO is the epicenter of new condo development," Bizzarro says. "The face of the neighborhood has changed in the last five years and will change again in the next five."
Olympia DUMBO, which opened at 30 Front St. in 2021, features 76 "hand-crafted homes," according to its website. The 33-story steel-and-glass building has a doorman, bike room, swimming pool, deck and patio, and valet parking. Of the remaining units, the least expensive is a one bedroom that's listed for $1.785 million.
Opened in 2021, Front & York, at 85 Jay St., has 21 stories and 408 luxury units. The building is surrounded by a 30-foot colonnade and features a half-acre park, outdoor swimming pool, dining terrace, billiards bar and lounge, garage, coffee lounge, co-working area, outdoor theater, party lounge, and wine room. A 633-square-foot one bedroom/one bath that's listed for $995,000 is the least expensive unit on the market. According to the website, the development is currently offering two years of common charges and sponsor-paid transfer taxes. 
The amenities at the 10-story, 165-unit 98 Front, built in 2019, include a live-in super, bike room, gym, swimming pool, roof deck, and parking. The only available unit is a penthouse for $2.477 million. 
Which attractions do you show buyers who have never been to the area?
The tour, Bizzarro says, depends on the client's interests, but is likely to include a walk across the Brooklyn Bridge and a stop at Jane's Carousel in Brooklyn Bridge Park. Other key places include Grimaldi's Pizzeria, the chic boutiques on Washington Street, Brooklyn Flea, Time Out Market New York, and Randolph Beer.
Like Bizzarro, Marquardt takes her clients to Time Out Market New York. She also likes to bring them to the art galleries and Fulton Ferry Landing "because it's on the water and you can see Manhattan and Brooklyn Bridge Park."
What are the nearby neighborhoods, and are they less expensive?
Noting that the prices of the surrounding neighborhoods are on par with DUMBO, Bizzarro says that "if you have a healthy budget, DUMBO is more expensive, but there are more options for different types of housing in Williamsburg and Cobble Hill because some of the stock is older. But at the end of the day, because of all the new construction, there's more inventory in DUMBO to choose from."
Check out these listings that are around $1 million in DUMBO.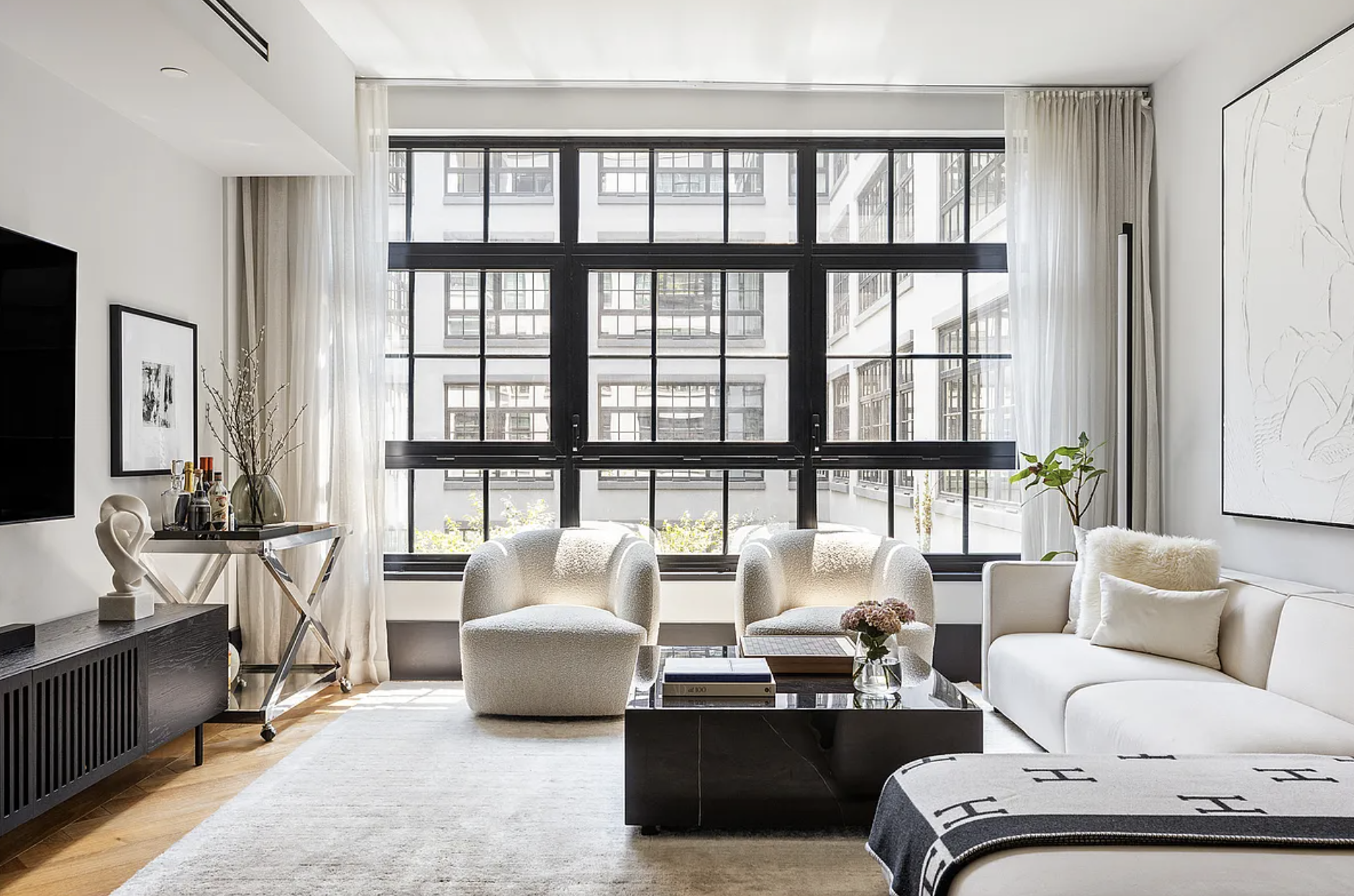 This 866-square-foot one-bedroom, one-and-a-half-bath condo is listed for $1.285 million and has floor-to-ceiling casement windows, a custom kitchen with high-end appliances, in-unit washer/dryer, central air, and marble flooring in the en-suite bath and half bath. The seven-story building, a converted warehouse that opened in 2016, has 75 units and a roof deck with an outdoor kitchen and sunning and dining areas.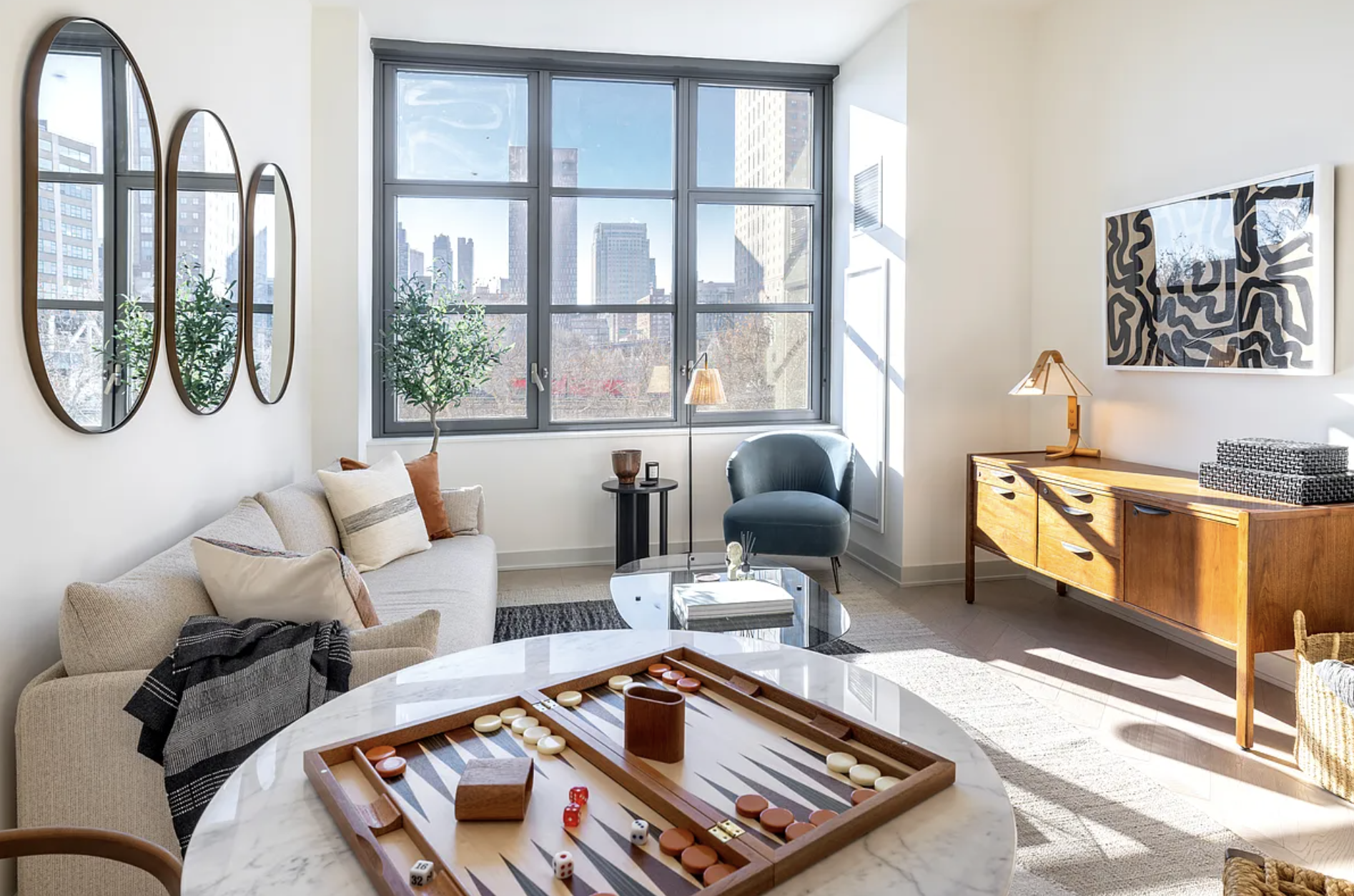 Listed for $995,000, this 633-square-foot one-bedroom condo, in the York section of the Front & York development, has 10-foot ceilings, chevron-patterned white oak floors, a custom chef's kitchen with Gaggenau appliances, and marble-clad bathroom with radiant-heat flooring and a cast-iron soaking tub. The sponsor unit does not require board approval. Opened in 2021, the bi-level building has 21 stories, 408 units, valet parking, a gym with an indoor lap pool and a basketball court, media room, playroom, an outdoor swimming pool with cabanas, multiple lounges, and a live-in super, among other high-end amenities.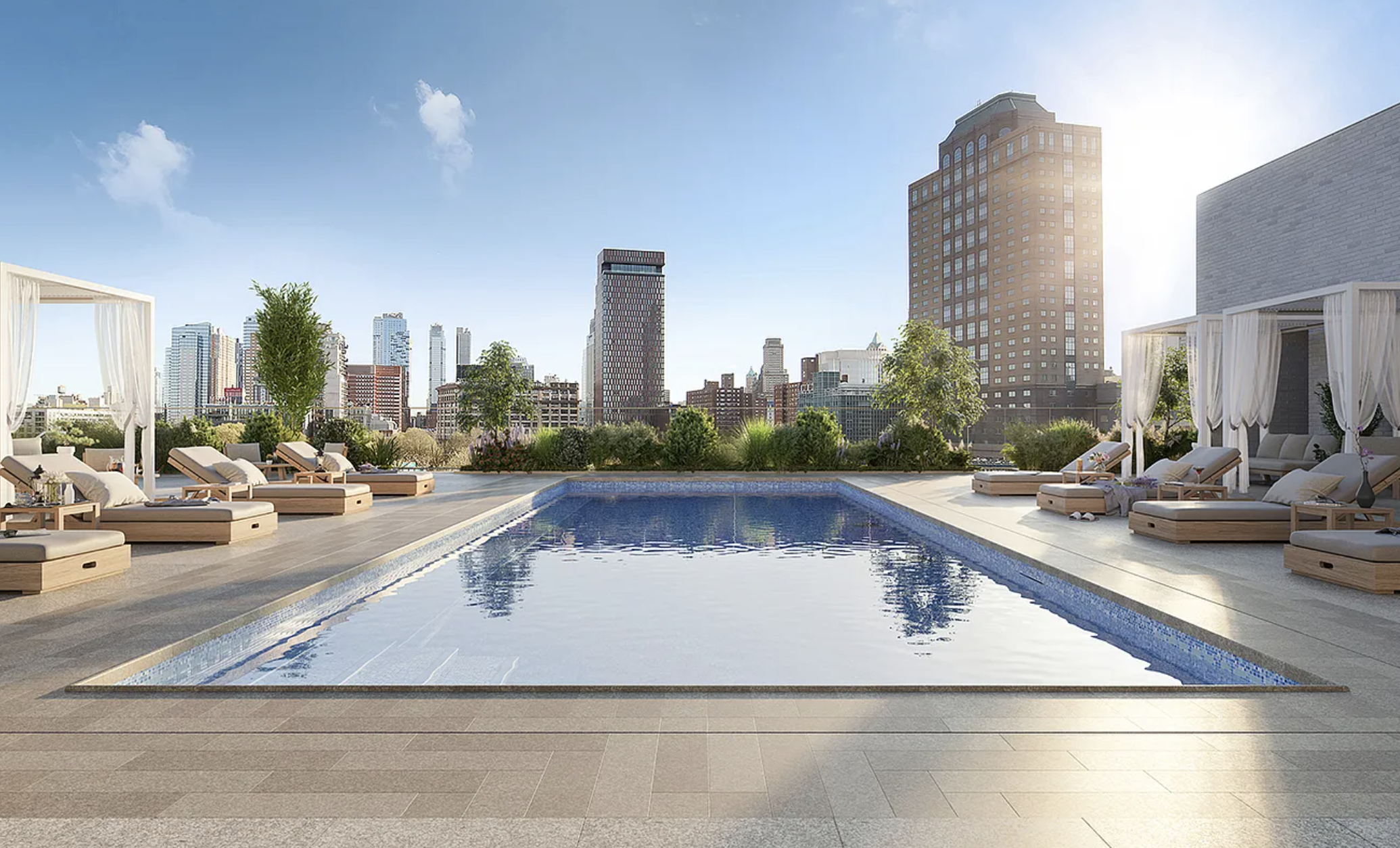 In the Front section of the Front & York development, this 748-square-foot one-bedroom condo has 10-foot ceilings, a gourmet kitchen with Gaggenau appliances, and a marble-clad bath with radiant-heated floors. It has the same amenities as the York section of the complex and is on the market for $1.17 million. The sponsor unit does not require board approval.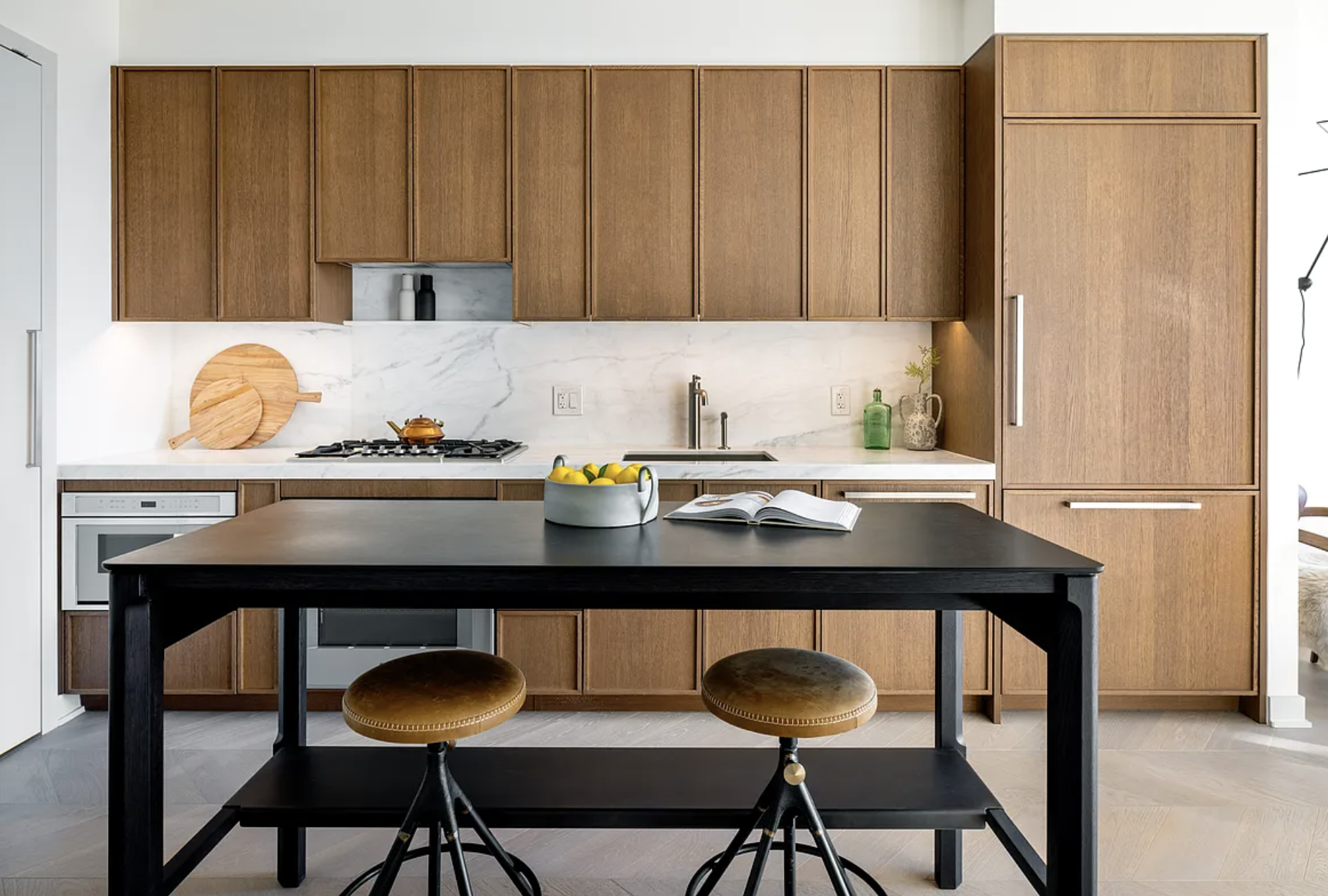 Listed for $1.13 million, this 631-square-foot one bedroom, one bath is in the Front section of the Front & York development. The sponsor unit does not require board approval.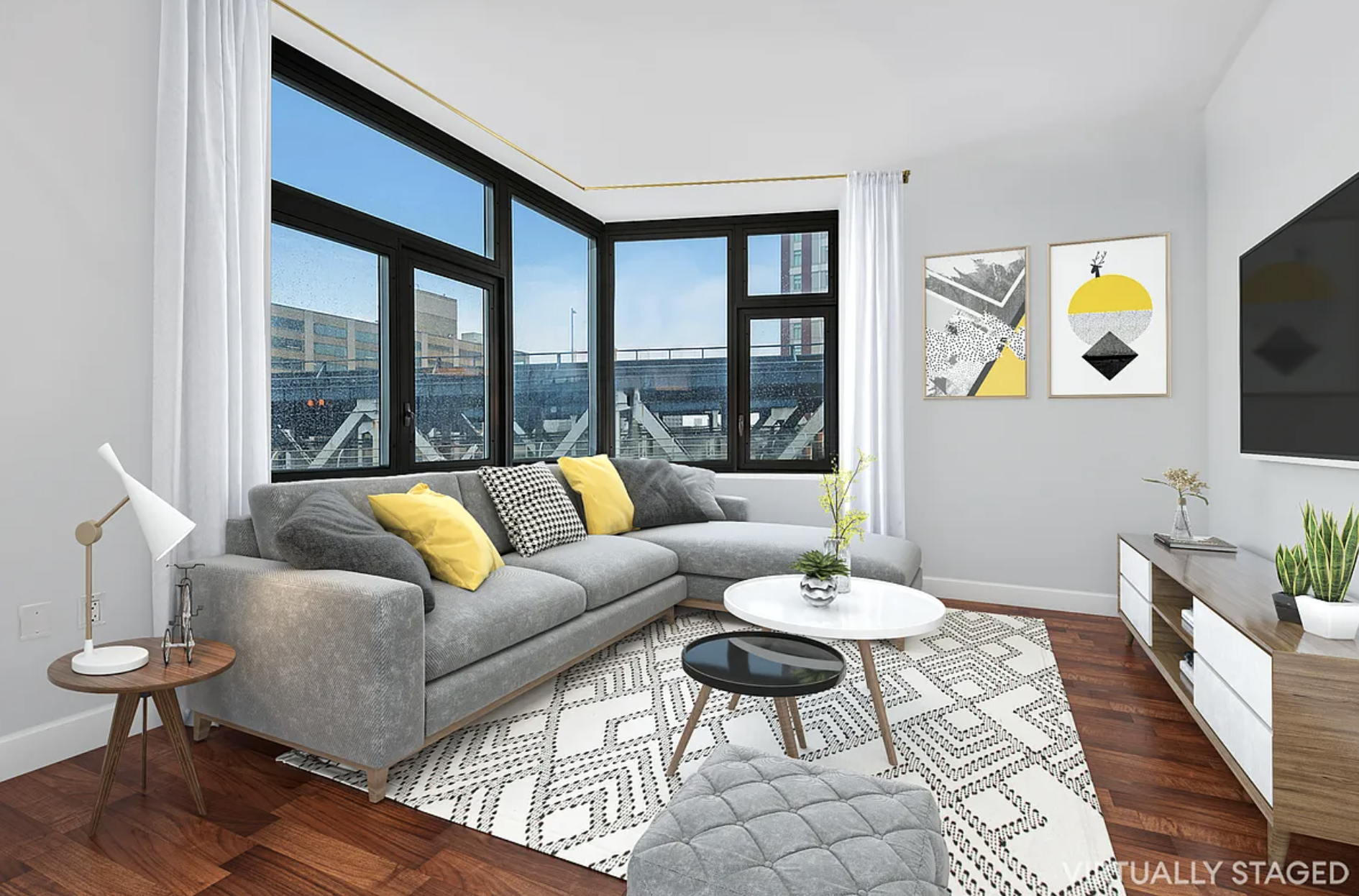 This 801-square-foot condo has one bedroom, one bath, large windows, in-unit washer/dryer, and a custom kitchen with oak cabinets, stainless steel appliances, and granite countertop. The four-fixture marble bathroom includes a soaking tub and limestone floors. Amenities of J Condominium, a 33-story building with 267 units that dates to 2008, include a concierge, on-site garage, sundeck, gym, playroom, outdoor garden terrace, media room, bike room, and additional storage facilities. The price has been reduced to $930,000 from $965,000. 
Nancy A. Ruhling is a freelance writer based in New York City.
Brick Underground articles occasionally include the expertise of, or information about, advertising partners when relevant to the story. We will never promote an advertiser's product without making the relationship clear to our readers.