Your Next Move
What you can get for $1 million in Park Slope, the quintessential brownstone Brooklyn neighborhood
Your options include brownstone co-ops and new construction condos, often with outdoor space
Prices start at $400,000 for a studio, $800,000 for a one bedroom, and $1 million for recent developments
Modest brick or frame starter houses can be had by stretching your budget to $2.5 million
Have you always wanted to live in Park Slope but assumed you are priced out? In this new series, Brick looks at listings in New York City's most in-demand neighborhoods for under $1 million—roughly the median sales price for Manhattan co-ops and condos—as well as higher-priced options below $2.5 million. 
If your goal is to live large, think small: Buying a studio or one bedroom is a way to net the nabe of your dreams. New to buying NYC real estate? Be sure to wrap your head around the difference between co-ops and condos. Co-ops are generally less expensive but also are older and have fewer bells and whistles than condos—plus more rules. With that in mind—happy hunting!
In this week's Your Next Move, Gerard Splendore, an agent at Coldwell Banker Warburg's Tribeca Office, and Sandra Levykh, an agent at Compass, give us the inside story on Park Slope, a brownstone-Brooklyn, family-centric neighborhood that has outdoor spaces as well as a variety of cultural institutions and locally owned restaurants and boutiques.
What draws buyers to the neighborhood?
Noting that Park Slope is one of the most popular neighborhoods, not only in Brooklyn but also the entire city, Splendore says that "it's the whole vibe, the gestalt, the community feeling" that give it its cachet.
"Its cultural amenities, including the Brooklyn Conservatory of Music, as well as BAM and the Brooklyn Botanic Garden [which are nearby], are hidden gems that are much revered," she says. "And Prospect Park is right in your front yard."
The park, which Levykh calls the heart of the neighborhood, "is less crowded than Central Park, and it's large enough so you can feel like you left the city; you can actually feel like you're in the forest or on the lake."
Levykh says Park Slope, which has the charm of a small neighborhood, offers a variety of activities for various age groups.
"Many of them are geared to parents and children," she says, "but there also are cafés and bars and block parties that attract a younger crowd."
The numerous subway lines, she adds, are another prime attraction.
What are housing and pricing like?
Buyers can choose from a variety of housing styles ranging from mansions and grand brownstones to more modest brick and frame houses as well as condos and co-ops, some of which are in townhouses.
"Much of the housing has balconies and roof decks, and the views are breathtaking," Levykh says. "You can see the majority of the Manhattan skyline."
There are only 87 condos, co-ops and single-family houses on the market, according to StreetEasy. Twenty-five are priced at $1 million or less.
Higher interest rates and overall concern about the economy and inflation have made buyers and sellers more cautious, Splendore says, adding that sales are still being transacted.
Houses generally sell for $2.1 million to $12 million, he says, adding that the lower price points are for residences that require renovation.
What type of property can I get for under or around $1 million?
According to Splendore, new-construction condos start at around $1 million, while studios that may or may not need renovation can be found for $400,000 to $500,000, and comparable one bedrooms can command $800,00 to $900,000.
I can stretch my budget. What can I get for $2.5 million?
For this price, you can get what Splendore describes as "a modest starter house that's frame or brick with two rooms on each floor; this is not everyone's idea of a grand brownstone."
Are there any newer condo developments I should check out?
Newer condos typically offer the most luxurious amenities and finishes, features that attract many buyers.
575 Fourth opened in 2019 and has 70 and 11 floors plus a roof deck, children's playroom, and gym. The least expensive unit—a two bedroom, two baths—is 1,057 square feet and asking $1.345 million.
One Prospect Park West, which also opened in 2019, inhabits a restored 10-story, 1931 building. Amenities include a roof deck, children's playroom, gym, bike room, and media room. Only one of its 55 units is on the market: A three-bedroom, two-bath, 1,711-square-foot penthouse that's listed for $3.6 million.
Which attractions do you show buyers who have never been to the area?
"I suggest clients take the subway to Grand Army Plaza, where I meet them," Splendore says. "We walk up and down the commercial corridors on Fifth and Seventh avenues, and then we head to Prospect Park and walk down through South Slope, where the housing changes and is more affordable. You can also do the same tour by car, but there's no substitute for walking."
Levykh, too, starts her walking tour at Grand Army Plaza, stopping at the weekly farmer's market.
"I show them the different parts of the park, including Dog Beach, a fenced-in pond where dogs swim together," she says. "You can see people in hammocks reading and kids playing softball in other sections."
Her tour continues with the brownstones of Prospect Park West and Eighth Avenue. "Buyers see the gas lamps and stained-glass windows so they can feel what it's like to live here," she says.
Along the way, she points out the Park Slope Food Coop, longtime restaurants like Palo Santo and Morelos, the taco truck that's parked at Fifth Avenue and Union Street.
What are the nearby neighborhoods, and are they less expensive?
Housing in the closest neighborhoods is not any cheaper, Splendore says, adding that you have to go out further, say to Sunset Park and Bay Ridge, for a greater selection and variety of price points.
Check out these listings that are around $1 million in Park Slope.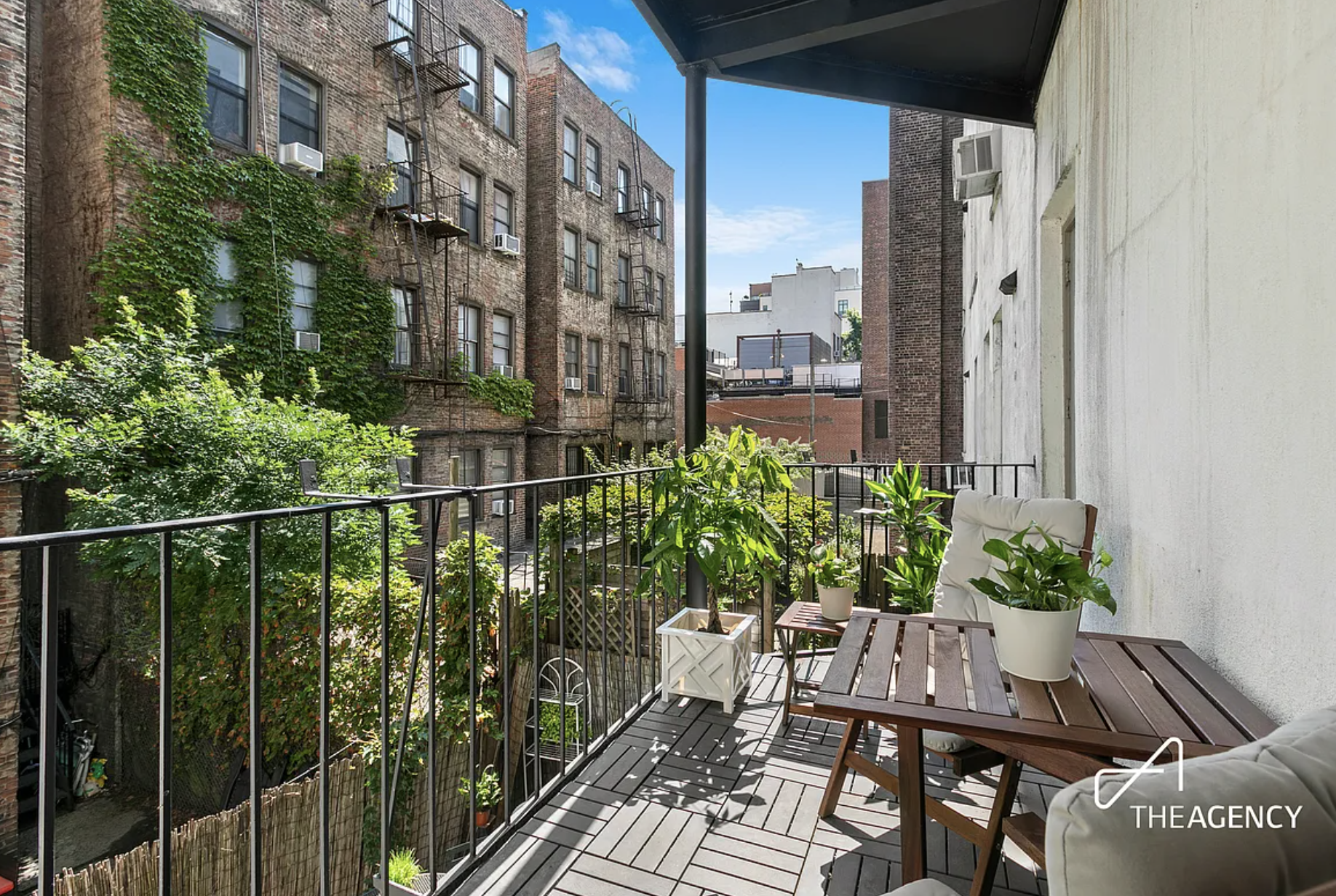 Listed for $725,000, this one-bedroom, one-bath co-op has oversize windows on the north, east, and west, a balcony, high ceilings, hardwood floors, and a renovated kitchen with a dishwasher. Features of the four-story, 31-unit 1902 elevator building include a garden with a private entry, laundry room, bike room, and furnished roof deck. Cats and dogs allowed.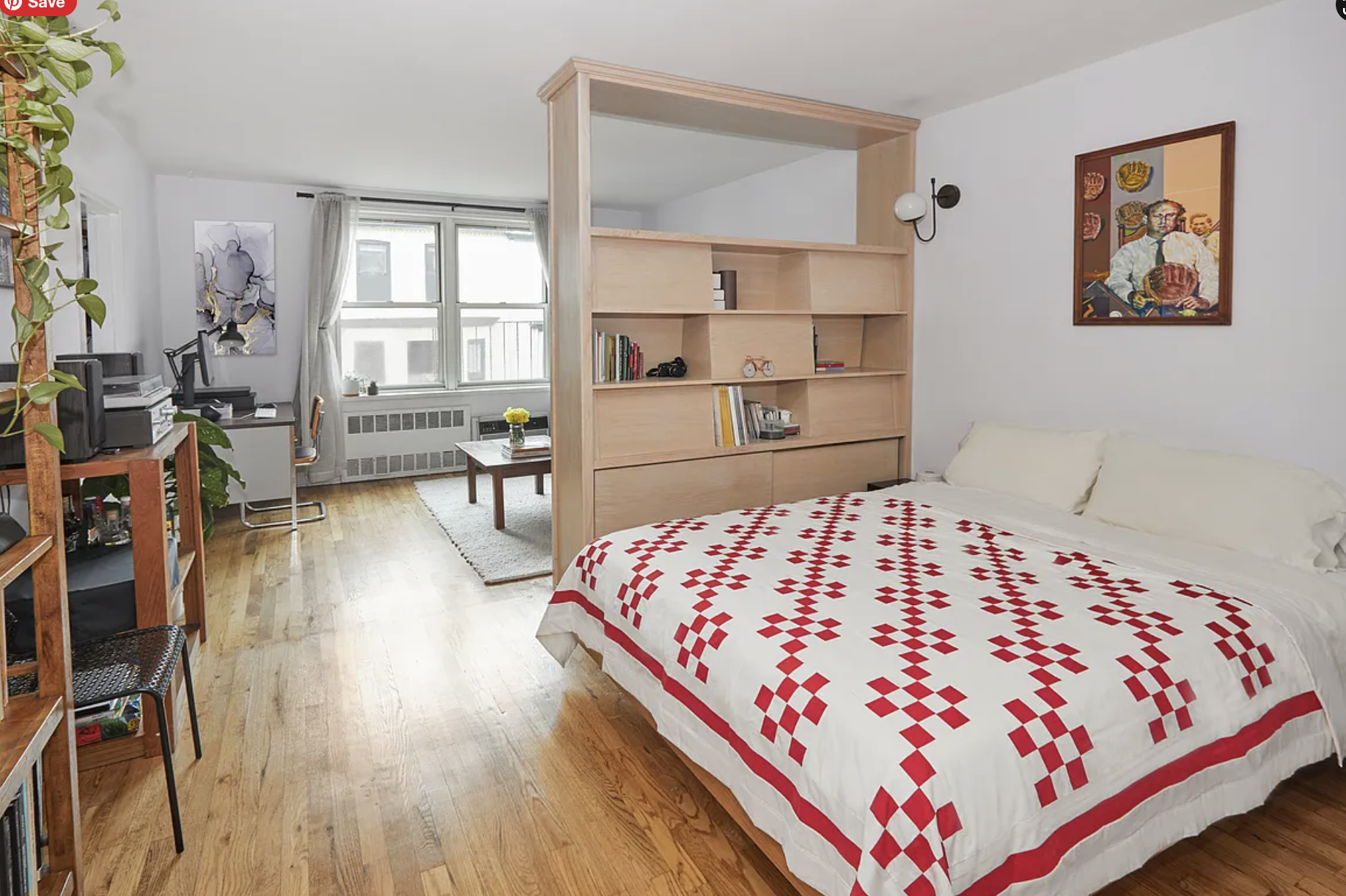 This studio co-op has hardwood floors, high ceilings, and a built-in room divider. The 1956 elevator building, which has 64 units in its six stories, has a live-in super, video intercom system, renovated laundry room, and shared back patio. Cats are allowed. It is asking $460,000 and is in contract according to the listing.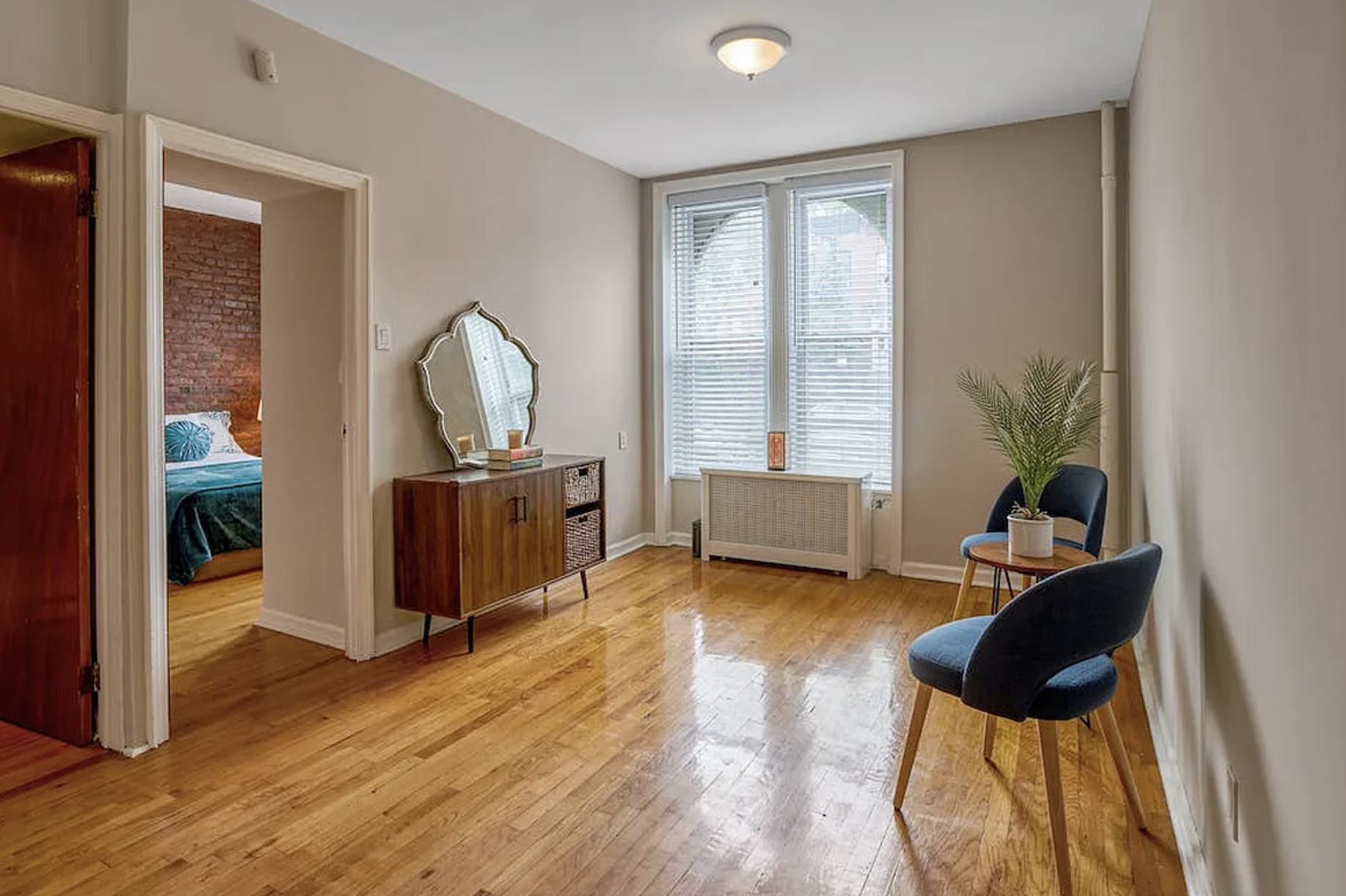 On the market for $899,000, this 808-square-foot co-op has two bedrooms, two baths, an updated kitchen with a dishwasher, a renovated bath, exposed brick, and hardwood floors. It's on the first floor of a pet-friendly building that opened in 1912 and has six stories and 20 units, as well as a shared botanical roof deck, backyard with a grill, and laundry room.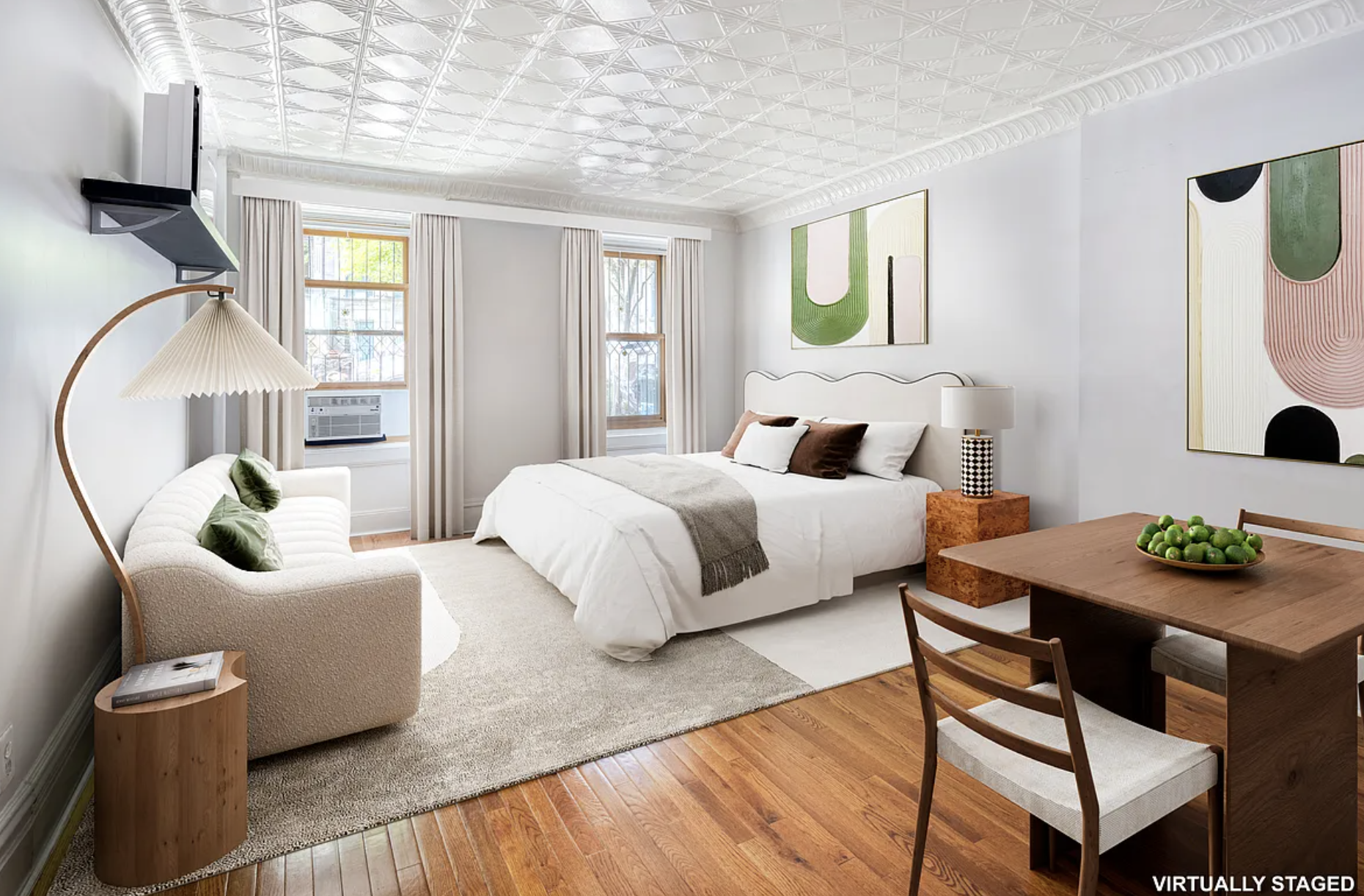 Located in a 1920 brownstone, this studio co-op is one of only 10 units in the building, which offers free laundry in the basement and permits cats. The unit is on the front half of the garden level and has new hardwood floors. The asking price is $400,000.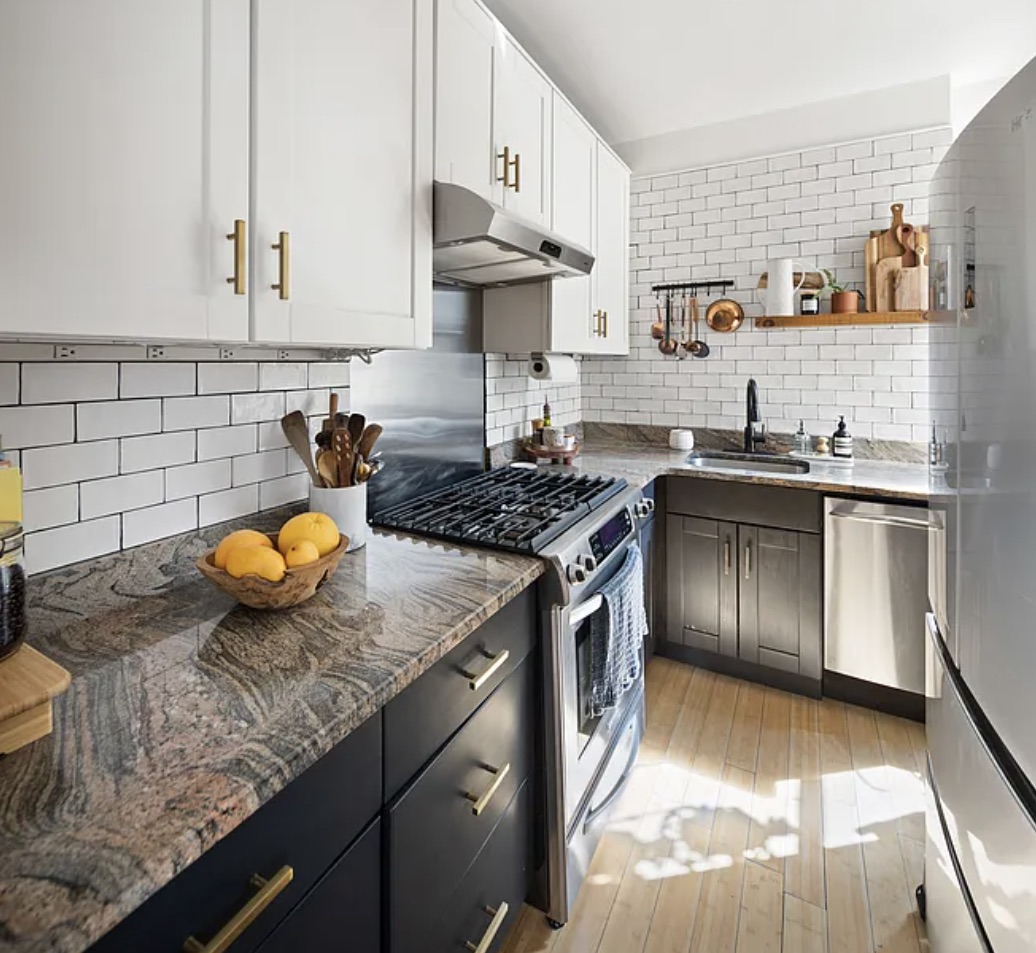 This top-floor two-bedroom co-op, which is being used as a one bedroom with a windowed nursery, is listed for $800,000. It has high ceilings, a window in every room, and a dishwasher in the kitchen. The 1939 elevator building has six stories and 56 units. Amenities include a live-in super, two outdoor courtyards, and an intercom system. Cats are allowed.
Nancy A. Ruhling is a freelance writer based in New York City.
Brick Underground articles occasionally include the expertise of, or information about, advertising partners when relevant to the story. We will never promote an advertiser's product without making the relationship clear to our readers.