Your Next Move
What you can get for $1 million in Chelsea, home to the High Line and art galleries
Chelsea Market, Hudson Yards, and the Hudson River Promenade are nearby destinations
You'll find condos, co-ops, and townhouses; many are prewar but there's some new construction
One-bedroom condos generally run $1.1 million to $2.6 million depending on the amenities
Have you always wanted to live in Chelsea but assumed you are priced out? In this new series, Brick looks at listings in New York City's most in-demand neighborhoods for under $1 million—roughly the median sales price for Manhattan co-ops and condos—as well as higher-priced options below $2.5 million. 
If your goal is to live large, think small: Buying a studio or one bedroom is a way to net the nabe of your dreams. New to buying NYC real estate? Be sure to wrap your head around the difference between co-ops and condos. Co-ops are generally less expensive but also are older and have fewer bells and whistles than condos—plus more rules. With that in mind—happy hunting!
In this week's Your Next Move, Justin Figari, an agent at Douglas Elliman, and Jesse Feldman, an agent at Compass, give us the inside story on Chelsea, an art-centric area home to some of the world's most famous galleries.
Chelsea proper, whose boundaries are Ninth Avenue on the west, Sixth Avenue on the east, West 14th Street on the south, and West 30th street on the north, complements West Chelsea, which is more residential.
What draws buyers to the neighborhood?
It's a combination of factors, including its central location, access to public transportation, and a vibrant arts and dining scene, Figari says. "The High Line in West Chelsea is a major attraction as are the 'starchitect' buildings that are rising every day in the lower 20s."
Feldman adds that the High Line is only one of the newer cultural hubs—like Chelsea Market, Hudson Yards, and the Hudson River Promenade—that are in or close to the neighborhood and bring in buyers. Prospective purchasers find a wide selection of housing options, notably townhouses and loft building conversions, that are an attractive "blend of old and new," she adds. 
What are housing and pricing like?
Chelsea offers condos, co-ops, and townhouses in various styles. Many of them are prewar, but there are some new-construction condos, too.
Figari notes the "odd" market is in transition. "It has been more active than you would have thought during this time of high mortgage interest rates, but sellers have become more realistic about prices, and buyers are getting discounts, especially at new developments with sponsors. If they are not getting price reductions, they are getting other concessions."
He adds that properties that are "priced well will move."
Townhouses, depending on their width and amount of renovation, typically sell for $6 million to over $20 million, he says.
One-bedroom condos generally are $1.1 million to $2.6 million, depending on the building's amenities. He adds that two-bedroom units at the uber-luxurious Walker Tower, which has only 47 units, have been priced at $10 million to $11 million.
Co-ops also vary widely in price. Figari notes that there's a one-bedroom, one-bath unit on the market in an elevator building for $665,000. "If this were a studio in the same building, it would be about $525,000," he says, adding that a renovated one-bedroom unit in a full-service building with a roof deck and swimming pool can command $1.1 million.
What type of property can I get for under or around $1 million?
Of the 333 properties on the market, only 58 are priced at $1 million or less, according to StreetEasy.
Figari says it's possible to get a one-bedroom co-op or condo in an older full-service building for $1 million. Prices are lower, around $600,000 to $850,000, if the building is not full service and depending on the location and amount of renovation the unit has undergone, he adds.
I can stretch my budget. What can I get for $2.5 million?
At this price point, it's possible to buy a large one-bedroom, two-bath unit in a new full-service condo or a two-bedroom, two-bath unit in a full-service co-op that's been renovated, Figari says.
Are there any newer condo developments I should check out?
Newer condos typically offer the most luxurious amenities and finishes, features that attract many buyers.
Opened in 2022, the 13-story 101 West 14th has 44 units and offers a doorman, concierge service, a roof terrace, fitness center, lounge, and garden. The least expensive unit, a 727-square-foot one bedroom, one bath, is on the market for $1.89 million.
Maverick opened in 2021 and has 87 units and 21 stories. Amenities include a doorman, concierge service, a pool, fitness center, bike room, media room, roof deck, and garden. The least expensive unit on the market, a two-bedroom, two-bath condo that's 1,115 square feet, is $1.995 million.
The bluestone façade of 124 West 16th St., which opened in 2019, was inspired by old factory buildings in the neighborhood. The 12-story condo has 15 units with balconies, oversized windows, and great rooms with fireplaces. There are no active listings.
Which attractions do you show buyers who have never been to the area?
"It depends on their price point and criteria," Figari says. "But I generally point out the convenience of multiple public transportation lines. I normally let them take the neighborhood and surroundings in for themselves. "
Feldman always shows clients the High Line in West Chelsea and details its journey from a former freight-train track to one of the city's prime green spaces. For those interested in art, he gives a tour of the galleries and makes it a point to stop in at the Rubin Museum of Art, a longtime fixture in Chelsea.
What are the nearby neighborhoods, and are they less expensive?
According to Figari, although the adjacent neighborhoods—such as Hudson Yards, Soho, and Greenwich Village—are about the same price as Chelsea; those that are a bit further away, including Hell's Kitchen, Kips Bay, and Murray Hill, are not as costly.
Check out these listings that are around $1 million in Chelsea.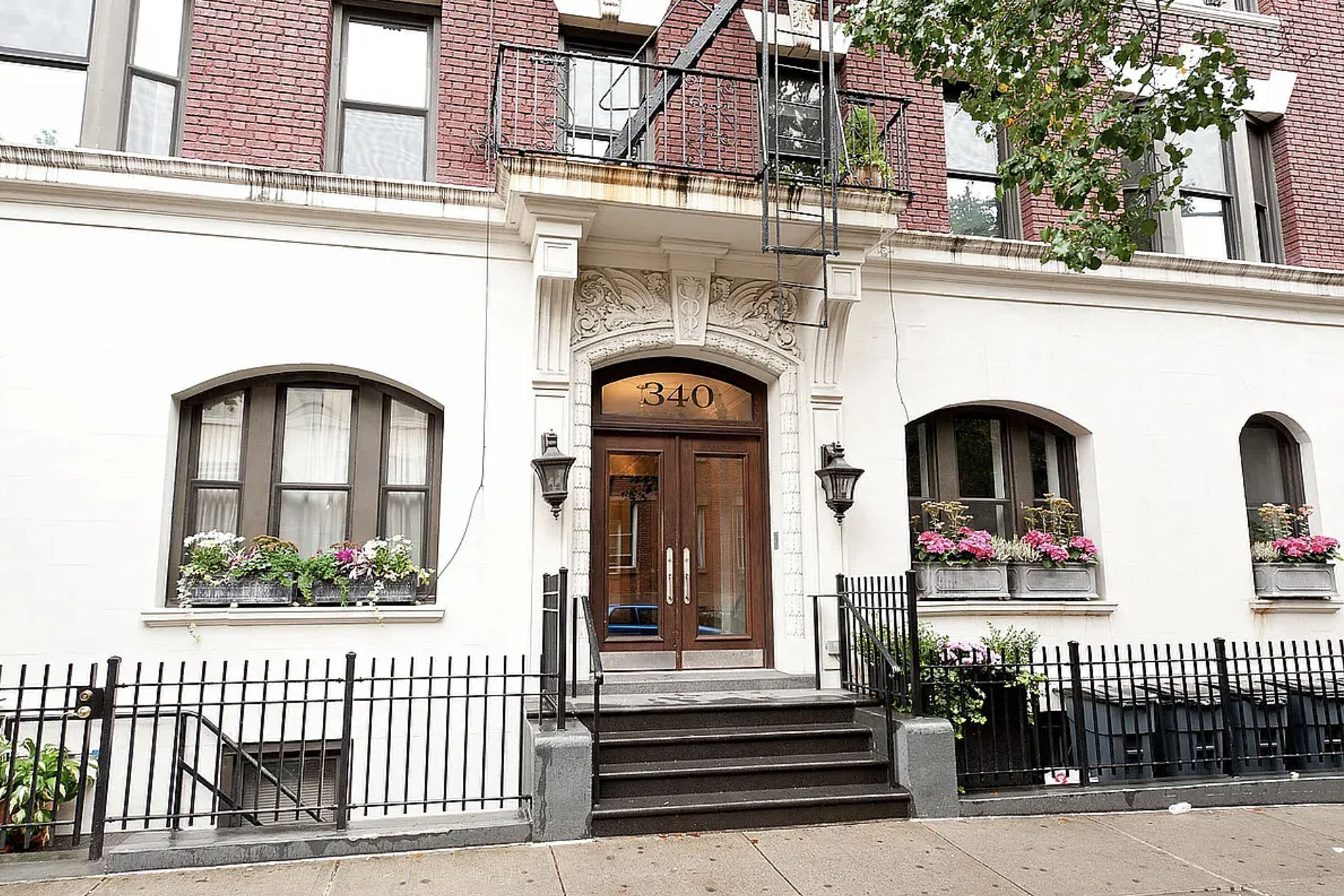 Listed for $999,000, this two-bedroom, one-bath sponsor unit has been recently renovated with new hardwood floors and closets. The updated kitchen has high-end stainless steel appliances including a dishwasher. The six-story, walk-up co-op building, which was built in 1920, has 26 units and allows pets.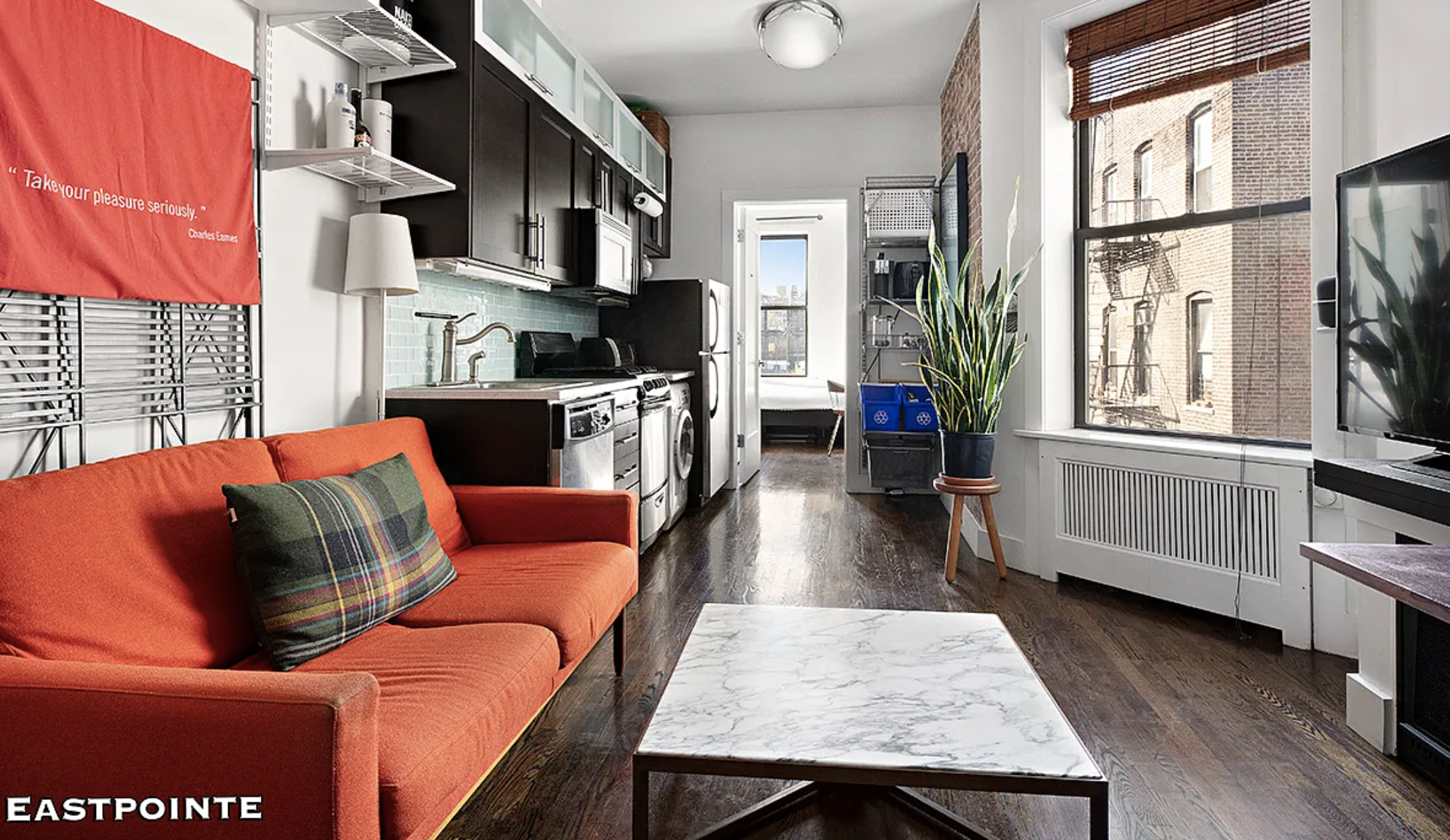 This one-bedroom, one-bath co-op, listed for $495,000, has an updated kitchen with stainless steel appliances including a dishwasher, a renovated bath, an in-unit washer and dryer, and a cartridge gel fuel fireplace. The pet-friendly walk-up building, known as the Hamilton, has five stories and 20 units and dates to the 1920s.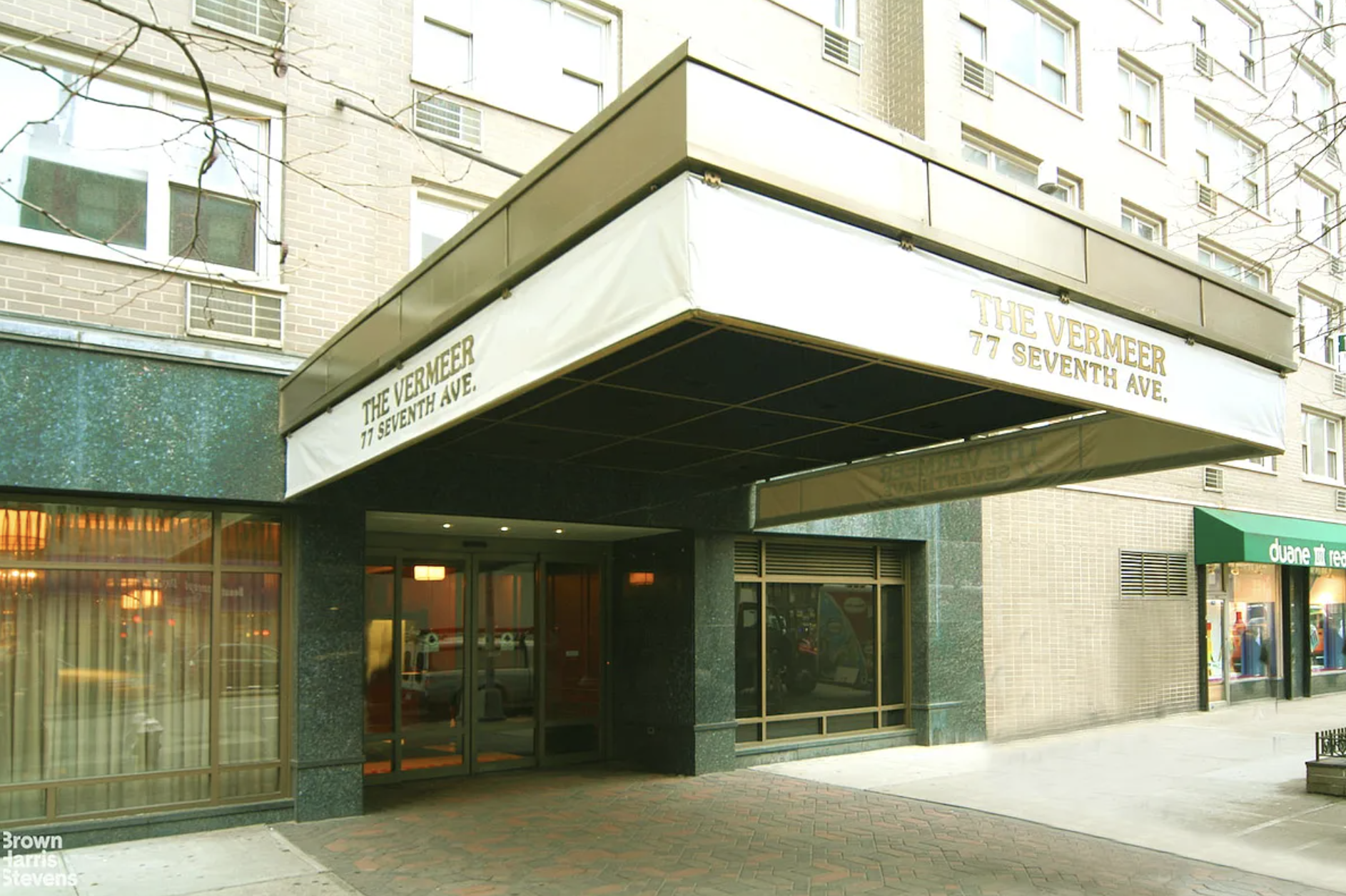 Located in the Vermeer, this 640-square-foot studio co-op has parquet floors, a renovated kitchen, and an alcove that can be converted to a bedroom. It is asking $799,000. The 21-story, 354-unit elevator building was built in 1963 and features a garage, bike/storage room, roof deck, live-in super, and doorman/concierge. Pets are allowed.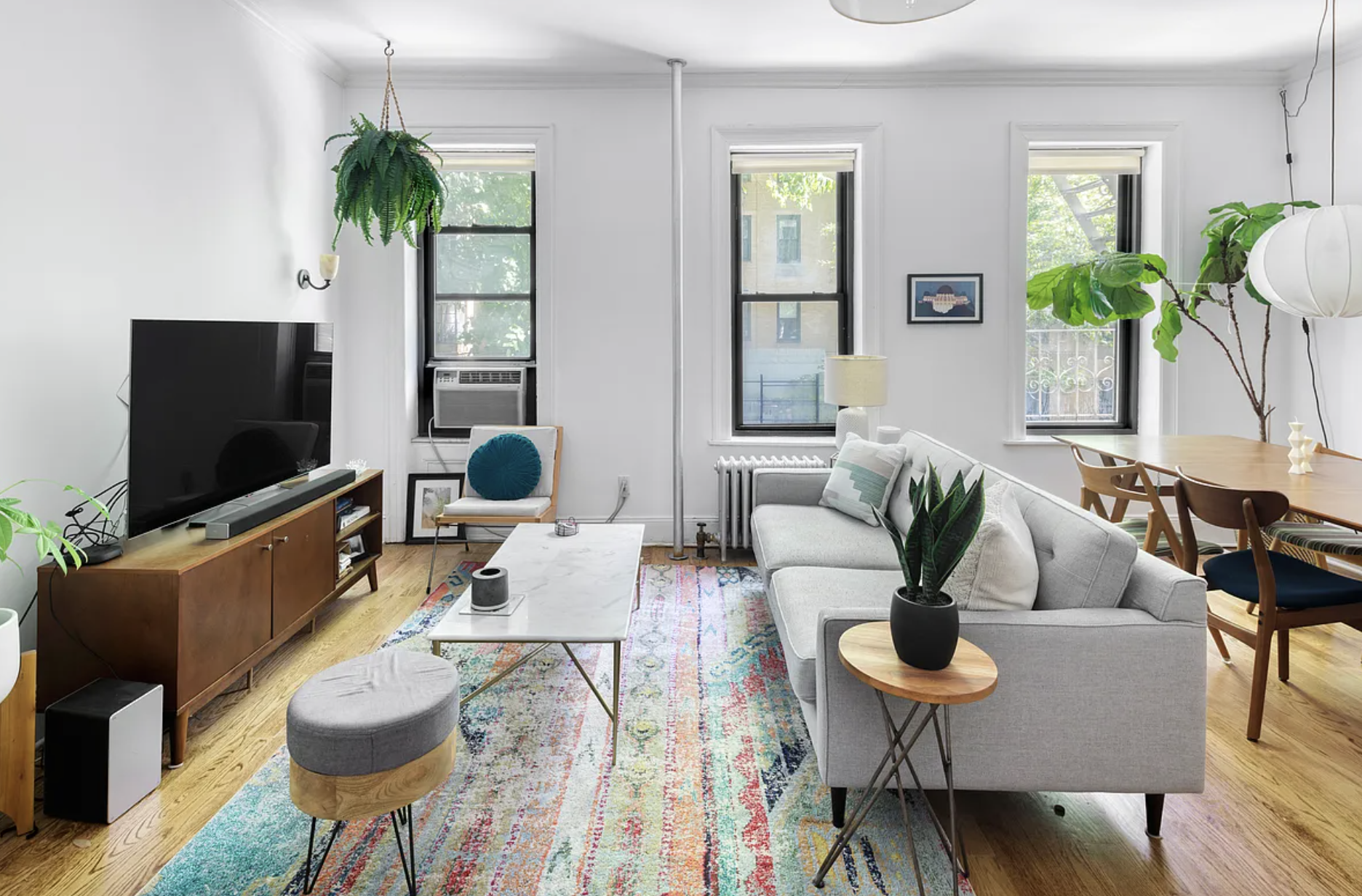 Originally on the market for $950,000, this two-bedroom, one-bath co-op is now $900,000. It has hardwood floors, a video intercom security system, dishwasher, and storage unit. The six-story elevator building, built in 1925, has 24 units, a roof deck, back garden, live-in super, and laundry room. Pets are allowed.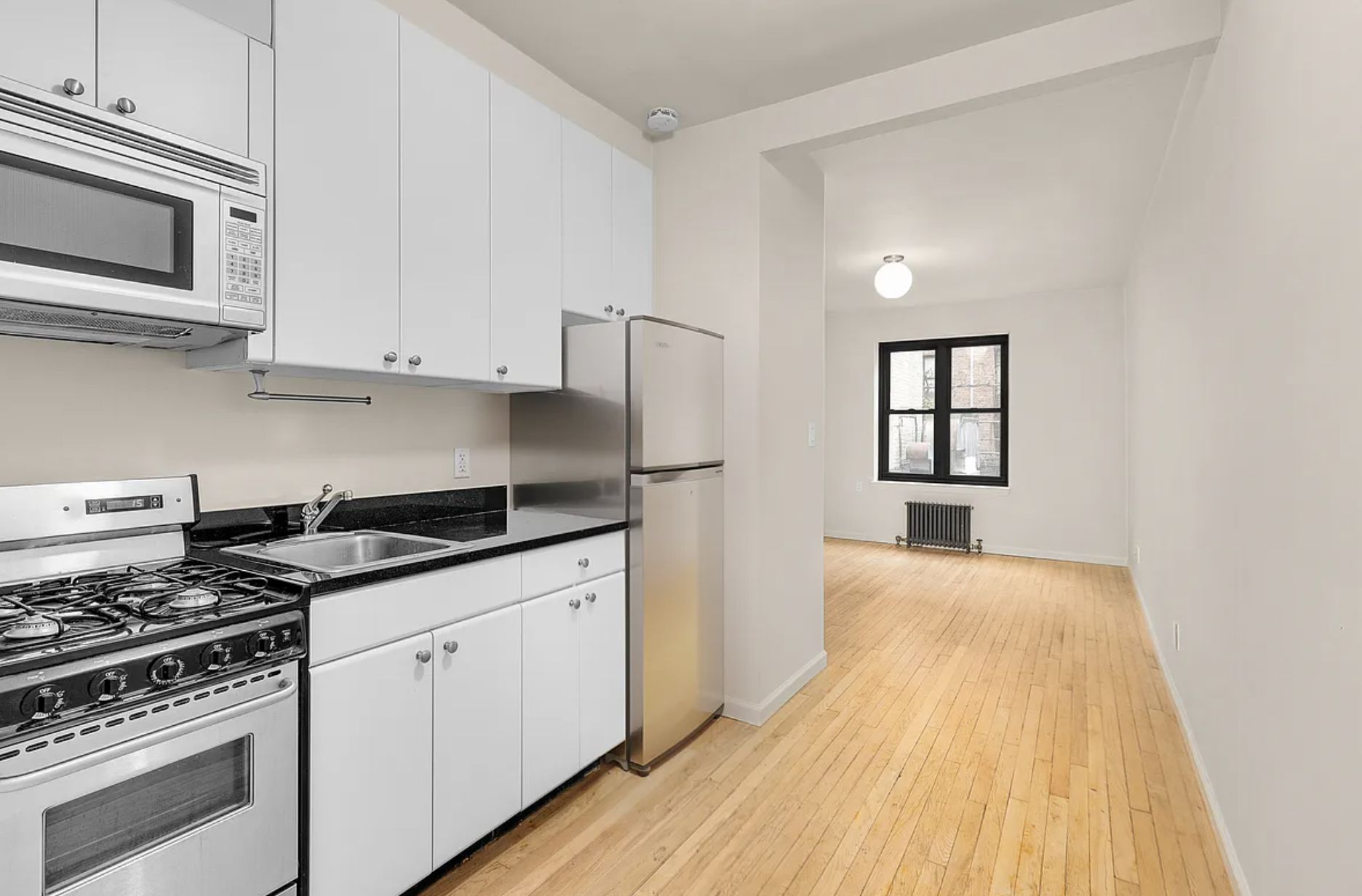 Listed for $585,000, this studio condo has a large closet, new electrical work, and an updated bath and kitchen with resurfaced cabinets and new appliances. The pet-firendly 1922 building has five stories, 77 units, a bike room, and live-in super.
Nancy A. Ruhling is a freelance writer based in New York City.
Brick Underground articles occasionally include the expertise of, or information about, advertising partners when relevant to the story. We will never promote an advertiser's product without making the relationship clear to our readers.