Architect Rosario S. Mannino is somewhat horrified by the décor in this Coney Island one bedroom, 2915-2935 West 5th St., #17A, especially the pastel paint on the walls and the dated shag flooring. "Those colors, that carpeting," he says, with mock horror. 
But those are cosmetic things that can easily be remedied. He actually thinks the apartment itself—which is listed for $288,000—looks to be in good shape.
"The windows are a decent size," he says. "As is the layout. My first impression is that it has the potential to be very nice."
In this week's Reno Ready, Mannino explains what architectural changes he'd make to help it live up to this potential and what else he'd do to bring the outmoded apartment into the modern age.
Lose the carpeting in the living room
Floors: Mannino would lose the carpeting and extend the wood flooring from the dining room throughout the entire apartment since, he says, "it's got a really nice color and sheen to it." Red oak strip flooring should cost about $5 per square foot.
Paint: He'd happily paint over those peach walls. "I'd go with just a pure white to make the space feel bigger and brighter," he says. He's partial to Benjamin Moore's Winter White "because it has a little bit of warmth to it." A gallon of paint for the walls and ceiling is $75.
Trim: "I'd add a nice baseboard trim," says Mannino. "Something simple and elegant that'll help to transition the floor to the wall and add more architecture to the space." This should cost approximately $3 per linear foot.
Lighting: He feels that the black track lighting above the couch is dated, so he'd update that with more contemporary-looking track lighting with smaller lamps that he'd center in the room. If that isn't enough light, he'd also add sconces behind the sofa. Track lights from Kreon should be in the $700 range.
Window treatments: "I'd definitely update those with some nice sheers," he says, noting that they'll give you some privacy while also letting the sunlight in. These Firenze wide-width Trevira plain sheers are around $900 at Dering Hall.
Radiator/air conditioner cover: He recommends having a custom radiator enclosure built in order to hide the unsightly radiator and A/C. He'd paint it white, like the walls, and rock a monochromatic look in the room. This cover should cost about $6,000.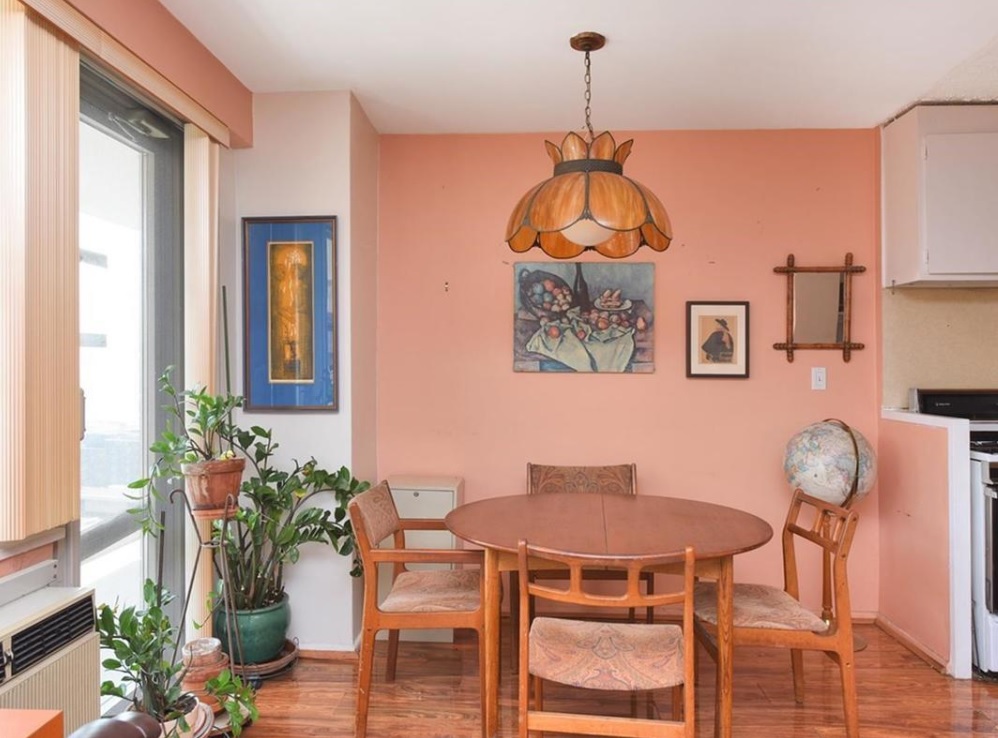 Extend the flooring into the dining room
Floors: Since Mannino is such a fan of this flooring, he'd actually extend it throughout the rest of the apartment.
Trim: He'd replace the baseboards in here, too.
Walls: Mannino would recommend painting the ceiling and beam the same white as in the living room since they're connected, but he'd also add a textured wall panel to that back wall (where the painting is at the moment). "It would accentuate the different between the dining room and the living room," he says. "It'll also add more depth and more interest to the dining room." A box of 10 of these Rex Design 3D glue-on wall panels is $80 on houzz.com.
Lighting: He isn't a fan of the pendant light that's hanging in there at the moment, so he'd swap it out for something more modern. This Oversized Cone Paper Shade pendant is $299 at Shades of Light.
Gut that kitchen
While the available photos only offer a glimpse of the kitchen (to the right of the dining room), the ancient white stove and cabinets are enough for Mannino to know that he'd gut the entire thing.
Cabinets: Mannino would choose walnut veneer cupboards. "They're expensive, but you only need a small quantity here, and they're a nice feature to add," he says. He also thinks they'll contrast nicely with all the white in the adjoining dining room. The cabinets should cost around $8,000.
Appliances: He'd update them all with matte black ones. "They look really beautiful," he says, adding that "it's nice to do something different than stainless sometimes." This four-piece kitchen appliances package from LG includes a counter-depth fridge, an electric range, a dishwasher, and an over-the-range microwave for $5,060 at AJMadison.com.
Floors: He thinks large charcoal-colored tiles would work best in here. "They'd go nicely with the walnut cabinets and the black appliances," he says. These tiles are around $8 per square foot.
Countertops/Backsplash: A creamy-gray Caesarstone that looks like concrete will go well with the color scheme, says Mannino. This should cost around $80 per square foot.
Sink/Faucet: He'd choose a deep stainless steel undermount sink, like this one from Kraus, $255 at The Home Depot. As for a faucet, he'd go with an expensive, but cool-looking matte black one that'll match the new appliances. This Brizo Litze pull-down faucet with square spout and knurled handle is $525 at Kitchen & Bath Authority.
Lighting: At least four small recessed lights in the ceiling should be able to adequately illuminate this space. They should cost about $600 or so. He'd also add under-cabinet lighting. These LED light strips are $15 at IKEA.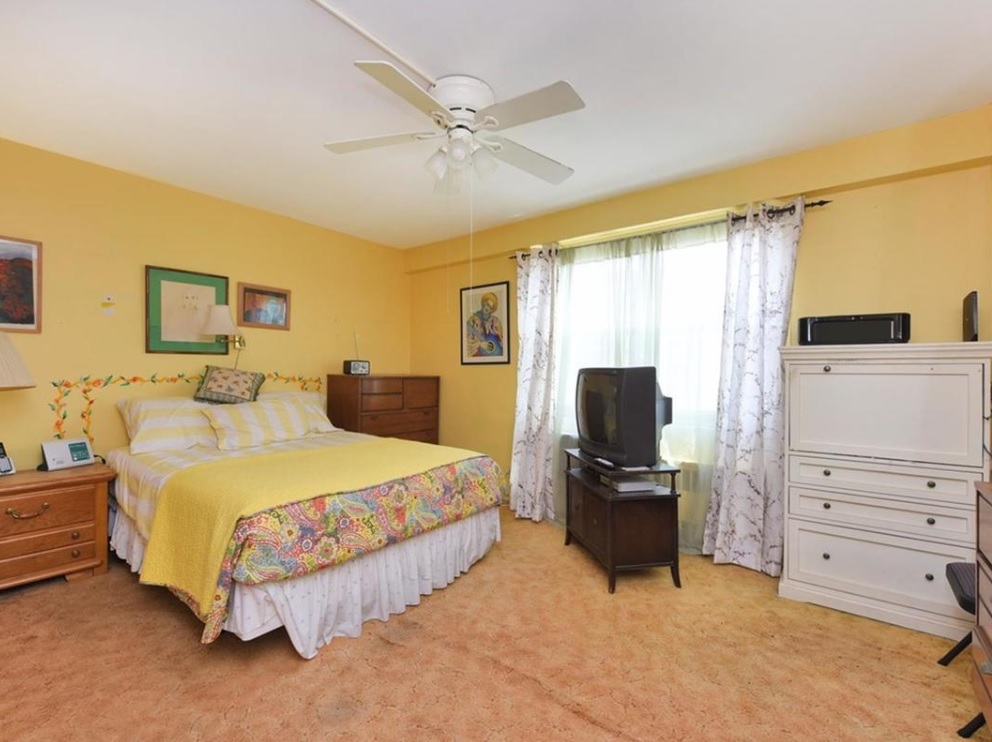 Swap the flooring in the bedroom
Here too, he'd once again switch out the carpeting for hardwood, have a custom radiator cover built, and replace the baseboards.
Walls: Mannino recommends a slate gray with a blue tint for the walls. "It's bold, but still warm," he says. A gallon of Benjamin Moore's Wolf Gray is $75.
He'd also add another textured panel to the wall behind the bed—like this one. "It'll add more architecture to the space," thereby making it more interesting, more defined, he says. Panels like these are pricey, and can cost in the $2,500 range.
Window treatments: Mannino would prefer more modern Roman shades like these, which are about $900 at Dering Hall.
Lighting: He'd change out the fan for a sleeker, more contemporary one with lighting. He'd also add two wall sconces with arms to either side of the bed for reading. Prices for this Concept II flush-mount ceiling fan start at $320 at Lumens. This Carla polished brass down-light swing-arm wall lamp is $70 at Lamps Plus.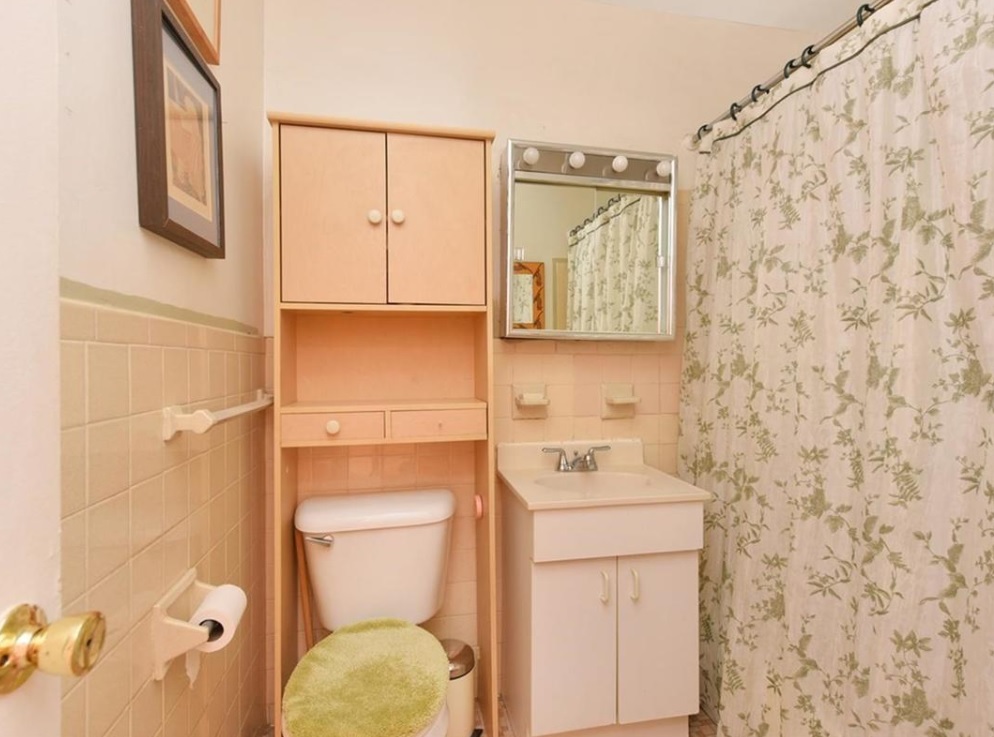 Bathroom needs a full redo
"This is also a full gut," Mannino says. "I'd get rid of everything."
Walls: He'd suggest full-height white tiles on all the walls. They should be about $6 per square foot.
Floors: He'd opt for gray-toned tiles underfoot. "They'll play off the other colors in the apartment," he says. These would also be about $6 per square foot.
Toilet: A new toilet is in order here. Mannino would choose something from DXV, which, he says, has a "sleeker, more contemporary" line. This St. George one-piece elongated toilet from DXV is $984.
Vanity: Mannino would replace the vanity with a custom walnut floating vanity "that won't make the bathroom feel as small," he says. This should cost about $4,000.
Faucet: He'd get a new faucet, too, like this Equility Widespread bathroom faucet, $836 from DXV.
Shower: He'd replace the curtain with glass shower doors. "Getting rid of the fabrics will create a cleaner, simpler look," he says. "It'll feel bigger, brighter, cleaner." These DreamLine frameless shower doors are $769 on houzz.com.
He'd also add a rain showerhead. "It's just a nice feature," he says. This Amazon Rain Shower Head Set is $569 on houzz.com.
Medicine cabinet: "I'd do a new medicine cabinet with lights built into the mirror," he says. This Kohler single-door lighted medicine cabinet is $699 on eFaucets.com.
Lighting: In addition to the mirror lights, he'd add a recessed light fixture centered over the tub, as well as one more in the middle of the ceiling. It should cost about $400 for both lights.
Brick Underground articles occasionally include the expertise of, or information about, advertising partners when relevant to the story. We will never promote an advertiser's product without making the relationship clear to our readers.