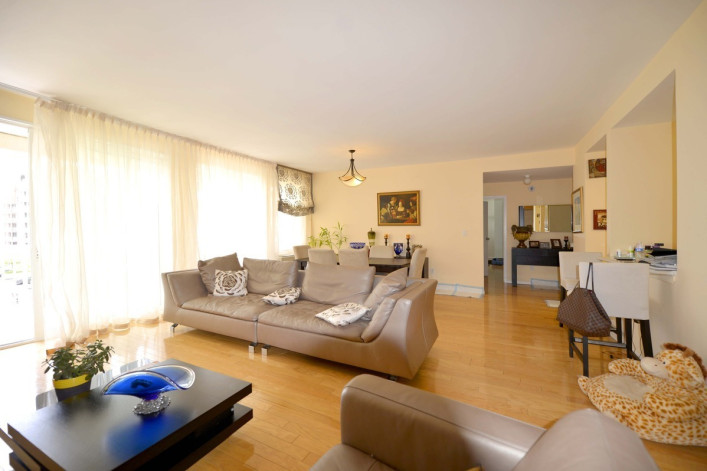 Coney Island may not have the brownstones of neighborhoods farther north in Brooklyn, but the area surrounding the famous amusement park is actually home to numerous residents—​and relatively cheap apartments. In this week's Buy Curious, Citi Habitats agent Mark Martov gives us the lowdown on the seaside spot. 
THE WISH LIST:
I went to Coney Island last weekend, and I'm curious: what's it like to live in the neighborhood? What kind of housing options are available, and what will it cost?
THE REALITY:
Located on Brooklyn's southernmost tip, Coney Island is extremely diverse, both in terms of people—large groups of African-Americans, Hispanics, and Russian and Ukrainian immigrants—and real estate, with single-family Victorians, 1960s-era high-rise co-ops, brick row houses, Art Deco co-ops, million-dollar condos and modern brick McMansions.
The average sale price of a condo here is close to $435,000, while the average sale price of a co-op is about $248,000, according to StreetEasy. Seems like a comparative steal, sure, but there are a few things that make Coney Island apartment-hunting a tricky endeavor. 
For one, it can be tough to find a place since the population isn't nearly as transient as say, Manhattan, where people are always moving. Overall, there are fewer apartments on the market at any given time. 
Brokers sometimes refer to Coney Island as the Wild Wild West because so few local agents are members of the Real Estate Board of New York trade group, which sets certain ethical guidelines for brokers, including requiring them to advertise apartments on REBNY's city-wide listing service and to keep listings updated. 

As a result, sometimes the information on the websites of Coney Island's mom-and-pop brokerages is out of date or incomplete, and apartments are not always marketed to brokers across the city. Thus, if you're planning to use a broker to look for a place, it's a good idea to find one who is familiar with the area and its idiosyncrasies.

Also worth keeping in mind: the neighborhood is on a peninsula, and took a beating when Hurricane Sandy hit in October 2012. Polluted water from the Atlantic Ocean and Coney Island Creek flooded out thousands of apartments and damaged the 

New York Aquarium

 and many boardwalk attractions. The majority of homes have now been repaired, and the U.S. Army Corps of Engineers and city Parks Department have pledged $35 million to restore and protect the Coney Island shoreline.
In addition to its namesake neighborhood, Coney Island also encompasses the communities of Sea Gate, Brighton Beach and Manhattan Beach. A bit more on each:
Coney Island:
Coney Island is going through a period of rapid transformation, with new businesses springing up or planned near the boardwalk, including the clothing shop Surf and Stillwell, a bar called Margarita Island, and national chains like candy store It'Sugar, Applebee's, Johnny Rockets and Red Mango frozen yogurt. And in 2010, the Italian amusement park ride manufacturer Zamperla opened Luna Park on the former site of the Astroland amusement park, which is home to the famed Cyclone roller coaster.​
While some see the changes as a welcome rebound for the neighborhood after years of decline, the makeover has had its critics over the years.
In terms of housing options, Coney Island is dominated by large high-rise apartment complexes—a mix of public rental housing owned by the New York City Housing Authority, as well as standard rental buildings. There are also both co-op and condo buildings with units for sale.
At the moment, there are a total of 54 listings currently available in Coney Island proper, according to StreetEasy, including 19 condos, 15 co-ops, 13 houses, five multi-families and two plots of land. Two one-bedroom condos are for sale here, with a median asking price of $381,500. There are 11 two-bedroom condos up for grabs with a median price of $598,000. As for co-ops, there are four one-bedrooms for sale with a median price of $227,500 and eight two-bedroom co-ops for a median price of $327,000.
Sea Gate:
The residential community of Sea Gate is located on the far western end of the peninsula and is surrounded by water on three sides. It's one of the few fenced-in and gated neighborhoods in Brooklyn and consists mainly of single-family homes, many of them historic Victorians. The area is known for its private beaches—which residents pay to staff and maintain—as well as its quiet streets. But be prepared to travel to Coney Island proper to shop as there aren't any stores in Sea Gate. The neighborhood is an insular one, and residents tend to like it that way.
Currently, there aren't any one-bedroom or two-bedroom condos for sale in Sea Gate, but there are two three-bedrooms listed for a median price of $499,000, StreetEasy shows. No co-ops are for sale at the moment. 
Brighton Beach:
Brighton Beach is located directly east of Coney Island proper and is a densely populated middle-class neighborhood with a variety of housing styles, including Art-Deco co-op and rental buildings, new construction condos, smaller buildings and multi-family homes, and even a handful of old wooden beach bungalows from when the area was a tourist destination—although these are rapidly facing the wrecking ball. Known for its beaches and boardwalk, the area is considered a Mecca of sorts for Russian-speaking immigrants.
Much like other parts of Brooklyn, developers are snatching up properties here—sometimes two, three or four houses at a time—to build high-rise developments. Most are condos—such as 52 Brighton 1st Place and 2969 Brighton 1st Street—but two new rental buildings are coming to the market as well. There's even a new "green" condo building called Bright'N Green located right off Brighton 1st Street that features solar panels above every window, turbines on the roof and even filters its own rain water.
Currently, three one-bedroom condos are for sale for a median price of $398,000, and 42 two-bedroom condos are available for a median price of $679,000, according to StreetEasy. There are 30 one-bedroom co-ops for a median price of $299,500, and 20 two-bedroom co-ops for a median price of $328,500.
Manhattan Beach:
Developed in the 1800s as a seaside resort, this neighborhood comprises the easternmost section of the Coney Island peninsula. It's currently one of the priciest parts of Brooklyn, and dominated by single-family houses. Indeed, in recent years, buyers have begun tearing down existing homes and building "McMansions," a controversial practice. These new structures often take up a large part of the lot and can crowd neighboring homes. In addition, many people think that by demolishing and building new—instead of restoring the older homes—they are ruining the historic charm of the area.
Two three-bedroom condos are for sale for a median price of over $1 million, though nothing smaller is available in terms of condos, according to StreetEasy. As for co-ops, there aren't any one-bedrooms on the market, but there is one two-bedroom priced at $265,000. There are also 29 houses for sale in Manhattan Beach with a median price of $1.35 million.
If you're looking to buy on Coney Island: 
Coney Island three-bedroom/two-bathroom condo, $538,000: This condo at 2882 West 15th Street between Mermaid and Neptune Avenues has two balconies. There's also in-unit laundry and a tax abatement.
Coney Island three-bedroom/1.5-bathroom condo, $795,000: This high-floor listing at 501 Surf Avenue between West 5th and West 8th Streets is located right in the heart of Coney Island. Although this is not a brand-new building—it was built in 1964—it's steps from major Coney Island attractions, including the aquarium. The building also offers private parking, a pool and a gym.
Coney Island two-bedroom/one-bathroom co-op, $365,000: This 16th floor co-op—at 2932 West 5th Street between Neptune and Surf Avenues—is located in the Trump Village complex and features ocean views and a private terrace. While the corner unit is a bit of a fixer-upper, maintenance is a reasonable $743 a month, and includes heat, gas and electric. The building offers a new laundry room and a new children's playground.
Coney Island four-family house, $805,000: Great for investors and would-be landlords, this home at 2816 West 36th Street between Neptune and Mermaid Avenues offers four apartments. 
Or Sea Gate:
Or Brighton Beach:
Brighton Beach three-bedroom/2.5-bathroom condo, $1,550,000: This condo at 65 Oceana Drive East near Ocean Terrace is located in the popular Oceana complex. The home features hardwood floors, central a/c, ocean views and access to a fitness center, steam room and indoor and outdoor pools.
Brighton Beach two-bedroom/two-bathroom condo, $459,000: This apartment at 52 Brighton 1st Place between Brighton Beach and Ocean View Avenues is located in a new, smaller boutique development one block from the beach. It has a 1,600-square-foot private terrace.
Or Manhattan Beach:
Manhattan Beach five-bedroom, 4.5-bathroom house, $2,500,000: This single-family home at 60 Exeter Street between Shore Boulevard and Hampton Avenue is typical of newer construction in Manhattan Beach, and features an eat-in kitchen with granite counters and stainless steel appliances. 
Manhattan Beach three-bedroom/three-bathroom condo, $1,200,000: While Manhattan Beach is mostly houses, there are a few buildings on the western border (right off Brighton), including this one at 137 West End Avenue between Hampton Avenue and Oriental Boulevard. The penthouse unit for sale is a duplex with three terraces that offer panoramic views of the ocean. The open floor plan apartment has hardwood floors, tiled bathrooms and California closets.
Manhattan Beach three-bedroom/two-bathroom house, $1,520,000: This single-family home at 151 Kensington Street between Shore and Oriental Boulevards has stained-glass windows and exposed beams in the main living area. The home also has a private pool and is half a block from Manhattan Beach Park.
Related:
Is the North Fork still the affordable anti-Hamptons hotspot?
I'm considering buying in Staten Island. What should I know?
The Bronx's seaside oasis: City Island
Where the boardwalk ends: Coney Islanders on their real-life neighborhood
Buying, renovating or refinancing next year? 5 mortgage trends to watch in 2014 (sponsored)
Brick Underground articles occasionally include the expertise of, or information about, advertising partners when relevant to the story. We will never promote an advertiser's product without making the relationship clear to our readers.