Buy Curious
New NYC condo buildings woo sports fans with eye-popping basketball and tennis courts, soccer fields, and more
It can be hard to be an athletic type in New York City. Green space is limited, public courts and fields are crowded, private facilities are pricey, and the weather doesn't always cooperate. So what is a city-dwelling sports lover to do?
One option, if you can afford it, is an apartment in a building that offers sports amenities. New developments these days are increasingly going beyond the standard gym equipment to offer things like indoor soccer courts, rock climbing walls, and even a skateboard ramp. In this week's Buy Curious, brokers Andrew Sacks of Citi Habitats and Angela Buglisi Daley of Mirador Real Estate tell us how to evaluate these types of buildings, and explain that while these places are fun, you'll definitely have to pay to play.
The question
I live and breathe sports. Where can I find an apartment that would appeal to a fanatic like me?
The reality
"There are several pros to buying in [a building] with great amenities—not the least of which is bragging rights," Sacks says. "Plus, with a lot under your roof, you can still enjoy your favorite even in the event of inclement weather, which we all know happens in New York City."
Pied-à-terre and investment buyers often buy in buildings that will have these over-the-top sports amenities, meaning that "a lot of these [amenity] spaces go underutilized," Sacks adds. "So chances are you'll [often] have them all to yourself."
Where to look
Sacks calls The Aldyn, a rental/condo hybrid in Lincoln Square, "the ultimate building for athletes and sports fanatics." The onetime home of former New York Knick Carmelo Anthony, the building includes the 40,000-square-foot La Palestra Athletic Club and Spa, which has a 75-foot indoor pool, a hot tub, a 38-foot rock-climbing wall, a bowling alley, a squash court, and a full-sized indoor basketball court.  
The Edge in Williamsburg "is also a great choice," Sacks says. Located on the East River waterfront, the two-tower complex has an all-season indoor pool, a golf simulator, and a multi-purpose area that can be set up for basketball, volleyball, or soccer."
Sacks says that Lincoln Square's Waterline Square, which is scheduled to be completed in 2019, is expected to be a big draw for sports fanatics. The three-tower complex will have an indoor tennis court, basketball court, squash court, indoor soccer field, boxing studio, golf simulator, 30-foot rock climbing wall, and what Sacks is most looking forward to seeing: an indoor halfpipe for skateboarding.
Sacks also likes 15 William in the Financial District, which has a squash court, an outdoor basketball court, and a 50-foot saltwater lap pool, and Midtown's 135 West 52, which has a golf simulator.
For Buglisi Daley, One Riverside Park is a sports fan's dream. The Upper West Side condo building has a 75-foot swimming pool, a 38-foot rock climbing wall, basketball and squash courts, a two-lane bowling alley, and a golf simulator.
She's also partial to Gramercy Square, a four-building complex with a 75-foot pool and a golf simulator, and The Shephard in the West Village, which has an indoor half basketball court, a bouldering wall, and a golf simulator.
Other notable mentions go to The Greenpoint in, you guessed it, Greenpoint, which has a half basketball court and a billiards room and is set to open in the fall; Carnegie Hill's 180 East 88th St., which offers a half-court indoor basketball court with double-height ceilings, and an indoor soccer field; Madison Square Park Tower in the Flatiron District, which has a half basketball court and a golf simulator; and One Manhattan Square on the Lower East Side, which is expected to have a full-court basketball court, a two-lane bowling alley, a squash court, and a golf simulator when completed next year.
How much do amenities like these cost?
The use of building amenities is typically covered in your monthly common charges, but the more amenities a building has, the higher the common charges are likely to be. Private training sessions or boxing/spin/yoga classes are often an extra charge.
"The premium on purchase prices and monthlies can be anywhere from 10 to 20 percent," Buglisi Daley says. "But the premium is not attributed solely to sports facilities."
Where will you find the best sports amenities?
Typically, these are found in new construction as "the more over-the-top amenities (think rock-climbing walls or indoor basketball courts) are hard to retrofit into existing buildings," Sacks says.
Plus, Buglisi Daley adds, "the add-on amenities in older buildings can nowhere near compare to the size and scale of those found in buildings built with tens of thousands of square feet set aside for fitness facilities."
For those older buildings that do want to try to compete, Sacks says that more compact amenities (like a golf simulator or a bowling alley) can definitely be added, but it's rare.
"For an existing condo, the board would have to approve their construction, and then issue a capital assessment, raise common charges, or pull from their reserve fund," he says. "This can be a tough sell for something that's purely a luxury."
What are some pros?
"You get to know your neighbors," Buglisi Daley says. Those looking for "a sense of community in the big city" can easily find opportunities for socializing and networking while playing a pick-up game of basketball.
In addition, "New Yorkers live in smaller spaces compared to other cities and don't have private outdoor spaces large enough to play sports," she says. "Large fitness amenities provide them with an extension of their homes with enough space to indulge in sports."
Finally, you never have to go outside—an especially enticing prospect on a cold winter's day. 
"Many new buildings have risen on the fringes of established neighborhoods, or in formerly industrial areas," Sacks says. "Smart developers have created 'destination' buildings where residents never need to leave the premises." 
Are there any cons?
"For those looking for privacy and anonymity, you will [not be able to avoid] familiar faces in these common areas," Buglisi Daley says.
But the most important potential downside is financial.
"These over-the-top amenities often come with an over-the-top price tag," Sacks says.
Plus, "if you don't end up using them, you've paid a premium for an amenity-rich condo" for nothing, Buglisi Daley says.
Check out these listings in buildings with amenities for sports lovers: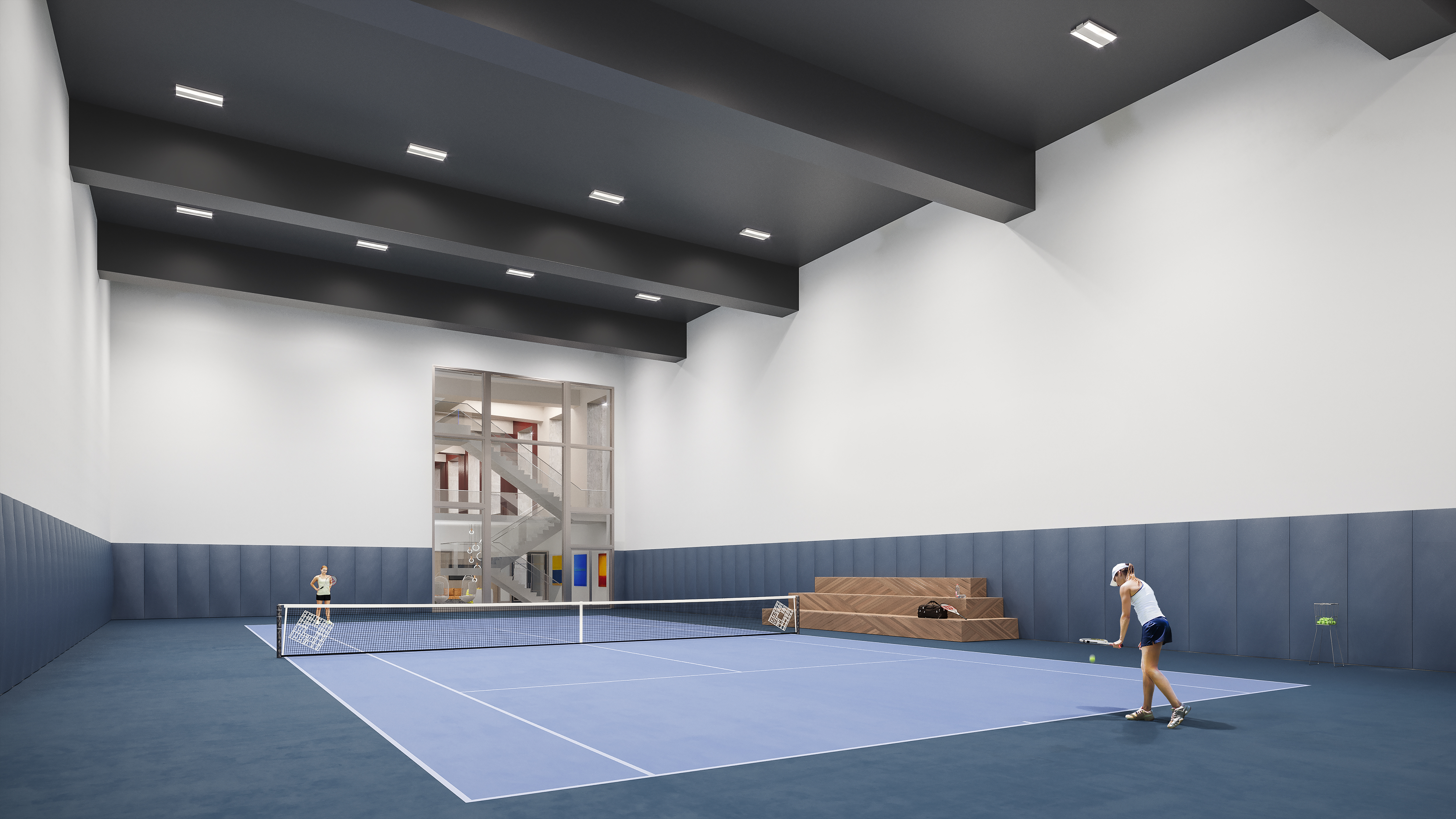 10 Riverside Blvd. #30B, Upper West Side 
Listed for $6,070,000, this 2,295-square-foot, three-bedroom, three-and-a-half bath apartment has a wall of windows that overlook the Hudson River and an enclosed alcove that could work as a home office or a storage space. The custom Italian kitchen has polished chrome fixtures, a wine fridge, and a garbage disposal. There's also washer/dryer in the apartment. It's in Waterline Square, a three-tower complex that will have tennis, basketball, squash, soccer, a skate ramp, and more when completed next year. Common charges are $4,443 a month. Taxes are $183 a month.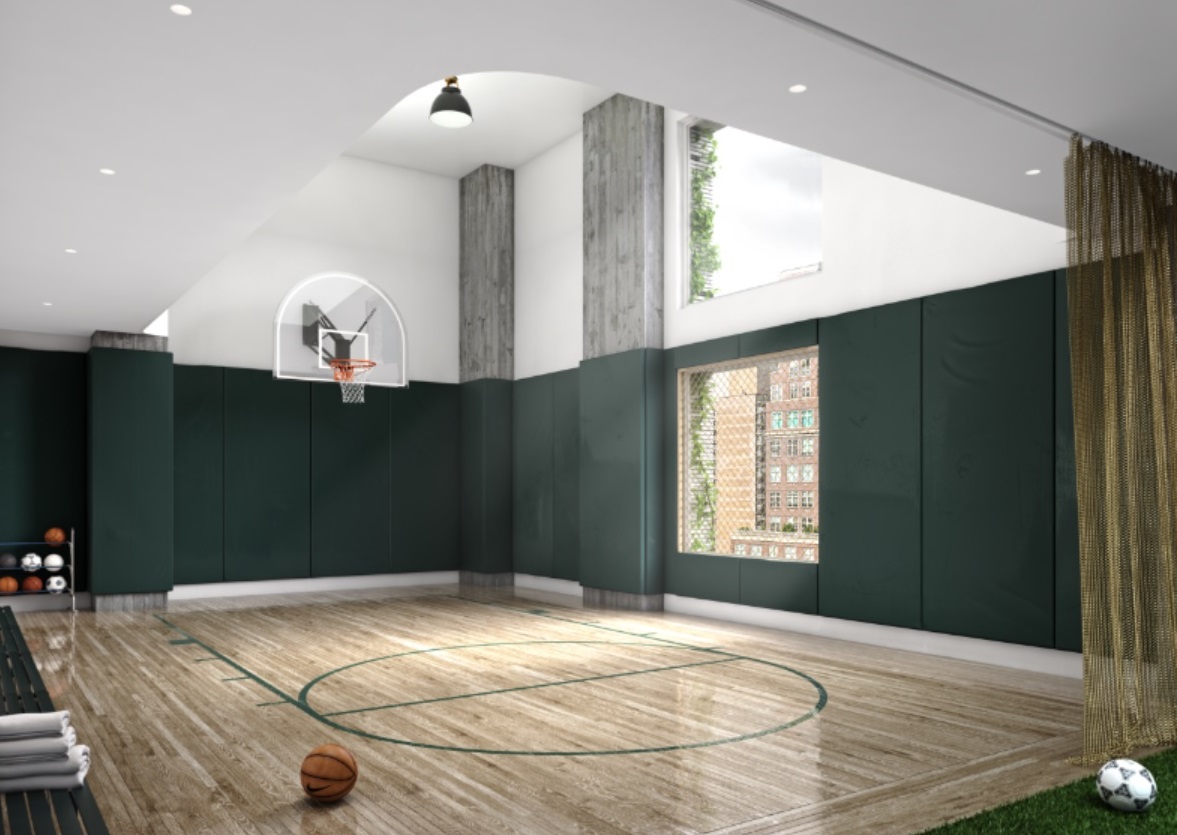 180 East 88th St. #6A, Upper East Side 
This 1,730-square-foot, two-bedroom, two-and-a half-bath condo has prewar-style detailing, including coved ceilings, custom plaster wainscoting, and herringbone floors. The apartment offers an open-plan living area and a kitchen with white lacquered cabinets, marble countertops, and brass fixtures. The building has a fitness studio, a half basketball court, and a soccer field. It's listed for $3,595,000. Common charges are $2,467 a month. Taxes are $2,680 a month.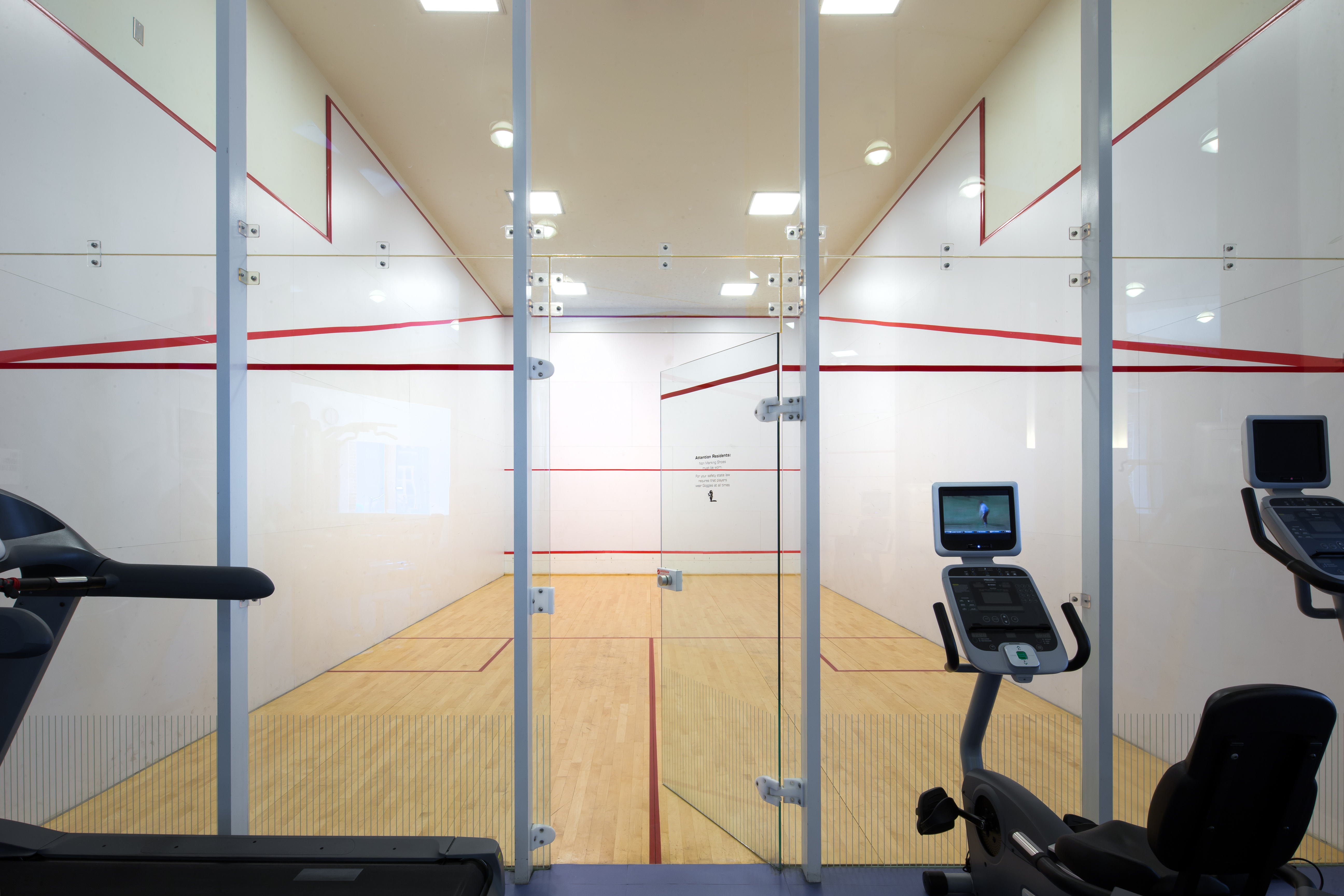 Priced at $950,000, this 698-square-foot condo studio has eight-foot double-glazed windows, high ceilings, an open kitchen with Caesarstone countertops and white lacquer cabinets, a large living area, a custom built-in home office that can easily be concealed. It's in a condo building with a gym, a squash court, a 50-foot lap pool, a half basketball court, and a covered dog run. Maintenance is $729 a month. Taxes are $673 a month.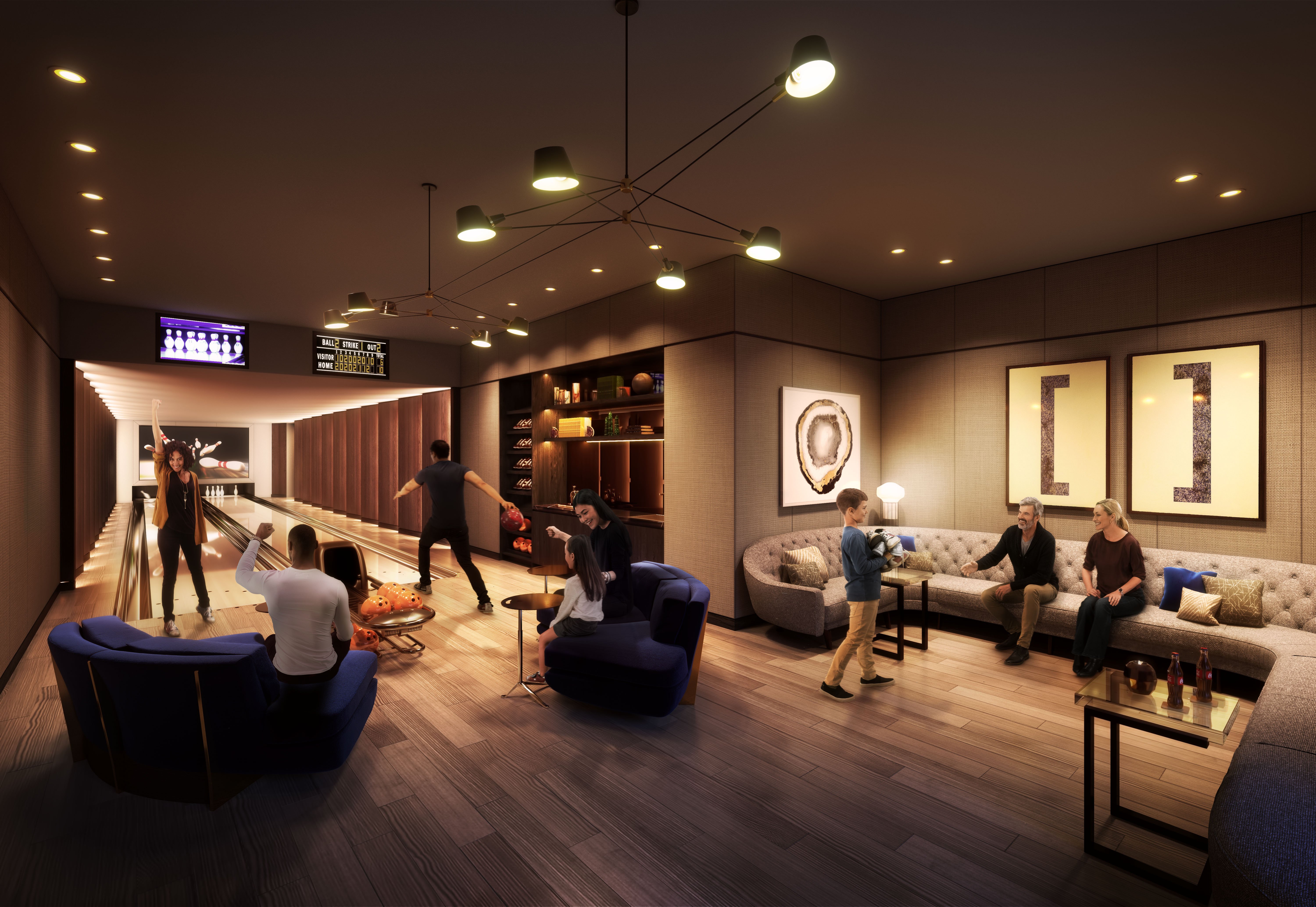 This 688-square-foot, one-bedroom condo sponsor unit condo has an open kitchen with a breakfast bar, stained oak flooring, radiant heat flooring in the bathroom, and a washer and dryer. It's in One Manhattan Square, a building that will have a 75-foot swimming pool, a basketball court, a bowling alley, a squash court, and a golf simulator when finished next year. It's listed for $1,630,000. Maintenance is $958 a month. Taxes are $16 a month.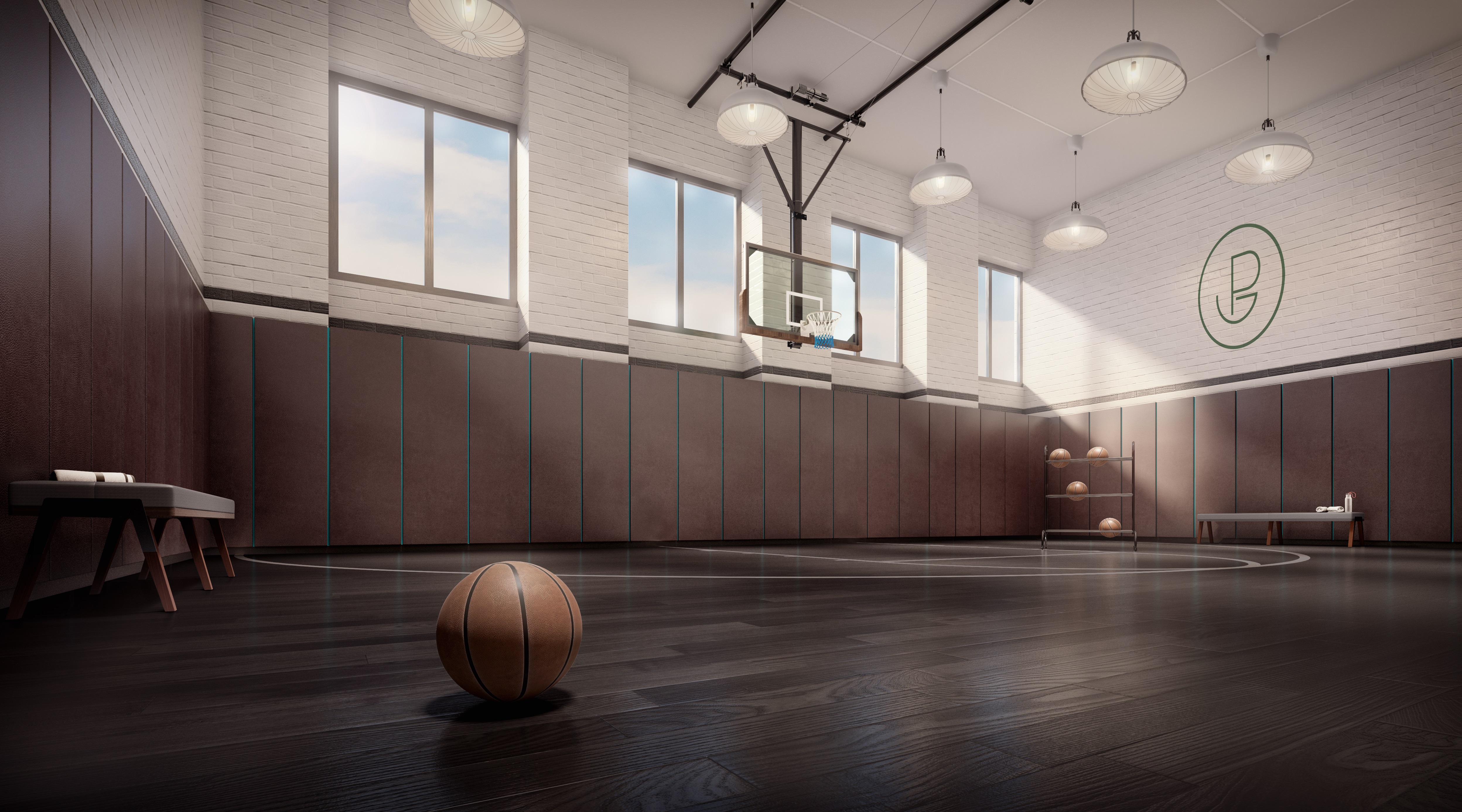 Listed for $2,290,000, this 1,124-square-foot two-bedroom, two-bath condo has floor-to-ceiling windows, 10-foot ceilings, and views of Midtown. There's wide-plank walnut flooring, double-wall ovens in the kitchen, and a double vanity in the master bathroom. It's in The Greenpoint, a building with a half basketball court and a billiards room. Common charges are $1,455 a month. Taxes are $11 a month.
Brick Underground articles occasionally include the expertise of, or information about, advertising partners when relevant to the story. We will never promote an advertiser's product without making the relationship clear to our readers.