New Construction + Condos
A timeline for buying a new development condo: From preparing your financing to closing
It can take up to 10 to 15 weeks (or more) to find the right condo for you
From offer to signed contract takes five to 10 days depending on the market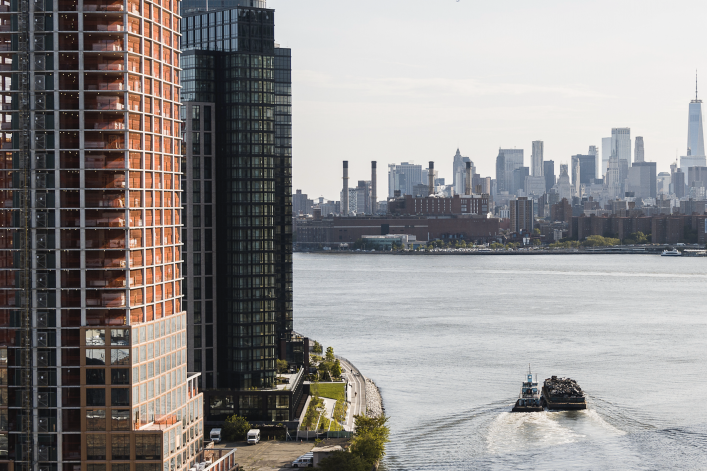 Alex Potemkin/iStock/Getty Images Plus via Getty Images
If you're in the market for a new development or a pre-construction condo in New York City, you'll want to know how long these types of deals take from start to finish. The buying timeline for new development differs from established condo buildings because there are variables like construction timetables and sales that can affect the building's official sign off, which can then impact your financing.
Your move-in date might also be many months after you've closed if you are buying in a pre-construction building.
With that in mind, here's Brick Underground's timeline for buying in a new development.
---
[Editor's note: A previous version of the article ran in January 2019. We are presenting again with updated information for February 2023.]
---
Week 1-3: Start your search
Start your search: Location, amenities and building type will be your key search criteria. Visit the neighborhood you're interested in and consider the kind of perks you want in your building. What are the amenities you need? Consider how often you'll actually use those amenities. After all, you don't want to pay for things you won't use. Figure out whether you're interested in a smaller boutique building or one with 200-plus apartments.
Figure how much you can spend: You'll need to get a sense of what you can afford by setting up your finances so you are ready to move forward with any purchase. Developers usually work with preferred lenders to offer mortgage financing to those who need it. The preferred lender will be your best option before the building meets the standard benchmark of having 50 percent of the apartments sold or under contract. Once the building meets this threshold—which are also the Fannie Mae and Freddie Mac specifications—your lending options increase. 
Talk to a broker: A broker will help you navigate the process and steer you towards finding the right unit. 
Week 4-9: Line up an attorney
Refine your search: Do you need an additional half bath or double sinks in the master? Do you need a washer dryer or a great view? Even buyers of multi-million dollar apartments in NYC need to compromise items on their wishlist—figure out what's non-negotiable for you and refine your search. 
Get a real estate attorney: Don't wait until you have a contract to find the attorney you plan to work with. You'll want someone who you feel confident in and who can prepare and negotiate the sale on your behalf. Your attorney will do much of the due diligence on the building and you can also do some homework on the developer by checking out their past projects. 
Week 10-15 (or later): Identify your apartment
Review the offering plan: Once you target a particular property, your broker will begin talks with the building's director of sales. For a new development, the New York State attorney general has to sign off on the details of the building, everything from the unit type to the landscaping. The building won't be given condominium status (as opposed to a rental building) until at least 15 percent of the units of the building have gone into contract.
At this point your broker will be taking a look at the offering plan, the paperwork that tells you all the important information about the building including pricing, buying procedures, floor plans, and building bylaws. The final product should match the offering plan—if it doesn't a buyer can complain or sue.
Revisit your financing: You'll want to have your loan approval well ahead of the anticipated closing date. Mark Maimon, vice president at Freedom Mortgage, says that means "ironing out details of employment verification, income calculations and any transfers between accounts so that when you get your 30-day notice, everything is ready." 
Week 16 (or later): Make an offer
Make an offer: Once your offer is accepted you'll need to speak to your attorney. At this point, the process speeds up. New development sales offices in NYC run efficiently.
Week 17 (or later): Review and sign the contract
Review the deal sheet: Typically within 24 hours of the accepted offer a deal sheet is generated. This will have all the information on the sale, from the price to the concessions. This goes to the buyer's attorney, the sponsor's attorney, and the brokers.
Review the contract: Within another 24 hours, the contract will be issued. In a seller's market, you have five days to review, look over all the special risks, and negotiate any terms in the contract. In a slow market, five days could stretch to 10.
Sign the contract: It's time to sign the contract. If developers don't have any other offers coming in they might not chase you on this, but a good director of sales will want to stay on as tight a schedule as possible to get the contract signed. 
Week 18 (or later): Pay the deposit
Pay the deposit: Typically 10 percent of the purchase price is put down when the contract is signed, although it can be higher. Some new developments require as much as 20 percent up front before the closing. You may also be able to negotiate on the deposit for the unit. The amount of leverage you have depends on whether you are an early buyer and what kind of market it is. With the deposit paid, the speed of the process will depend on when the new development is ready.
Lock in your mortgage rate: If you are taking out a mortgage, you'll either be using the preferred lender or you can shop around for a better rate as you get closer to closing. Andrew Gerringer leads new development at The Marketing Directors and says higher rates have caused buyers to sit on the sidelines until the rates come down. 
Most developers won't agree to a financing contingency and without one you'll lose your deposit if it turns out you can't get a mortgage. This is a risk if you're in that first 51 percent of buyers and your bank insists the building meets certain criteria before they will lend. You won't have control over how many units the developer sells or how quickly they are sold but this is also why developers use preferred lenders who are comfortable lending even though the building may still be under construction and sales are just getting underway. 
Week 20 (or later): Close the deal
Close the deal: When the unit is ready, the sponsor will give a notice to the bank, if you're financing, and they will come and do an appraisal. When the bank gives the thumbs up you'll be able to close.
If it's a property that's already available, it's a standard 90 days from the contract signing. Paying in cash speeds up the process: All-cash buyers can close in a week. Because you're not dealing with a board, there's no board application process, and if you're not dealing with a bank, you can go from signing the contract to closing within a day.
Brick Underground articles occasionally include the expertise of, or information about, advertising partners when relevant to the story. We will never promote an advertiser's product without making the relationship clear to our readers.