Renovation
Brick Underground's best advice on buying, selling, renting, or renovating a NYC brownstone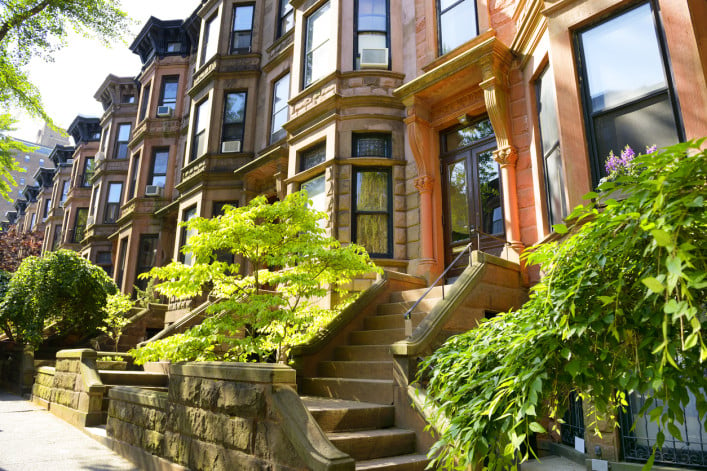 Whether located on the tony Upper East Side, uptown in Harlem, or the verdant streets of Brooklyn, the classic New York City brownstone is on many buyers' or renters' wishlists. It's no wonder they are so desirable: When well-preserved, they are stately, beautiful, full of character, and history. (Brownstones in rough shape are another story—at least for moving into on short notice.) 
If you can afford one, they represent a solid investment, thanks to their historic appreciation in value. And in the current slow market, they are doing well. According to Brown Harris Stevens' first quarter market report, the median price of one-to-three family house in Brownstone Brooklyn climbed 24 percent, year over year, from $1,860,000 to $2,300,000.
As with any type of housing, brownstones have their quirks—probably more than other types of housing in NYC. It's best to know all you can about these buildings before diving in. To help, Brick Underground has collected our best advice on buying, renting, selling, or renovating a NYC brownstone. 
History and fast facts
Did you know a true brownstone is actually made of bricks and the "brownstone" is actually applied the the facade? The material was once plentiful—and cheap—but not anymore. Here's more surprising facts about the stone, the stoops, facades, and more. 
They're super pricey, but deals are out there
Brick asked brokers to find out where you can still find an "affordable" one. Experts recently pointed us here; a few years ago, they sent us here. 
Be prepared for hidden costs
Hold onto your hat. Some brownstone owners recommend a reserve fund of as much as $10,000 to deal with expenses that arise. These are the five most common.
Buying a multi-family? 
Brush up on what it means to be a landlord. Here's advice specifically on being a landlord in a brownstone. 
See beyond the woodwork and fireplace mantels
For example, you'll want to check out the mechanicals, which are the workhorses of the building, and often need to be brought up to code. 
Be prepared for leaks
These are the most common ones you'll find in brownstones.
Prepare for life with stairs. 
Don't forget to safety-proof them. Here's how to do it. 
Soundproof the floors
The typical solution—a drop ceiling, is not usually an option for owners who want to preserve details like crown moldings. Here's what you can do instead. 
Own an historic brownstone? 
You might be able to get financial help with upkeep. 
Get scouted film shoots
One happy brownstone owner reports what it's like here. 
Can't afford a whole building?
Here's what to know before you buy an apartment in a brownstone.  Buying a co-op? Read this. 
Bought a diamond-in-the-rough and have plans to renovate? 
Learn from other people's experiences.
Make sure you hire the right contractor.
These people learned that lesson the hard way. 
All renovations have unexpected costs. 
These are the most common when renovating brownstones. 
Just need a new kitchen in your brownstone? 
Here's what you should know before ripping out those counters. 
Thinking of renting in a brownstone? Some things to consider:
Is it safe? Lonely? Is it "trashy" to live there when you don't own the the whole place? (Warning, asking these questions may spark a fight among brownstone renters.) 
Brick Underground articles occasionally include the expertise of, or information about, advertising partners when relevant to the story. We will never promote an advertiser's product without making the relationship clear to our readers.