Live
7 facts you probably don't know about NYC's beloved brownstones
Brownstones are actually made of brick with a brownstone facade
Restoring a brownstone is expensive and time-consuming
Park Slope, Fort Greene, and the Upper West Side have the largest variety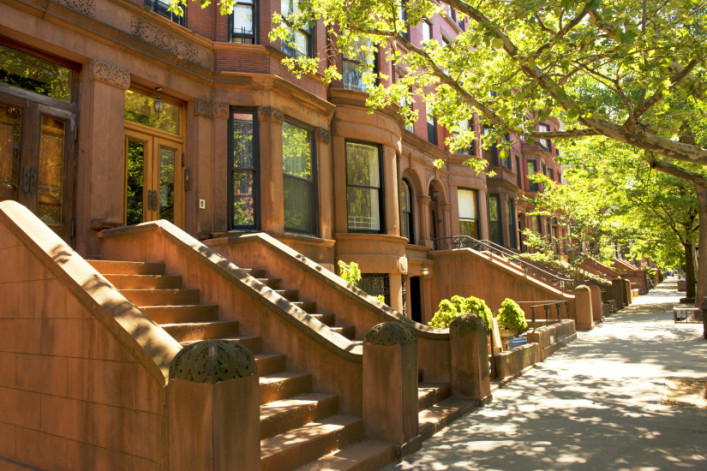 The term "brownstone" is often used incorrectly to describe any townhouse of a certain age, no matter what material was used in its construction. Even real estate agents sometimes get it wrong in their listings.
But two New Yorkers who are experts on all things brownstone—Michael Devonshire, a New York City Landmarks commissioner NYS Historic Preservation Board member, and Jack Pontes, master craftsman, brownstone conservator, and owner of J.Pontes, Inc.—geared up to set the record straight on the terminology mix-up, and much more, at a downtown event in Manhattan billed,  "I Heart Brownstones: More Than Just a Pretty Facade."  
While Devonshire and Pontes are bonafide fans of brownstones, not all are. In fact, novelist Edith Wharton, who lived in a brownstone with her family at 14 West 23rd St., described the brownstone-filled city in her memoir, "A Backward Glance," as "cursed with its universal chocolate-colored coating of the most hideous stone ever quarried."
Love them or hate them, here are seven facts about brownstones you may not have known:
1. A true brownstone is actually made of brick
Brownstone is a type of sandstone "that varies in color from quarry to quarry and at different locations within a single quarry. It can be pink, red orange, or purple-ish in hue depending on minerals, clay, and other constituents," Devonshire says. Asked to define a brownstone residence, he explained that "the term brownstone is often (incorrectly) used to refer to a rowhouse," when really, it's a term that "should be applied to a building that is clad in brownstone, to be specific."
Pontes explains that the sides, rear, and front of a brownstone—in other words, the structural walls—"are always brick. The stone is a veneer which is attached to the front brick wall with raw metal ties." While foundations were constructed of local schist (abundantly available in NYC), the upper floors, besides being faced with brownstone, had window sills, lintels, door surrounds, and stoops made of the stone.  
Unquarried brownstone is horizontally oriented but because the stone looks better when it's set vertically, that was how it was done.
2.

 Brownstone isn't a plentiful resource anymore

During the heyday of the NYC brownstone—the 1870s through the 1890s—the stone was easy to come by and supplied from quarries nearby in New Jersey and Connecticut. "The principal stone was from Portland," Devonshire says. "Ease of transport down the Connecticut River made it easily available."

The Portland quarries were closed in the 1940s after flooding, then reopened in the mid-1990s, providing a good source of stone for repair work. But, he says, "environmental regulations have resulted in their being closed again." That makes for tough, and expensive, renovations (but more on that below).
3. Most craftsmen worked under terrible conditions
Most of the stone-cutting and carving for brownstones and other NYC stone buildings were done by German immigrants in stone-cutting yards. In 1852, a New York Times article (uncovered by the blog Dayton in Manhattan) chronicled the "surprising perfection of the work" and described the journalist's shock at the "hacking coughs and emaciated appearance" of some of the workmen.
The Times offered the stone cutters this advice: to "cover the mouth or face with gauze."
4. Some faces on brownstone facades memorialized owners
It was once in vogue to have a celebrity depicted on a residence. Devonshire hasn't come across any examples of celebrity trim on the homes he's worked on personally, but, "I've seen numerous carved faces, most of them mythical characters or even the building owner." Unfortunately, he adds, these carved likenesses don't fare very well. Though easily carved, most sandstone, because it is absorptive, doesn't perform well when contoured and the facial features delaminate (or wear away).
5. The origin of the stoop isn't so glamorous
One of the most distinctive features of a classic NYC brownstones is its stoop—a word appropriated from "stoep," the Dutch word for "stair." The Dutch built stoops to raise their parlor floor above flood waters. Some posit that the New York City stoops were built to raise the parlor floor above a "sea of horse manure."
An article in Gothamist supports this theory: "In vacant lots, horse manure was piled as high as sixty feet. It lined city streets like banks of snow. In the summer time, it stank to the heavens; when the rains came a soup stream of horse manure flooded the crosswalks and seeped into people's basement."
Brownstoner takes a more refined view, reporting that since Brooklyn—unlike Philadelphia or Chicago—doesn't have alleys, servants and tradesmen had to enter at the front of the house. This was not a popular option for wealthy homeowners. "By the 1870s—when the classic brownstone stoop reached its peak—it afforded a place beneath the main stair for a second entrance for servants and delivery people."
6. Restoring brownstones is expensive and time consuming
Devonshire and Pontes are outspoken proponents of restoring brownstones the right way. They despise substandard work: what Devonshire calls "the stucco-schmear technique," which entails coating the facade with brown stucco or, even worse, paint. "An appropriately restored brownstone facade costs money and takes time—but will long outlast the short-term inexpensive approach of an unqualified contractor," he says.
Not long ago, his firm completed work on a residential façade on Fiske Place in Park Slope. "It was not 'complicated,' but involved a significant amount of testing and samples of work, window restoration, and sheet metal cornice work," he explains. "The final cost was $700,000."
Pontes explains that "to duplicate or match the stone, I do casting and carving by hand with materials of my own formula, which has a big percentage of crushed stone." He sees the biggest challenge of restoration work as "getting the right matching colors." But, he says he's up for the challenge since "it is what I was born for."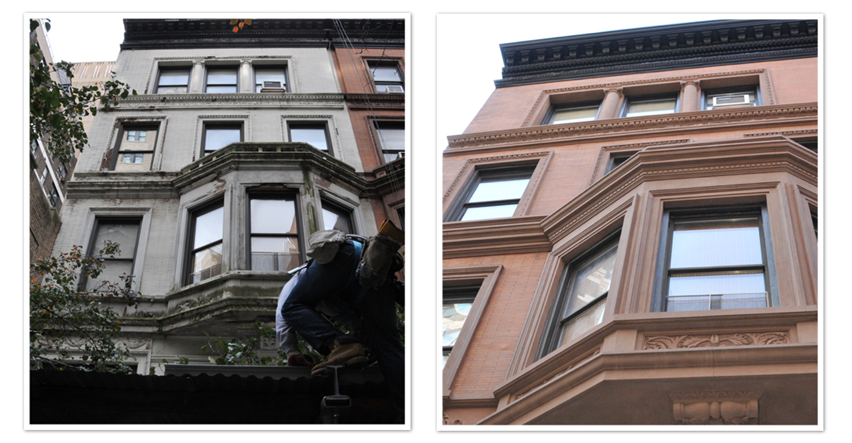 7. A few neighborhoods have the best brownstone collections
We asked our restoration experts and an architectural historian to tell us where we should send a visitor to the city who wanted to see our most "brownstone-y" blocks.
Ponte says "probably the Upper West Side." Devonshire says "I'd drag them through Park Slope for the best examples of the heyday of brownstone New York."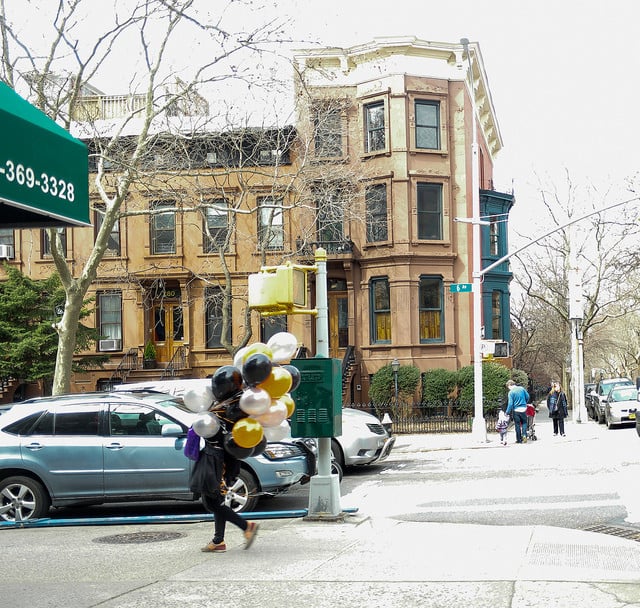 Andrew Berman, a historian and executive director of the Greenwich Village Society for Historic Preservation, adds Fort Greene to the list "for the most undiluted assortment of New York brownstones. If I had to send them to one block, it would have to be South Portland Avenue or Washington Park just off or adjacent to Fort Greene Park."
Brick Underground articles occasionally include the expertise of, or information about, advertising partners when relevant to the story. We will never promote an advertiser's product without making the relationship clear to our readers.