Lots of apartments in New York City come with some kind of stairs, like duplexes, for example. You will also find apartments with stairs leading to a sunken living room, or a spiral staircase connecting a loft space. Brownstones and townhouses of course, have stairs.
Regardless of where your stairs are, or what design, they are all a danger zone for slipping and falling, which is why it's important to take steps (get it?) to make sure yours are safe.
Whether you rent or own, there are a number of things you can do to make your stairs safer, some of which don't involve the actual steps at all.
Make a clear path
Such as: make sure the top and the bottom of the stairs are clear of clutter. Items you may slip on or try to avoid are hazards that can make you lose your footing.
Handrails
Make sure you have them, and make sure they are properly installed. "A loose handrail can make the difference between slipping and catching yourself, and falling down the stairs," says handyperson (and opera singer) Taerra Pence, founder of Practical Diva.
Dan DiClerico, home expert at HomeAdvisor, recommends two handrails on every stairway. "Ideally, you want the handrails to extend at least a foot past the top and bottom steps," he says.
Light
Of course, you want to make sure stairs are well-lit; light switches at the top and the bottom of flights are the best scenario.
"Another 'smart' option is to connect the lights to motion sensors so that the stairway will illuminate automatically anytime you approach them," says DiClerico. "Philips Hue and C by GE are two established brands with reasonably-priced motion sensors and smart bulbs."
Non-slip options
There's more than one way to make the tread of a step (that's the flat part you put your foot on) less slippery. While some will generally cost more than others, Pence says you can find economy and upscale options for any solution.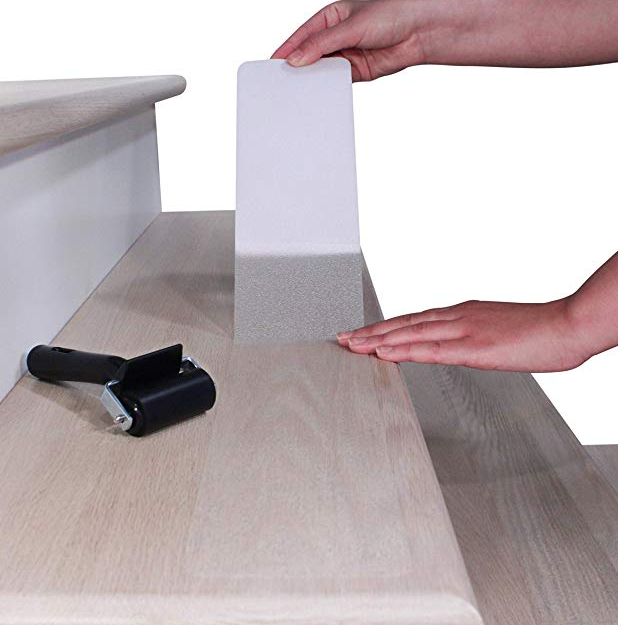 Tape
A textured strip or sticker such as the No-slip Strip can be effective way to add some traction. No-slips come in an unobtrusive clear (there are two levels of "grip" available; the "super grip" is 30 percent less transparent) as well as an almost literal rainbow of colors. Pence likes these for wood stairs. "It maintains the color of the wood and preserves its beauty." The company also says the strips can be removed fairly easily, and won't damage the stairs.
Paint
Using paint augmented with an additive to increase grit is another route. You could keep it simple and choose a single color or create a faux runner.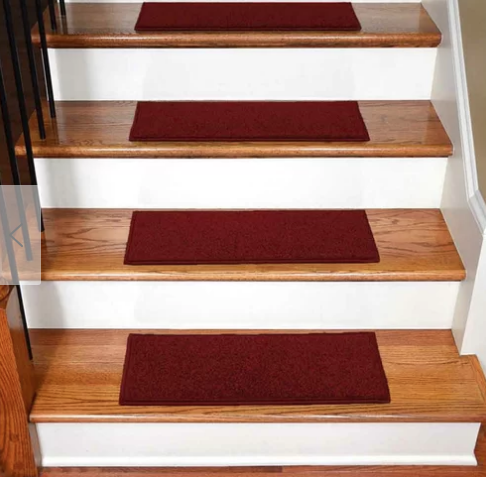 Carpet
A carpet runner is yet another solution. This could be a single, long piece, which Pence says can be held in place by carpet tacks or an adhesive such as Liquid Nails. (Tacks will of course do the least damage of the two.) This is her preferred method for households with small children, who are likely to "slip and fall anyway."
If an actual runner feels a bit overwhelming, individual carpet pieces for each tread in another option. Don't like the rug look? Sisal stair tread covers like these offer a different look, with the same effect. (Some carpet tread covers have a rubber backing and stay put on their own; others need to be held down with carpet tape.) Choosing a cover in a color that's in high contract to the tread will provide an extra layer of visibility. 
Brick Underground articles occasionally include the expertise of, or information about, advertising partners when relevant to the story. We will never promote an advertiser's product without making the relationship clear to our readers.