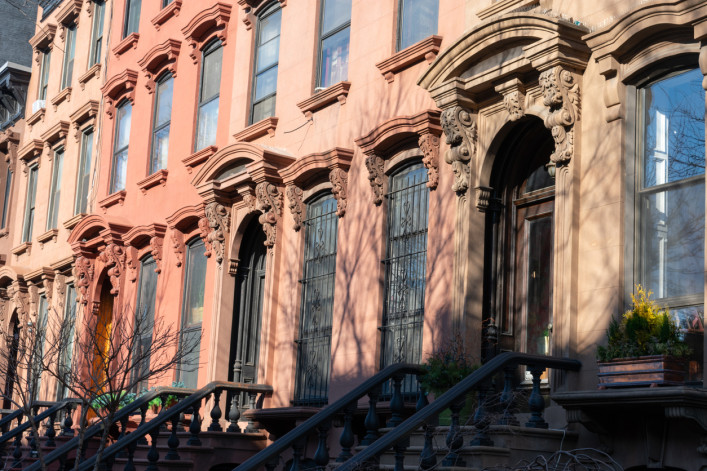 It may be your dream to own a New York City brownstone, but in addition to paying a record price when you buy, you are likely to face lots of extra costs that come up unexpectedly. That's because when you buy a brownstone, you are solely responsible for the maintenance of the building, including the roof, facade, and sidewalk, as well as all taxes and utilities—there's no way of getting around these.
Plus, a brownstone may come with additional features like a working fireplace that needs to be cleaned and maintained or additional permitting due to the historic nature of the building or block—you want character, you have to pay for it.
As the owner of a brownstone, you'll also be responsible for keeping your sidewalk clear, taking out your trash, and shoveling snow—or finding someone to do all that for you.
Here are some of the hidden costs of owning a brownstone. 
---
[A previous version of this article ran in June 2019. It has been updated with new information for May 2022.]
---
1. Maintenance and repairs become your responsibility
Moving into a brownstone means you give up the convenience of calling the super when the faucet's leaking. As the owner of a building, the maintenance and repairs are your responsibility. 
Roof repair, plumbing and electrical work, pest control, and landscaping: All these will be your responsibility going forward. In all cases, proactive maintenance is the best approach. 
Just as a co-op or condo board has a reserve fund to deal with an emergency like a broken boiler, it's sensible as a brownstone owner to have something similar. Mihal Gartenberg, an agent at Coldwell Banker Warburg, recommends putting $1,500 or so into a separate account every month. "That way, when it comes time for a big repair, the money is already there," she says. 
Lindsay Barton Barrett, a broker with Douglas Elliman, says the biggest unexpected cost for many brownstone owners is plumbing or repairs if there is water damage. In part, this is because leaks often take a while to diagnose. "It might be a plumbing leak, it might be a drain line outside, and if you can't figure out where it is leaking from you may need to excavate the patio," Barton Barrett says.
3. Renovations can snowball
If you're buying a brownstone and plan on renovating, keep in mind that most projects run over budget and beyond their original timeframe. This isn't unique to a brownstone but buildings that are more than a century old in particular can be a minefield of unexpected costs and lead to multiple, overlapping projects. 
Virtually any change is going to require an inspection by the Department of Buildings, which can reveal code violations or open permits—or even non-permitted work—that needs to be remedied, adding to the list of changes you need to make. The DOB is a good place to check for violations or open permits before you buy. Any fines left open will become your responsibility after you close. 
Add to that the repair or replacement of detailed plastering, relining a working fireplace, repairs to antique tile surrounds, replacement of mahogany banisters for the stairwell and you can see how a renovation project might snowball.
A popular brownstone renovation is to modernize the back of the house with a wall of windows to bring in more light and connect to the backyard. It's a project that could quickly domino to include kitchen and basement renovation plus backyard landscaping. 
In most cases you'll want to hire an expeditor to file documents and obtain permits. These costs vary depending on a variety of factors, but it's very common to pay a fee of a few thousand dollars.
If you do renovate—particularly if you convert a three-unit brownstone into a single family (or the  other way around) you will need to make sure you have the correct certificate of occupancy for the building. 
To avoid any surprises about your brownstone's configuration, do your due diligence before you close on your property. Dig up all the information they can about the brownstone on the DOB website, which lists the building's certificate of occupancy and will identify any open permits.
3. Living in an historic district brings added scrutiny
Many brownstones are in historic districts. This means the Landmarks Preservation Commission regulates any changes you plan to make to the exterior of the building. If you want to make changes to the house, your architect will need to submit all the plans for Landmarks' approval. 
What you can and can't do depends on getting the right approvals and hangs largely on what is visible from the street. This includes the facade which needs to be maintained. If it starts deteriorating, it's better to take care of it immediately rather than wait until the entire facade needs to be replaced. The cost of facade repair typically starts at around $40,000 but can go up to $100,000 if the work is extensive. 
Whether you're repairing or replacing, facade maintenance is expensive in part because you need skilled workers who can match the color of the existing stone. In most cases intricate architectural details also need to be carefully sculpted.
Many brownstones have cast iron fences and gates around the front yard. Repairs and replacements to these are expensive too, running several thousands of dollars for short sections, or to find matching, custom-made newels, balustrades, gate posts, gates, and rails.
Landmarks would also be involved if you needed to replace or repair windows or doors as well as railings on roof decks or the installation of central air. 
Installing a cooling system for a four-story townhouse will cost between $40,000 and $50,000 but the costs can increase if you plan on putting condensers on the roof. If you make changes without approval from Landmarks the fines are steep. 
4. Your responsibilities extend beyond your front yard
In the winter, you can be issued a violation if you don't remove snow and ice from the sidewalk in front of your house. You can always hire someone to take on this responsibility but if you call for snow removal services when the snow is in the forecast or on the ground, you'll pay more than if you plan ahead and have someone lined up when it's still warm. Better that, than a lawsuit from someone who slipped on your unshoveled sidewalk. 
Street trees are the property of the city but if the roots lift the sidewalk, they can create a tripping hazard, which can be a liability for you. Gerard Splendore, a broker at Coldwell Banker Warburg, has personal experience of this and says selling a property with a sidewalk violation can be very challenging. 
You need to contact the New York Department of Parks to come and cut the tree roots then pay for a new sidewalk, "after which, the City of New York must come and inspect the new sidewalk, before the violation can be removed." He says the process can take a year or more. 
You also face fines if the garbage and recycling isn't dealt with according to the city's specific rules. Trash needs to be put out in securely tied heavy duty black plastic bags or bins between 4 p.m. and midnight the evening before your collection day. Cardboard boxes set out for recycling must be broken down and tied up and paper. Plastics should be in clear bags. You can get a ticket for not putting out the trash or recycling correctly. 
5. Insurance costs can get expensive
Expect to pay more for insurance than you would for a co-op or condo, since insurance companies generally want you to insure for the full cost of rebuilding. 
"These numbers tend to be higher than the square footage numbers for a small loss—total losses require  filings, architects, licensed workers with high insurance limits," says Jeff Schneider, president of Gotham Brokerage (a Brick Underground sponsor).
"High-end rebuilding—plaster, millwork, tile—can exceed $1,500 per square foot," he says.
And if your brownstone comes with valuable interior details like plaster walls, pocket doors, and leaded windows, you might want an insurer who agrees to cover that. 
Sometimes, if a brownstone is damaged, the repair work might include replacing an outdated system to meet current building codes, which is another element not covered in standard homeowner insurance. Do your research and be prepared to pay a little extra if you want coverage for interior details or the associated expenses repairing them.
Don't skimp on water main and sewage coverage. It can save you from paying about $5,000 in the event of a water line break, and up to $15,000 if the sewer main fails.
Earlier versions of this article included writing and reporting by Emily Nonko and Mimi O'Connor.
Brick Underground articles occasionally include the expertise of, or information about, advertising partners when relevant to the story. We will never promote an advertiser's product without making the relationship clear to our readers.