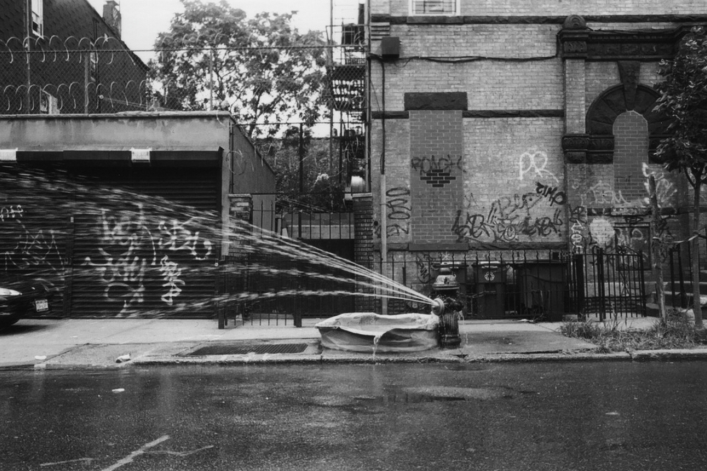 Longtime New Yorkers Angela Tiffin and Andrew Nichols bought their first brownstone in South Park Slope in May 2012, and have spent two years renovating—first, their own duplex apartment and, in recent months, a third-floor rental unit—much of it with their own hands. You can read more about the project at their blog, Brownstone Cyclone.
On a recent Friday night, we were enjoying a glass of wine when there was a knock at the door. Sounds like the beginning of a horror movie right? It turned out to be a representative from the NYC Department of Environmental Protection (DEP), Bureau of Water and Sewer Operations.
The gentleman cordially asked if he could view the water pipe that leads from our basement out to the street. We confirmed his credentials and showed him the way. After listening for 10 seconds to a tube-like object held up to our water main pipe, he said, "Yep, your pipe is defective and leaking." Perplexed how the DEP could know this, he told us that water was bubbling onto the street in front of our house and he could hear it leaking out. Someone must have called 311 to report it, and he came out to investigate.
He handed us a three-day notice that informed us it must be repaired by a licensed plumber with the proper permits within the next 72 hours. "If repairs are not made as herein ordered, the DEP will shut off the water supply to the above premises without further notice," it read.
According to the DEP, property owners are responsible for the water and sewer service lines that run from their home's exterior to the municipal service lines in the street.
On average, it costs between $3,000 and $5,000 to repair a water line break, and between $10,000 and $15,000 to repair a sewer line break in New York City.
So you'd think we'd have been freaking out! After our last post on 4 Common Brownstone Leaks, here we were with the mother of all leaks!  We might have actually fainted, if it weren't for one simple fact: Last year, we signed up for insurance that deals with exactly this issue.
In 2014, the DEP partnered with American Water Resources (AWR) to provide insurance to its customers.  When a leak is reported, AWR responds as quickly as possible to all requests. In the event of an emergency where the DEP has issued a three-day notice, a local plumber will arrive within four hours of your call.
AWR did indeed send over a plumber that night, and a crew began work in the morning. It took a full day to complete. The silver lining here is that we now have a new, larger copper pipe with an additional shut-off valve replacing our 80-plus-year-old lead pipe.
Two brownstones on our block had the same issue last year, and one of our kindly neighbors told us about this new insurance and we signed up immediately. (Call American Water Resources toll-free at (888) 300-3570 or visit their website  for further information.) For about $15 a month, we get both water main and sewer main coverage.  Our neighbor will be getting a nice bottle of wine the next time we see him.
Related: 
4 common brownstone leaks—and how we (mostly) fixed them
Buying new kitchen cabinets? What you need to know
Got running water? Then you need apartment insurance (sponsored)
10 things to consider before buying a brownstone
Ask an Expert: Should I get my insurance involved over a leak from my dishwasher?
Brick Underground articles occasionally include the expertise of, or information about, advertising partners when relevant to the story. We will never promote an advertiser's product without making the relationship clear to our readers.