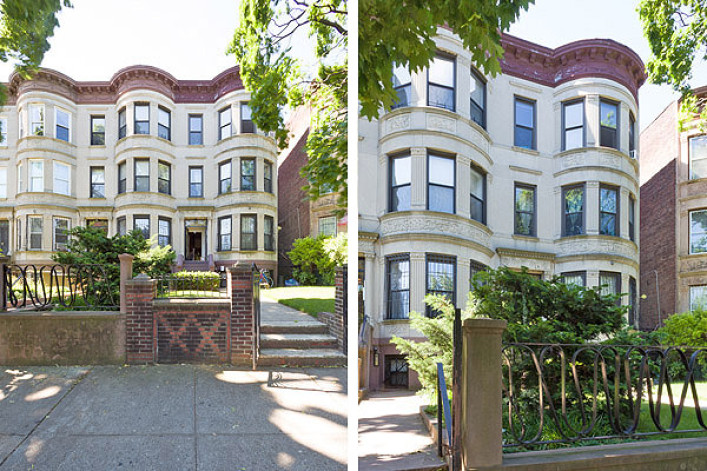 In this week's edition of Buy Curious, guest broker Erik Serras of Ideal Properties Group educates prospective buyers on the finer points of brownstone shopping in Brooklyn.
THE WISH LIST:
"I'm hoping to buy a brownstone in Brooklyn. Assuming I want to sell within the next 10 years, which neighborhoods and types of brownstones will give me the best return on my investment, e.g. renovated vs. unrenovated, size, outdoor space, and location?"
THE REALITY:
If you're on the hunt for the greatest return, provided my crystal ball is still working well, I would say that the next big push will take place in Prospect Heights/Crown Heights (yes, ok, ProCro).
With its dreamy tree-lined streets and its proximity to such amenities as Prospect Park, the Brooklyn Botanic Garden, the Brooklyn Museum, and the Barclays Center, the neighborhood manages to give you a sense of turn-of-the-century Brownstone Brooklyn, while still managing to somehow seem modern. 
The area is up-and-coming, yet it remains a relative bargain compared to its immediate neighbor, Park Slope. ProCro's brownstones are trading between $2.25 and $3.5 million, while Park Slope prices average between $2.75 and $4.5 million. 
The most beautiful part about ProCro? Incredibly deep lots. Many of the homes here sit on 131-foot-deep lots. There are many 2- or 3-family, 4-story brownstones that offer good returns. They feature nicely appointed floor-through apartments—mostly renovated—that will rent for around $3,500/month. If two full floors in a 4-story brownstone meet your family's needs, it's realistic to expect somewhere in the area of $7,000/month rental income, which would help with the mortgage payments and still give you close to 2,000 square feet of living space, along with a 1,500-square-foot backyard. Not so bad for a city dweller.
Bedford-Stuyvesant and Gowanus are two other neighborhoods experiencing the telltale tight inventory and rising prices that normally indicate heightened investor interest.
Bed-Stuy has some amazing brownstones that are comparable to their more classically developed brownstone neighbors. The median for a 1- to 3-family home here is $946,612.
But while Gowanus is routinely considered part of Brownstone Brooklyn, the supply of actual brownstones (townhouses clad in brownstone or even limestone material) is extremely limited. Low-rise buildings are in fact plentiful in the area, but most are single-family or 2- to 3-family vinyl-sided wood or brick buildings—making it tough to quantify a median price in the area.
In terms of adding income-generating units, most townhouses fall within the standard R6 residential zoning presumption, allowing the owner to expand the square footage of the building, and renovate existing space to generate additional income. Three or more floors over 1,500 square feet each can easily translate into all manner of unit configurations for mortgage subsidy or cash flow.
For a novice investor, limiting the expansion to three units (turning multiple floors into desirable duplex or triplex formations, for example, without de facto adding additional units) may be the most prudent way to go. The number will maximize your return, and leave intact the deep pool of buyers comprising those in need of a conventional mortgage if and when you're ready to sell.
To buy renovated or not? This really comes down to you being incredibly honest about your personal skill set or immediate needs. (Read: it depends on your pain tolerance.) With or without a general contractor, one should expect to spend between $150k and $200k per floor to renovate a brownstone. The process could take anywhere from six months to a year, depending on the amount of work involved.
If your family's needs are immediate, I would strongly lean toward something fully renovated, but remember: even if you're in or around the $3 million price point, not all finishes in the building will necessarily be what you would choose for yourself. Most of the amenities you find important will be included, but if you want your building to have everything on your wish list, you're just going to have to do it yourself.
The really bad news? Inventory and competition. Neither one works in your favor, so you may end up over-spending to get your hands on a gem.
Want to experience a ProCro brownstone for yourself? Try these listings.
Crown Heights 3-story brownstone, $1,800,000: This 3-story, semi-attached townhouse at 920 Eastern Pkwy. between Albany and Troy Aves. has five units. The 3-bedroom/2-bathroom owner's duplex has a full dining room, spacious living room and a decorative fireplace. The kitchen was remodeled six years ago and now has granite countertops and stainless appliances, but the duplex's original moldings and wood paneling are still intact. The second floor has a separate 1-bedroom apartment, and the third floor has two 1-bedroom apartments. The garden-level apartment has not been renovated recently and is currently being used as an office space, but it can easily be converted into a residential apartment.
Prospect Heights 4-story brownstone, $2,499,000: This 4-story brownstone at 130 Underhill Ave. between Park Pl. and Prospect Pl. has two duplex apartments and a basement. The building is in need of a bit of sprucing, but it has charm to spare with original details such as pocket doors, a stained-glass skylight and moldings.
Crown Heights 3-story brownstone, $2,195,000: Located at 1234 Dean St. between New York and Nostrand Aves., this 3-story single-family brownstone has been fully restored down to its period pocket doors and hinges. The double parlor and sitting room even boast working gas fireplaces with original fixtures.
Rather live in Bed-Stuy?
Stuyvesant Heights 2-story brownstone, $849,900: This pre-war two-family townhouse at 726 Macon St. between Howard and Ralph Aves. boasts turn-of-the-century details, a fireplace and an outdoor garden. The home is currently vacant and ready to be rented out.
Want to give Gowanus a go?
Gowanus 3-floor townhouse, $2,649,000: If you want to live in Brownstone Brooklyn, but not necessarily in an actual brownstone, try this still-under-construction single-family home at 463 Carroll St. between 3rd Ave. and Nevins St. The home is slated to have four bedrooms, two full bathrooms, two half-bathrooms, a chef's kitchen, a wine cellar, and a coveted parking space on the block.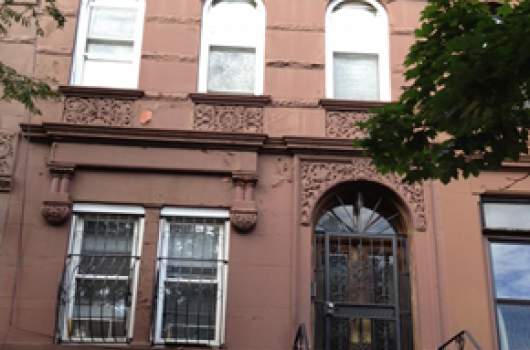 This $2.499 million 4-story brownstone at 130 Underhill Ave. between Park Pl. and Prospect Pl. in Prospect Heights is a bit of a fixer-upper, but original details like pocket doors and moldings may entice a buyer.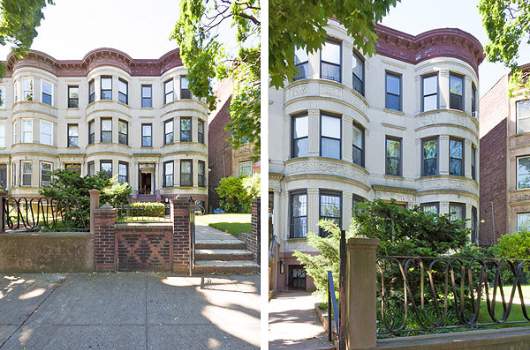 While some of the units in this $1.8 million 3-story Crown Heights townhouse, at 920 Eastern Parkway between Albany and Troy, have been updated, they still retain their pre-war charm.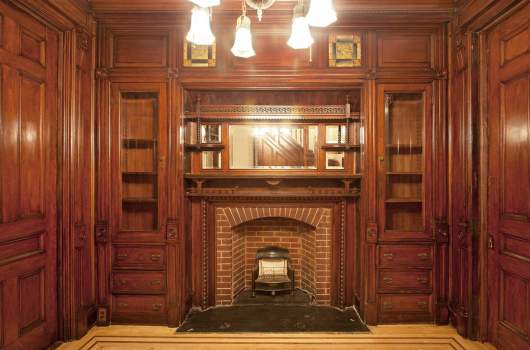 Located at 1234 Dean St. between New York and Nostrand Aves., this $2.195 million Crown Heights brownstone has been restored but includes a cast-iron wood-burning stove.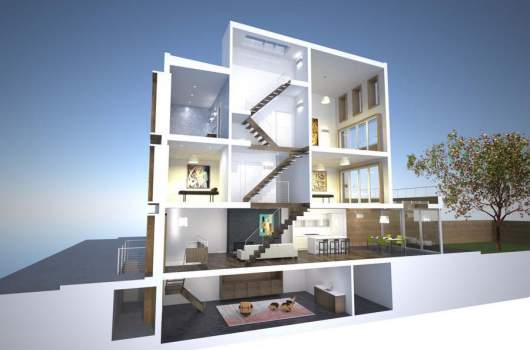 While not an actual brownstone, this under-construction $2.649 million Gowanus townhouse at 463 Carroll St. between 3rd Ave. and Nevins St. is an option for a buyer who wants a new townhouse.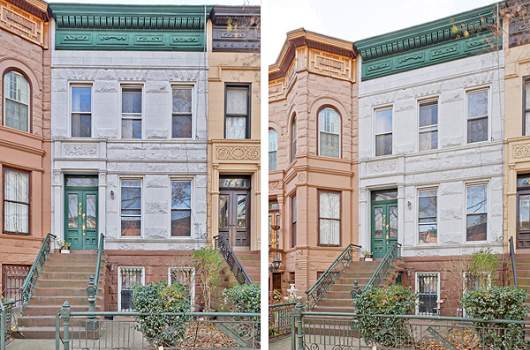 This pre-war two-family brownstone at 726 Macon St. between Howard and Ralph Aves. is listed at just under $850,000, and offers turn-of-the-century details and an outdoor garden.
Buy Curious is a weekly column in which NYC real estate brokers help buyers develop a realistic search strategy. Want some advice on your search? Send us your wish list.  
Related posts:
10 things to consider before buying a brownstone
Buying, renovating or refinancing next year? 5 mortgage trends to watch in 2014 (sponsored)
What 8 first-time buyers wish they had known
6 hurdles that can stand between you and a mortgage -- and what to do about them
7 things to consider before buying in a landmarked building
Top 12 questions New Yorkers ask their mortgage bankers (sponsored)
Diary of a First-Time Buyer: 13 lessons learned after 60+ apartments, 2 attorneys, 3 brokers and 2 board applications
Brick Underground articles occasionally include the expertise of, or information about, advertising partners when relevant to the story. We will never promote an advertiser's product without making the relationship clear to our readers.