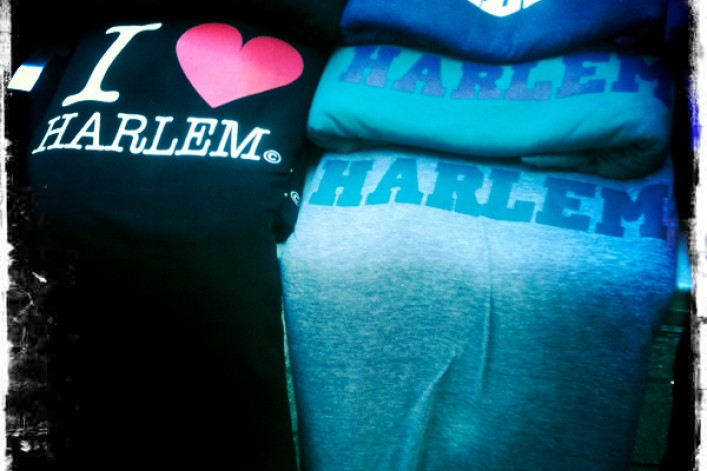 Every corner of this city has gone through (or is going through) a transformation and Harlem is no exception. Harlem is another one of those history-rich areas of Manhattan that has seen a new commercial and culinary explosion to accommodate the growing and shifting population in the neighborhood...and of course there are bloggers to document every step.
The founder and writer of the Harlem-focused blog HarlemGal  is a self described Harlem-enthusiast who has lived in the neighborhood for over six years and has been blogging for four. The four-year-old blog is a collection of posts about the goings-on of Harlem.
Along with her other favorite Harlem-focused blogs and websites like HarlemHybrid and Experience Harlem, HarlemGal wants to celebrate and share the neighborhood she loves.
1. What would you tell someone moving in?
No need to worry about heading downtown any more. Harlem practically has everything uptown from new and old restaurants (Frederick Douglass Boulevard is Harlem's restaurant row) to museums to music venues and several great parks, such as Central Park North, Morningside Park and Mt. Morris Park just to name a few.
2. Where are the best deals in the neighborhood?
The best real estate deal is buying an apartment in Harlem! You actually get good quality space for the price. For the amount a buyer will spend downtown for a box, in Harlem they will actually get a home. Buyers get more for their money in Harlem than anywhere else in Manhattan. Also, renting a one bedroom in South Harlem -- usually defined by 110th Street to 125th Street from Manhattan Ave to Lenox Ave -- is still possible under $2k. That won't last long though...
The best deal for music is the Shrine on Adam Clayton Powell. They always have great music lined up and NO cover charge. Also, stopping by Yatenga French Bistro is inexpensive and it's right next door to the Shrine.  You can have an inexpensive great meal and then head on over to the Shrine for live music and cocktails.
The Apollo Theater for special occasions. I have seen John Legend there, President Barack Obama and Esperanza Spalding.
Best deal for brunch has to be Lido Italian Restaurant and Bar. They offer bottomless mimosas for $10 and an excellent brunch menu. Go early because it's always packed for brunch on the weekends.
Best deal for a baguette or any fresh baked pastries is Les Ambassades on Frederick Douglass Boulevard, hands down.
Best deal for pizza is Il Forno on 116th Street between Adam Clayton Powell Blvd and Lenox. The large cheese pizza is $11.
Best scene is Red Rooster. Every cool cat in town is hanging out there.  If you can't get a table at Red Rooster, just go next door to Chez Lucienne. If you still want to continue into the night head on over to Corner Social. This is all happening on one block. It's fantastic.
3. What's your favorite location within the neighborhood to live?
I live on Frederick Douglass Blvd, which is also known as South Harlem. This is the avenue that has experienced a lot of growth over the years in terms of new restaurants, new condo buildings and lots of new people.
This area is also close to several subway lines both express and local. And two big parks: Central Park North and Morningside Park.
There are great places to eat on Frederick Douglass Boulevard. A few of my favorites are 5 and Diamond, Zoma or bier international.
4. Do you have a dream building?
No, I have a dream brownstone. I own my own two-bedroom now.
However, if I could own a Harlem brownstone along 118th, 119th, 120th Street, etc., etc., near Marcus Garvey Park--that would be a dream! There was a time when the city was giving out Harlem brownstones for practically nothing. Now a buyer needs at least $2 million.
For some New Yorkers, that's lunch money for a Harlem brownstone. For us Harlemites, that's a big chunk of change.
5. Any buildings that feel out of place with the feel of the neighborhood?
The glass apartment building on Lenox Ave and 110th Street seems odd. I am not too pleased with the renderings related to the Victoria Theater Project. It is another glass tower.
6. How has the neighborhood changed in the past five years? How do you think it'll change in the next five?
It has changed dramatically. More restaurants are here, new people and more condos. Practically every abandoned lot on Frederick Douglass Boulevard from 110th to 125th has been filled. When I first moved to Harlem, my apartment overlooked an abandoned lot and I would see a lot of "interesting" activity. Now I have to close my curtains because there is a tall apartment building across the street from me.
In the next five years, I see South Harlem becoming a mix between Chelsea and Park Slope. More families with baby strollers.
7. What do you think your "sister" neighborhood might be?
There isn't really a sister neighborhood. Parts of Delancey Street close to Williamsburg Bridge remind me of 125th Street. And downtown Brooklyn is a little bit like Harlem.
8. Which neighborhood feels like the opposite of your neighborhood?
Practically everywhere else feels like the opposite of Harlem. Definitely the Upper East Side or Yorkville.
9. Would you stay in this neighborhood forever if you could?
I am definitely staying in South Harlem for the long-term. I have lived in NYC since 1997 and in Harlem since 2006. I am a New Yorker. When I retire I will probably make the migration to the Southwest because that's where my immediate family is from.
10. What is one of the biggest misconceptions about the neighborhood?
That it's filled with crime and not safe to live in or raise families. It's absolutely just not true. Harlem is as safe as the rest of Manhattan...just ask that mom pushing her baby along Frederick Douglass Boulevard. 
See all Confessions of a Neighborhood Blogger
---
Related posts:
A move-by-move neighborhood guide for the people, by the people
From Central Harlem to Midtown West/Hell's Kitchen: More restaurants, a shorter commute, and $6 movie tickets
Brick Underground articles occasionally include the expertise of, or information about, advertising partners when relevant to the story. We will never promote an advertiser's product without making the relationship clear to our readers.