Buy Curious
What to know about buying in Kingsbridge, the Bronx, where you'll find shopping, restaurants, and transit options
Single families typically sell for $750,000 to $1 million while two families average $900,000
Prices for co-ops and condos range from $130,000 for studios to $350,000 for two bedrooms
Rental units are numerous and command rents around $1,700 to $2,200 for one bedrooms
The small northwestern Bronx community of Kingsbridge, where Brad Pitt and Harrison Ford shot pool at Piper's Kilt tavern in the 1997 movie "The Devil's Own," pairs leafy-green tranquility with an urban aesthetic.
The neighborhood is named for The King's Bridge, which spanned a creek (now filled) and was erected in 1693 by a local lord who remained loyal to the British monarch. 
Demographically diverse, the community attracts singles and families of all ages.
In this week's Buy Curious, Geoffrey Weiss, an agent at Compass, and Ramona Vicenty, an agent at Corcoran, give us the inside story on Kingsbridge.
The question:
I have heard that Kingsbridge properties are a little bit more affordable than those in neighboring Riverdale. What can you tell me about the community?
The reality:
It's true that it can be a little cheaper depending on where in Riverdale the property is, Weiss says, but Kingsbridge pricing is similar to nearby North Riverdale and Spuyten Duyvil.
Adding that Kingsbridge is "Riverdale without the high price tag," Vicenty says that the affordability applies to single-family and multi-family housing alike.
Where is it?
Kingsbridge is bounded by Marble Hill on the south, Spuyten Duyvil on the west and north, and Van Cortlandt Village on the east.
Why would NYers want to move to Kingsbridge?
Vicenty says Kingsbridge scores high on the charm factor. "The homes, which are older and have high ceilings, have a lot of history," she says. "There's a lot of green space, and the neighborhood is accessible to everything."
Kingsbridge has pretty much everything you need—shopping, restaurants and bars, public transportation, and green spaces, Weiss says.
Where in Kingsbridge should you live?
There are two main subsections in Kingsbridge.
Dash Estate is on the west side of Broadway, the commercial corridor that divides the community geographically. It has the largest concentration of single-family houses and includes parts of the Manhattan College campus.
Kingsbridge Heights, which is close to the Lehman College campus, borders the Jerome Park Reservoir and includes the decommissioned Kingsbridge Armory, a neighborhood landmark that dates to the 1910s and considered one of the largest in the world.
What are housing and pricing like?
Kingsbridge has a variety of styles of single-family houses, including Tudors, Bronx bricks, and attached rowhouses, as well as co-ops and a very small number of condos.
"As in much of this area, it's definitely a seller's market for single-family houses in Kingsbridge," Weiss says, adding that those in "move-in condition turn over quickly and often sell for over asking price."
There aren't many properties on the market: StreetEasy lists only 18 single-family houses, co-ops, and condos for sale.
Single-family houses typically sell for $750,000 to $1 million, Weiss says.
Vicenty adds that two-family houses average $900,000.
According to Weiss, pricing for co-ops average $130,000 to $150,000 for studios, $225,000 for one-bedrooms, and $250,000 to $350,000 for two bedrooms.
Condos, which are exceedingly rare, are the same price or slightly higher than co-ops.
Rental units, generally in apartment buildings, run $1,700 to $2,200 for one bedrooms and $2,200 to $2,600 for two bedrooms. "There are plenty of choices in the area," Weiss says.
Is there a lot of new development?
Although there isn't much new residential development, Weiss says there are two small projects coming up in the north end of the community. 
What's the transportation situation?
The No. 1 subway line has two stops in the community. Numerous bus lines also run here: Bx1, Bx3, Bx7, Bx9, Bx10, and Bx20 make local stops; BxM1, BxM2, and BxM3 go to and from Manhattan.
"The No. 1 train, which is an elevated line, is the focal point of the neighborhood," Weiss says.
MetroNorth stops at neighboring Marble Hill, and the Westchester County Bee-Line System also serves the community.
What is there to do?
At 1,146 acres, Van Cortlandt Park is the community's main green space.
Jerome Park Reservoir, which is on the National Register of Historic Places, includes the park of the same name and Washington's Walk Park.
Located on the border, Ewen Park is where all the kids go sledding down the hill in winter, Weiss says.
For big-box shopping, residents head to Broadway Plaza, home to Best Buy, T.J. Maxx, and Bob's Discount Furniture.
What's the restaurant/nightlife situation?
Residents have a lot of choices when it comes to restaurants and bars.
Popular spots include Kingsbridge Social Club for pizza and cocktails; Home BX Steakhouse; Bronx Alehouse; 50-year-old S&S Cheesecake; Mon Amour Coffee & Wine; Tibbett Diner; and The Last Stop at the end of the subway line.
Per Weiss, The Bronx Public Bar & Kitchen, which was called Piper's Kilt when "The Devil's Own" was shot, is "a super-fun bar with brunch on the weekends." He says Claudy's Kitchen, a Michelin Bib Gourmand restaurant, has "the best Peruvian food" and Mi Lindo San Miguelito gets high marks for "the best guacamole ever."
How about grocery stores?
In addition to major chains Stop & Shop, BJ's Wholesale Club, and Aldi, residents shop at Garden Gourmet, a specialty store that carries international products and has a large selection of cheeses.
Check out these listings in Kingsbridge.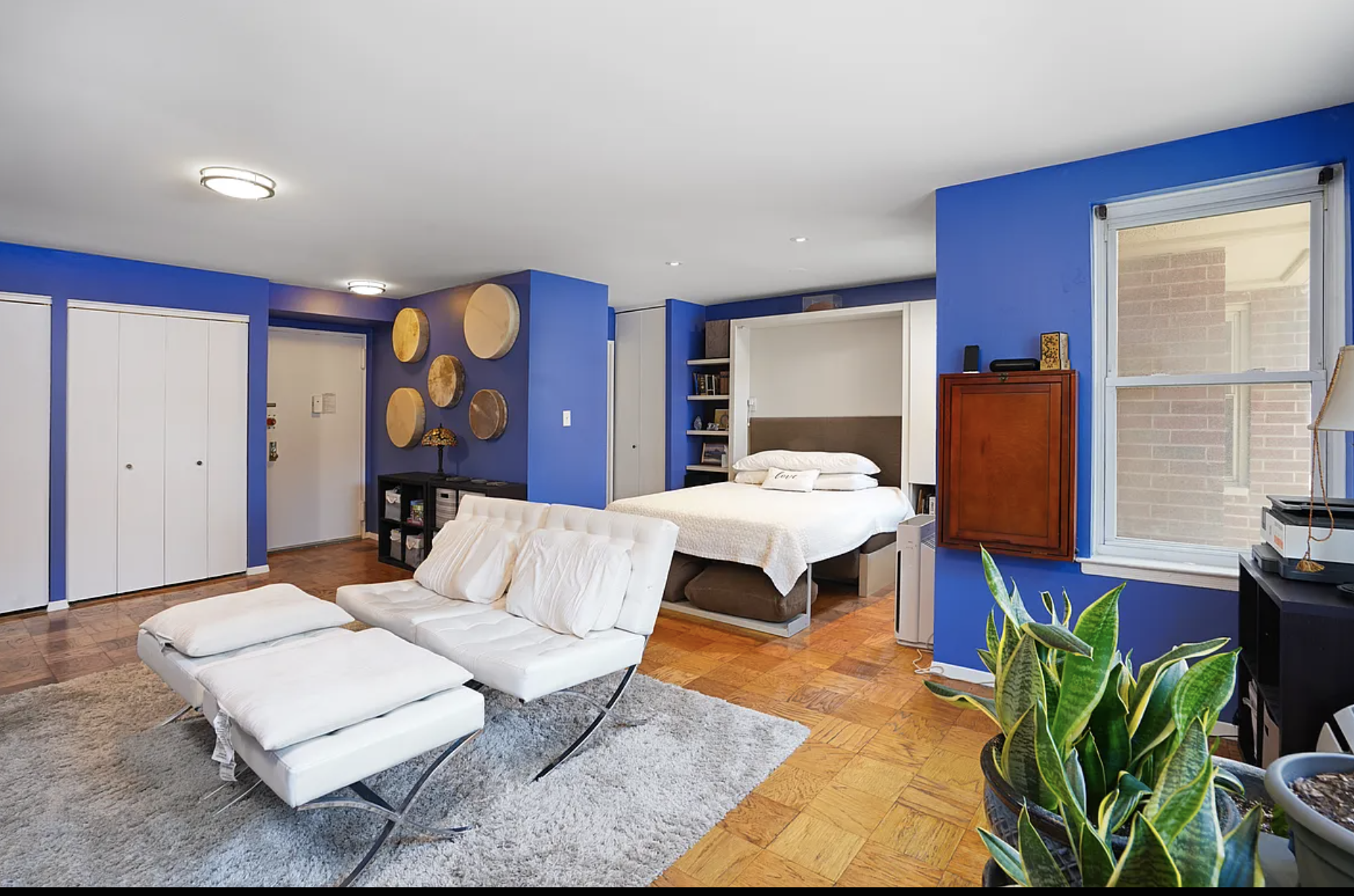 Listed for $179,000, this 500-square-foot studio co-op has been completely renovated and comes with a Murphy bed. The six-story building, which opened in 1974, has 72 units; its amenities include concierge service, a live-in super, bike room, garage, and laundry room.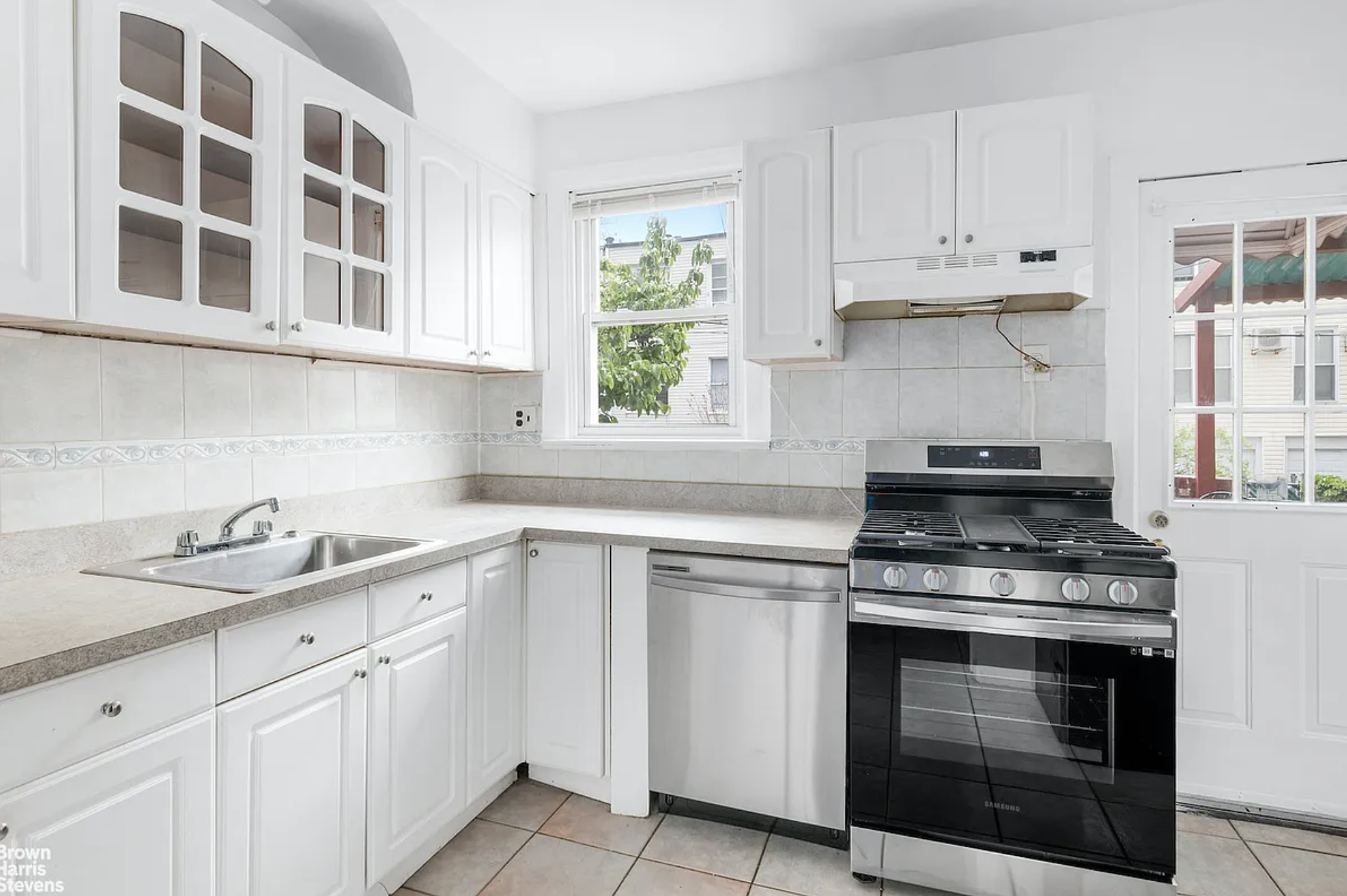 This 1938 Tudor-style single-family house has four bedrooms, two full baths, and one half bath. Completely renovated, it has leaded-glass windows, hardwood floors, a formal dining room, breakfast nook, fireplace, front and back yards, a terrace, and private drive. It is on the market for $960,000.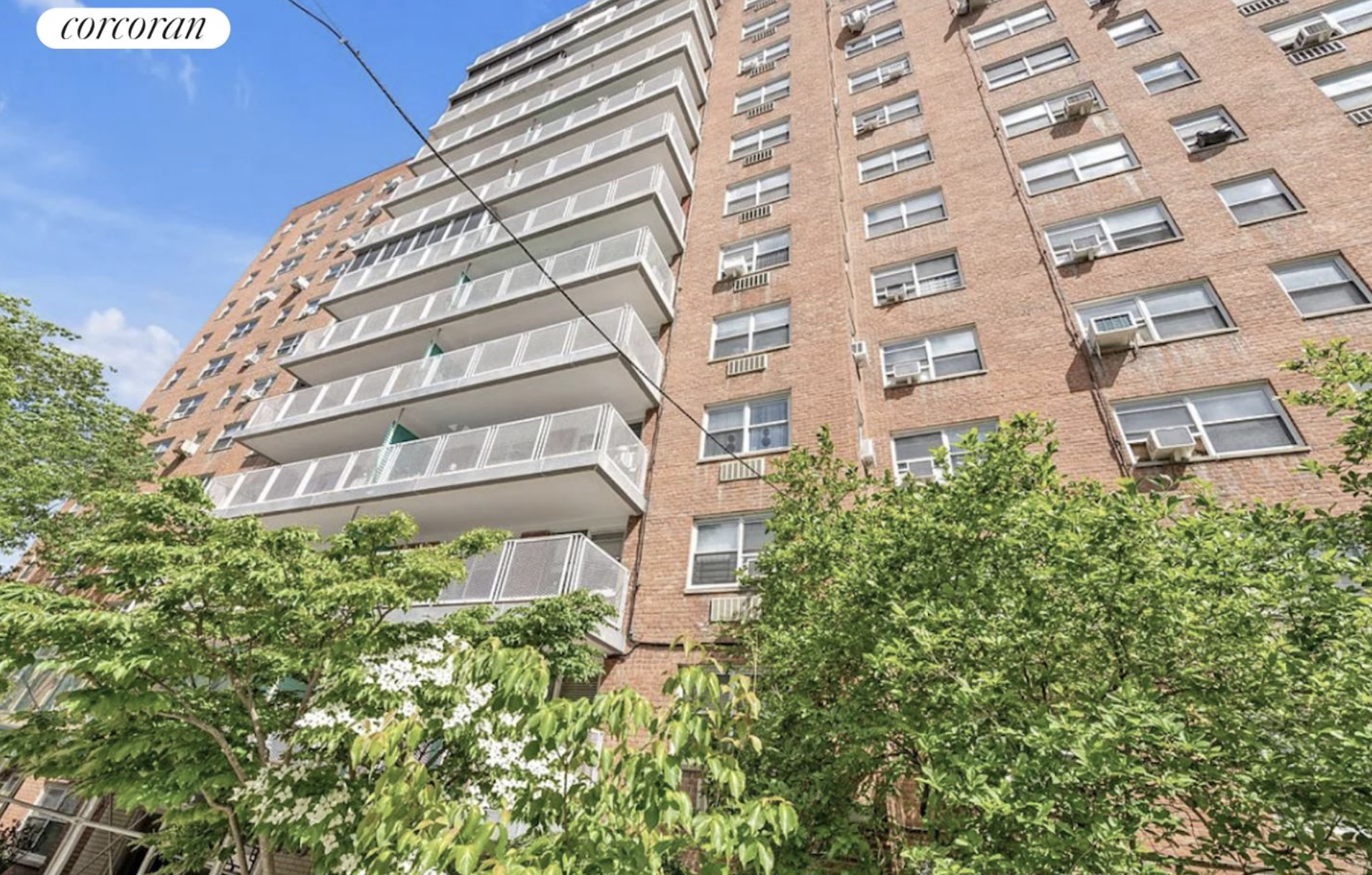 Asking $230,000, this 788-square-foot one-bedroom co-op has a balcony, hardwood floors, and a kitchen with a dining area. Amenities of the 12-story, 224-unit, 1961 building include a 12-hour doorman, laundry room, playroom, and outdoor parking.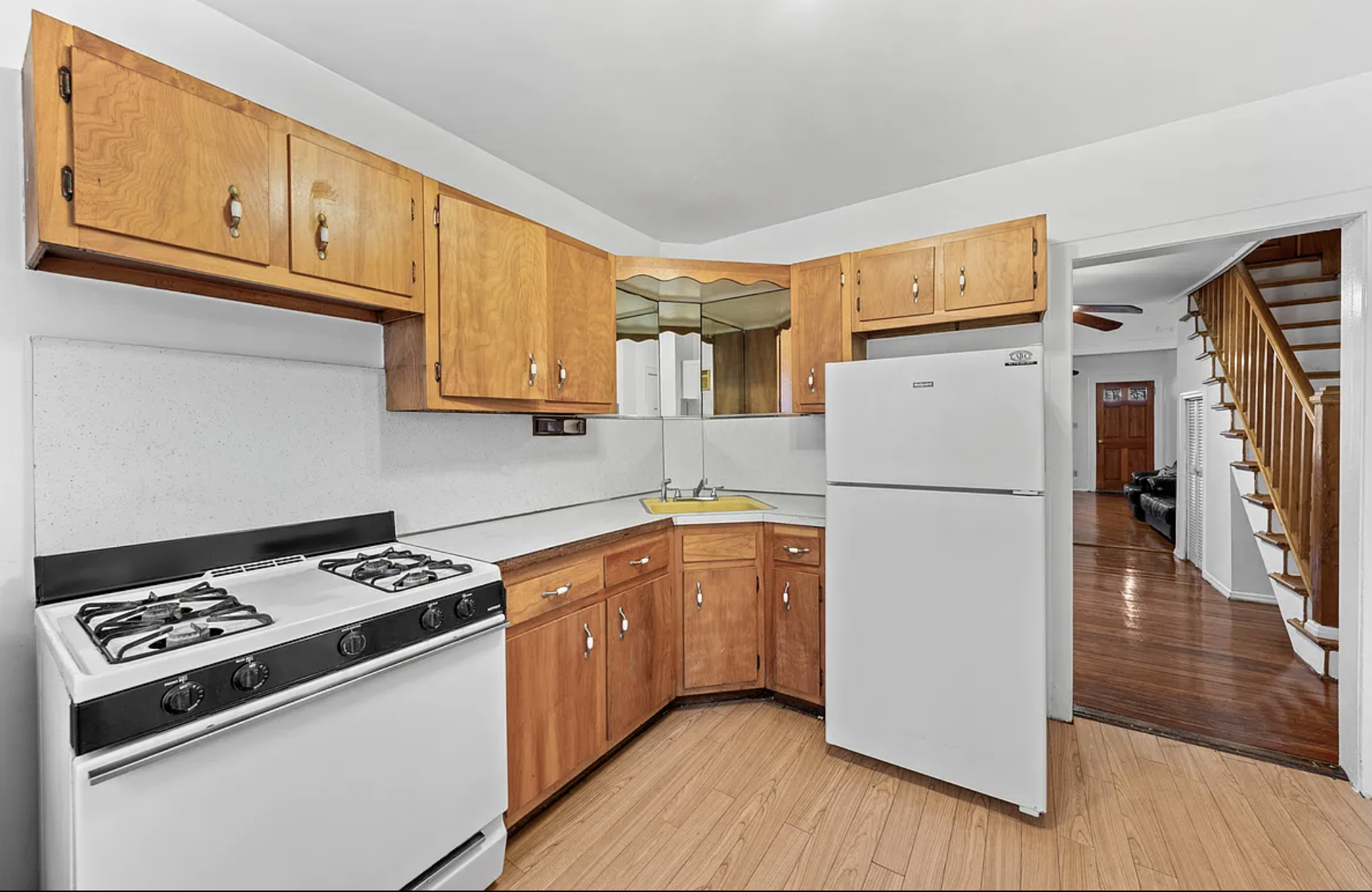 Built in 1910, this single-family house has been reduced from $619,000 to $599,000. The two-story, 2,174-square-foot residence has two bedrooms, one bath, hardwood floors, a wraparound porch, and triple-tier backyard.
This single-family house, built in 1901, sits on a double lot. The finished basement has two bedrooms, and there's a driveway for four cars. The first floor has two bedrooms and a new kitchen, the second floor has a kitchen, two bedrooms, and two baths, and the third-floor attic has one bedroom and one bath. Originally listed at $965,000, it is now $899,000. 
Nancy A. Ruhling is a freelance writer based in New York City.
Brick Underground articles occasionally include the expertise of, or information about, advertising partners when relevant to the story. We will never promote an advertiser's product without making the relationship clear to our readers.