Buy Curious
Want a NYC condo in a new development with a separate dining room? Here's where to find one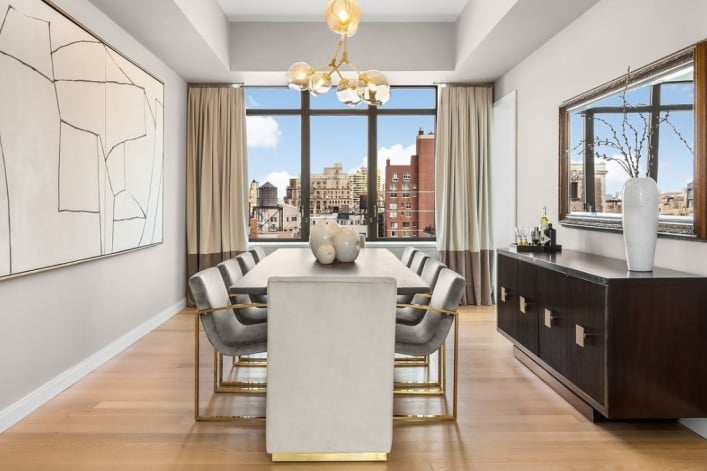 A new development condo with a separate dining room—which is likely your preference if you like to cook or entertain often—can be tough for buyers to find in New York City
That's because these days most developers are all about open-plan layouts, which favor large, open spaces over smaller, enclosed rooms.
But there are indeed some new condos with separate dining rooms. You just have to know where to look.
In this week's Buy Curious, Victoria Rong Kennedy of Citi Habitats, Susan Landau Abrams of Warburg Realty, and Seth Levin of Keller Williams Tribeca tell you the pros and cons of having a separate dining room in Manhattan, which new buildings offer them, and explain why "open-concept remorse" is a real thing.
The question:
I love to host dinner parties, and am looking for a new condo with a separate dining room, but I've been having a hard time finding one. Where should I look? Is this really such an unusual request these days?
The reality:
Rong Kennedy attributes the lack of formal dining rooms to changes in lifestyle.
"With an open dining area, it's easy to engage in a nice conversation between the person cooking, the person sitting at the living room sofa, and someone sitting at the dining room table," she says. "With people working long hours and leisure time precious, these layouts can facilitate human interaction."
Adds Levin: "The trend for open-concept living has taken over the collective consciousness and developers are literally giving the people what they want."
That said, some folks—especially those who like to entertain, often with staff—do still request new condos with separate dining rooms.
"I do have some clients that like modern aesthetics, but also have the desire for separate dining," Levin says. "They are in the minority, but they do exist. They can find this juxtaposition of modern and classic in condo conversions or gut renovations in prewar buildings."
Why is it so hard to find a new condo with a separate dining room?
Like many things in life, says Rong Kennedy, the answer has to do with money.
"New York City real estate is expensive, and the price-per-square-foot is quite high for the average New York homebuyer," she says. "In order to make the unit more 'affordable,' the developer usually devotes most of the limited square footage to creating an open-plan living/dining space for a more spacious entertainment area."
Developers, she says, have "a financial incentive to squeeze as much 'livable' square footage out of a building. Doing away with hallways and vestibules, and having rooms serve multiple purposes makes smart business sense."
In other cases, she adds, the developer uses the potential dining room square footage to create a real bedroom in order to better accommodate larger families. This, again, is simply "smart business sense as a two bedroom home can command a higher asking price than a one bedroom."
When did open-plan apartments become all the rage?
"Apartments have slowly become more open-plan as lifestyles in general have become more casual," Rong Kennedy says, noting that true open floor plans first became popular in the late 1970s and early 1980s—first in suburban housing.
Once this happened, the kitchen, which was once considered a service area, instead became a "gathering focal point of the home," she says.
It wasn't until the late 1990s and early 2000s that this trend became common in New York City apartments, and galley kitchens—which were once standard—began to disappear in favor of open kitchen islands.
Landau Abrams attributes the rise of the open-plan apartment to "the Downtown loft sensibility." Open lofts were considered the height of cool, and made the people of New York City clamor for units with a similarly open feel.
Levin, who's been selling real estate in NYC for two decades, says that he didn't start hearing about open-concept floor plans until about 10 years ago. "I'm not sure if it was that modern living preferred this style or if real estate television put it at the forefront of people's minds," he says. "Either way, it became synonymous with young, hip, and modern. Then it actually became the norm!"
Where should you look for a new condo with a separate dining room?
Levin suggests looking towards recent condo conversions of prewar buildings. "Oftentimes, those walls are loadbearing, so regardless of modern trends, those formal dining rooms aren't going anywhere," he says. "Look on the Upper West and Upper East Sides for these finds."
Rong Kennedy advises checking out buildings that were designed "with a traditional concept in mind," such as 15 Central Park West, a 43-story building built in 2007 that offers 202 apartments with large casement windows, high ceilings, moldings, and dining rooms, or 155 East 79th St., which has direct elevator entry to each residence floor and a few floor plans with separate dining rooms.
She would focus a search primarily on the Upper East Side, the Sutton area of Midtown East, and Central Park South. "These areas have many classic prewar buildings which usually have formal dining rooms. And because these neighborhoods have a more traditional feel, when a developer builds a new condo, they will have that classic aesthetic in mind, as well."
Other newer buildings offering (some) units with separate dining rooms include Tribeca's 30 Park Pl. (built in 2016), Lenox Hill's 520 Park Ave. (built in 2015), Yorkville's Beckford House and Tower at 301 East 80th St. (built in 2019), and Carnegie Hill's 180 East 88th St. (also built in 2019).
Landau Abrams adds that you can always convert a bedroom to a dining room if it's really that important to you to have one. You can add French or sliding doors to make it feel less like a sleeping area and more like a dining space.
What are some pluses of having a separate dining room?
For folks who like to entertain, "it's great to be able to close off dirty pots, pans, and kitchen mess behind a door," Rong Kennedy says.
Levin adds that some also appreciate the space as something that is reserved for "special occasion dining."
While all that's well and good, Landau Abrams points out that these days, it's rare to find an owner who solely uses this room as a formal dining room. Most owners fortunate enough to have a separate dining room use the room as a den, a combination den/dining area, or an additional bedroom.
What are some minuses?
Some people don't do a lot of entertaining or prefer to eat out, and these folks might view a formal dining room as a "waste of precious square footage in their New York City apartment," Rong Kennedy says.
In addition, she says, "If needs change, the position of a dining room can often make it difficult to repurpose" as formal dining rooms often have two entrances—one from the hallway or living room and the other from the kitchen. "If the residents need to convert that dining room for use as an extra bedroom, it may not have the most privacy."
For Landau Abrams, the biggest minus of a formal dining room is that the room is often dark or has an unfavorable view. "An open floor plan typically allows the sunlight to flow through the kitchen, dining, and living areas of the apartment," she says.
Is open-concept remorse a thing?
Yes, our experts say. Sometimes, a lack of walls just doesn't fit a person's lifestyle, Rong Kennedy says. "For example, if your kids are watching TV and you are on deadline for an important work project, it might be nice to be able to close off the dining room to create a quiet sanctuary—at least for a few hours."
Landau Abrams adds that in her opinion, open-concept remorse happens because it's hard to hide a mess when there's literally nowhere to hide it. "The image of the open-concept apartment is always minimal and streamlined, but the reality may be a messy kitchen and a living room cluttered with toys," she says.
Check out these condos with separate dining rooms: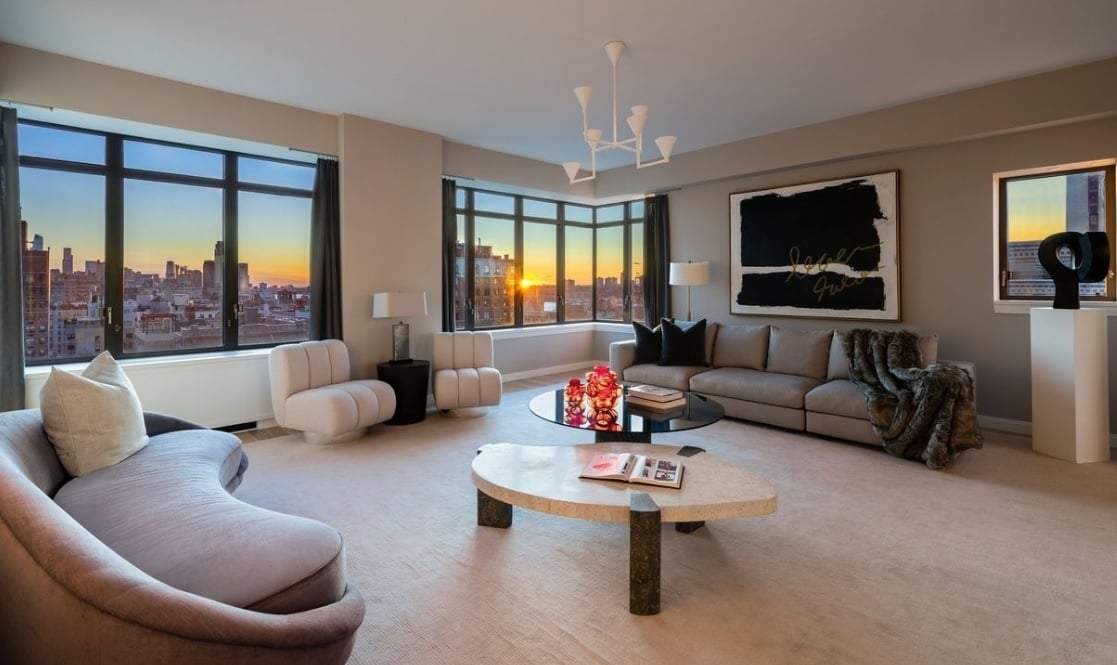 269 West 87th St., #PHB, Upper West Side
Features of this 3,882-square-foot, five-bedroom, five-and-a-half-bath, full-floor apartment (also pictured top) include wide-plank flooring, four exposures, large casement windows, a Juliet balcony, laundry room, and a private 307-square-foot terrace. It is asking $9,500,000. It's in a new construction building with a full-time doorman and concierge, library, fitness center, landscaped courtyard, children's playroom, recreation space, laundry room, bike storage, and private storage rooms. Taxes are $1 a month. The sponsor is currently offering free monthlies for five years.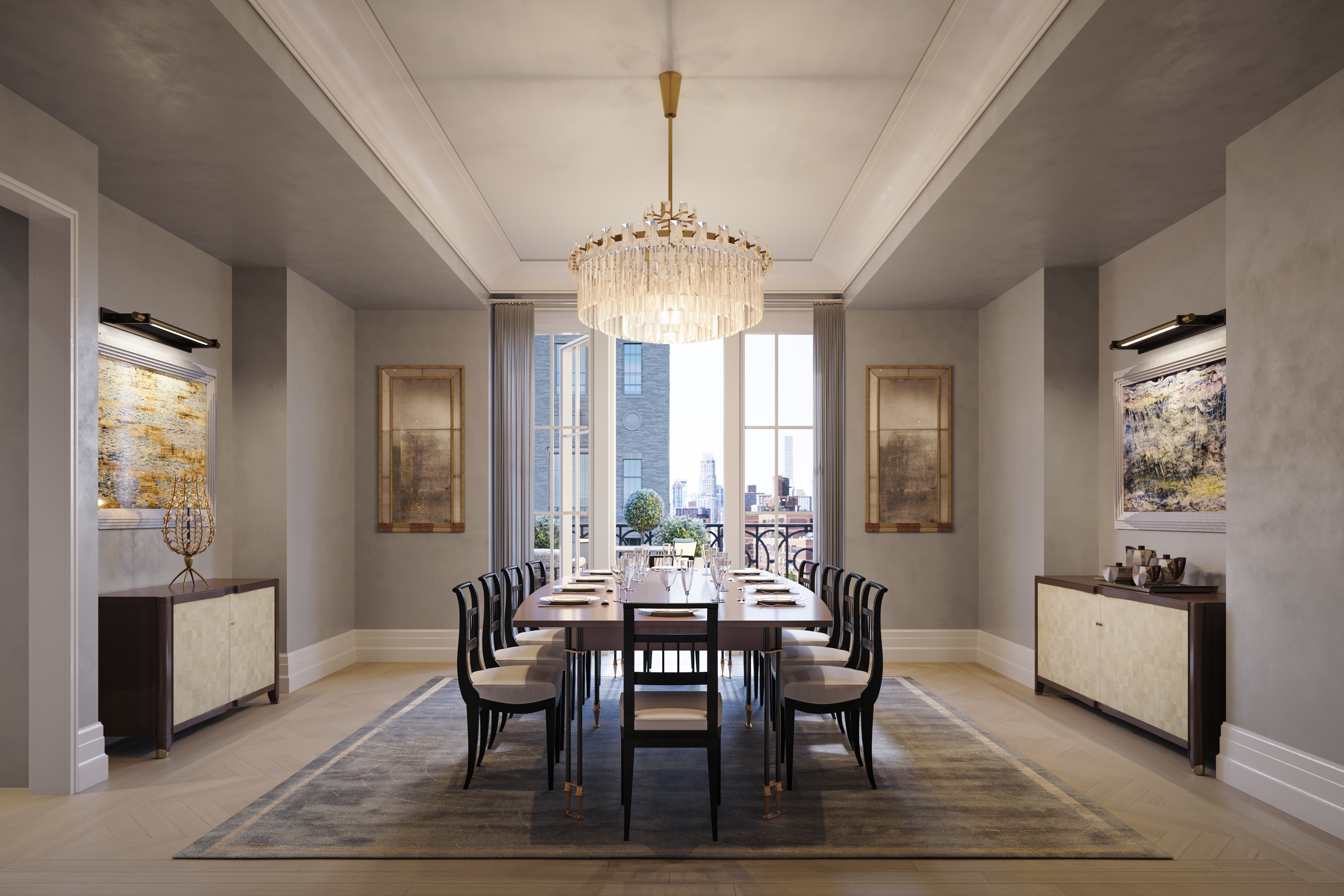 Listed for $4,975,000, this 2,424-square-foot, three-bedroom, three-and-a-half-bath condo unit has an entry foyer, herringbone flooring, and a kitchen with stainless steel appliances, marble countertops, and a garbage disposal. There's also a separate windowed dining room, a corner living room, over 10-foot ceilings, in-unit laundry, and a four-pipe HVAC system with zoned climate control. It's in the new Beckford House and Tower complex, which has an indoor pool, doorman, concierge, children's playroom, gym, cold storage, live-in super, package room, and media room. Common charges are $2,953 a month. Taxes are $3,080 a month.
After a recent $5 million price drop, this 4,538-square-foot, three-bedroom, four-and-a-half-bath condo sponsor unit is now asking $25 million. The full-floor penthouse has four corner terraces, formal reception hall, living room with views of Midtown, and both the Hudson and East rivers, a separate formal dining room, a windowed eat-in kitchen, a family room, and a library with a gas-burning limestone fireplace and wet bar. There's also a butler's pantry, laundry room, separate service hall with a dedicated service entrance, and 12-foot (and higher) ceilings. It's located in Thirty Park Place – Four Seasons Private Residences. Residents have access to both the private residence and hotel services and amenities, including Wolfgang Puck's CUT by Wolfgang Puck, a lounge and bar, spa, fitness center and pool, attended parking garage, ballroom and banquet facilities. Common charges are $4,959 a month. Taxes are $12,702 a month.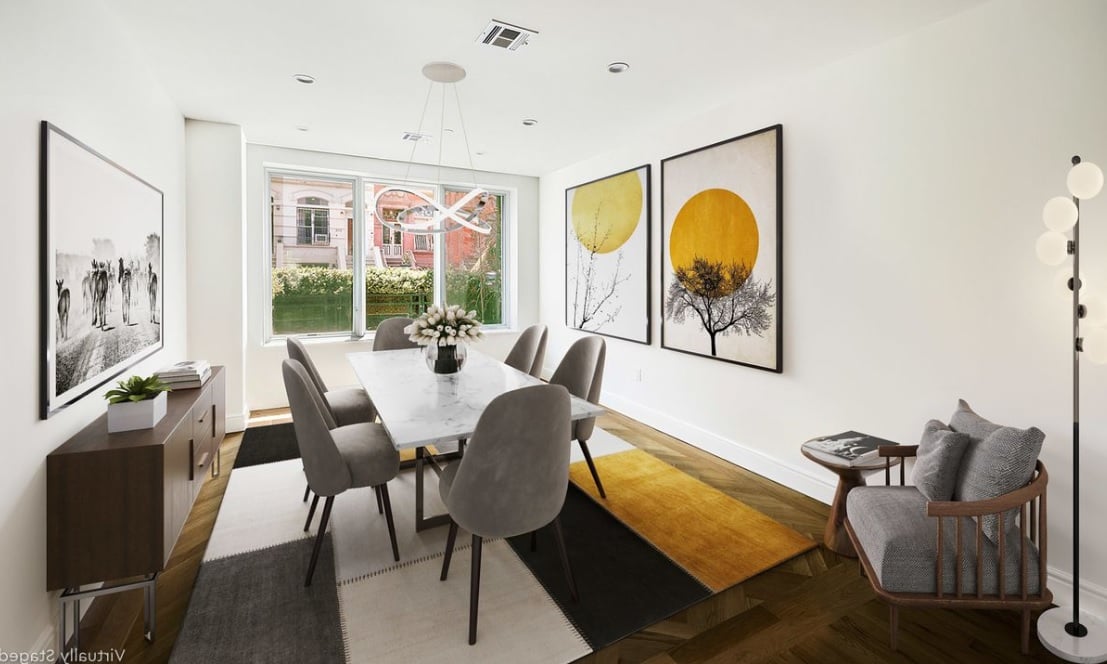 Priced at $1,395,000, this 1,570-square-foot, two-bedroom, one-and-a-half-bath duplex garden residence has pickled oak and herringbone hardwood flooring, coffered ceilings, recessed lighting, central air, and 615 square feet of private outdoor space, including a private back garden. The main level has both bedrooms, a full bathroom with a deep soaking tub, an open living room, a kitchen with stainless steel appliances and marble countertops, and a dining room. The lower level has a recreation room, a powder room, and a private outdoor sunken patio. There's also a washer/dryer, lots of closets, a 24/7 virtual doorman, and a common roof deck. It's in a six-story condo building with an elevator. Common charges are $777 a month. Taxes are $1,511 a month.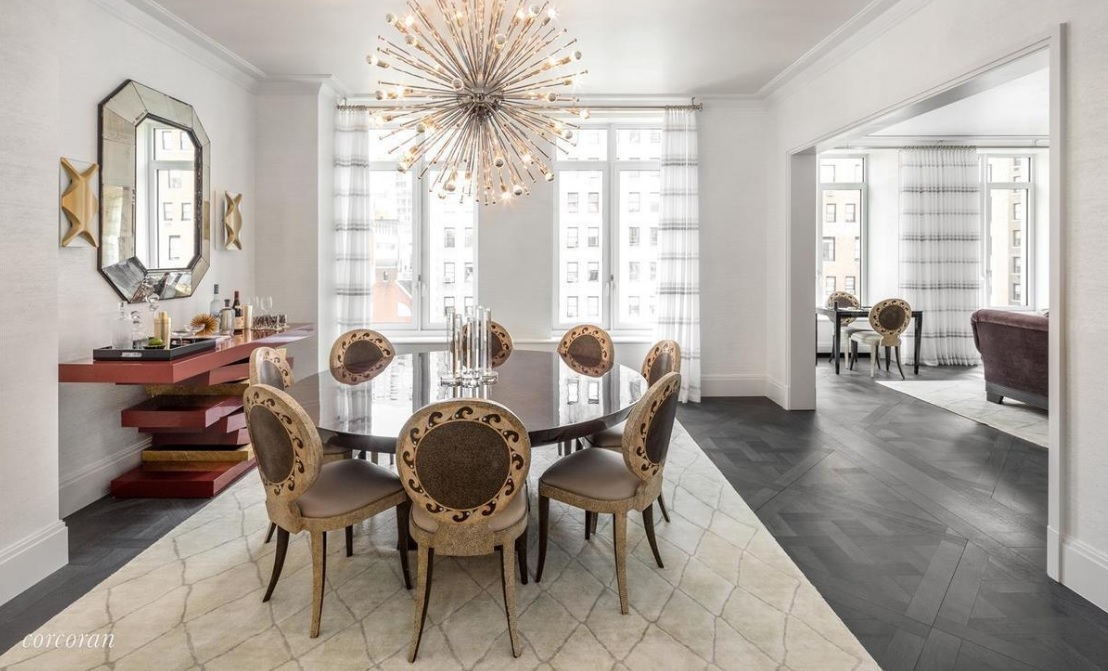 Listed for $11,950,000, this full-floor, 3,881-square-foot, four-bedroom, four-and-a-half-bath condo has a large living room, an eat-in kitchen, a formal dining room, Continental Oak Versailles parquet flooring, custom molding and mill work, and a vented washer and dryer closet. It's located in a condo building with 11 full-floor and duplex residences, a 24-hour doorman/concierge, fitness center, indoor swimming pool, playroom, screening room, and a drawing room. Common charges are $7,071 a month. Taxes are $5,569 a month.
Brick Underground articles occasionally include the expertise of, or information about, advertising partners when relevant to the story. We will never promote an advertiser's product without making the relationship clear to our readers.