Buy Curious
What you need to know about buying—and living in—a penthouse in NYC
New construction condos tend to have multiple penthouse units
Expect to pay 10 to 20 percent more than other units in the building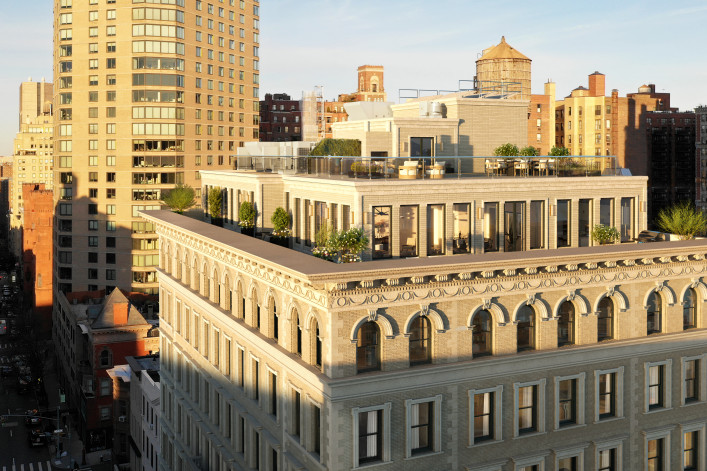 Listing by Corcoran Group; photo by VMI Studios
Once upon a time, you knew you had finally made it in New York City when you could afford to buy a penthouse apartment. But is it still a sound investment? Now that some new and converted buildings come with multiple penthouses instead of just one, are they still prestigious? 
In this week's Buy Curious, Joe Curry, an agent at Nestseekers, and Cathy Franklin, an agent at Corcoran Group, tell you whether sky-high living is right for you.
---
[Editor's note: A previous version of this article was published in March 2019. We are providing it again with updated information for November 2023.]
---
The question:
I've finally saved up enough money for a down payment on a penthouse apartment. What do I need to know before I buy?
The reality:
Buying a penthouse will still make you feel like a big deal. There is a certain cachet that comes with living in the best unit of the building, or make that one of the best units if there are PH A through E.
"Penthouse living has always been associated with the term 'I've made it,'" Curry says. "There are so many people who appreciate being on the top (literally) and having incredible, quintessential views of the big city!" 
Franklin seconds that opinion. "Penthouses appeal to discerning buyers who want the very best and enjoy the prestige and seclusion that these residences afford. In a penthouse, one can feel high above it all, yet connected to our amazing city below."
And given the prices that penthouses can command, plenty of New Yorkers are willing to fork over millions. (Check out this 17,545-square-foot, seven-bedroom penthouse at Central Park Tower, which is on the market for a mere $195 million.)
Why would you want to buy a penthouse?
"Penthouses are often the most 'wow' units in the building, meaning they have the largest floorplates, most over-the-top fixtures, views, and privacy," Curry says. Add al fresco hot tubs to that list, such as at his exclusive at 145 Central Park North. 
One of the best perks in his mind? You don't have to hear footsteps above you, moving furniture, or crying children. "However, if the building is built correctly, you really shouldn't hear noise anyway," he says.
These coveted top-floor properties generally have ample natural light, abundant outdoor space that is manicured to a T, and exquisite custom finishes, according to Franklin, who adds that penthouses include ultimate security, sprawling spaces for grand entertaining, and the feeling of a true mansion in the sky with spellbinding views that make a statement. "To many, a penthouse address is a signal of success," Franklin says. 
For example, she points to the only penthouse at ultra-luxe condo conversion The Wales (see listing below) as "appealing to those with a taste level that cannot be quantified." 
Another pro is the chance to have a private keyed elevator. 
Why wouldn't you want to buy one?
There are more cons than you might think when it comes to living in a penthouse unit. 
For starters, you'll be more vulnerable to leaks in a top-floor apartment that's just under the roof. More maintenance will be necessary. If there are any building systems located on the roof of the building, you may have to give workers access to your suddenly not-so-private private outdoor space.
"Keeping a grand property in excellent condition is no small undertaking. Hiring staff to coordinate upkeep is not for everyone," Franklin says.
What's more, the elevator ride to and from a penthouse apartment takes the longest—which could be annoying when you're rushing out the door.
And what happens if the elevator breaks down or during a blackout? Will you be able to walk up and down all those stairs? In smaller buildings without elevators, you'll be climbing up and down lots of stairs, day in and day out. It's definitely worth considering safety issues, as well. Should there be a medical emergency or a fire, it'll take first responders longer to get to you on the top floor.
Curry points out two other cons: First, you may not want to live in the most expensive home within a building, or the highest—"some people are superstitious, and some like to be more low-key." There's also the potential for some people to get vertigo if they are too high up.
Relatedly, Franklin says the views in supertall towers can be too high for some people to enjoy, such as being above the weather and occasionally obstructed by clouds. "These soaring buildings can even—ever so slightly—sway in the wind. I encourage clients to visit properties in multiple weather conditions to be sure they adore it 24/7," she says.
What to know about buying a penthouse in NYC
Pros of penthouse living

Abundant private outdoor space and stellar views.
No noise from upstairs neighbors or the streets below.
Large, unique floorplans with luxury finishes.

Cons of penthouse living

Potential leaks from the roof and extra maintenance.
Long elevator waits—or having to walk lots of stairs if it breaks.
Potential vertigo and obstructed views from clouds in super-tall towers.

Where to find them—and their cost

All types of buildings—prewar co-ops, loft conversions, new condos, and rentals.
Mostly in Manhattan, especially Midtown and Downtown, and Brooklyn nabes.
Prices are generally 10 to 20 percent more than other units in the building. 
What types of buildings have penthouses?
The sky's the limit. Franklin says every building type could have a penthouse, whether a Tribeca loft conversion or a new-construction tower. Plenty of prewar co-ops have designated penthouse units, too. 
"Penthouses have been trending for a long time," Curry says, adding that even new boutique buildings at lower price points are showcasing them.  
"Space is limited in New York City and where sightlines and permitting allow, you are likely to find a penthouse," Franklin adds. "That said, not all are created equally. It's clear when corners have been cut. Timeless, quality properties are built to endure and glamorous options have unique appeal."
Are there any neighborhoods in NYC where you're more likely to find them?
Both sources say that most neighborhoods where views are possible will have penthouses. "Historically, the Upper East Side and the Upper West Side in particular are known for stunning penthouse homes that sometimes do not change hands for decades. Many offer sweeping views of our city's crown jewel, Central Park," Franklin says. 
A search on StreetEasy turns up about 750 penthouse listings across the five boroughs, with around 150 in Brooklyn and over 550 in Manhattan—mostly in Midtown and Downtown.
How much more expensive are they typically?
It varies from building to building, obviously, but penthouse apartments usually cost an average of 10 to 20 percent more than other units in the same building, says Jonathan Miller, president and CEO of the appraisal firm Miller Samuel.
But it's important to note that "the majority of penthouses have nothing to do with other apartments in the same building," he says. "They often have amenities that the other apartments simply don't have, like outdoor space, fireplaces, and high ceilings."
Anecdotally, Curry says that #PHA at 145 Central Park North sold for a record $2,628 per square foot—or $4.999 million. That's easily topped by the $11,114-per-square-foot asking price for the $195 million Central Park Tower mentioned above.
"Penthouses are generally much pricier than the other units in the building given the size and property attributes that make them unlike any other space in the building," Franklin notes. "That said, very special residences come in a variety of configurations. For example, it's possible to have a custom sprawling duplex on a lower floor of the same building and garner a higher sales price." Good to know.  
Are penthouses still prestigious?
"Absolutely. Just the ability to say you own the highest floor in a New York City building may be worth it to the buyer," Curry says. "Again, it's the 'I've made it' mentality."
Or as Franklin sums it up: "Penthouses are forever in vogue and are often simply spectacular. Stepping into a penthouse and looking out through French doors to a terrace and the city skyline beyond is a truly moving experience for many buyers. These properties are considered custom works of art one can live in—and an asset class in their own right. They will always command top dollar."
Even in buildings with multiple penthouses, some buyers are perfectly happy to share bragging rights so long as they get coveted outdoor space and the prestige of pushing the PH button in the elevator. And in case roof maintenance is required, you can always share the burden of calling contractors and letting the workers in to fix things.
Check out these penthouse apartments on the market.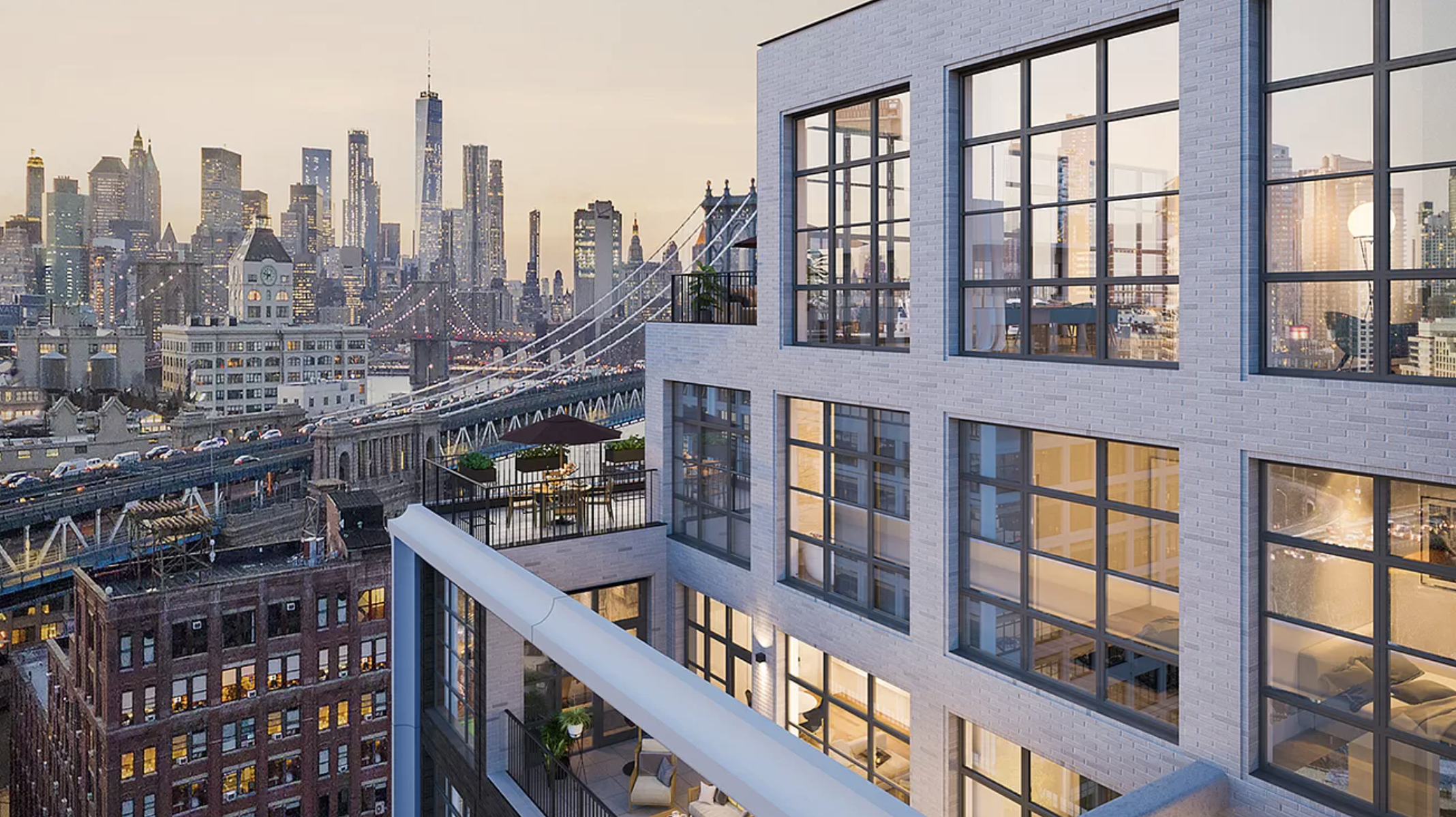 Listed for $3.45 million, this 1,374-square-foot, two bedroom, two-and-a-half-bath sponsor unit has 10 foot-plus ceilings, floor-to-ceiling windows, chevron-patterned white oak flooring, a custom chef's kitchen with Gaggenau appliances and marble countertops, and a five-fixture primary bath has radiant marble floors and a cast-iron soaking tub, plus NEST thermostats and a private 301-square-foot terrace with a gas grill. It's in the Front & York condo development that opened in 2021 and features a 24-hour doorman/concierge and building manager, fitness center with a full-sized lap pool, basketball court, saunas, steam rooms, massage therapy, and classes, and a co-working lounge, children's playroom, game room, outdoor fireplace terrace, garden lounge and kitchen, wine tasting room, billiards lounge, and screening room. Monthly common charges are $1,717 and taxes are $2,088.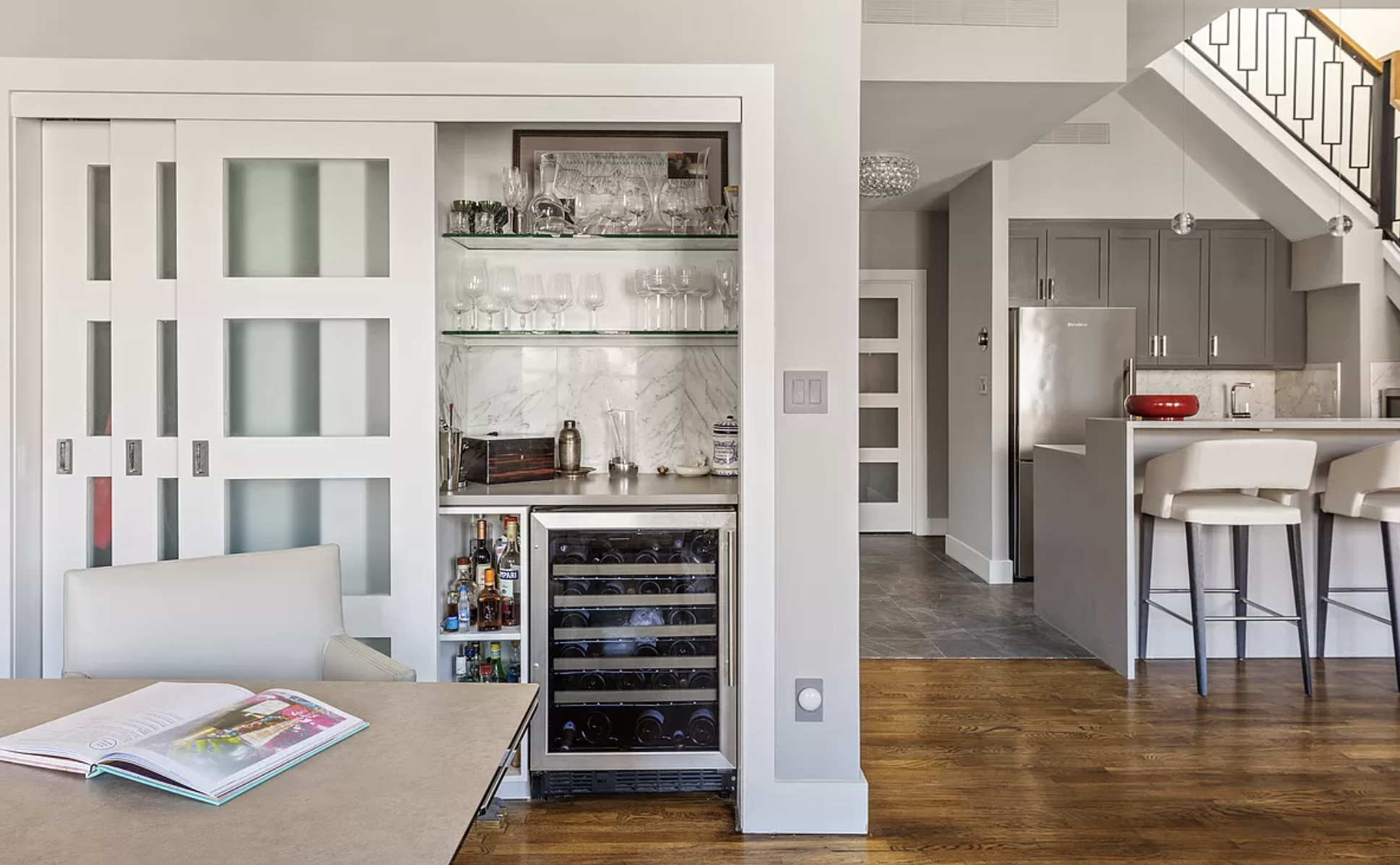 This renovated duplex penthouse is one of seven units in a 25-foot-wide, four-story Italianate brownstone dating to 1855 on a landmarked block in Cushman Row. The one-bedroom, two-bath co-op has 1,000 indoor square feet and a private 650-square-foot rooftop deck with an outdoor kitchen equipped with a grill and smoker and an infrared heater. The flex dining room can be converted into a two-bedroom according to the listing. Other features include 11 foot ceilings, original wood-burning fireplace, custom closets, central HVAC, high-end kitchen appliances, and a washer/dryer. It is listed for $2.49 million. Monthly maintenance is $2,362.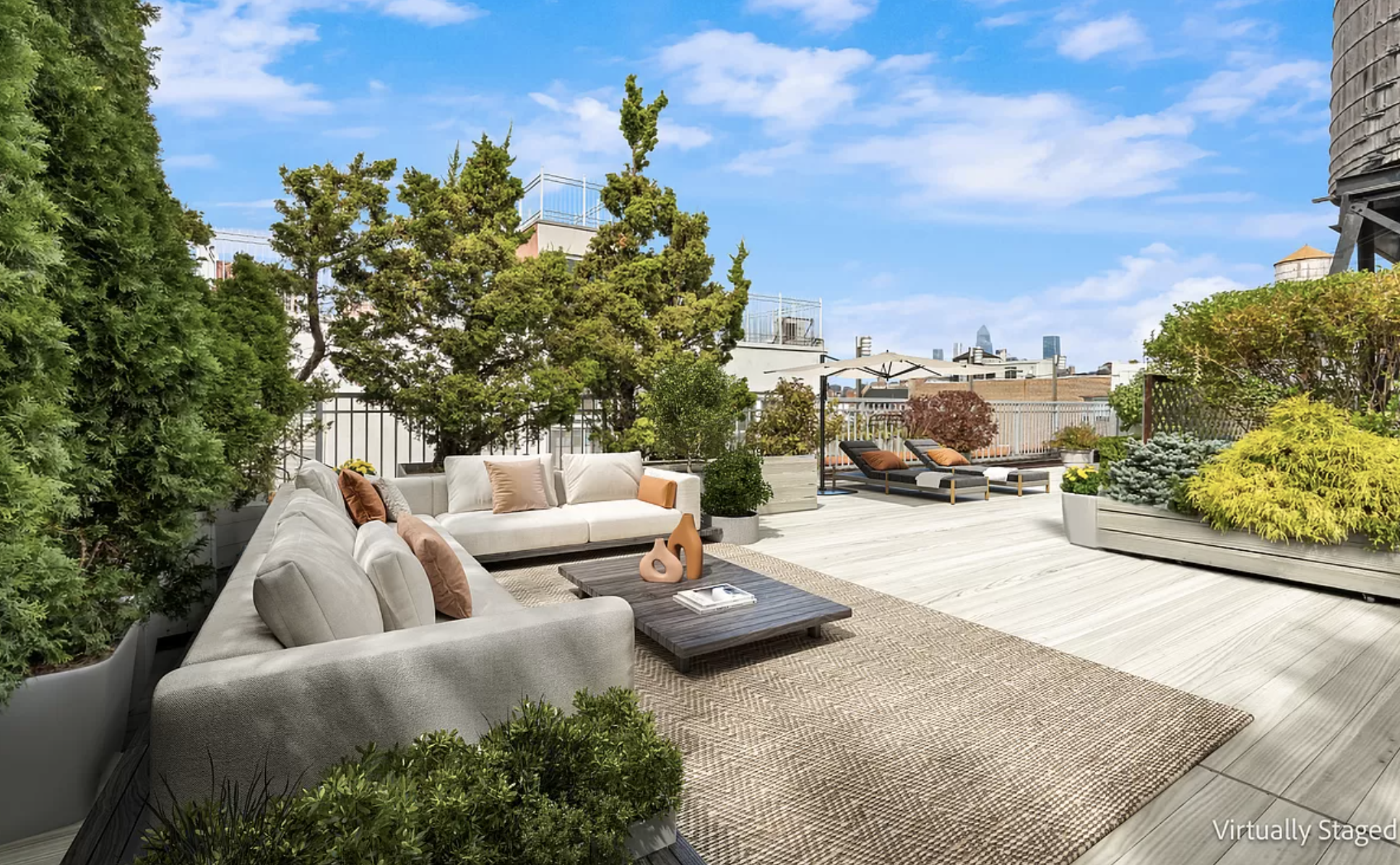 Located in a historic loft building, this renovated 1,910-square-foot duplex condo, listed for $5.25 million, has two bedrooms, two baths, an open living/dining room floor plan, and a state-of-the-art kitchen with a wine cooler and built-in coffee station. The upstairs primary en-suite bedroom has custom closets and a private 850-square-foot terrace with mature landscaping and an irrigation system. According to the listing, the adjacent unit (#6C) is for sale and can be combined; a third level can also be added to create an extra terrace and entertainment space. Monthly common charges are $1,407 and taxes are $2,841.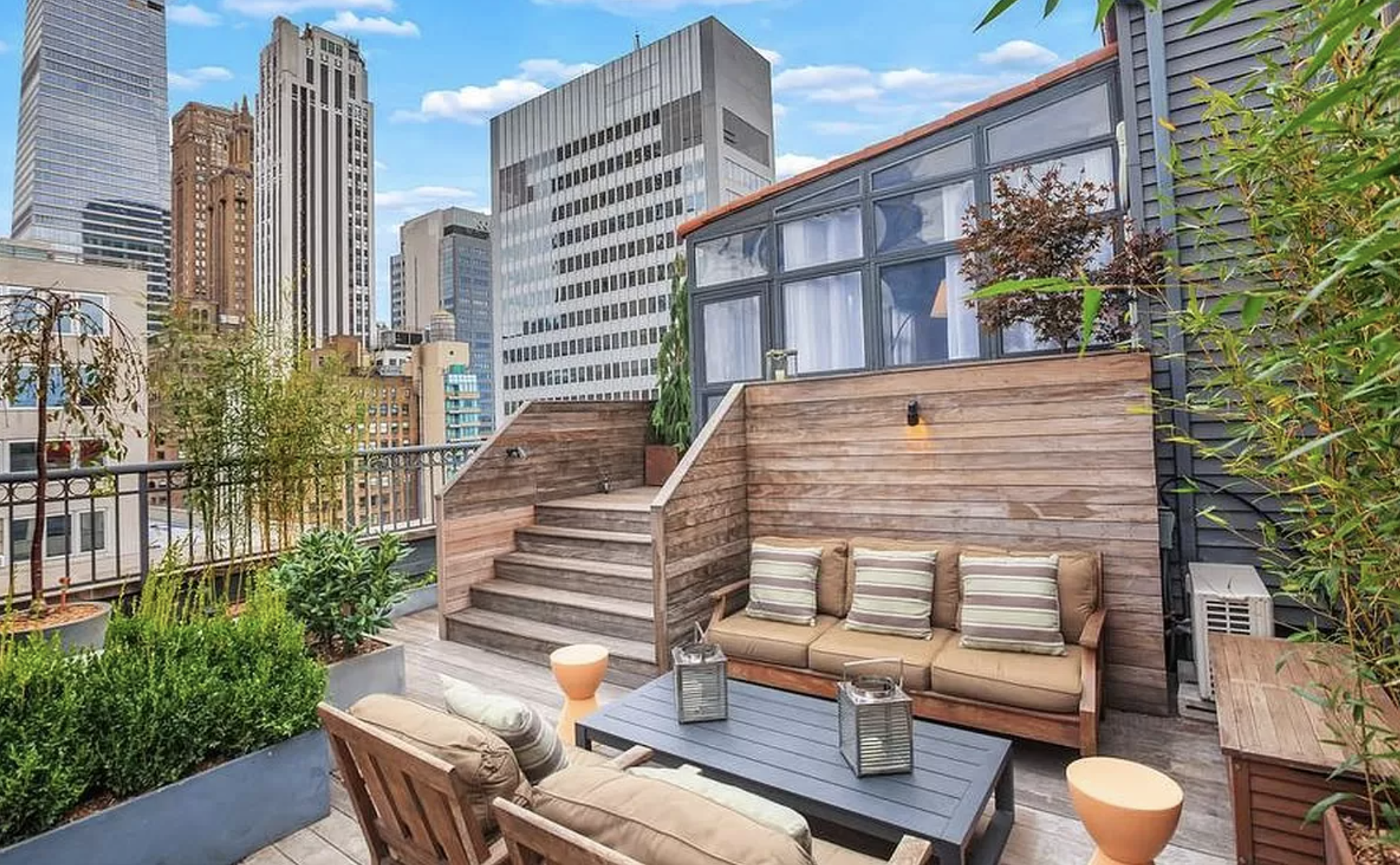 Atop a 1916 co-op built by Empire State Building designer Arthur Loonis Harmon, this three-bedroom, two-bath unit is the sole penthouse accessed with a rooftop private entrance. It features four exposures, a windowed kitchen with high-end appliances and finishes, hand-scraped ebonized wooden floors, soundproof windows, mini-split A/C, an in-unit washer/dryer, and custom cabinets and workstations/beds in the bedrooms. The full-service coop has 24-hour door staff, a live-in resident manager, and shared roof deck. It is on the market for $2.495 million, with $6,943 monthly maintenance.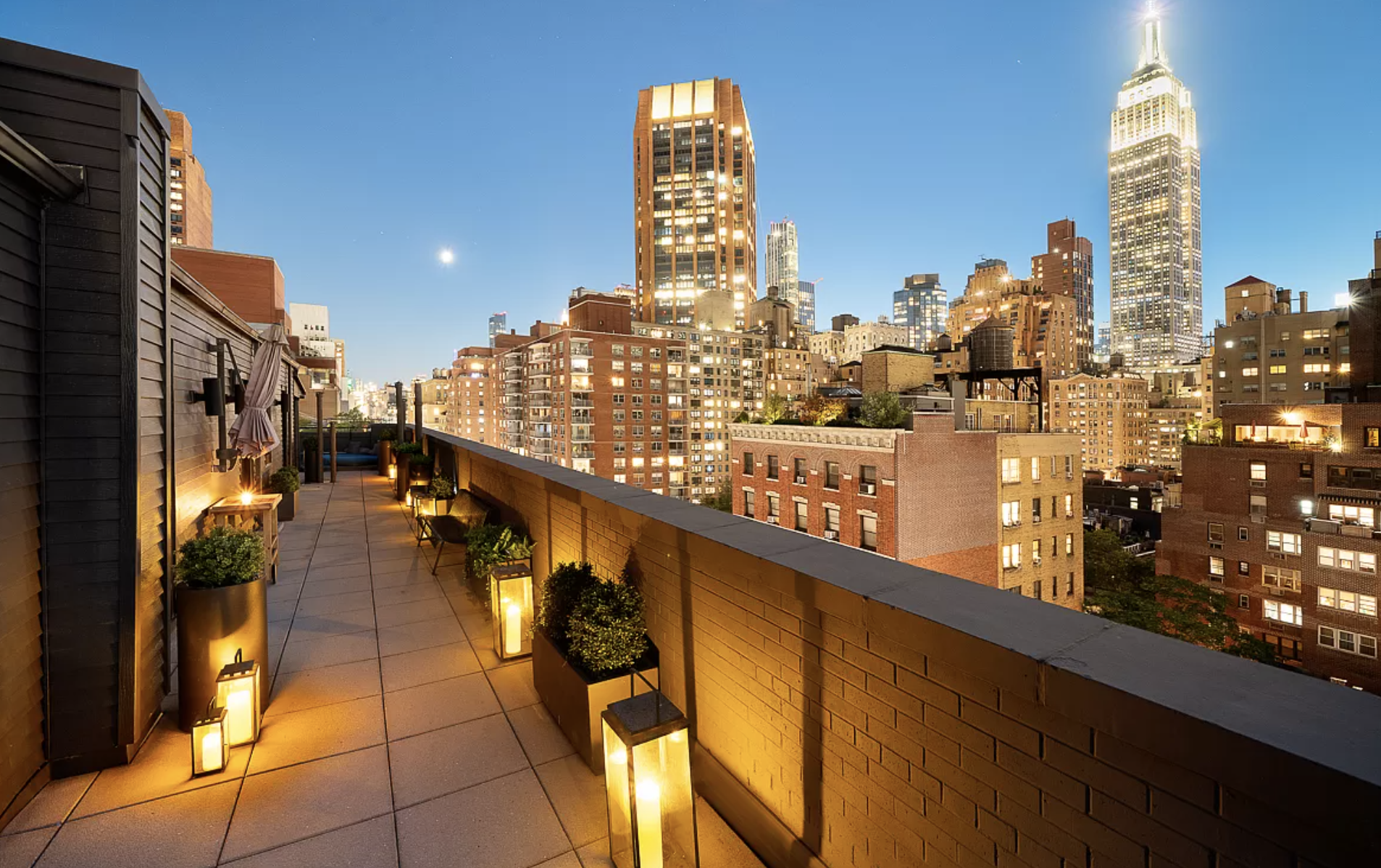 This 1,100-square-foot one bedroom, one-and-a-half-bath co-op, with an asking price of $1.995 million, has been renovated with top-of-the-line finishes and updates, including remote-controlled kitchen cabinets, movement-sensor lighting, automated window shades, two-zoned AC units, radiant heat floors, and a sound system. It also features a private 1,350-square-foot wraparound terrace (shown at top). The circa-1924 building has a 24-hour doorman, live-in super, laundry facilities, and common roof deck. Monthly maintenance is $3,538.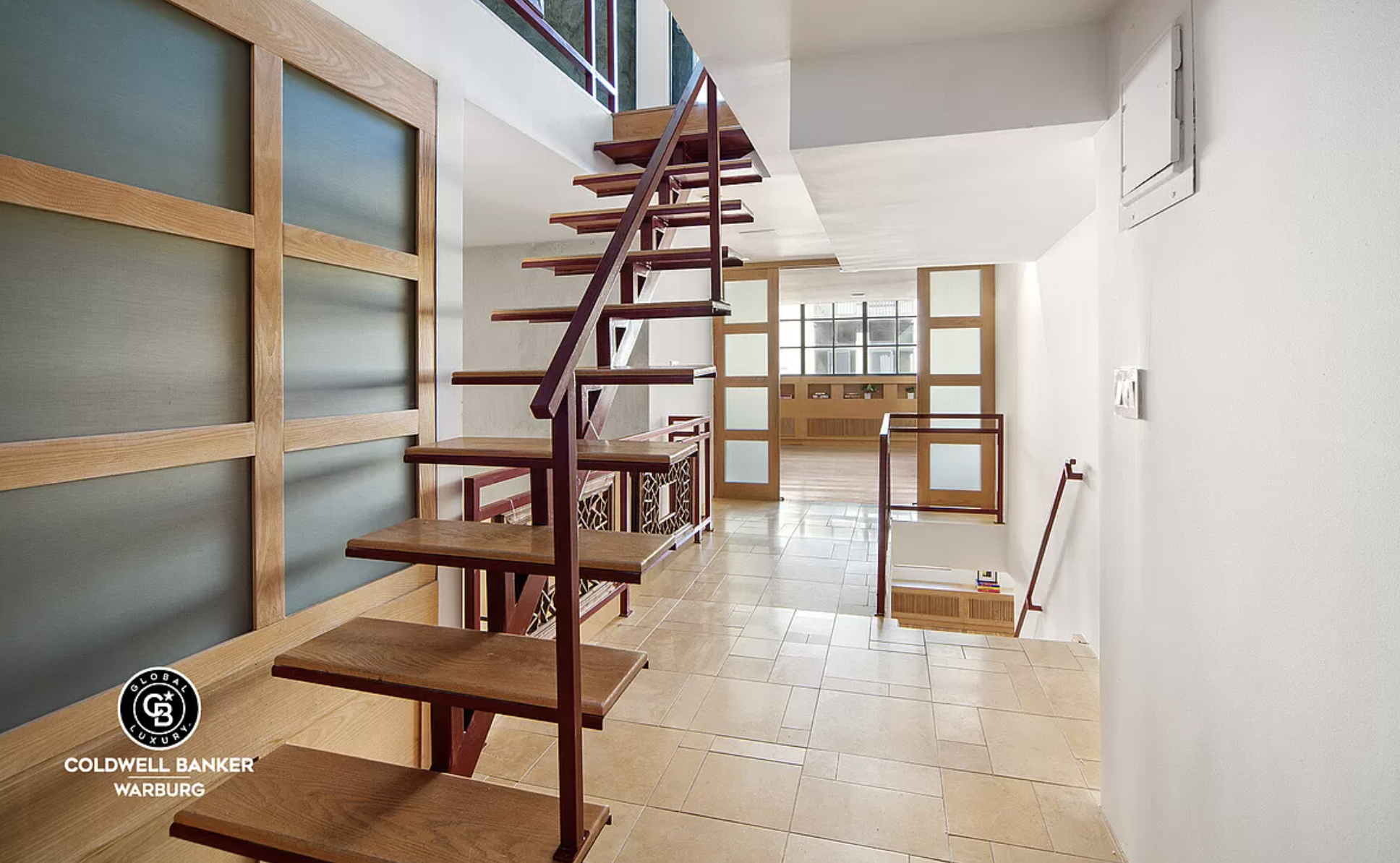 This loft-style penthouse triplex, listed for $1.299 million, has 1,850 square feet of interior space, a 523-square-foot private roof terrace, ceiling heights up to 16 feet, and expansive casement windows. The living spaces, open to the floors above, include a separate dining area with a gas fireplace. The kitchen is open and does need updating according to the listing. Upstairs, the primary suite has custom closets and a jacuzzi in the bath. The second bedroom on the third level features a large skylight, fireplace and access to the terrace. It's in a boutique five-story elevator co-op with 12 units, a video intercom system, and part-time superintendent. Monthly maintenance is $4,484.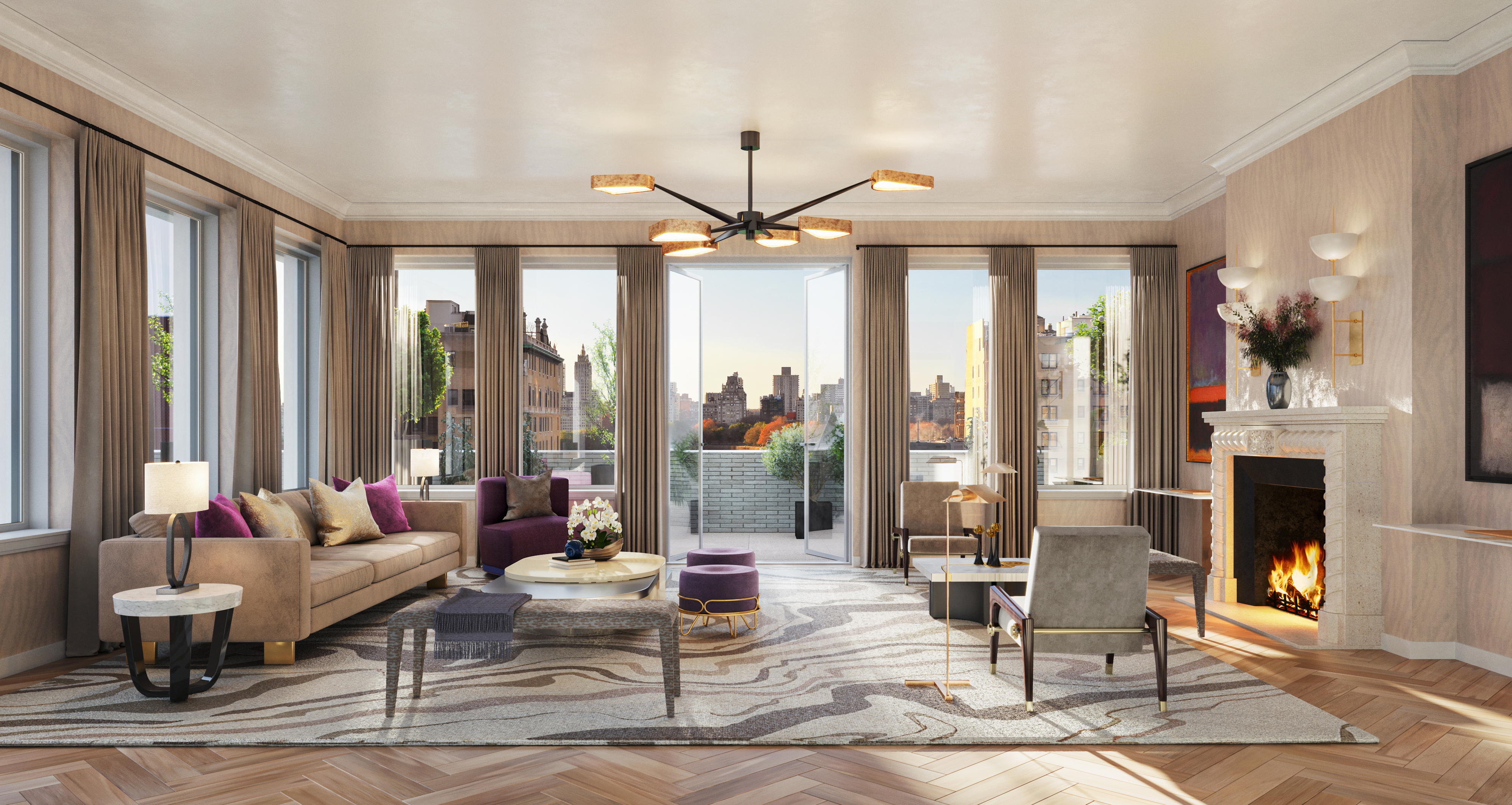 Taking up the entire top floor of an 11-story building plus a rooftop addition, this five-bedroom penthouse with five full baths and two half baths has 4,179 square feet of interior space and an expansive 3,114 square feet of outdoor space over two levels, including a wraparound entertaining terrace and separate roof terrace with Central Park views, an outdoor kitchen with a wet bar, and a fireplace. Decorative cornices, base moldings, and white oak flooring are found throughout the unit, as are other custom-designed finishes, such as white lacquer cabinetry in the windowed chef's kitchen. Each ensuite bedroom has its own bath and zoned heating and cooling system. Other features include a private elevator and a curving staircase leading to a great room with terrace access and an indoor fireplace. The Wales, a new boutique condo conversion of a 1902 loft building, has 21 units and features a 24-hour attended lobby, an oak-paneled fitness center, a pet spa with a grooming station, bicycle storage, and private storage for purchase. It is listed for $21.5 million, with $9,293 monthly common charges and $10, 346 monthly taxes. 
—Earlier versions of this article contained reporting and writing by Leah Hochbaum Rosner.
---
Articles you may also like...
The pros and cons of buying a penthouse apartment: Views, private outdoor space, resale value...plus headaches like maintenance, landscaping, and providing roof access for building staff. Experts share what it's like to live in a NYC penthouse.
Everything you need to know about combining apartments in NYC: Combining two or more apartments in NYC is challenging. Boards (especially in co-ops) can be very strict about what work they will allow. Here are the best practices for combining apartments—and how the process differs in a co-op vs. a condo.
Buying in a boutique co-op or condo building? You'll likely get luxury and privacy—and lower monthlies, too: If you're buying a co-op or condo in a boutique building, be sure you're comfortable with fewer amenities, higher maintenance costs, and a more cozy relationship with your neighbors.
A timeline for buying a new development condo: From preparing your financing to closing: Buying a new development condo in NYC can take 20 weeks from the search to closing. Here's what to expect along the way.
Brick Underground articles occasionally include the expertise of, or information about, advertising partners when relevant to the story. We will never promote an advertiser's product without making the relationship clear to our readers.