Having a private elevator that opens directly into your apartment sounds swanky. But is it safe?
In this week's Buy Curious, Jeff Garlin of Citi Habitats and Kelly Dilek of Keller Williams Tribeca tell you where to find apartments with this amenity, who typically buys them, what security measures you should expect—and what to do when someone you don't know gets on the elevator heading to your apartment.
The question:
I've been thinking of buying an apartment with a private keyed elevator, but I'm concerned about safety. Do I need to worry about strangers getting into the elevator with me? How does it all work?
The reality:
Garlin has lived in a condo with a keyed elevator for the past 10 years, and has first-hand experience with the pros and cons of this feature.
"From the lobby the elevator looks no different from traditional ones that open onto common hallways," he says, so "first-time visitors are often very surprised to find themselves staring directly into our apartment when the doors open." 
How exactly do they work?
To keep people from having unauthorized access to residents' homes, most of these types of elevators have a key-lock system, Garlin says. A resident's key will only allow access to their specific floor.
Dilek has noticed some variations on this. Instead of a simple key, she's seen magnetic cards in the control board of the elevator, keypads with codes, and even fingerprint readers. The elevator door won't open unless you enter the right combination or access with the right key.
"Nowadays, there is voice recognition software, as well," she says.
Where are they found?
This is a luxury amenity, so you can expect apartments to be large, mostly whole-floor and penthouse units.
"Because a private keyed-elevator system is usually found in buildings with one or possibly two apartments per floor, these homes generally take up more square footage than apartments accessed off a common hallway," Garlin says.
This feature is found primarily in new construction condo buildings, as well as in buildings that are industrial-to-residential conversions in Soho, Tribeca, and Chelsea in Manhattan, and Williamsburg and Bushwick in Brooklyn.
Pro Tip:
Did you know you can receive a buyer's rebate from your broker? Buying with Prevu you'll pocket a rebate of two-thirds of the commission paid to the buyer's broker at closing.  On a $1.5 million condo, you'd receive up to $30,000. Click here to learn about Prevu's Smart Buyer Rebate.
A search of Citi Habitats' internal sales database conducted by Garlin late last month revealed that Manhattan had the most homes with private keyed elevators on the market, a total of 161, followed by Brooklyn with 35. The remaining boroughs had nothing available with private elevators.
Will you be more likely to find them in co-op or condo buildings?
Definitely condos.
Out of Manhattan's 161 listings, 111 were in condo buildings, as were all 35 Brooklyn listings, Garlin says.
Garlin believes this is due to liability issues if service goes out.
"Basically, in a co-op or a rental building the loss of elevator service can be viewed by the state as a breach of the quiet enjoyment that is considered a right of the occupant," he explains. "In a condominium this is not the case. The state does not extend the same rights to the owner of individual units. The loss of elevator service does not permit those owners to withhold common charges or take other similar actions against the board as it is seen by the state to be a direct violation of the bylaws that govern condominium properties."
Are these apartments more secure?
Most of these types of apartments are in posh buildings with doormen, Dilek says. "And the older loft buildings have video surveillance and controlled access, so security's not usually an issue."
Garlin's own building has a video intercom which can be activated to view the interior of the elevator so you can see who is in it as you pull them up to your floor. 
"Additionally, I have a secondary steel door that has a bolt lock," he says. "When the elevator stops on my floor and opens, if that secondary door has not been unlocked, entry cannot be gained to the apartment. The secondary security door is very nondescript; it just looks like any apartment entry door and blends well with our décor."
Dilek has seen locking doors like the one Garlin mentioned, as well as steel gates just outside the elevator. Cameras with multiple views and alarms are also pretty common.
Additional precautions also have to be taken if young children are living on the premises. Garlin has two kids, and in his home, the elevator makes a pinging noise before it arrives on his floor. "That is a necessity for me so that I am aware if my kids have called it," he says. "If the bell were silenced, they could easily slip downstairs without my knowledge."
Do you have to worry about a stranger getting into the elevator with you?
Not really.
In the new construction condo buildings, there is a doorman who controls the access to the building. And loft buildings are generally small—only one unit per floor—so you'll more than likely recognize most of the people in your building.
And in the event that you ever do find yourself in the elevator with someone unfamiliar, remember that without special key access the door will not open on your floor.
"You can always go back down to the lobby if you feel uncomfortable," Dilek says.
Does having a private elevator add on to the price of an apartment?
"Almost every client perceives it as a bonus and will be willing to concede it adds to the apartment's value," Garlin says. "They may not have been seeking this, but almost all will feel it adds to the overall perception of the apartment having more panache."
As to how much it can add to the price, Garlin feels that that can only be determined on a case by case basis. "If the building is swank and newly converted you can push it a bit. But if you outstrip your non-keyed  competition by too much your listing may sit longer than desired," he says.
Is an apartment with a private elevator a common request?
Not at all. Garlin notes that in eight years, he hasn't had a single client request to be shown only apartments with keyed elevators. "It's more of an unexpected 'added bonus' when we arrive at an apartment with this feature," he says.
Dilek adds that celebrities, high net worth individuals, and people with security concerns are the most interested in this type of amenity. 
Check out these apartments with elevators that open into them: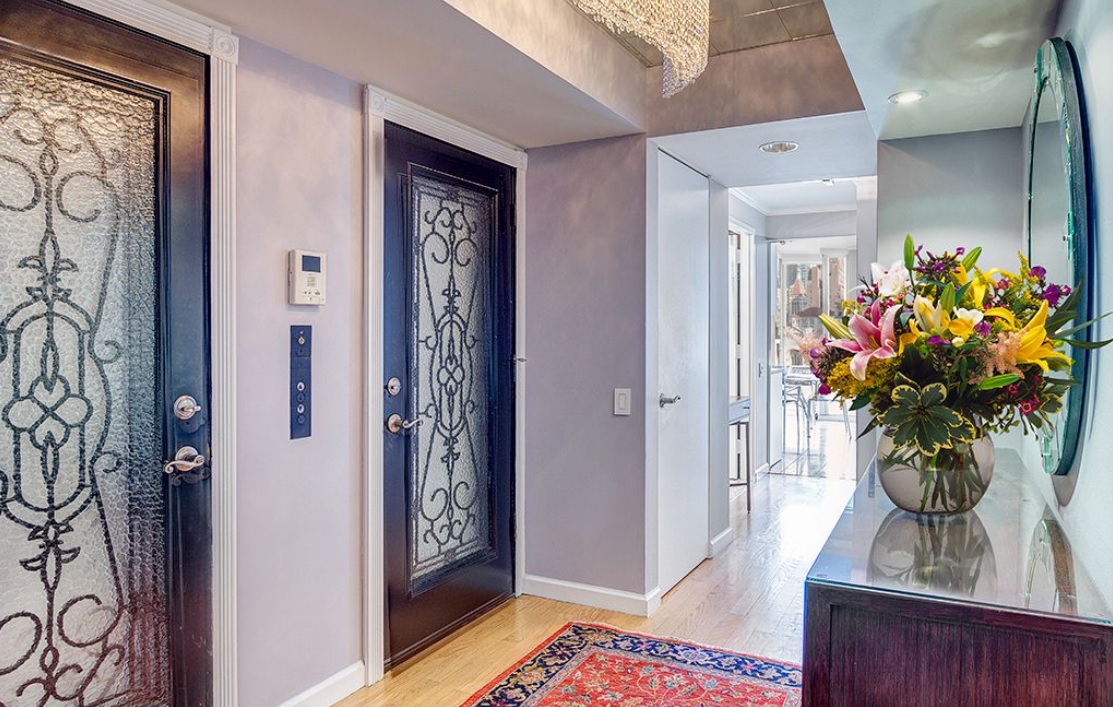 This $1,639,000 two-bedroom, two-bath full-floor condo (also pictured above) has two private keyed elevators, a floor-to-ceiling window wall looking out onto Park Avenue, a windowed eat-in kitchen with granite counters and a large pantry, a hidden computer desk and chair closet off the foyer, and a laundry closet with a washer and dryer. It's in a condo building with a doorman on call 16 hours a day, a virtual doorman at other times, rooftop terrace, and private locked storage cages in the basement. Common charges are $2,337 a month, and taxes are $1,409 a month.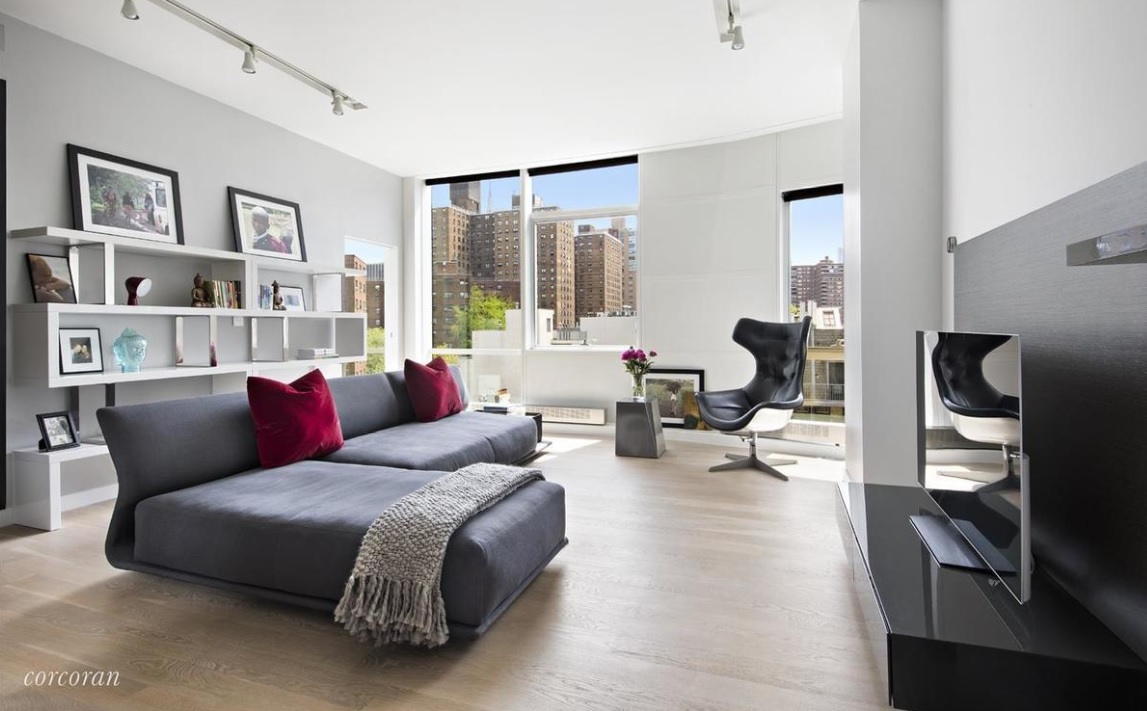 Listed for $2,695,000, this two-bedroom, two-bath condo has a private keyed elevator entrance, 10-foot ceilings, floor-to-ceiling, east-facing windows, an open kitchen with a 14-foot-long stainless steel counter, updated floors, millwork, lighting, and blinds, an in-unit washer and dryer, and a private storage unit. It's in a condo building with a 24-hour doorman, a concierge, a fitness center, and a large terrace overlooking the High Line. Common charges are $1,941 a month, and taxes are $1,298 a month.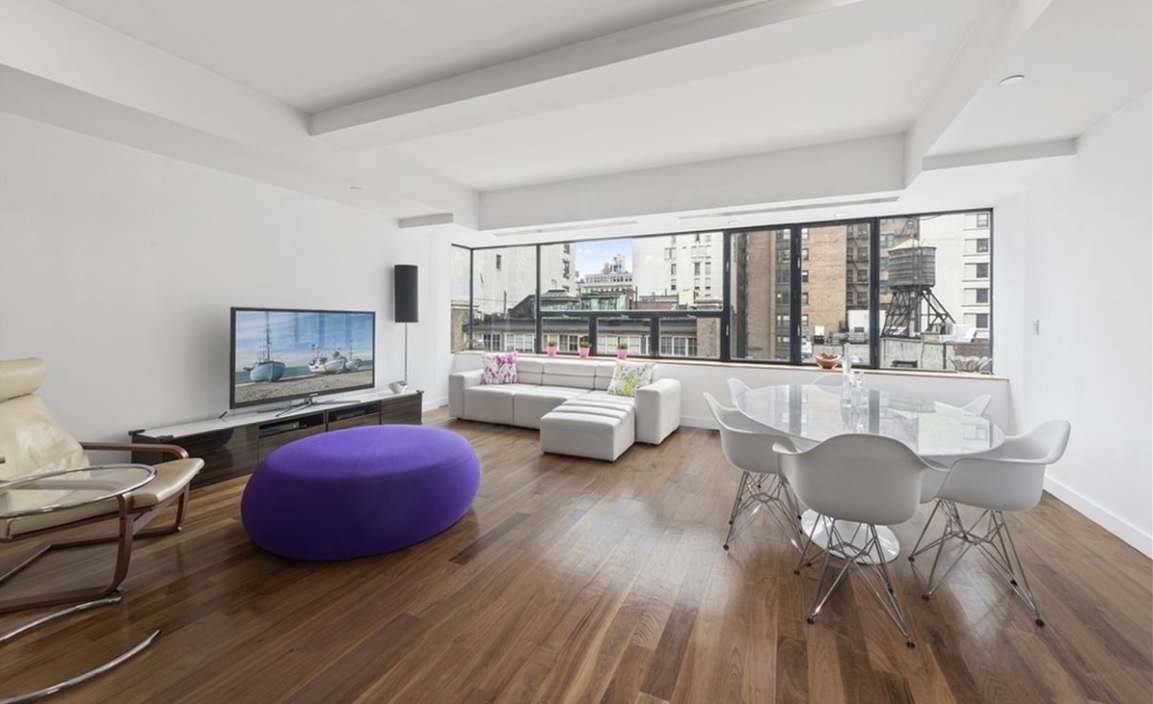 Features of this 1,600-square-foot, full-floor, two-bedroom, two-bath condo include private keyed elevator access, walnut flooring, a washer/dryer, high ceilings, and marble countertops and built-in espresso machine. It's located in a pet-friendly condo building, and is tenant occupied until August 31, 2019 at $6,200 a month. It's listed for $2,375,000. Common charges are $1,186 a month, and taxes are $1,158 a month.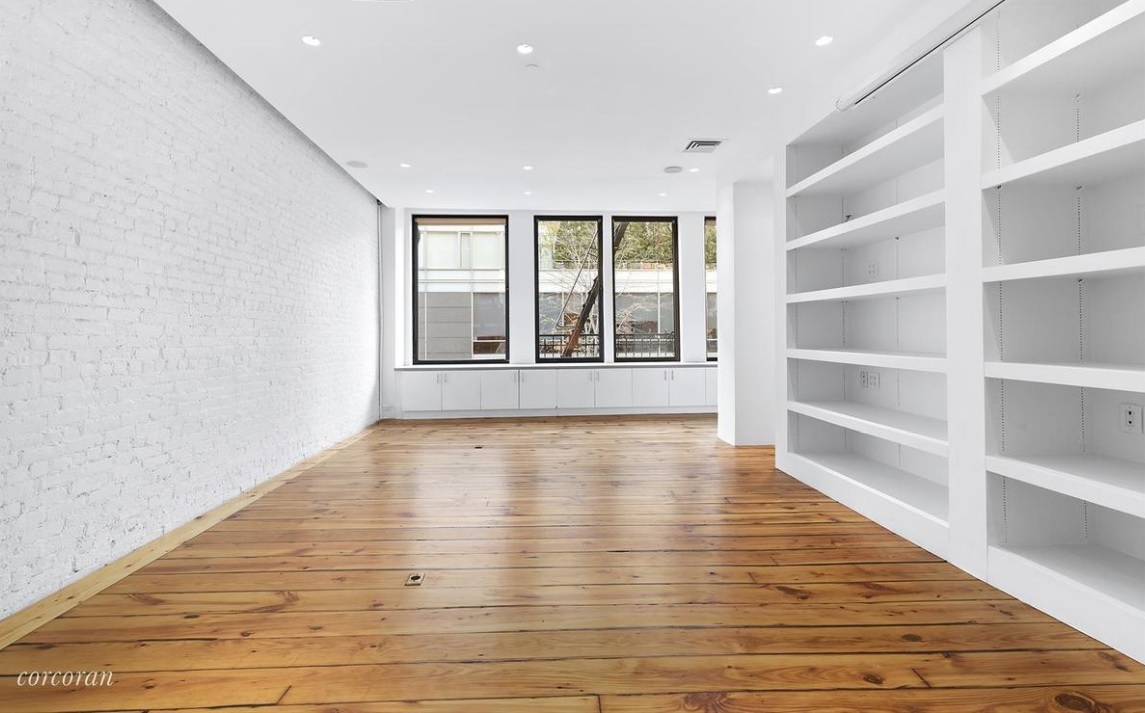 Priced at $3,095,000, this 2,200-square-foot, two-bedroom, two-bath co-op has a private keyed elevator, double-hung windows, recessed lighting, white brick walls, built-in shelving, 10-foot-ceilings, a huge walk-in pantry in the kitchen, original pine flooring, and central air. It's in a pet-friendly co-op building with a shared rooftop. Maintenance is $2,500 a month.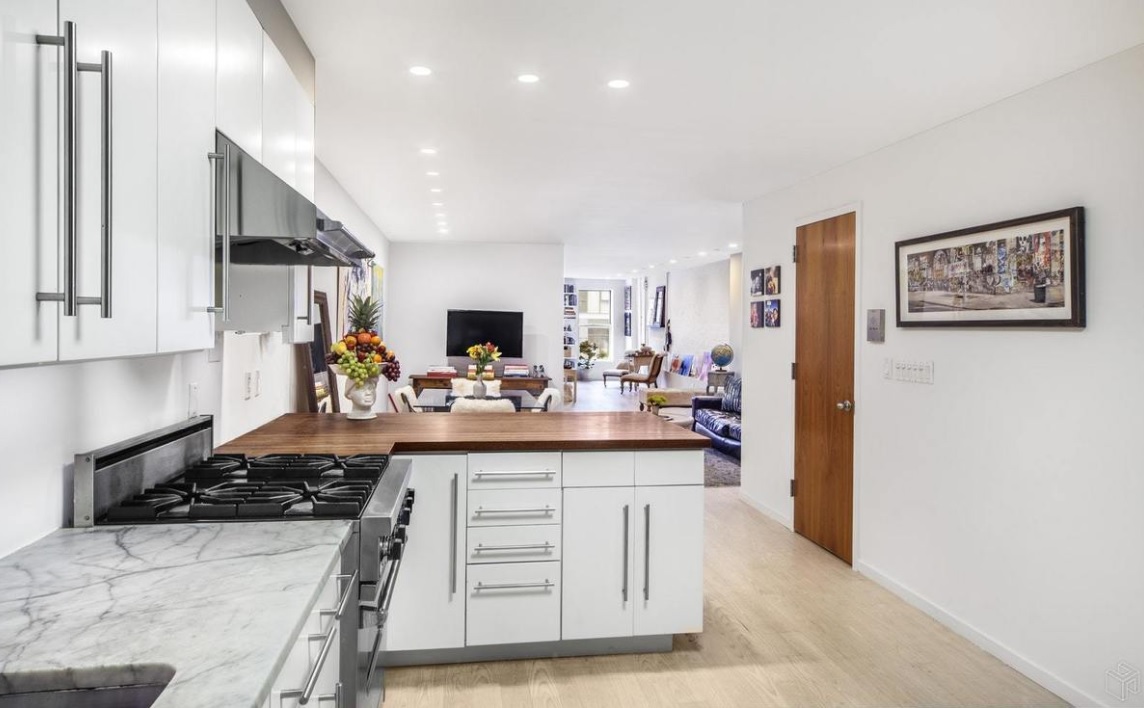 Listed for $1,795,000, this floor-through, two-bedroom, one-bath co-op has a washer and dryer, an open kitchen with a dishwasher and a garbage disposal, white oak plank flooring throughout, and basement storage. It's in a pet-friendly co-op building housed in a onetime Worcestershire factory, and allows subletting, co-purchases, guarantors, and parent purchases—subject to board approval. Maintenance is $1,350 a month.
Brick Underground articles occasionally include the expertise of, or information about, advertising partners when relevant to the story. We will never promote an advertiser's product without making the relationship clear to our readers.