Sell
Manhattan is neither a buyer's or seller's market right now
A new report from UrbanDigs says Manhattan buyers are stymied by a lack of listings
With fewer deals happening, sellers are taking bigger discounts off the original asking price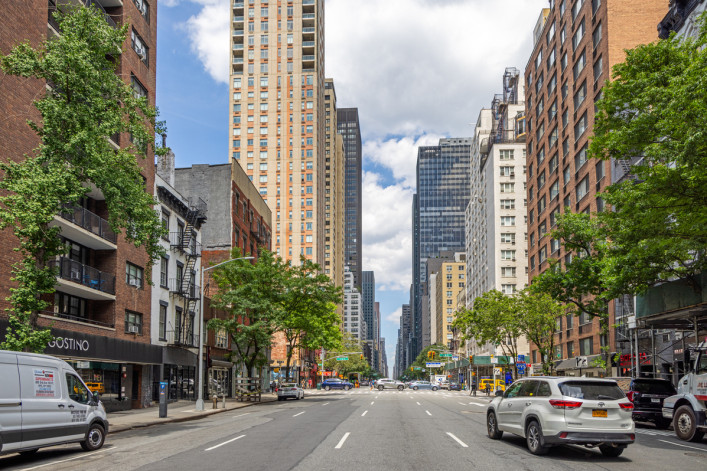 The residential real estate market is typically described as a buyer's market or a seller's market—indicating one side has the advantage and the other is willing to make concessions or compromises to seal the deal.
But what if neither side has the advantage and neither buyers or sellers were calling the shots? That's the scenario right now, according to a new report recapping the spring Manhattan sales market from real estate data site UrbanDigs.
John Walkup, UrbanDigs co-founder and author of the report, notes Manhattan buyers are out in force but stymied by a lack of listings. That's because sellers are reluctant to put apartments and houses on the market since many would-be sellers are sitting on mortgages that were written when rates around 3 percent—and now they are around 7 percent, deterring sellers from buying elsewhere.
Because of this, the real estate market in the busiest borough is in a state of equilibrium. "The generally lower supply has served to keep the market's day-to-day transactional dynamics in balance, with neither buyers nor sellers holding a genuine advantage," Walkup writes. 
Some other findings from the report
New listings "muted": The number of new listings each month "has remained somewhat muted, with 2023 levels at or near the lowest levels of the last several years." About 1,500 new Manhattan listings came on the market in May, just below levels seen in May 2022 and May 2021.
Resale contracts behave seasonally: The number of signed contracts is following seasonal trends and is above the level seen in 2019, but below 2021/2022 "barnstorming" levels, he writes. For 2023, signed contracts rose from about 500 in January to just under 1,000 in May.
Stable prices for resale co-ops: Median sales prices by signed contract for studio, one-, and two-bedroom co-ops have been somewhat stable since January 2019, while three- and four-plus bedrooms are more volatile, because of fewer deals. The median price for a three-bedroom, for example, crossed the $2,500,000 mark in May 2020 and again in March 2023.
Some up and down for condo prices: Median sales prices by signed contracts of studio, one- and two-bedroom resale condos are relatively stable "with some minor upticks and downticks"—these look like nearly straight horizontal on UrbanDigs' chart. For example the median price for a studio appears to have remained near $1 million since January 2019, while median prices for three- and four-bedroom units have much sharper highs and lows, dropping below $3 million and as high as $12 million over the past three years.
Bigger discounts: With fewer deals happening, the median discount from the original asking price has remained relatively high—hovering around 6 percent as of March. A year ago, it was around 2 percent.
What's happening in other boroughs
UrbanDigs data covers Brooklyn but not Queens, however Walkup says, "from what we can see, the dynamics in Queens and Brooklyn are similar to Manhattan."
For example, when it comes to listings, days on market, and price cuts, buyers and sellers in both boroughs are in equilibrium, he tells Brick.
Inventory is rising after an active spring selling season, but still lower than in the fast few years. The number of days it takes to sell is a bit longer now versus last year, but listings spend fewer days sitting on the market in Brooklyn and Queens than they do in Manhattan.
When it comes to asking prices, Walkup says sellers have a slight advantage in Brooklyn and Queens that's a result of the busy spring selling season and causing prices to rise slowly.
How long will buyers and sellers be on equal footing?
"The magic ingredient is supply," Walkup tells Brick. "Heading into summer, inventory will likely continue to run at a lower-than-usual pace," he says.
A combination of positive global events, such as rising stock markets, stable interest rates, and a lack of political unrest could encourage buyers to return to the NYC market and competition to ramp up, he says.
That influx of buyers could put the ball back in the seller's court. Time will tell.
Brick Underground articles occasionally include the expertise of, or information about, advertising partners when relevant to the story. We will never promote an advertiser's product without making the relationship clear to our readers.