Sales Market
Putting the Fed's 10th interest rate hike into perspective for NYC buyers
The Federal Reserve raised interest rates by a quarter of a point from 5 percent to 5.25 percent
Mortgage rates inched down this week in response to banking volatility and the Fed's statements
Higher mortgage rates mean less competition and can make sellers more willing to negotiate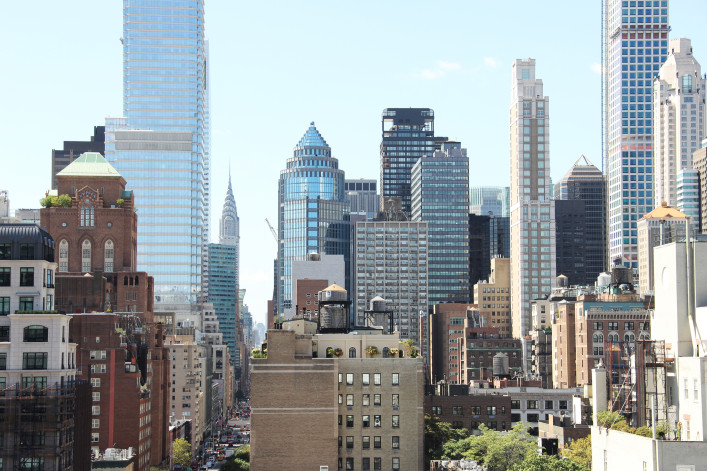 PaytonVanGorp via Getty Images
If you're planning on buying, you're probably disappointed that there was another interest rate hike yesterday, but it may be the last one, at least for a while. The Federal Reserve raised interest rates by a quarter of a point, as expected, from 5 percent to 5.25 percent, a level not seen since the summer of 2007.
Of course interest rates are not the exact same thing as mortgage rates, so the Fed's action does not automatically raise mortgage rates, but the two are indirectly connected. In general, higher interest rates do mean higher costs for borrowing. However, mortgage rates are based on the yield for 10-year U.S. Treasury bonds, and that goes up or down based on what investors think the Fed is going to do as well as investors' reaction to the Fed's actual moves.
After rising for two weeks, mortgage rates inched down this week, according to Freddie Mac, in response to volatility in the banking sector and the Fed's statements. The 30-year fixed-rate mortgage averaged 6.39 percent in the week ending May 4th, down from 6.43 percent the week before. A year prior, the 30-year fixed-rate was 5.27 percent.
What caused the Fed to raise rates for the 10th time?
The Fed is still trying to tame inflation, which even after the previous nine rate hikes, remains stubbornly high.
Melissa Cohn, the regional vice president of William Raveis Mortgage, explains the Fed acted because inflation is still higher than the 2 percent target rate and consumer spending was unexpectedly robust in the fourth quarter.
But the economy is cooling and so is consumer spending.
"The higher rates are hurting banks, hurting corporations, and hurting the consumer," Cohn tells Brick. "People are running out of money," she says.
The Fed signaled in its oblique way that it will pause hikes. Instead of saying it "anticipates" future hikes as it did in March, yesterday's statement says future actions "may be appropriate."
That breather is important, Cohn says.
"It takes time for each Fed rate hike to make its way into the economy," she says, something that back-to-back rate increases have not yet achieved.
The Fed also reiterated a similar statement from March regarding the strength of the U.S. banking systems, which has seen three major bank failures in less than two months.
Cohn says San Francisco's First Republic's failure was partly the result of lending below market rate to wealthy individuals, a strategy that backfired when rates went back up.
More significantly, the failure of a particular regional bank does not taint the entire system, Cohn says, especially in New York City, where regional banks play an important role, for example, lending in types of housing not understood by national lenders, like co-ops and condops. That means they play a critical role in NYC real estate.
"We have banks that are willing to finance even if buildings don't meet Fannie Mae and Freddie Mac guidelines," Cohn says.
Advice for buyers
Are you putting off buying until mortgage rates come down later in the year? The National Association of Realtors predicts rates will fall below 6 percent by the end of the year, "flooding the market with buyers."
For that reason, Cohn says you may want to reconsider delaying your purchase.
"If you find the right home it is always the right time to buy," she says. And with a higher rate there are fewer buyers out there, meaning more room to negotiate.
"When interest rates come down, more buyers will come out and prices will go up," she says. Most importantly: You can refinance a high mortgage rate.
There are other steps you can take in this current high-interest environment to put yourself on better financial footing.
Greg McBride, chief financial analyst at Bankrate, suggests focusing on building up emergency savings and paying down debt.
"Even if this proves to be the final Fed rate hike, interest rates are still high and will remain that way. Credit card rates are above 20 percent, rates on home equity lines of credit have doubled, and any recent mortgage debt or auto loans have come at a high price too," McBride says.
"Grabbing a zero percent credit card balance transfer offer or putting your emergency fund in a high-yield online savings account are good first steps toward stabilizing your finances," he adds.
Brick Underground articles occasionally include the expertise of, or information about, advertising partners when relevant to the story. We will never promote an advertiser's product without making the relationship clear to our readers.