Sell
Manhattan co-op and condo prices appear to be 'stabilizing'
The median price for co-ops and condos fell .4 percent to $1,150,000 in the third quarter
It was the smallest decrease in the past four consecutive quarters of median price drops
Listings were down 6.1 percent and sales fell 22.7 percent year over year for the quarter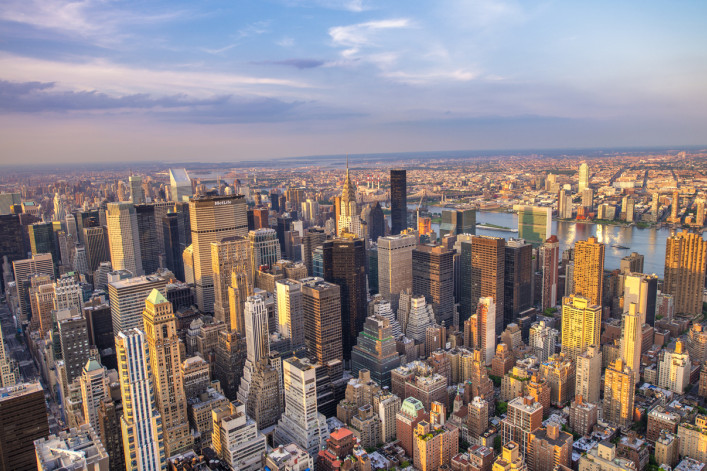 The median sales price for Manhattan co-op and condos fell again in the third quarter, but the drop was not as steep as prior quarters, a sign that prices are "stabilizing."
The latest edition of the Elliman Report finds that the median sales price for co-ops and condos fell year over year for the fourth, consecutive quarter, to $1,150,000 from $1,154,625 in the third quarter of 2022, a drop of .4 percent.
In contrast, the median sales price for Manhattan co-ops and condos fell 4 percent in the second quarter year over year, 9.7 percent in the first quarter, and 5 percent in the fourth quarter of 2022.
Prices are beginning to stabilize as listings continue to drop, the report notes, which helps boost demand. Listings were down 6.1 percent from the year-ago quarter, "as would-be sellers remained wedded to their existing low mortgage rates." With mortgage rates near 8 percent, sellers are reluctant to part with their properties if they need to borrow to buy somewhere else.
Sales fell 22.7 percent year over year, and this is likely the last quarter of "distortion," or the contrast caused by the spike in mortgage rates last year, the report notes.
Co-op median price hit new record
Surprisingly, the median sales price for Manhattan co-ops rose year over year to a new record after falling annually for the past three quarters. It increased 2.8 percent to $875,000, even as the number of sales fell year over year by 25.1 percent.
Low inventory is the key factor: Listings fell annually for the eighth time in ninth quarters, keeping the market tight despite the surge in mortgage rates, says Jonathan Miller, president and CEO of appraisal firm Miller Samuel and author of the report. "This is the same condition as the U.S. housing market.  The lack of supply has helped records occur in random markets like co-ops."
Co-ops stood out because new development tends to be condos, and listings for new development declined year over year at a higher rate. The median sales price for condos dropped 1.1 percent to $1,610,000.
Realistic pricing helped 
Miller says that 56.2 percent of co-op deals in the third quarter had no price change, compared to 65.3 percent in the prior year. "Pricing entering the market is getting more accurate," he says.
Fewer 'extreme swings'
BOND New York's Manhattan sales market report observes that the market is no longer buffeted by "extreme pandemic swings" and is instead "responsive to seasonality."
The report predicts that buyers will see less competition and some flexibility on prices in the coming months. Cash buyers will retain the most leverage, it says.
"Sellers should expect a bit less traffic and be prepared for repeat showings and extended bargaining to arrive at a deal. Despite the overall return to 'normalcy,'" inflation and interest rates continue to impact deals, the report says.
Higher negotiability
SERHANT released its Manhattan and Manhattan New Development market reports for the third quarter.
Coury Napier, director of research at SERHANT notes, "It's an unusual market we are experiencing. Despite sales and pending activity falling, prices are stubbornly high. Negotiability is at 6 percent, which is slightly higher than last year." The report states that Midtown East and Midtown West saw the most price negotiability from the last asking price, with discounts of roughly 8 percent for both markets.
A 'decent third quarter'
Bess Freedman, CEO of Brown Harris Stevens, says in her firm's report that the Manhattan co-op and condos "had a decent third quarter, especially considering the surge in mortgage rates that began in May."
She notes that higher mortgage rates have depressed the number of sales, "but not necessarily
prices. Both the average and median resale prices were higher than a year ago, helped by a sharp rise in the average price for three bedroom and larger condominiums," she says.
Don't expect mortgage rates to come down anytime soon, Freedman says, and don't count on a recession either.
"The reason mortgage rates have risen so much over the past four months is that the economy continues to outperform expectations, thus raising the prospects for future inflation. Most economists expected a recession this year, which brought 30-year rates down in the beginning of 2023. Not only are we not in recession right now, but economic growth in the third quarter of 2023 will most likely beat expectations.
'Sellers hold onto a fantasy value'
Frederick Warburg Peters, president of Coldwell Banker Warburg, writes in his firm's latest market report sellers continue to hold onto a "fantasy value for their home, which many, if not most buyers are not willing to pay."
"But deals are getting done," he notes. "While most buyers accept that there is no guarantee of enormous increases in value over the next five to 10 years, they still want a place they can call their own," he says.
A more normal period
In Corcoran's third quarter report, Pam Liebman, president and CEO, also sees the Manhattan market entering a more normal period.
"It looks like the current pause on further rate hikes—paired with slightly lower prices and record-high rents—just might be the encouragement buyers and sellers need to dive into this market," she writes.
Ultra-luxury sees a surge
Elizabeth Ann Stribling-Kivlan, senior managing director at Compass, writes in her firm report that deals in the ultra-luxury market surged compared to a year ago, "proving that buyers at this price point are willing to transact."
Buyers looking for more options shifted their attention to the Upper East Side, which captured 20.7 percent of sales and saw an average price increase of 15.2 percent year-over-year, she writes.
New development contracts plunge
Brown Harris Stevens Development Marketing also released its third quarter report, which found signed contracts were down 40 percent from the year-ago quarter.
The average size of units that went into contract in the third quarter was 1,506 square feet, approximately 360 square feet less than the average size of a unit on the market (1,872 square feet), the report notes.
The most active neighborhood was Chelsea (34 contracts signed), and the most active building was 500 West 18th Street (23 contracts signed).
The third quarter "is typically a slower quarter for contracts signed given the summer months," said Stephen Kliegerman, president of BHSDM. "This, paired with increasingly low supply, very few buildings launching, and buyers still adjusting to the new mortgage rate landscape resulted in fewer contracts being signed across all boroughs."
Brick Underground articles occasionally include the expertise of, or information about, advertising partners when relevant to the story. We will never promote an advertiser's product without making the relationship clear to our readers.