Sell
Manhattan co-op and condo sales fall 39 percent but the slowdown is not as bad as it seems
The current market is still being contrasted with the pandemic-era sales frenzy
Median price for co-ops and condos fell to $1,200,000, third highest on record
The median price for the luxury market increased 3.9 percent to $6,704,250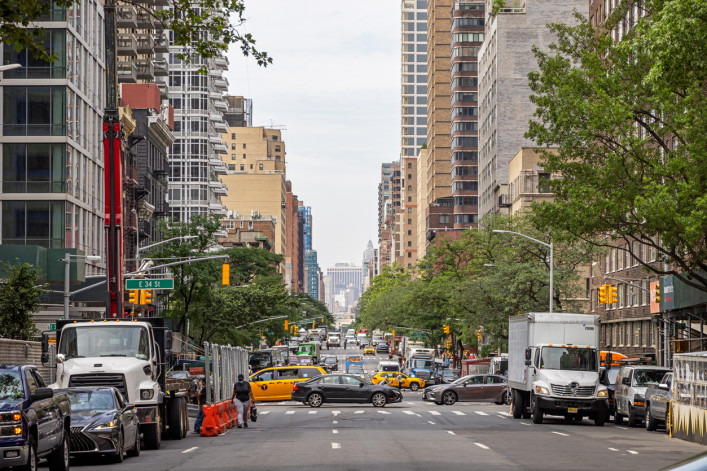 It seems like Manhattan deals fell off a cliff this spring, but the numbers are less shocking than they appear.
Co-op and condo sales plunged 39.4 percent in the second quarter of this year compared to the second quarter of 2022 according to the latest edition of the Elliman Report for Manhattan. Why the deep drop? Because the current market is still being contrasted with the pandemic-era sales boom, but those uneven comparisons will end soon.
The real estate market in the second quarter of 2022 was a "rocket ship," says Jonathan Miller, president and CEO of appraisal firm Miller Samuel and author of the report. As a result, comparisons against that sales frenzy are skewed, he adds.
The median sales price for co-ops and condos in the second quarter was $1,200,000, a drop of 4.2 percent compared to the year-ago quarter. It was the third time the median sales price fell but still the third highest on record. Listings slipped year over year as well.
The second quarter is a reprise of the first quarter, when sales of Manhattan co-ops and condos fell to the lowest level in two years, dropping 37.5 percent, and the median price dropped 9.7 to $1,075,000, both year-over-year comparisons with a frenetic sales market.
A surprisingly strong luxury market
But not every segment of the market is flashing a drooping red arrow. For example, the market share of cash buyers rose to two-thirds of all closings—the highest in history—because of a decline in deals requiring financing. Cash buyers are more prevalent as listings go up in price, Miller says, representing 58.2 percent of buyers for properties in the $500,000 to $1 million price range and rising to 75.4 percent for properties $5 million and up.
"The high end of the market is showing a lot of strength," he says, even though there's less activity than a year ago. The median sales price for the luxury market, which represents the top 10 percent of the market, was $6,704,250, a 3.9 increase over the prior year and the fifth rise in six quarters. The market share of luxury bidding wars was the third highest on record.
"There was a noticeable uptick in high-end activity despite a significant decline in new inventory," Miller says. Luxury listings were down 8.4 percent year over year, the first drop in four quarters.
Why the decline in sales was 'predictable'
In his second quarter Manhattan market report, Coury Napier, director of research at SERHANT, notes "the dramatic decline in year-over-year sales was predictable as 2021 and the first half of 2022 were record-setting years that skew the comparisons," he says.
Mortgage rates and low inventory were key factors in the second quarter. Mortgage rates exceeded 7 percent for the first time in November 2022 and have consistently stayed above 6.5 percent.
"The current mortgage rates encouraged homeowners to hold on to their lower rates from recent years," he says, causing inventory to fall and adding to the market slowdown.
Where buyers are looking for deals
In the second quarter, buyers looking for a deal headed to Manhattan's Upper East Side in search of co-ops, says Elizabeth Ann Stribling-Kivlan, senior managing director at Compass and author of her firm's market report. She says this submarket, which has relatively high inventory, accounted for 21.6 percent of sales.
In the current uncertain economic climate, she says, there's something of a stalemate going on. Buyers think they are going to get deals, while sellers are not under immediate pressure to sell, leading to a decline in market activity.
Buyers and sellers are on different pages
The real estate market has been as volatile as the stock market in the second quarter of 2023, says Frederick Warburg Peters, president of Coldwell Banker Warburg.
Writing in his firm's market report, he notes that segments of the market have slowed, even as economic conditions have improved.
"The slowdown in purchase activity can probably be attributed to differences in the perception of value between buyers and sellers," he says. With several variables in effect, including higher borrowing costs and contractor shortages, Peters says that buyers and sellers simply aren't meeting in the middle and striking deals.
'Prices may not fall further'
A quarter-over-quarter increase in Manhattan listings and deals are among the "signs of a market settling into normalcy," says Pamela Liebman, president and CEO of Corcoran, which also released a second quarter Manhattan market report.
Other signs include the slowing pace of interest rate hikes and some price relief, which may encourage buyers to get back into the market.
"Barring a significant increase in new inventory, we may not see prices fall much further. Prospective buyers should seriously consider their available options, or risk missing out on a prime opportunity to buy in Manhattan," Liebman says.
Sellers give larger discounts
A report from Bess Freedman, CEO of Brown Harris Stevens, notes that closings are much lower than they were prior to the pandemic.
"We said in the past few reports that while sales were down dramatically from the year before, they had simply returned to pre-pandemic levels. Unfortunately, that is no longer true as closings in the second quarter of 2023 were 19 percent lower than the second quarter of 2019," Freedman says.
However, with falling demand, sellers are being more negotiable, offering larger discounts compared to a year ago.
She points to easing inflation over the past year as a reason to be optimistic about the Manhattan sales market.
"While mortgage rates haven't come down as much as expected during that time, we believe that will change in the coming months. Don't expect to see 3 percent 30-year rates anytime soon, but then again, we don't need record low rates to have a
healthy housing market," Freedman writes.
Other positive signs include NYC's improving economy, returning office workers, plus the fact that the banking crisis has calmed down.
Month-over-month increase in listings
Listings have been increasing from April through June, "which is on trend for the Manhattan real estate market during this time of year," notes a report from BOND New York.
"The comparative return to 'normal' inventory and slightly elevated pending sales suggests that overall, the market is firmly out of the extreme pandemic swings in the previous three years and charting a new path independent of Covid," the report says.
Only three new developments launch
Laura Tomana, senior vice president of market research & analytics at Brown Harris Stevens Development Marketing, says waning inventory has helped maintain demand for new condo developments.
"Nearly all current new development inventory in Manhattan offers immediate occupancy, and there are few very newly launched developments," she says.
The report notes that just three new development projects launched in the second quarter, the largest of which was The Harper at 310 East 86th St. (68 units) in Yorkville. The most active neighborhood was Chelsea, which saw 50 units go into contract, while the most active building was 252 South St, with 18 contracts signed.
Brick Underground articles occasionally include the expertise of, or information about, advertising partners when relevant to the story. We will never promote an advertiser's product without making the relationship clear to our readers.