Sell
Sales drop nearly 32 percent in Brooklyn as median price hovers close to record levels
Despite plunge in sales, listings fell for the fifth, straight quarter—an unusual pattern
Comparisons with 2022's frenzied sales makes the current market appear much slower
Low inventory may be nudging buyers to accept high interest rates as the 'new norm'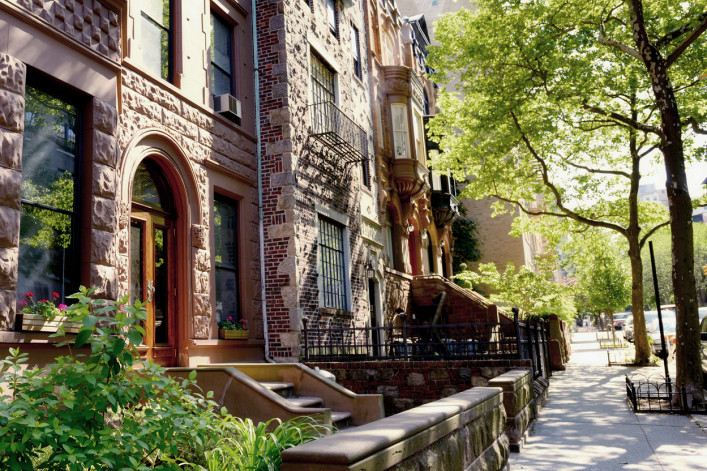 Brooklynites like to think we are so unique (me included) but our real estate market is acting just like the rest of the U.S., which is to say it is acting pretty weird.
The median sales price for Brooklyn in the second quarter was $950,000, according to the latest edition of the Elliman Report, and it has been stuck at that same, third-highest level on record for three, consecutive quarters. And that pattern is not the only oddity.
Sales dropped 31.8 percent in Brooklyn during the second quarter, the report finds. At the same time, listing inventory fell year over year for the fifth, straight quarter. In the second quarter, listings were down 9.6 percent compared to a year ago.
"You would think that when sales drop, inventory should bump up, but that's not happening," says Jonathan Miller, president and CEO of appraisal firm Miller Samuel and author of the report. Deals are down by nearly a third—"a big number," he notes.  
He points out that this odd market behavior has been playing out in real estate markets around the U.S. until recently, and that in New York City, "even before the pandemic, inventory was extremely tight."
But comparisons with the 2022 frenzied sales market make current conditions look more dire than they actually are. Miller says that the current level of Brooklyn deals is nearly on par with pre-pandemic levels—it's just being compared to a burst of sales activity, with deals that didn't close until the second or third quarter.
"The market didn't hit bottom until the fall of 2022," Miller says. (That's when mortgage rates hit 7 percent in November and really spooked buyers.) This upcoming fall is when we will see more normal comparisons.
Michael Sorrentino, senior vice president and New York general sales manager at Corcoran, which released a Brooklyn market report for the second quarter, points out that sales in Brooklyn were higher in the second quarter compared to the first quarter of 2023.
"Even as headwinds persist in Brooklyn, the second quarter saw an encouraging rebound from the start of 2023, showing signs of a market starting to normalize," Sorrentino says. Inventory remains a challenge. It fell "to one of the borough's lowest levels in the past decade," he says.
The new normal of higher interest rates
There is some consensus that buyers and sellers—the latter likely sitting on interest rates in the 3 percent range—are coming around to accept that higher interest rates are here to stay.
Lower inventory may be nudging buyers in that direction.
Fewer listings on the market and "buyers beginning to accept the new norm of elevated interest rates," is keeping Brooklyn's closing prices high, says Coury Napier, director of research at SERHANT, which released second quarter market reports for the Brooklyn residential market, Brooklyn new development, and Long Island City condos.
Townhouses are king in Kings County
Of all Brooklyn housing types, condos saw the largest drop in sales, Napier notes, falling 38.1 percent year-over-year and had the highest average price per square foot of $1,182. Houses accounted for the most sales and saw the least decline of 27 percent from the second quarter of 2002. These properties also commanded the highest median sales price of $1.125 million, he finds.
The Brooklyn townhouse market is faring better than Manhattan's, as per StreetEasy's June Market Report. The sharp decline in listings means Brownstone Brooklyn remains ever-popular and houses here are selling three times faster than townhouses in Manhattan, notes the report. Boerum Hill is the most popular neighborhood in the city for townhouses.
Hot Brooklyn areas see sales price increases
According to the market report for Brooklyn from Brown Harris Stevens, despite the sharp rise in interest rates over the past year, apartment prices have remained near record levels in many Brooklyn neighborhoods.
For Boerum Hill, Brooklyn Heights, Carroll Gardens, Cobble Hill, and Dumbo combined, the average co-op price per room was up 4 percent year-over-year, the report found.
And for Park Slope, South Slope, and Windsor Terrace combined, the average apartment price was slightly higher year-over-year, with average condo price per square foot remaining unchanged year-over-year.
In the combined Clinton Hill, Fort Greene, Navy Yard, Prospect Heights, and Vinegar Hill area, the median price increased 2 percent and the average condo price per square foot was 4 percent higher year-over-year.
What's happening in Queens and Riverdale
According to the Elliman Report: In Queens, the median sales price slipped annually for the third, straight quarter, dipping -1.9 percent to $685,000 compared to the year-ago quarter. Sales were down sharply year over year, a drop of -28.1 percent. And listings fell 8.2 percent, mirroring same strange relationship of both falling sales and sagging inventory.
The Eliman report also covers Riverdale, where the median sales price fell year over year for the second time in three quarters, dropping five percent to $342,000. Sales fell year over year for the fourth, consecutive quarter, declining 34.4 percent in the second quarter. And listings were down year over year for the fifth, consecutive quarter, falling 11.2 percent in the second quarter.
Brick Underground articles occasionally include the expertise of, or information about, advertising partners when relevant to the story. We will never promote an advertiser's product without making the relationship clear to our readers.