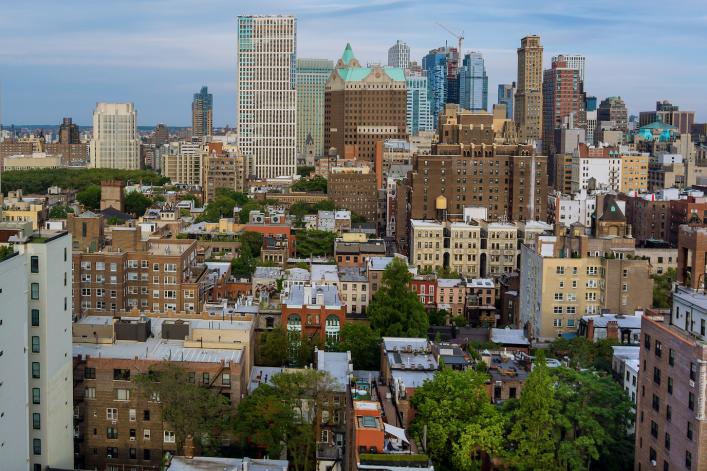 Rising mortgage interest rates and increased demand drove sales higher in Brooklyn and Queens during the first quarter of the year. According to the Elliman Report, sales activity in Brooklyn was the highest in 16 years and follows six consecutive quarters of annual increases starting in the early part of the pandemic in 2020.
In Queens, the number of first-quarter sales was the highest since 2007, after five consecutive quarters of annual increases. These sales surges occurred during the quieter winter months when buyers are traditionally less active.
This burst of activity is partly due to rising mortgage interest rates, says Jonathan Miller, president and CEO of appraisal firm Miller Samuel and the author of the report. "It has created urgency—rising mortgage rates have not been a secret," he says. There is also a lot of demand.
In Brooklyn, condo inventory slipped 1.9 percent year over year but is still 35.9 percent higher than it was pre-pandemic. In Queens it is a very similar picture. Sales for condos were up 51.6 percent year over year but inventory was down 14.3 percent year over year.
"Inventory is falling because of heavy sales, however it is still 29.9 percent above pre-pandemic levels," Miller says. This is in contrast to the record low availability of housing in the suburbs.
Miller says there's no question that the spring will be an active one for buyers, though it may be tempered somewhat by rate increases.
What does all this activity mean for apartment prices?
The median sales price in Brooklyn reached $948,500, a 5.4 percent increase compared to the same quarter last year and a new record for the seventh time in the past eight quarters. In addition, the market share of sales above $1 million rose to a record level. 
In Queens, the median sales price for the first quarter was $718,444, representing a 8.9 percent increase on the same period last year. 
The median sales price of a Brooklyn condo in the first quarter was $936,790, up a relatively modest 1.7 percent compared to the same period last year. And in fact the median sales price for a co-op—$526,750—was actually down 6.4 percent over the first quarter of last year.
Miller does not see this as an indication that prices are sliding. Instead he points out the mix of sales has changed: In the early pandemic, buyers sought out larger, more expensive apartments, but in the past year there's been a resurgence of buyers at the lower end, skewing the median sales price down. 
Pro Tip:
Getting ready to buy? Work with a local expert from the brokerage that saves New Yorkers an average of $23,000 per transaction. With Prevu, you'll pocket a rebate of two-thirds of the commission paid to the buyer's broker at closing. Click here to learn about Prevu's Smart Buyer Rebate.
Corcoran's first quarter report for Brooklyn shows record sales with strong activity from both entry level and resale co-op buyers. In Park Slope and Gowanus, the median price increased 29 percent year over year, the largest gain of any neighborhood in the borough. However, inventory in these neighborhoods saw a 49 percent decrease over the same period.
"As inventory is at a four-year low, Brooklyn continuously proves itself as one of the most desirable places to call home," says Michael Sorrentino, Corcoran's general manager of sales. 
The first quarter sales report for Brooklyn from Brown Harris Stevens noted the median price for apartments in Bensonhurst, Borough Park, and Kensington rose to $735,000, an increase of 11 percent year over year. 
The Brooklyn brownstone market boomed during the pandemic and shows no sign of slowing. Sales this past quarter were up 13 percent year over year, according to the Elliman Report. If you compare these numbers to the first quarter of 2020 before the pandemic, sales are up 91.9 percent. That's even as the median sales price of a brownstone reached $3,075,000, a 14.5 percent increase on the same period last year.
The first quarter sales report from Compass describes Brooklyn as the "juggernaut" of New York City real estate. The analysis points out that while rising mortgage rates typically would bring prices down, that is not the case in Brooklyn. "Consistent demand and low inventory levels have kept prices escalated and a sense of urgency amongst buyers," it says. 
A new benchmark for luxury sales
The threshold for what is considered luxury—represented by the top 10 percent of transactions—shifted above $2 million for the first time in a first quarter, according to SERHANT. The firm's first quarter sales report for Brooklyn puts the luxury threshold at $2,109,500, a 6.3 percent increase year over year. 
The report also finds that in the Brooklyn luxury market, the number of contracts signed for properties asking from $2 to $3 million increased 33.7 percent compared to the same period last year. 
Brown Harris Stevens Development Marketing also released a report for first quarter sales in Brooklyn new developments and found the average contract price was $1.74 million. By price point, 41 percent of contracts signed were in the $1 to 2 million range. In previous quarters it has been apartments under $1 million that have had the highest proportion of contracts signed across the borough. 
"As elevated product is delivered and the margin between Manhattan and Brooklyn narrows, the borough continues to show its strength as a standalone market," says Stephen Kliegerman, president of BHSDM.
Brick Underground articles occasionally include the expertise of, or information about, advertising partners when relevant to the story. We will never promote an advertiser's product without making the relationship clear to our readers.