Could there be a bigger, glitzier status symbol than the New York City penthouse—or better emblem of the sales market resurgence? It's hard to think of anything else that compares to living on top of a building with bird's eye views of the city spread below you.
Penthouse deals are riding the crest of the NYC sales market comeback: Recorded sales for Manhattan penthouses were up 26 percent in 2021 compared to 2019, according to ACRIS. The price range that sees the most activity, the $5 to $10 million range—had 50 sales last year—an improvement over the 45 sales in the same price range in 2019—when the luxury market was stalled.
Sales of penthouses appear to be going into even higher gear this year, with multiple bids for wallflower listings, cutthroat bidding wars, and trophy property flips.
Buyers are still drawn to the cachet of these unique properties (after all, they can only be built at the top of a building—it's not like you can make a building full of penthouses, although some developers use the term more loosely) but demand for penthouses today appears to be fueled by different factors.
Some buyers are drawn to penthouses after stints in the suburbs during the pandemic, and that experience has left them wanting similar privacy, square footage, and outdoor space. Others are hedging against inflation or have made their money in the stock market or crypto and want to shift their gains into a hard asset.
Brick spoke to brokers to get a bird's eye view of the new penthouse sales frenzy.
Suburban stints fuel penthouse demand
If you think demand is primarily coming from international pied-à-terre buyers—that's only part of the story. International buyers are back at long last, after being kept away by pandemic travel restrictions. But brokers say demand is also coming from New Yorkers looking to trade up to penthouses—including those that have had a taste of suburban living recently.
Vickey Barron, a broker at Compass, is working with a small family that's looking for a penthouse in the $15 to $22 million price range. They live in a luxury Manhattan building on the 17th floor and during the pandemic moved out of the city. Now they want to come back.
"They got used to having more space in a house outside the city, so now their priorities are outdoor space, square footage, and privacy," Barron says. She says it's a common refrain among luxury buyers. They like the fact that you can exit the elevator and have few neighbors on their floor—if any.
Of course, you can get most of that with a townhouse, but penthouses are winning over luxury buyers with their views and better light, she says.
When you compare a penthouse vs. a townhouse, "the price point for luxury properties is roughly the same," Barron says. "Plus you get all the amenities of a luxury building."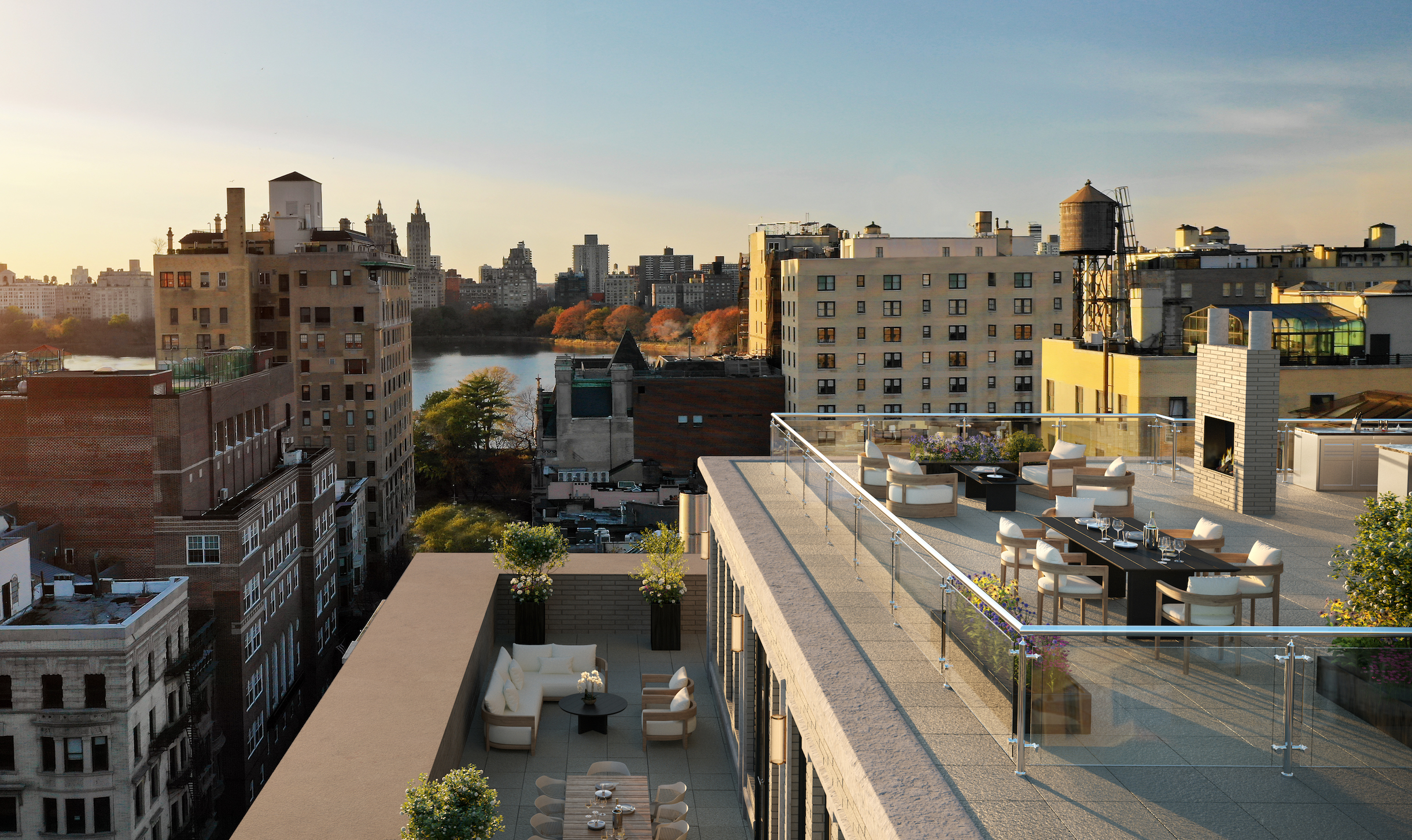 'Like a piece of artwork'
JP Forbes, an agent at Corcoran Sunshine, is leading sales at The Wales, the condo conversion of the former Hotel Wales at 1295 Madison Ave. on the Upper East Side near Central Park. A newly built $23 million penthouse there recently went on the market. It has five bedrooms, a whole floor to itself, and 3,000 square feet of outdoor space.
"It's like a piece of artwork, it's very unique," he says.
He's seeing demand from New Yorkers looking for a primary home, as well as inquiries from places like Scarsdale and suburban New Jersey. "Now that many of the highlights of city living are back" so are the buyers, he says.
Scooping up penthouse deals
There's an emotional component ("life is short") plus a different business strategy fueling this demand as buyers respond to changing economic conditions.
"Today's buyer is hedging inflation," says Louise Phillips Forbes, a broker at Brown Harris Stevens, and so "buyers are reaching farther while the numbers are still cheap."
It might be hard to reconcile "cheap" with penthouses but consider the penthouse that went into contract in January at 151 East 58th St. asking $36 million. It was listed eight years ago for $115 million, according to The Real Deal. Or the duplex condo penthouse in contract at 15 East 69th St., asking $32 million, which had been originally listed for $45 million in 2019, according to the site.
Some penthouse deals involve truly eye-popping numbers.
Earlier this year billionaire investor Daniel Och scored one of the most expensive deals ever in NYC when he sold his penthouse at 220 Central Park South for $190 million, according to the Wall Street Journal. He bought the 9,800-square-foot penthouse in 2019 for $93 million.
Celebrity pedigrees also help flip penthouses: Two months after Justin Timberlake sold his penthouse at 443 Greenwich St. for $29 million, the unit was back on the market asking $35 million.
Willing to pay even more of a premium
Forbes has the five-bedroom penthouse listing at 498 West End Ave., a new development on top of a 1910 Upper West Side landmark. After spending over two years on the market, the $12,600,000 penthouse listing got multiple offers in January and closed within 30 days.
Wealth has grown so much in NYC, Forbes notes, and buyers today are willing to pay even more of a premium for something unique. (Where is all this money coming from? One major source is Wall Street, where the average bonus climbed 20 percent to a record $257,500 for last year, CNBC reports.)
Buyers are willing to pay a premium for an iconic location, projects like The Legion condominium at 109 East 79th St. "where the developer spent years assembling the property," she says. The $32.5 million penthouse there went into contract early this year. The development—inspired by classic buildings by architects Rosario Candela and Emery Roth—is not yet finished. It is slated to be completed later this year.
Forbes says today's penthouse buyers are also planning on a longer timeline. Instead of buying and holding onto a place for the next seven years, they're thinking more like 15 years, she says, to make the most of their investment.
She points out that some penthouse deals at new developments involve international buyers who have not seen the property in person.
"That's why who the architect and developer are really matter. You know what you are getting when you buy in a Related, Naftali, or Robert A. M. Stern building," she says.
The appeal of something rare
The exclusivity of penthouses plays well with buyers "who accumulated massive amounts of wealth in the last two years," says Nicole Gary, broker at Keller Williams New York City. She has clients that made money in the stock market or crypto currency and are putting their gains in real estate.
Penthouses are rare by design, and today's inventory levels mean there's even less availability than usual. "For something really special, buyers are willing to pay more, even several millions more because they know they have a great asset," Gary says.
Who is winning penthouse bidding wars?
With more buyers than properties, today's penthouse buyers don't play by yesterday's rules. Take the buyer who beat out a client of Kobi Lahav, director of sales at Living New York, for a $6 million-plus penthouse.
Not only did they offer a bigger, all-cash bid, the other buyer waived contingencies and due diligence. Buyers paying all-cash (they may refinance later) and waiving contingencies are not unusual, but a willingness to forgo diligence seems almost shocking—how do you compete with that?
In effect, they're saying, "here's my money, where do I sign," Lahav says. "I like to be more conservative and check out the building, find out if there are any lawsuits against the sponsor, for example." (Most real estate lawyers would insist you do that.) "Buyers who are willing to waive the diligence, they don't care, they just want the apartment," he says.
Some developers release penthouses earlier
Sales launched last spring at Marlow, a luxury condo conversion of a prewar building at 150 West 82nd St. on the Upper West Side near Central Park. The building has a courtyard, gym, and landscaped roof top. Units at the fully renovated building have beamed ceilings, double hung windows, walk-in closets, as well as high-end finishes and appliances.
The two penthouse units at the Marlow are in contract, at a combined asking price of $13.88 million.
Typically, penthouses are the last units in a building to sell, explains Shaun Osher, CEO of real estate brokerage CORE. But in a shift, developers are releasing these marquee units earlier.
A penthouse sale "sets the tone for the building," Osher says, because it "gets highest price per square foot. This sends a message to the market that this is a strong building." Developers usually sell the lower units first, then the penthouse.
"Now if there is a good deal to be had, they will do it earlier," he says.
Brick Underground articles occasionally include the expertise of, or information about, advertising partners when relevant to the story. We will never promote an advertiser's product without making the relationship clear to our readers.