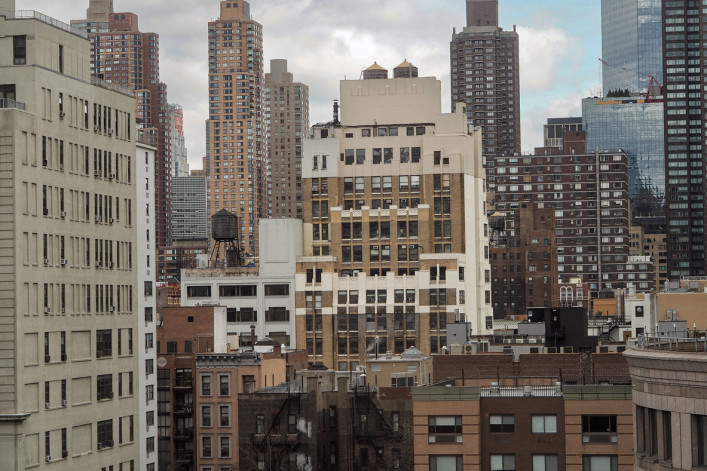 Buyers in Manhattan continue to snap up apartments at record rates. First quarter sales activity was the second highest on record and the highest for any first quarter in 33 years of tracking, according to the Elliman Report. These figures follow a strong fourth quarter, during winter months where buyers aren't typically this active.
It's a sign the market is still playing catchup from the disruption of the pandemic and that sellers remain in a strong position.
The median sales price for Manhattan apartments was $1,190,000, an increase of 10.7 percent over last year's first quarter and a 2.3 percent increase from the fourth quarter. "Everything is flying off the shelf," says Jonathan Miller, president and CEO of appraisal firm Miller Samuel and the author of the report.
He says Manhattan is essentially "nine months late to the party," one which has seen a buying frenzy in the suburbs. The median sales price for a co-op reached $825,000, up 5.8 percent from last year and exceeding pre-pandemic levels.
Condo sales were up annually by more than 50 percent to reach the most first-quarter sales in 15 years of tracking. At $1,780,096, the median sales price for a condo was up 14.8 percent year over year. In northern Manhattan—Harlem, Inwood, Washington Heights, and Fort George—sales nearly doubled year over year and were more than double pre-pandemic levels. 
Bidding wars and pricing strategies
All this surging sales activity saw the number of available apartments fall on a year-over-year basis, down 4.4 percent to 6,906. 
The squeeze on the inventory is reflected in the number of apartments going to bidding wars. Miller says in a stabilized market, between 5 and 7 percent of sales go to a bidding war. In the first quarter, 9.3 percent of sales went above asking, indicative of bidding wars. This isn't close to the record high of 31 percent in the third quarter of 2015 but it's a number that's been steadily rising from a low of 3 percent in the first quarter of 2021.
"It's rising but it's not skyrocketing," Miller says. As a comparison, he says, some of the suburbs and surrounding areas of New York City, bidding wars account for 40 to 50 percent of sales. 
Manhattan buyers can take some comfort from this. The average listing discount on an apartment in the first quarter was 4.7 percent. Miller says if an apartment is accurately priced, meaning there are no price cuts—the listing discount was 3.1 percent. However, if the apartment went through a series of price cuts, the discount was 10.8 percent. So there are sellers who are pricing apartments too high. 
"There are still people who think they can ask anything because there is very limited inventory, but that is not the case," he says. He puts this down to two factors—buyers being cautious about overpriced apartments and the fact that lending conditions are still "relatively conservative" in terms of appraisals and approvals for financing. 
Even so, Miller expects a few more quarters of "excess activity." 
New development sales below pre-pandemic levels
New development sales were nearly double year-ago levels and closed contracts rose at twice the rate of resales, but sales are still below pre-pandemic levels.
First quarter market reports for Manhattan sales and new development sales from SERHANT indicate new development priced at under $2 million reported the greatest increase in sales.
"Buyers are once again seeking out relatively affordable options, especially given rapidly rising mortgage rates and incredibly strong rental market," says Garrett Derderian, the company's director of market intelligence.
New development listings in Manhattan dropped to its lowest point in years, under 6,000 units when accounting for contracts signed that have not yet been reported, according to Brown Harris Stevens Development Marketing's first quarter Manhattan new development analysis.
There were 494 reported new development contracts signed in the first quarter, and the average contract signed price in the first quarter was $3.58 million, according to BHSDM's analysis.
"This past quarter more than doubled contract volume from first quarter 2019 and is the highest reported contract volume in the past four years for first quarters," said Stephen Kliegerman, president, Brown Harris Stevens Development Marketing. "It was an immensely strong quarter, and the drop in contract activity from the fourth quarter was a result of too few launches and too little inventory below $4 million."
What the next few months might look like 
According to Corcoran's first quarter market report for Manhattan, closed sales rose 36 percent annually to their highest first quarter level in 15 years. "With robust sales and improving prices, barring any unexpected shocks, this stellar first quarter should have everyone feeling very optimistic about another momentous year ahead," says Pamela Liebman, Corcoran's president and CEO.
This is echoed by Leonard Steinberg, chief evangelist at Compass. The brokerage released its report for Manhattan's first quarter sales. Steinberg says "a new sense of urgency to buy has engulfed Manhattan," and points to rising interest rates, rising rents, limited inventory, a return to offices, a new mayor, and the waning of Covid, as factors pushing buyers to close.
The Manhattan first quarter residential market report from Brown Harris Stevens notes apartment resales sold 28 percent faster year-over-year, with days on market averaging 102 days, the lowest since the third quarter of 2018.
Coldwell Banker Warburg's first quarter report notes a "robust" market with "brisk" sales, citing an example of a post-war four-bedroom co-op in the East 70s, which was priced just under $3 million and received a full-price offer within 24 hours.
"The second quarter seems likely to be as busy as the first," says Fredrick Warburg Peters, president of Coldwell Banker Warburg. "It may be less overheated than at this time last year, but the New York market remains a juggernaut," he says.
The first quarter market report from BOND notes price changes in the fourth quarter of 2021 and first of 2022 were smaller and suggest a slowing down or plateau in the market, where "prices may have begun to stabilize." 
Brick Underground articles occasionally include the expertise of, or information about, advertising partners when relevant to the story. We will never promote an advertiser's product without making the relationship clear to our readers.