Transitions
From the UES to East Harlem: I wanted a bigger place so now I'm renting a penthouse
Monthly rent for her new two bedroom with a patio matches what she paid for a one bedroom
There's Latin/Caribbean food, art, and music in her new nabe and Central Park is five blocks away
She lives near the street honoring music legend Tito Puente: 'That's the magic of NYC!'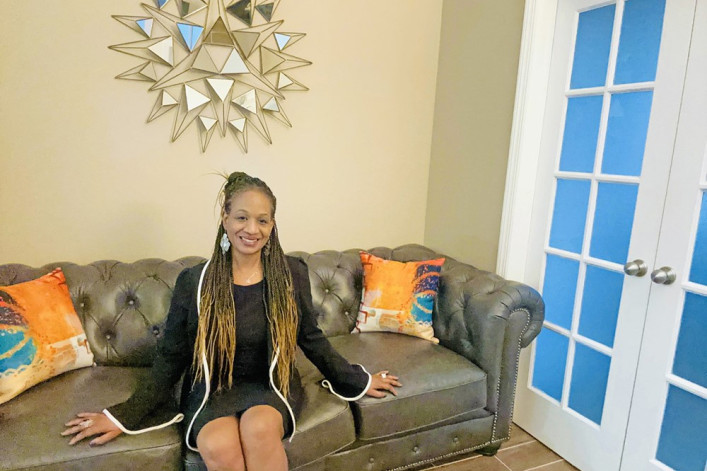 Chandler loved living on the Upper East Side, but rising rents pushed her to look farther north. She happily landed in a much bigger apartment with private outdoor space in East Harlem, where she's still close enough to her favorite haunts.
I was born at Columbia Presbyterian Hospital on the Upper West Side, my parents are Columbia University alums, and my first home was in Morningside Heights. My family lived in New Jersey for a few years before eventually moving to Texas because my mom is from there. So you could say I grew up in the suburbs of Dallas.
I went to college at American University in Washington D.C., then returned to New York City to pursue my master's degree at NYU and I've been living here ever since—over 25 years now. Time flies!
---
[Editor's Note: Brick Underground's series "Transitions" features first-person accounts of what it's like to move from one New York City neighborhood to another. Have a story to share? Drop us an email. We respect all requests for anonymity.]
---
Most recently, I was living in a one-bedroom apartment at Yorkville Towers on 92nd Street and Third Avenue, which is a doorman building. My apartment was a corner unit on a high floor. The rent was $3,150 per month. Even though there were machines in the building, I always sent my laundry out to be washed and used Seneca Crystal Cleaner.
What she liked and didn't like about her former digs
I liked the apartment's size, location, and view. I disliked the noise from my upstairs neighbors and that the complex is very large.
I also liked being so close to Central Park, The Met, The Guggenheim, and so many more of the city's best museums. I honestly can't think of anything I disliked about the neighborhood.
It has such great restaurants and bars with that local feel, especially The Drunken Munkey (for Indian) and Kaia Wine Bar (for South African). Taking my parents to Wok 88 every time they came to town became a fun tradition.
I got grocery delivery from FreshDirect, Fairway, Instacart, and Stop & Shop. I cook often, but I have some go-to order-in spots like Pio Pio for good Peruvian and THEP Thai, one of my favorite Thai places on the UES.
For social activity. I would attend lots of meet-ups for bar hopping and grabbing dinner. I often meet up with friends in Central Park for exercise, exploring, going to summer concerts…
As the director of corporate communications, branding, and design for one of the largest nonprofits in NYC, I'm grateful to be able to work remotely. I usually take Uber or Lyft to my company's various locations for meetings/events/etc. when needed.
How she landed her current apartment (a penthouse!)
This past summer, I decided to try and get more bang for my buck and began looking for a new place. My budget was a maximum rent of $3,500. I began using apartment rental listing apps.
I viewed about eight apartments over a month and a half, including a beautiful one-bedroom unit in a doorman building at 107th Street and Fifth Avenue with a fantastic view of the park. But then I found on StreetEasy a two-bedroom apartment with amazing outdoor space near 110th Street and Second Avenue for less money. I moved here in September.
I am now in a much larger place than my last—it's a penthouse with French doors, high ceilings, and a roomy balcony/patio. There's only one other tenant on the floor, so it's quiet and private, which is ideal for me since I work mostly from home. It's also unusual compared to my past NYC apartments. The building has an elevator but no doorman or other amenities. I'm basically spending about the same as I was on the UES; only electricity was included there but not in my new place.
Although I enjoyed the view at my previous apartment, I'd much rather have an outdoor space, and my new view of the city from the balcony suits me just fine. And there's another perk: The cleaning person for the building comes on Saturdays, and you can let management know you want your apartment done as well. It's free!
I still work from home, so I have no commute. But I'm close to the 6 train and the Second Avenue bus for getting around the city.  
As for the search, I've rented in NYC for 25-plus years and it took me about the same time to find this place as in the past. The main difference was the much, much higher rents—higher than ever actually—so it was harder to find a place in a neighborhood and building that I liked.
How she likes her new neighborhood
I enjoy exploring the area's rich culture—there's a reason 110th Street is known as Tito Puente Way (after the famous jazz musician) and I am soaking up all the Latin/Caribbean food, art, and music. I remember going with my parents to see Tito Puente in concert at Birdland years ago. It was an amazing performance and just reminds me of how life in the city can take you to so many new and interesting places if you're open to the possibilities. I never imagined, watching Tito Puente perform all those years ago, that one day I'd live near the street honoring him and his musical legacy. That's the magic of New York City.
So far, I've discovered a very lively and popular restaurant called The Ricardo Steakhouse as well as a Latin dance studio. Other favorites include Chu Ros Thai and Cascalote Latin Bistro. Growing up in Texas, I have a love for Mexican food, and this place definitely hits the spot when I'm craving authentic tacos al pastor.
Otherwise, not that much else has changed: I still use a service (24/7 Wash) to get my laundry picked up, washed, and delivered, I still use FreshDirect, Instacart, Fairway, and Stop and Shop to get groceries delivered. Luckily I'm still close enough to order in from all the old places.
What's more, I'm still just five blocks from Central Park, where I go for workouts when the weather permits. I'm also only a short walk or ride away from my favorite haunts near my old place, so I'm not complaining!
The friends who have come over say they love the layout of the place, the great sunlight, and the outdoor space to hang out and enjoy the view. I've only met a few neighbors so far, but I'm excited to continue to get to know my new community. So far, so great!
I'm actually considering buying a place; I'm just not sure where yet. I've been traveling to my favorite destinations to help decide if I want to stay in the NYC area or experience a different city or even another country. I see endless possibilities.
Brick Underground articles occasionally include the expertise of, or information about, advertising partners when relevant to the story. We will never promote an advertiser's product without making the relationship clear to our readers.