Transitions
From the UWS to Williamsburg: I ditched a crappy building to live closer to friends
The cheap rent couldn't offset the flooding, water damage, gas leaks, and little heat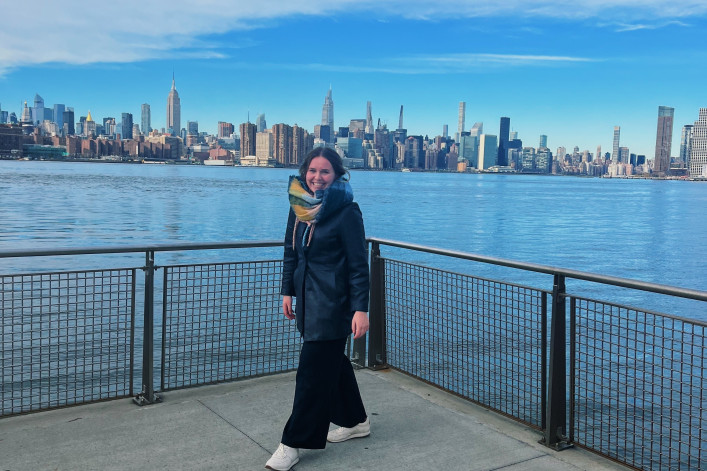 Tired of her apartment's constant state of disrepair and longing for a nabe with a younger vibe, Emma left the Upper West Side for Williamsburg. She also ditched roommate life and ended up in a quiet one bedroom in a well-maintained building. Here's her story. 
I was born and raised in a small coastal town in southern Maine. I moved to New York City in 2021 after graduating from college and now work in public relations, specializing in real estate and property technology and climate crisis solutions and innovation.
I lived on 83rd Street on the Upper West Side with a roommate I met in school. I paid half of the monthly $2,700 rent. The apartment was a pretty good size with two real bedrooms, a big communal space, and a small kitchen with a dishwasher. It was dark though—tall buildings tend to block out sunlight! There was no laundry in the building but many laundry places nearby.
---
[Editor's Note: Brick Underground's series "Transitions" features first-person accounts of what it's like to move from one New York City neighborhood to another. Have a story to share? Drop us an email. We respect all requests for anonymity.]
---
The apartment itself wasn't well cared for and the building was constantly experiencing floods. We were told it was because our upstairs neighbor often left the tub running until it overflowed, resulting in water damage in our unit. By the third time management told us that, we grew skeptical, thinking there was a bigger issue. One day I came home to find two inches of water in my bathroom from an apparent valve burst!
More problems: We had a gas leak in our unit. The water would randomly be turned off for over 24 hours without any notice. The heat infrequently worked. My roommate and I were kept on our toes;  we never knew what the place would throw at us!
What she liked about the Upper West Side 
Despite all that, the location was ideal—it's between Central Park and Riverside Park. I'm a runner and would take the paths in both parks. It was always great to be able to escape into nature for a walk or to cool down in the summer. The gardens are magical—I would escape the hustle of the city and spend an afternoon reading or strolling. I also loved being close to Lincoln Center for concerts or the ballet.
I was close to a lot of fun restaurants and bars as well. Craft + Carry was a favorite of mine—they've got the best beers and it's a really chill, laid-back environment for a date or hanging with friends. I also love Jin Ramen, which makes the most delicious and wholesome noodles. In the summer, Ellington in the Park (reopening in April) is the absolute best place to catch afternoon breezes and drink a beer. Other favorites include Levain Bakery (for cookies), Dagon (for a splurge), Peacefood (for vegan), Good Enough to Eat (for brunch), and Vin Sur Vingt (for an evening glass of wine).
There are also a good amount of grocery stores nearby. A Key Foods was a few blocks from my apartment, but I would walk 10 blocks to Trader Joe's. The Sunday farmers' market on 79th Street is such a gem—I did the majority of my weekly food shopping there.
My job is hybrid and my commute was easy on in-person days: To get to my Midtown office, I'd take the 2 or 3 train to Grand Central, and then the shuttle to Grand Central. It took just 30 to 45 minutes total!
Why she decided to move to Brooklyn
One thing that was tough about living on the UWS was that getting any of my friends to come visit me was a hard sell—it's a bit of a trek for people who lived in Brooklyn or Downtown Manhattan. Plus having a lot of young families and older folks living there was sweet and cute, but I craved a community that was closer to my age.
So, once the apartment woes reached a certain point of severity in late summer 2022, I started considering a move to northern Brooklyn, where I had always felt drawn to.
I knew I wanted to live alone, preferably in a one-bedroom apartment on a quiet street in a well-maintained building with sunlight and a nice kitchen.
I started my apartment hunt on StreetEasy but eventually worked with Gina Ko, a real estate agent at The Agency, who provided invaluable support and guidance throughout my search. It feels like I saw dozens of potential apartments over the course of three months. The market was moving really quickly, and units were disappearing within hours.
Then I finally found my current apartment in Williamsburg and, just two weeks later, I was moving in. It was crazy how fast everything went once I saw it.
I now pay $2,400 per month, which is obviously a jump from my former rent, but the added expense has not been a major financial burden.
I'm on the fifth floor of a six-story multi-family building, so I get lots of sunlight (and no more "leaks" from upstairs!) I also have great views of the stunning architecture in the area. The unit was completely gutted and updated. I don't have a dishwasher anymore (which, to be honest, I don't really miss), but I do have a top-of-the-line oven and kitchen appliances. I'm a cook, so this is fantastic for me. I still have lots of laundromats nearby, too.
How she feels about her new neighborhood
I'm a short walk to Williamsburg's main drag, and I've loved wandering around the streets as I get acclimated to the community. I love my new running loop along the boardwalk up to Greenpoint and strolling Marsha P. Johnson State Park and McCarren Park. I'm excited to take art classes and visit more of the fun cafés and hole-in-the-wall restaurants nearby.
So far, a few places that I've discovered include Align Coffee, Pencil Factory Bar, Greenpoint Beer & Ale, Thief (a 1980s-inspired bar), Fiction (a cocktail lounge and jazz venue), and Modern Love (for delicious vegan food).
For food shopping, I now have to walk about a mile to the nearest Trader Joe's; there are grocery stores that are closer but they're a bit more expensive.
My commute time is about the same, only now take the L train to the office. And I no longer have to be in a dark, cramped space when I work from home.
My friends and family love the new apartment, which is especially good for entertaining and dinner parties. In the short time I've lived here, I've already gotten closer to my friends in Brooklyn. I have absolutely no regrets. I'm so happy I took this leap!
Brick Underground articles occasionally include the expertise of, or information about, advertising partners when relevant to the story. We will never promote an advertiser's product without making the relationship clear to our readers.