Transitions
From Manhattan Valley to Bushwick: My roommate's partner moved in so I bought a condo on my own
He left a $1,450 per month rental and now pays $2,100 in monthly expenses
'I still can't believe this was the only apartment I viewed and put an offer on'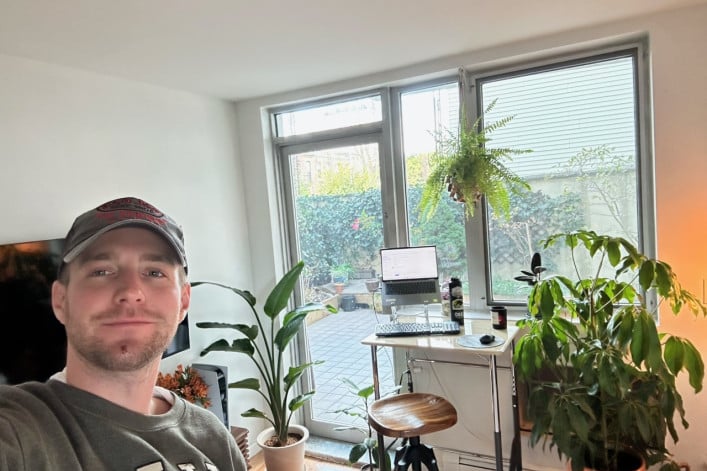 When his roommate's partner wanted to move in, Connor decided to leave his Manhattan Valley two bedroom and buy a condo in Bushwick. He says the increase in living expenses is more than worth it to have his own place, complete with a patio and roof deck. Here's his story.
I was born and raised in Overland Park, Kansas. I've been living in New York City for about two years. Most recently I was living with a roommate, who is an old friend from college, in Manhattan Valley. Our two-bedroom rental apartment is on the top floor of a five-story walk-up. It was a good deal at $2,100 per month when we first signed the lease during the pandemic. However, when our lease came up for renewal, the rent increased to $2,900. That meant my share was going from $1,050 to $1,450 per month.
It is large for the price we were paying and has a good layout, but the building is super old and definitely has quirks. Being in a walkup is a little brutal and the lobby is not the best for package deliveries. We had laundry services nearby.
---
[Editor's Note: Brick Underground's series "Transitions" features first-person accounts of what it's like to move from one New York City neighborhood to another. Have a story to share? Drop us an email. We respect all requests for anonymity.]
---
I really liked the location—it's close to Central Park and the C and 1 trains, which made getting around Manhattan easy. I work for Google and my commute to the Meatpacking District was about 30 minutes. The buses are convenient for getting to the East Side.
I usually go out near my office but there are a few nice bars in the area for a quick and casual drink, including The Consulate and Nobody Told Me. There are many options for dining or getting take out, and a great albeit expensive Whole Foods for food shopping. I also like going to Target—it's nice to have access to some big chain stores.
This past July, my roommate's significant other decided to move in and they wanted the whole apartment to themselves. This was the catalyst for me to look for my own place. I opted to buy something instead of spending money renting again.
Lucking out on the first viewing
Adam Bokunewicz, an agent at Keller Williams NYC, is an old friend of mine, so I sought his help to find me a place to buy.
I told him I wanted a place that's not too far from Manhattan and in an area with lots to do. Ideally, my total monthly expenses would be under $2,500. On my wish list: An in-unit laundry, dishwasher, and patio.
We managed to find a great condo rather quickly on StreetEasy and jumped to see it in person—a 500-square-foot two bedroom in Bushwick with a nice size bedroom and living room, plus it ticked all the boxes with a dishwasher, washer/dryer, and outdoor space. There's no elevator, but my apartment is on the second floor of a nine-unit building.
The offer-to-close process was a bit grueling—it took nearly four months! Fortunately, there was no board interview like in a co-op. We sent an offer along with a personal letter to the sellers, and after hearing there were four other offers, I increased my bid to their original asking price of $560,000. There were no other counteroffers, so I got it! I still can't believe this was the only apartment I viewed and put an offer on. Adam was extremely helpful, and I wouldn't have gotten my great new home without him.
Thanks to low monthlies and a 3 percent interest rate on the mortgage, my monthly out-of-pocket is about $2,100. The place is definitely worth the monthly increase, and I wouldn't be able to find anything this awesome for that price by renting in the city.  
The gigantic patio out back is the most striking feature of my new place, and the previous owners left an amazing garden. With the combo of my many houseplants, it's a very peaceful and green apartment.
The building has a great rooftop with a lot of potential. (We're just forming a board, so hopefully we'll do something with it soon!) The only drawback is the buzzer system leaves a lot to be desired.
Moving provided me with an interesting story: My couch wouldn't fit through the door of my new place. So that fallen soldier was picked up by someone following the Instagram account @StoopingNYC. My sofa had its 15 minutes of fame!
I got a new sofa from Inside Weather and luckily the wait time wasn't bad. I ended up going with a modular loveseat so it would come in smaller parts to fit through the door.
Loving the new neighborhood
Bushwick is not the UWS, but I love it. It's a very cool place with trendy bars and restaurants. Everyone is so nice. I've met a few neighbors and folks at coffee shops and it's just a different vibe than Manhattan.
I've already found a few staples nearby. My favorite plant store is the Little Shop of Soil. For coffee, I like Hala or Wyckoff Starr. My go-to bars are Cherry on Top and LoveJoys.
There are lots of grocery stores, including local, natural/organic options and a great Key Foods. I'm still exploring the food options, but I've found a fantastic Korean place and lots of good Mexican spots. There aren't any big-box stores like Target around, which I kind of miss.
My commute is around 35 minutes. I take the L train, which is pretty reliable on weekdays but not so much on weekends. But it's still easy enough to plan around any transportation changes.
Overall, I think both buying a place and choosing Bushwick as my new neighborhood were smart choices. I can't wait to have a dinner party on my patio in spring. And I've been so preoccupied with moving and settling in that I'm looking forward to exploring the area a bit more.
Brick Underground articles occasionally include the expertise of, or information about, advertising partners when relevant to the story. We will never promote an advertiser's product without making the relationship clear to our readers.