Transitions
From the UES to Ditmas Park: I was paying too much for a sublet and wanted a real kitchen
She left a $3,200 tiny walkup for a $1,500 rent-stabilized studio with amenities
The best part is being able to prepare meals. "I've already cooked for so many of my friends!"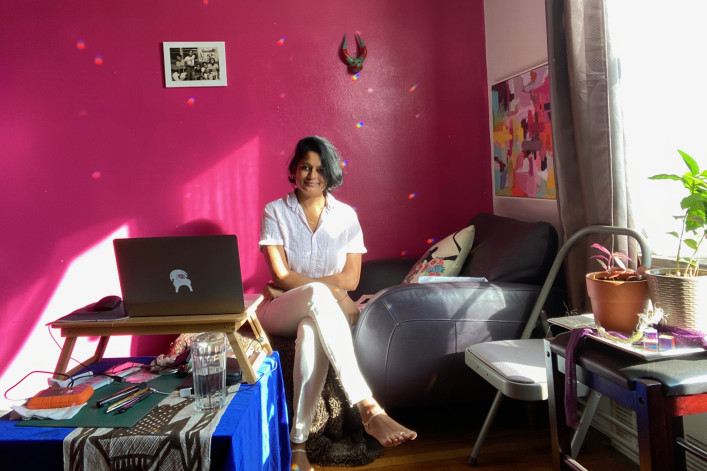 After living in a pricey, temporary sublet with a tiny kitchen on the Upper East Side, Shraddha Borawake went on a grueling search for a cheaper place with a kitchen she could actually cook in. She found a rent-stabilized studio in Ditmas Park, which she finds rich in both culture and friendliness. Here's her story.
I was born and partially raised in Pune City in the state of Maharashtra in western India. I was 20 years old when I came to New York City in 2004 to be an artist and attend a one-year diploma course at the International Center of Photography. I now work as a freelance artist, photographer, and media consultant in the area of sustainability and ethics.
Most recently, I was living on the Upper East Side in a temporary sublet, paying a whopping $3,200 for an insanely tiny one-bedroom apartment. It was barely 600 square feet and had a mini kitchen. I was on the fourth floor of a super-slim walkup building with very narrow common hallways. The hallway from the bedroom to the bathroom was the living room. Thankfully it was roach- and rodent-free, but there were no amenities. I did my laundry right downstairs at Vindy's Laundromat, a small shop owned by a Taiwanese immigrant seamstress who is called the mayor of the street because she is just wonderful and has a knack for developing an amazing relationship with her customers. 
---
[Editor's Note: Brick Underground's series "Transitions" features first-person accounts of what it's like to move from one New York City neighborhood to another. Have a story to share? Drop us an email. We respect all requests for anonymity.]
---
What she liked about the UES
I loved waking up on Second Avenue and stepping out of the apartment into Manhattan with its frenetic hustle and bustle. I also loved that Central Park was close by. Going to the Metropolitan Museum of Art on a warm day and taking in its beautiful stairs and fountain is one of my favorite activities.
My commute was pretty easy because I was right by the Q train—one of the best subway lines in NYC. Going anywhere within Manhattan is so easy, especially if you take a Citi Bike. Well, unless you are crossing rivers, but I feel like Citi Bike really opened up a new way to commute in NYC.     
The UES is buzzing with restaurants and bars! My kitchen was not big enough to cook comfortably, so I just gave up. Ordering in was far easier, as was picking up food to eat at home. Some of my favorites include Innocent Yesterday, Xian Foods (on 78th Street), and Anand Indian Cuisine.
The neighborhood also has a nice Goodwill and other thrift shops.
Why she wanted to move
In November of 2021, I decided it was time to find a more permanent home. I wanted a cheaper place and better kitchen. 
It was a grueling process—I was searching in the thick of the NYC real estate boom! I mainly searched Listings Project and StreetEasy and it was not a fun experience. I kept emailing people with the subject line "The Perfect Tenant!" because I am! I have a track record of leaving a place cleaner than I found it.
I eventually found my new Ditmas Park, Brooklyn studio on Listings Project and got it through the kindness of the landlord, who discovered my email in her spam folder and graciously gave me preference because I was the first person to contact her. 
I now live in a rent-stabilized studio in a large elevator building with a laundry room, doorman, live-in super, and even a swimming pool! The only downside is that the pipes are old and the plumbing isn't great. But the $1,500 monthly rent is a bargain. I am still shocked I found the perfect place!
The best part is having a real kitchen. I have already cooked for so many of my friends! In fact, these "family dinners" have become a weekly staple. Plus my artwork centers on food and I am currently working on creating a dinner club based on my authentic spices and secret recipes. Fortunately I've been able to find South Asian ingredients at the Flatbush Food Co-op and farmers' market as well as the Bangladeshi/Pakistani bodegas in the area.  
How she likes the new neighborhood
Ditmas Park has a beautiful mix of different cultures, with Americans of all backgrounds, strong Bangladeshi and Pakistani communities, and a large concentration of Tibetans—many of whom have lived here for generations.
It feels a little like living on the outskirts of the city, where you end up developing relationships with local vendors and if you forget your wallet, you can come back and pay them later. This is important to me because I feel like I'm part of a real neighborhood community rather than just a cog in the machine.
My neighbors are super friendly and really look out for one another. I remember when I first arrived and was invited to meet for coffee—people took the initiative to make me feel welcome, which is so precious!  
Plus all the activities on the street—the taco trucks, farmers' market on Sundays, and tag sales—help make this place so great. And I recently joined the community garden.  
Some of my favorite restaurants include Café Madelline, Pakiza Brooklyn, and Milk and Honey Café. I tend to order in more than I eat out because places are farther away.   
I'm still by the Q line so I'm happy about that. As a freelancer, I work everywhere, and the Q and trains are my main transportation systems. Of course my commute is longer into Manhattan because I am almost by Brighton Beach.
Now that I've found my special nook in the city, I'm here to stay. My old friends love to take walks with me throughout the nabe and gawk at all the amazing houses. I also made new friends at a neighborhood party. There is definitely a bonding vibe here. 
Brick Underground articles occasionally include the expertise of, or information about, advertising partners when relevant to the story. We will never promote an advertiser's product without making the relationship clear to our readers.