Transitions
From Long Island City to Gramercy: After a breakup I needed my own space and to be near friends in Manhattan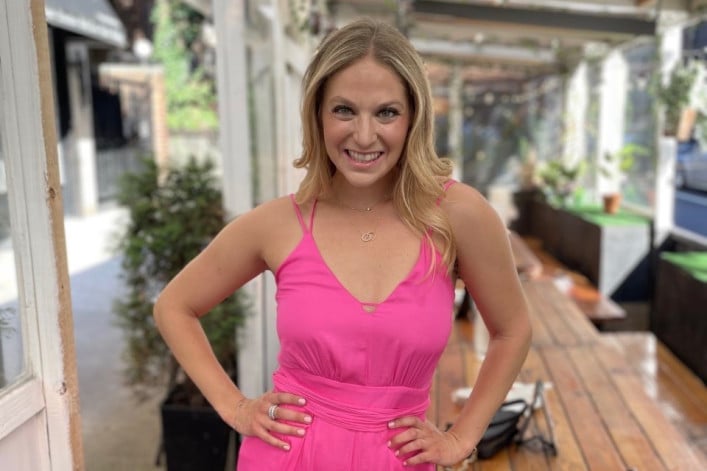 After her engagement ended, Callie needed to find a new place to live on her own. She left her Long Island City rental and headed back to Manhattan, where she found a Gramercy-area studio to launch the next chapter of her life. Here's her story.
I was born and raised in Baltimore, Maryland, and attended college in North Carolina. Eight years ago, I was working at a sports PR firm in Charlotte and quickly realized the job did not have long-term potential. One night I decided that I was going to move to New York City and gave myself a month to find a job and an apartment there. But every job I applied for required that I already be in the city. So I rented a small Airbnb in Harlem with a friend—we shared a bed!—that had no air conditioning. By the end of the month, I had found a place to live and had two job offers. I have not left since. 
Most recently I was living in the Court Square area of Long Island City with my ex-fiancé. It was a two-bedroom, two-bath rental on the seventh floor with floor-to-ceiling windows. The amenities were incredible: outdoor grills, two rooftops with amazing views of Manhattan and the surrounding areas, a great gym, and screening room. The rent was $4,200 per month. There were two laundry rooms on the first floor of the building, but the management was not great about fixing broken machines. 
---
[Editor's Note: Brick Underground's series "Transitions" features first-person accounts of what it's like to move from one New York City neighborhood to another. Have a story to share? Drop us an email. We respect all requests for anonymity.]
---
I am a director of business development for an ad tech company near Times Square, so I liked how easy my commute was. I could reach most places in Manhattan and Brooklyn by subway in a half hour or so, but I did not like having to go into Manhattan to shop, run errands, or for doctor appointments.
Although the Court Square and waterfront area are nice, I did not feel safe walking around at night because the area is very industrial.
There is not much variety when it comes to restaurants or grab-and-go food places in the area. I did love SAPPS for high-quality sushi and super-creative rolls, as well as Enoteca for wine and spirits. I could walk to a great Trader Joe's too.
Returning to Manhattan on the rebound
All my friends are either in Manhattan or Brooklyn. So when my ex and I decided to split up in February, I knew it was time for me to head back to Manhattan.
Going through a breakup is always hard, especially when you have to move out and split up everything. My friends stepped up to help me find a new apartment and I spent a lot of time searching online—I've moved six times in the eight years I've lived in NYC and didn't want to pay another broker's fee. My original budget was anywhere from $2,000 to $4,000 since I didn't know what to expect.
First I looked at an apartment in a friend's building in the 90s by the FDR but it was out of my price range. I also liked a few luxury no-fee buildings in Williamsburg but was set on being in Manhattan.
A family friend who knew about my situation told my dad about an apartment and he encouraged me to look at it, but I was a typical defiant daughter and said, "No way!" I looked at a bunch of other places before getting discouraged enough to reconsider my dad's suggestion.
Right off the bat I didn't like that it was a studio. But when I saw the apartment, I really liked the layout. I also loved the location—it's at 24th Street and Third Avenue. Plus it has a great kitchen and four closets, which was perfect since I love to cook and have a lot of shoes. I was sold despite not loving that it was on the first floor.
My new apartment is ideal for a single person. It has enough room for two seating areas for when I have people over. And my bed is tucked away towards the back, which is nice since the studio does not have an alcove. I still do not have laundry in my unit, but you always need something to strive for.
The 1970s building has had a few updates and is currently undergoing a renovation, so I have to put up with construction noise during the week—not easy when you work from home 80 percent of the time. But the doormen are amazing, and the landlords are always on top of everything. There's also a rooftop deck that will be great to use once the renovation work is over.
Loving the walkable new neighborhood
The new hood is fantastic and has great bars and restaurants. Bagel Express is my go-to breakfast place. I am a big fan of salad chains like Chopt and Just Salad and on nice days like to eat lunch at Madison Square Park. Bhati is my favorite Indian place that is also BYOB. Plus Hillstone is a great place to dine solo or have a Friday power lunch with a friend. I am obsessed with the freezes at Pressed; they're made with fake "ice cream" and satisfy my sweet cravings. Ordering in is unparalleled and can get me in trouble—anything I want is at my fingertips. 
There's a Trader Joe's and Whole Foods within walking distance, plus lots of other grocery stores in the area. I am also close to yoga and pilates studios and gyms like Barry's for my morning workouts, which is good because it's harder to run outside here than before, at least until the East River Park is no longer partly closed for construction.
On days when I go to the office, it only takes me about 20 minutes to walk up Broadway and through the park, or I'll grab a Citi Bike if I'm running late. It's also nice to be able to walk to the East Village, Nomad, and Chelsea.
My dad and future stepmom like that I'm close to Eataly. My mom loves that she can stay at EDITION or Gramercy Park Hotel. And I can comfortably fit an air mattress in my apartment when my brother comes to town (and he can bring his adorable yellow lab since the building is dog friendly). So everyone is thrilled with my new home.
The best part is living close to lots of friends. We've grown even closer because now we can grab lunch if I'm working from home or meet for a quick glass of wine.
Dating is interesting after being out of the game for a while, but at least the new nabe is packed with low-key bars and affordable restaurant options. Or I can shop for incredible ingredients at Eataly and cook dinner—always an impressive date move. 
I'm incredibly lucky to have found such a great area to settle in for now. It's the perfect place to start this new chapter of my life. 
Brick Underground articles occasionally include the expertise of, or information about, advertising partners when relevant to the story. We will never promote an advertiser's product without making the relationship clear to our readers.