Transitions
From Hell's Kitchen to Weehawken: We wanted a better quality of life and got resort-like amenities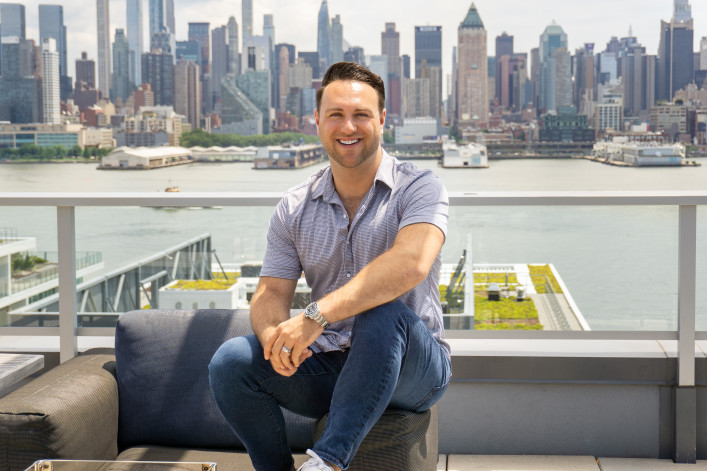 While riding out the pandemic in Hell's Kitchen, Jeff Zicker and his fiancée decided they wanted an apartment with more creature comforts. So the couple found a luxury development with resort-like amenities in Weehawken on New Jersey's Gold Coast. Here's his story.
I was born and raised in Las Vegas, Nevada, and came to New York City in 2014 to pursue a career as an actor. Although I was in the Broadway Tour of "Shrek: The Musical" and worked at a few of the best regional theaters in the U.S., I had grown unhappy in the industry. So I began working in real estate in the spring of 2016.
Most recently I lived in Hell's Kitchen, where over six years I rented two different apartments in the same building on 10th Avenue. For five of those years, I shared a 1,500-square-foot, four-bedroom duplex with three roommates. It was arguably the most ideal NYC roommate living situation. In February of 2020, when my fiancée Tiffany and I decided to move in together, there just so happened to be a one-bedroom apartment opening up on the second floor and we moved in right as Covid hit.
---
[Editor's Note: Brick Underground's series "Transitions" features first-person accounts of what it's like to move from one New York City neighborhood to another. Have a story to share? Drop us an email. We respect all requests for anonymity.]
---
Our space was nicely sized—around 780 square feet in total. The living room was large enough for a nine-foot sectional couch, plus a full six-seat dining set on the other side. Our bedroom fit a king-sized bed with plenty of room for a full desk, dressers, and nightstands. The building had a fantastic rooftop and that by far was its best amenity.
The apartment however had no laundry machines and no dishwasher. It also was rear facing, which was nice for sound (or lack thereof) but not for natural light.
The rent was $3,000 a month, which is a reasonable amount for that type of apartment in Hell's Kitchen.  I'm also a big car guy and was paying $250 a month for a townhouse garage in Astoria. So I had to take the train 30 minutes to get my car for weekend events and car shows.
Liking the convenience but not enough to stay put
Hell's Kitchen was a fantastic neighborhood to live in and offered amazing restaurants and bars. But by 2020 it had become unrecognizable, which was sad to see because Tiffany and I love going out to eat and many of our adventures were dinner dates in the area. (Our first date was at Ajisia Sushi, which did not survive the pandemic.)
We frequented Joe Allen, Becco, Bea, Briciola, Aria Wine Bar, El Centro, Arriba Arriba, and OBAO. Our favorite NYC bar for live music is The Waylon.
Most of our grocery shopping was done at Food Emporium on 43rd and 10th, one of the only options within a short walk. But it was expensive.
Living in Midtown was convenient for commuting by subway—I work all over Manhattan, Brooklyn, and Northwest Queens (namely Astoria) and could connect anywhere in the city quickly and easily at Times Square. Tiffany, who works in marketing for a hospitality company, could walk to her office on 31st Street and Seventh Avenue.
It was also a convenient place to meet up with friends from other parts of the city.
Wanted: a spacious apartment with amenities for about the same rent
We decided to make the move after being in our old apartment for less than five months. During the pandemic, we wanted more creature comforts at home and were willing to sacrifice a central NYC location to get them.
We searched for apartments on our own and contacted buildings directly because I was not yet licensed in New Jersey.
Our first stop was a new building in Astoria that offered us a much better quality of life for the exact same rent—and it was closer to where I garaged my Mustang, which seemed ideal.
We had also arranged to see several buildings along the New Jersey waterfront, including in Hoboken and Jersey City. A good friend of mine from the car world also suggested we check out the building where he lived in Weehawken, so we started our NJ tour at Veris Residential's RiverHouse 11 at Port Imperial. We immediately fell in love with the building and location and applied on the spot. [Editor's note: Rents for currently available one-bedroom units start at $3,467 a month.]
The approval process for RH11 is electronic and incredibly efficient. We received approval for our new space on the same day.
The luxury development is extremely clean and well-kept, and the amenities—everything from a pool, spa, and yoga studio to a movie theater, arcade, and golf simulator—almost make it feel like we are living at a resort.
Plus we now have an in-unit washer/dryer and dishwasher along with central heat and AC. And thanks to on-site parking, we keep a second car here.
What he likes about living in Weehawken
The building is situated in a wonderful enclave on New Jersey's Gold Coast. It's hard to beat the combination of life on the river, a simple commute, and jaw-dropping views of the Manhattan skyline.
Our only complaint is the lack of casual eateries nearby. But we love the proximity to Hoboken, where some of our favorite spots include Zack's Oak Bar & Restaurant, Grand Vin, Elysian Cafe, Amanda's, Anthony David's, and Antique Bar and Bakery.
We also love being a 15-minute drive away from Fort Lee Historic Park, an easy escape that's just across the river from Manhattan and below the GWB.
We both use the ferry to get in and out of the city. Sure, it's not as convenient as walking, and yes, there is an added cost, but we enjoy the journey. Tiffany is typically able to reach her office in under 25 minutes by riding the ferry and connecting to the free buses. If I'm working in Manhattan, I'll usually ferry over and then take the subway Downtown. Otherwise, I drive to appointments, especially if they're in New Jersey (where I am now licensed).
And now that we can drive to Trader Joe's in Hoboken and Acme in Port Imperial, our grocery bill has dropped by almost 30 percent.
How his social life is going
We have built an amazing community of friends at RH11, especially with two other couples that live in our building. We have monthly dinners together, taking advantage of amenities like the rooftop deck and outdoor grills.
My soon-to-be in-laws came to visit recently and were blown away by the quality-of-life difference here vs. Midtown. Friends of ours who visit from NYC comment on how they rethink the "Jersey stigma" the moment they get off the ferry and walk over to our building.
So even though rents are skyrocketing in the area, we have elected to stay for at least another year. We just can't see ourselves living anywhere else.
Brick Underground articles occasionally include the expertise of, or information about, advertising partners when relevant to the story. We will never promote an advertiser's product without making the relationship clear to our readers.