Transitions
From the UWS to Red Hook: We gave up great amenities and gained neighbors who look out for us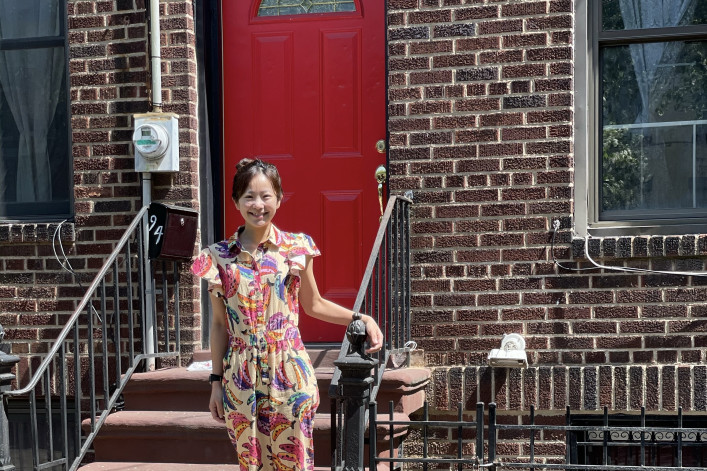 Shane and her husband left their Upper West Side rental during the pandemic but longed to return to New York City. They realized they could buy something, and that Brooklyn would be a better fit. Their search led them to Red Hook, a place that has a reputation for being isolated but turns out to be very neighborly. Here's Shane's story.
I'm originally from Taipei, Taiwan, and have been living in Manhattan for seven years. Most recently I was renting a 900-square-foot one bedroom with my husband (then boyfriend) and our dog Hugo on the Upper West Side near the river. Prior to that, we lived in Greenwich Village.
Our gross rent was $4,995, and we signed a 15-month lease with three months free. The unit had a really big walk-in closet by the entrance, and there was laundry in unit, and a stainless steel dishwasher. The bathroom was also very big.
---
[Editor's Note: Brick Underground's series "Transitions" features first-person accounts of what it's like to move from one New York City neighborhood to another. Have a story to share? Drop us an email. We respect all requests for anonymity.]
---
Building amenities were hit with our friends
I liked that the building was new and the amenities were incredible—we had a restaurant, indoor dog run, pool, really nice fitness center, private screening room, and a workshop with lots of tools, so you could assemble your furniture there or do other small projects.
The building staff were always friendly, and the dog run was a total game-changer during winter. I also really liked the view we had from the apartment.
Our building was so nice that often invited friends over to hang out in the common area. We hosted a birthday party for our friend's five year old and everyone enjoyed the outdoor patio and the indoor space.
What I disliked was the building very far away from 59 St.-Columbus Circle subway station, although the shuttle was convenient. Our floors were also slightly slanted.
A nice neighborhood, but crowded
It was fun to be close to Lincoln Center, but that meant the restaurants in the area were always crowded. Whenever we tried to grab a table at the Smith it always took a while. It was quiet though, even though it was busy.
Walking around in our neighborhood was definitely nice. The walk from our building to Central Park was one of my favorites. The pizzeria in our building has decent pizza. The grocery store next to the building, though, seemed a bit overpriced.
We ordered in from La Salle Dumpling Room a lot. There were also a couple of good options on Seamless for Indian food.
I'm a data scientist at RentHop/RealtyHop, where I focus on real estate data and editorial content. My husband runs a digital product studio.
To get to work or other places, sometimes we drove or took the shuttle to Columbus Circle to catch the train. When the weather was warm, I'd walk (around 15 minutes). But there were definitely a lot of Uber and Lyft rides in winter.
During Covid we went to upstate New York. The home we stayed in there was isolated—not in town or close to a village. It did the job of protecting us from Covid, but we missed socializing. We started looking to come back to NYC in the summer of 2020. After analyzing our finances, it made sense to buy.
Wanted: Private outdoor space and easier parking
The sales market was just picking up after the Covid downturn, and because of my job, I noticed more listings hitting the market. Brooklyn generally offers more space and the quality of life that we enjoy. We wanted a place where parking was easier and where we could have some private outdoor space for ourselves and our dog.
At first, we were interested in Dumbo and Clinton Hill, but eventually, we gravitated toward Red Hook, a beautiful, quiet, and tucked-away neighborhood with so much charm.
Sealing the deal on a townhouse in Red Hook
We did our hunt with Nadine Adamson, an agent at Brown Harris Stevens. We viewed at least five places in Dumbo and Clinton Hill, but once we decided on Red Hook, we saw five more. Then I saw a listing on my company's site for a townhouse on Pioneer Street in late September 2020—and we went for it. We reached a deal to buy it for $1.1 million later that year but didn't close until Jan. 9th. We also got engaged around this time!
We originally bid on the townhouse three doors down and lost it to another couple at the last minute. But in reality, it was a blessing in disguise, because the townhouse we eventually purchased was a lot cheaper and we were able to take out a loan to renovate it and make it into our dream house. The closing took a while but went smoothly in that our attorney worked well with the seller's attorney, and both agents were very communicative throughout.
Our townhouse has a small garden and a parking spot in the back. There are currently two bedrooms and a cellar, and we are adding another floor, which will be a primary suite.
Combining a mortgage with a renovation loan
While our mortgage is $2,000 higher because we took out a bigger loan to do the renovation, if you look at it from a per square foot perspective, it's a way better deal, not to mention that we're building equity. We have private outdoor space and a parking spot. So that's $400+ per month saved just on parking! 
Moving during the pandemic made things more challenging. The moving company we have used for many years didn't have enough people the weekend we were moving and one of the movers we hired didn't show up. It's a good thing we have a car. It made moving so much easier.
A more neighborly place
We became friendly with neighbors on our street very quickly. Everyone looks out for each other. For example if we're not home, our neighbor will take in packages for us. On weekends you can sometimes see people working on their cars on the side of the street and chatting with each other. I never had that when I was living in Manhattan.
While everyone talks about how inconvenient it is to live in Red Hook because of the lack of public transportation, we see it as an attribute. It allows us to enjoy a quieter lifestyle, and the city is only 15 minutes away by ferry. With a car, we basically can go anywhere we want in under 20 minutes. Revel is also available and we also have our own bikes. The Upper West Side somehow felt a bit more isolated than Red Hook.
Our back alley could use some maintenance and cleanup. Around July 4th last year the fireworks were insane here, but apparently, that was the case citywide, and we were more used to it this year.
Preparing for the next hurricane
Hurricane Sandy is definitely is something the neighbors about talk a lot. Since we bought the house, there had been one close call—Hurricane Ida. We were away the day of the storm and our neighbor called us because there was water going into her home from our side. Our house ended up okay. Some of our neighbors' basements were flooded.
We're worried about future floods, which is why as part of our renovation we're adding more pumps. We're also paying close attention to what the city is doing to prevent flooding in Red Hook.
Where they like to go in Red Hook
Our favorite places to eat are Red Hook Tavern, Hometown BBQ, Somtum Der, and Hoek Pizza. We love to walk to the park by the river and enjoy the sunset.
We know we made the right choice based on reaction from friends and family. When we moved from Greenwich Village to the Upper West Side, they said, "What, are you retiring/getting married?" or "An interesting choice!"
Most of my friends have had very positive reactions to our decision to move to Red Hook. I guess the neighborhood is just so charming and even a bit mysterious to most New Yorkers.
Brick Underground articles occasionally include the expertise of, or information about, advertising partners when relevant to the story. We will never promote an advertiser's product without making the relationship clear to our readers.