Transitions
From the UWS to Prospect Lefferts Gardens: I wanted space, amenities, and to be part of a community
The new roommates saw over 300 apartments online and viewed 20 in person
No more studios: Now they split a 1,000-square-foot three bedroom for $4,000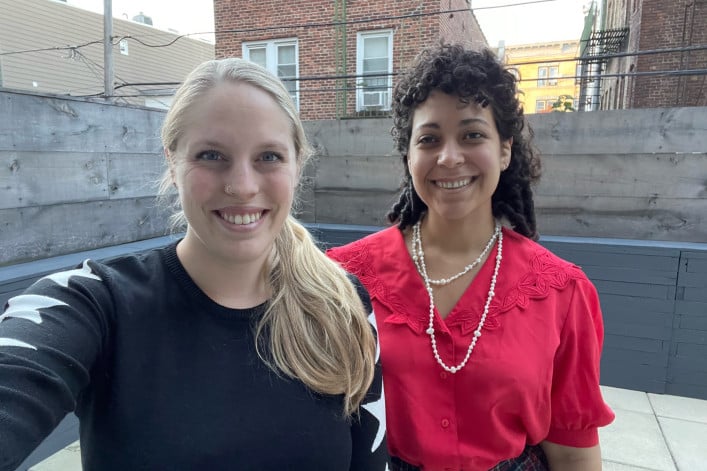 Artist and home décor store owner Caitlin Maestrini pooled her money with a new roommate to get more space and amenities in Prospect Lefferts Gardens, Brooklyn. Now her rent is about the same for a three bedroom as her former studio apartment on the Upper West Side. Here's her story.
I was born in Western Pennsylvania, outside of Pittsburgh. I originally moved to New York City in August 2017 to attend a master's program in art business at Sotheby's Institute of Art. I completed that program in December 2018 and stayed in NYC for work. I own a Scandinavian furniture, lighting, and home decor store called Teak New York. Check out @teaknewyork on Instagram. 
---
[Editor's Note: Brick Underground's series "Transitions" features first-person accounts of what it's like to move from one New York City neighborhood to another. Have a story to share? Drop us an email. We respect all requests for anonymity.]
---
After graduating, I lived in Prospect Lefferts Gardens, where I immediately fell in love with the liveliness of Prospect Park! I also felt a strong sense of community. People get to know you around the neighborhood, and I had painted a few murals in the area so felt like I was even more a part of that community. My favorite mural that I've painted is on the drop gate at J&J's Delicious Cakes on Flatbush Avenue. 
Relocating to the UWS during the pandemic
But then Covid hit and I wanted to be in a less secluded area. So in December 2020, I moved to the Upper West Side, where I rented a 500-square-foot studio with a balcony for $1,700 in an 1893 brownstone. The rent was perfect for me. I loved the architectural details, and the balcony gave me the much-needed outdoor space that I was craving.
---
[Editor's Note: Brick Underground's series "Transitions" features first-person accounts of what it's like to move from one New York City neighborhood to another. Have a story to share? Drop us an email. We respect all requests for anonymity.]
---
That said, it was a walk-up building with no amenities and just 10 apartments. The worst part was the super, who was nosy and demanding. For example, when I once put a large cardboard box in the garbage instead of the recycling bin, the super put the box in front of my door (he searched the garbage daily!) and called me at 11 pm to yell at me about it. 
What's more, Broadway became really empty of businesses during the pandemic. I also missed all the neighborhood events and public art in Brooklyn—there were no murals and very few public sculptures. 
On the other hand, my neighborhood was quiet and charming. My favorite thing to do was walk up and down Riverside Drive and West End Avenue to see all the prewar architecture. Also, Riverside Park is great. My friends and I spent a lot of time at Ellington in the Park for beers and sunset views.
Another of my favorite things to do in the area was to go to Perfect Picnic on Central Park West and 100th Street and then have a picnic near The Pool in Central Park.
Some other places I enjoy there include Moonrise Izakaya, Kouzan, Gazala's, Chama Mama, Bánh, Street Taco, Sal & Carmine Pizza.
I mostly used the 1 train to get anywhere in Manhattan, including the SoHo and NoHo areas, where I currently have a pop-up store.
Moving to a bigger space—and back to Brooklyn
This past July, I decided it was time to move. I had become friendly with a neighbor named Bianca, who lived in a studio above mine—and who is now my business partner (she is the showroom director and COO). We wanted to combine our money into a larger space and a building with amenities and a bit more privacy (e.g., without the nosy super).
I also wanted to move back to Brooklyn for the nightlife and community. (Bianca had lived in Harlem before the UWS.)
We headed to StreetEasy and searched for a real two-bedroom apartment with private outdoor space and probably considered over 300 units online from July through September, comparing floor plans and virtual walk-throughs before scheduling any in-person tours. 
First, we had to rule out listings with shared roof spaces, which fall under the "outdoor space" category on StreetEasy.
Then we had to closely inspect listings for real two bedrooms with a living room because a lot of them were one-bedroom conversions, often eliminating the living room in the process.
We ultimately ended up viewing about 20 apartments in person. This is more than other searches I've done in the past because in person the units looked nothing like what you would expect by the posted images—especially so-called "similar unit" images that were not at all like the unit being rented.
Finally, we found the one! Just looking at the website for 293LPG, we knew we hit upon something that checked all our boxes. Every unit has private elevator access, outdoor space, floor-to-ceiling windows, and central HVAC. Plus there's a large central area with open-air hallways on all six floors. We were sold on all the amenities! Those include a fitness center, rooftop deck, and indoor parking. And we now have laundry right in the building!
We went from spending $1,900 each on studios to spending $4,000 total for a 1,000-square-foot, three-bedroom apartment with two private outdoor terraces and all those amenities. So even though we aren't saving any money on rent, we are getting way more for the money we are spending. I also expect my overall living expenses to decrease because it's easier to find neighborhood deals for daily purchases.
Being back in the old neighborhood
I spend a lot of time near the Boathouse in Prospect Park. Also, there are farmers' markets on the weekends near the Arch.
There are a lot of unique restaurants on Flatbush Avenue, like Silver Rice (for sushi rolls), Ix Restaurant, Antojitos Del Patron, Bonafini, Risbo, Zurilee, and of course J&J's Delicious Cakes. 
We have access to the B, Q, 2, and 5 trains, so transportation will be easy. I love using the B and Q because it's magical to cross the Manhattan Bridge to work every day and look over lower Manhattan and DUMBO. I always look up from my phone or book to enjoy the moment.
Reconnecting with the community
We are having a big housewarming party in the coming weeks for friends, but so far everyone has been very excited for us and loves the new outdoor space. I have a lot of old friends in the area and am so happy to reconnect with them as well.
I also hope to open a permanent location for Teak New York in 2023 in Brooklyn, which was part of the reason I moved out of Manhattan. 
Speaking on behalf of Bianca, we both needed a change in our interior spaces and building environment and are thrilled to be in PLG.
Brick Underground articles occasionally include the expertise of, or information about, advertising partners when relevant to the story. We will never promote an advertiser's product without making the relationship clear to our readers.