Transitions
From the UWS to Jackson Heights: Our rent was skyrocketing so we bought in a more affordable neighborhood
Their 500-square-foot rental was going from $2,775 to $3,330 a month
They paid $469,000 for a larger one bedroom—$10,000 over asking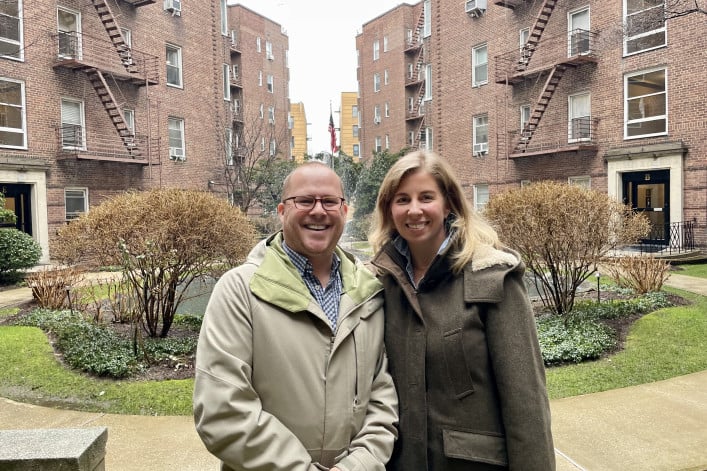 Faced with a 20 percent rent hike, Karen and Jon decided it was time to buy a co-op in a more affordable area. Although they dearly miss Central Park, they are thrilled with being new homeowners in vibrant Jackson Heights. Here's their story.
I was born in Yardley, PA, and Jon was born in Worcester, MA. Jon initially moved to New York City for work in 2002—he's an audio-visual technician—and lived in a large loft (nearly 1,900 square feet) in Bushwick. Meanwhile, I was commuting to the city from Weehawken, NJ for my then job and moved in with him in 2016.
For the last six years, however, we rented a small one bedroom (about 500 square feet) on the Upper West Side for $2,775 per month. We loved our terrace and didn't mind doing laundry in the basement of the building.
---
[Editor's Note: Brick Underground's series "Transitions" features first-person accounts of what it's like to move from one New York City neighborhood to another. Have a story to share? Drop us an email. We respect all requests for anonymity.]
---
We enjoyed living on the UWS and eating at all the incredible restaurants, including Fred's, Good Enough to Eat, Nina's Great Burrito Bar, and Modern Bread & Bagel (a full gluten-free bakery with amazing bagels and sweet things). One of our favorite things to do was going to Central Park, especially to see free concerts. We also got to experience so many cool events, like the NYC marathon and Thanksgiving Day parade.
We did our grocery shopping at Trader Joe's, Whole Foods, Gristedes, and D'Agostino's, all within walking distance. There were lots of places to order in from, too (we like using Grubhub, Uber Eats, and Postmates).
We had easy access to three subways (B, C, and 1) and the crosstown bus on 86th Street, so we could get anywhere in the city pretty easily. That was great for Jon's commute since his job took him to different areas depending on the project. I have a hybrid schedule as director of asset management for a restaurant group and on in-person days it took me about 40 minutes to get to my office on the border of SoHo and the West Village.
Why they decided to jettison their UWS rental
In the summer of 2022, we found out our landlord was going to increase our rent by 20 percent. We tried negotiating but they wouldn't even meet us halfway. We felt they only cared about money and were being unreasonable. So ultimately, we decided to move out and buy instead of renting again. It just made more sense to build equity, and certain life events left us with enough money to cover a down payment. We also decided to leave the UWS for more affordable neighborhoods.
We enlisted real estate agent Lucy Wu of BOND New York to help us find a place to purchase.
We wanted to find a one-bedroom place that was bigger than our UWS rental with plenty of closet space for under $450,000. We hoped it wouldn't face a street to minimize any noise in the home, and understood we may have to give up outdoor space to stay within budget.
It was important for us to be in a neighborhood with a strong sense of community, a park for recreational activities, and all the conveniences of neighborhood shopping and dining. So we were searching in areas like Hudson Heights, Washington Heights, and Jackson Heights.
Over the course of two months, we saw about 20 apartments. We finally found a renovated one-bedroom co-op in Jackson Heights that we loved. Thankfully there was no bidding war; the owner supposedly had one other offer but was not happy with it. We paid $469,000—$10,000 above asking price (and $19,000 over our original limit!).
Buying into a co-op is a long and intimidating process. First, the bank wants to see everything (financially), and then the co-op's management company gives you a list of about 20 things they want from you, including two personal recommendation letters from each applicant, professional recommendation letters, employment verification letters, etc. We also had a Zoom interview with two of the board members that lasted over an hour. The whole process probably took five to six months!
Fortunately, it all ended well! We love living in our apartment, which is roughly 850 square feet and has an open floorplan and upgraded kitchen with a dishwasher, which has been great. The closet space is decent, too.
Our building dates to the 1940s and was originally a rental building until it became a co-op in 2016. It's one of a handful of buildings in a gated complex with a 24/7 attendant at the gate. Overall the building's vibe is great, with a laundry room and gym in the basement.
Aside from moving costs and having to buy new furniture to fill the larger space, our monthly costs should be the same or even a little less than what we were paying on the UWS—and definitely less than we would have paid with the 20 percent rent hike. So, it's a win-win in that we are now owners without increasing our living costs.
What they like (and don't like) about their new neighborhood
We love the diversity and vibrancy of Jackson Heights—there are such intense sights, sounds, and amazing food smells!
Needless to say, there are lots of restaurants nearby, but we haven't had much time to explore. So far, we have been to The Queensboro, Ricky's Cafe, Espresso 77, Arepa Lady, and SriPraPhai a little further away for amazing Thai. We haven't ordered in from any place yet.
There are also food stores everywhere, though we miss Trader Joe's! While getting settled, we've been ordering groceries from Fresh Direct but look forward to shopping local soon.
We are a short walk (about five minutes) to the Roosevelt Ave. transit hub with five train lines, countless buses, and even a free shuttle to La Guardia. It typically takes us about 15 minutes longer to reach most places than it did when we lived on the UWS.
The only real downside is the lack of a park to speak of except for Travers Park, which has a great lawn and performance center but at two acres just doesn't compare to the beauty and space of Central Park. We miss going there. We also miss having a terrace, especially when the weather is nice. However, the streets in central Jackson Heights are lined with trees for a touch of nature.
So far, everyone we have met who lives or works in the building has been friendly. The staff does a great job of keeping the property clean and helping you with anything you need. The building has a great online bulletin board where you can post requests with the superintendent or management as well as links to helpful neighborhood websites/businesses.
Right now, we are most concerned with getting rid of stuff we have in storage in our former Bushwick building. I have a lot of music gear and CDs that we don't currently have the space for. Even after holding a huge sale over two weekends, we still have a ton of stuff to unload. If anyone is interested, we'd love to hear from you! Please email [email protected] for a price list.
Clutter aside, we are loving our new home. We've had one house guest (a friend who helped us paint the apartment), so that was nice. And we are very eager to make new friends and continue to explore this exciting area.
Brick Underground articles occasionally include the expertise of, or information about, advertising partners when relevant to the story. We will never promote an advertiser's product without making the relationship clear to our readers.