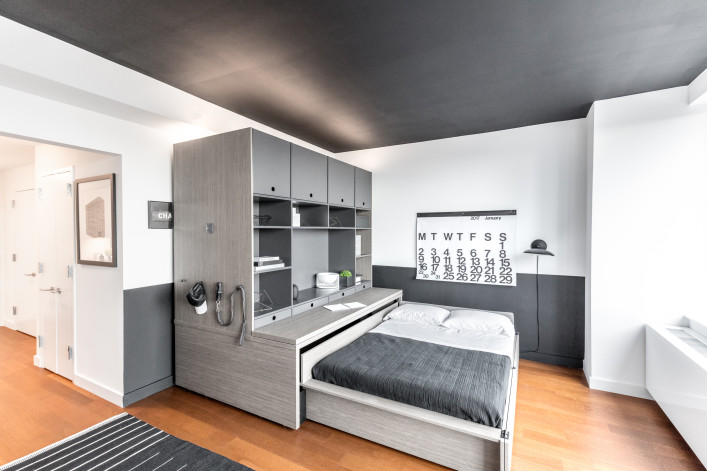 Design freaks, fans of disruption, and regular Joes living in super tiny apartments took notice when Ori, a robotic, shape-shifting, space-saving furniture contraption made its debut last spring.  
If you didn't get the Ori memo, watch this product demonstration: 
How Ori works
Offered in full and queen sizes, the morphing high-tech contraption opens and closes to reveal (and conceal) beds, work spaces, storage spaces and more—all controlled via a panel on the unit itself, or through an app, or by voice command through Amazon's Alexa or Google Assistant. It has a lot of bells and whistles, including sockets and ports for TVs, charging stations, et al., but manufacturers say it consumes 1/10 of the power of a hairdryer.
How to see an Ori in action
The $10,000 units—1,200 of which are being manufactured in an initial production run—are not yet available for individual sale. Instead, the system's company has partnered with developers in a handful of cities in North America—New York, San Francisco, Chicago, Boston, and Seattle among them—to feature the gadgets in their buildings. 
Brookfield Properties is one of those developers, and its 844-apartment 31st Street building The Eugene has the Ori in effect. 
Look now. Use it later
You can't yet move into an apartment (given its functionality and purpose, likely a studio) equipped with an Ori at The Eugene, which after a March opening is more than 60 percent leased. (Five-hundred-square-foot studios in the building are renting for $3,200 a month.)  
However, an Ori unit is available for viewing in the building. The Eugene leasing team is currently showing interested prospective tenants a model unit and collecting feedback on the offering. A development rep tells us that so far, feedback has been "good." Depending on the level of interest, the building may rent out Oris to tenants, but nothing has been finalized just yet.
Further afield, another rental building offering the Ori is Steelworks in Harrison, New Jersey, from DeBartolo Development. Similarly to The Eugene, the developer is showcasing the Ori as a possible option for prospective renters, and no set rate for having one has been established at this time. Studios at Steelworks start at $1,600 a month. 
Should you find yourself in an Ori unit, rest assured that all of them come with a warranty, although the availability of on-call repair service is unclear.  Those who fear a humiliating "death-by-Ori" scenario should fear not: the systems are equipped with built-in mechanical safeguards that make them force-sensitive, as well as software safeguards (i.e., sensing technology) to prevent mishaps. Additionally, commercially available systems will be safety-certified by a Nationally Recognized Testing Laboratory, or NRTL.
And what happens in the case of a power outage? If push (literally) comes to shove, the units can be—the horror—manually manipulated. 
Brick Underground articles occasionally include the expertise of, or information about, advertising partners when relevant to the story. We will never promote an advertiser's product without making the relationship clear to our readers.