Neighbors
Need wheels? Here are 3 (cheap!) ways to get use of a car in NYC without buying one
Borrowing your neighbor's car occasionally is ok, but for regular use you should get on their insurance plan
Under 25? Rental companies may upcharge you so consider renting a cheaper, albeit less glamorous U-Haul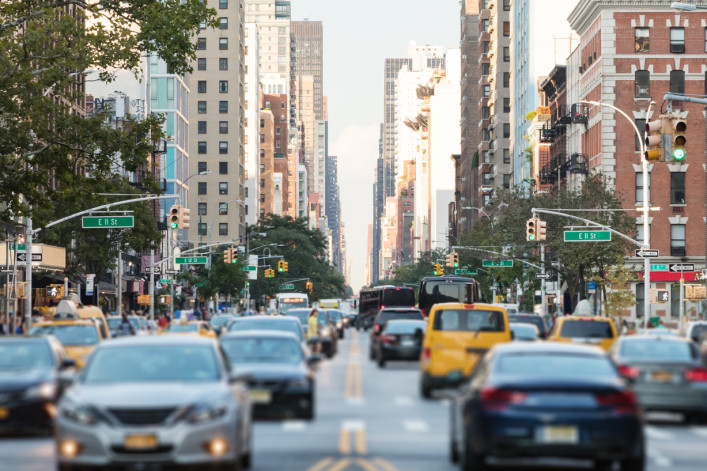 Owning a car in New York City comes with many trials and tribulations—from fighting traffic to ponying up for parking. But being without one can be frustrating for those used to the freedom of hitting the road without checking a bus schedule. 
In an ideal world, you'd have a friend willing to drive you at the drop of a hat to the doctor's office, grocery store, or go camping upstate. But if you're without rich pals with open schedules, there are still a handful of ways to get access to a car without paying top dollar for a rental. 
New Yorkers can take advantage of car-sharing companies, rent a U-Haul, or even borrow a neighbor's car. But in each case, you want to make sure you have the right insurance, says Loretta Worters, vice president of media relations at the Insurance Information Institute, an insurance industry association based in NYC.
Those who regularly rent or borrow cars might want to invest in a non-owner insurance policy, which covers expenses if you were to injure another person, damage their property, or in the case that you are sued for causing an accident. (If you just borrowed a car once or twice from a friend, you would usually be covered under their insurance policy if you cause an accident, says David Phillips, a spokesperson for State Farm.)
If you're regularly borrowing a car from one friend or neighbor, you probably should get on their insurance policy so you have the same coverage when driving, Worters says. However, that means your friend might be paying a premium for you to use their car.
Adding another person to a car insurance plan will likely raise its cost if you, the car-borrower, have a poor driving record. It's also likely to cost more even if you are just an inexperienced driver—like a younger person or someone who hasn't driven in a while—because you pose a greater risk on the road, Worters says.
William Shakespeare once wrote, "neither a borrower nor a lender be." In this case you can do either—just be careful. Avoid lending your car out to risky drivers, and if you're the borrower, make sure to talk through your friend's insurance policy and get your own coverage if you plan to keep mooching. 
"It really comes down to common sense and trust," Phillips says. "You want to make sure that you're handing those keys over to somebody that you know is going to be very responsible with your property, is not going to neglect it, and is not going to be reckless with it."
1. Try a car-sharing company
You've probably heard of car share companies like Zipcar before. In fact, you've likely seen its dedicated parking spots in NYC. There's also Kyte, which drops off and picks up your rental car from your door and charges less than a rental agency. (Check out Brick's review). 
If you've used a car-share before, you know it tends to be a bit cheaper than a traditional rental car. Zipcar offers a $9 per month membership that lets you rent a car for $12.50 an hour or $103.75 per day. Meanwhile, prices hover around $100 per day for car rental companies at JFK International Airport and jump between $200 to $400 during the Thanksgiving holiday season, Time Magazine and FinanceBuzz reported.  
Zipcar does come with downsides. The company came under fire in 2020 for keeping customers on hold for hours, providing dirty cars, or cars that were not available when Zipcar members arrived to pick up their reserved vehicle, CNN Business reported. (Zipcar previously apologized for the shortcomings and said it was working to improve the service).
You can also choose a peer-to-peer car-sharing program like Turo if Zipcar doesn't suit your fancy, or meet your schedule. Turo allows local car owners to rent out their vehicles to drivers in the area, like Airbnb on wheels. 
You can find a car in NYC on Turo for less than $100 a day, though most are concentrated in the outer boroughs and New Jersey. (That's not exactly shocking; while 45 percent of all city-dwellers owned cars as of 2018, only 22 percent of Manhattanites had their own vehicles, according to the NYC Economic Development Corporation). 
Turo offers its own insurance that you can waive if you have your own coverage. But it's crucial to look into whether your own policy includes car-sharing companies, which could be excluded from coverage since those firms are not traditional car rentals. 
It's also important to be wary of additional fees when turning to Turo for a vehicle. Turo upcharges users for pets, child safety seats and insurance. And, like many traditional car rentals, it charges a young driver fee of $50 per day for those under 21 or $30 per day for those under 25 in the U.S., NerdWallet reported. 
2. Rent a U-Haul
Those under 25 might be disappointed to learn that despite being able to drink and vote, most car rental companies will upcharge you based on your age. Car companies are required to rent to New Yorkers 18 or older, but they don't have to offer you the same price as a 30-year-old, according to Attorney General Letitia James. 
There is another, albeit less glamorous, option: rent a U-Haul. The red and white trucks might not be as stylish as a sedan but anyone 18 or over can rent one with a driver's license, according to U-Haul. You can also add an additional driver, provided they have a valid license and are 18 or older, for no extra fee.
U-Haul has become a popular, often viral option for young drivers staring down the barrel of high rental car prices. Two New York newlyweds rented a U-Haul to attend a drive-in movie theater while celebrating their anniversary last year, the New York Post reported. A Pittsburgh, Pa.-resident rented a U-Haul instead of a car for her honeymoon, cutting her $2,000 expected rental car bill in half, Forbes reported.  
U-Haul's rates start as low as $19.95 per day with another $1.99 fee per mile, making them ideal for shorter journeys. Personal auto insurance policies and credit card companies, which often offer auto insurance, usually do not cover U-Hauls, so it's important to check with your insurance provider or get outside coverage, according to U-Haul. 
3. Borrow your neighbor's car
This next idea comes from a friend, who asks to remain anonymous—she wasn't sure if car sharing with a neighbor is kosher because of the question of insurance coverage. (It is, though she might want to get on her neighbor's policy if she plans on regularly borrowing the vehicle and should look into liability insurance, as Worters explains.)
Here's how it works for our Brooklyn-based friend; let's call her Sarah: She doesn't own a car but two of her neighbors do—both have late model SUVs. If Sarah and her husband need wheels, they text their neighbors to see if either car is available, and if one is, they "rent" it for a previously agreed-upon rate of $120 per day.
"We do this at least two weeks in advance," Sarah explains, to make scheduling less stressful. She says the rate is close to what they used to pay for rental cars, but the convenience of not having to travel to downtown Brooklyn and wait in line for a rental car, then bring the car home to load it up for a trip makes this arrangement especially worthwhile. One neighbor lives next door while the other neighbor is around the corner, so retrieving the car is simple.
"Our friends appreciate getting some extra cash that we would otherwise spend on car rentals," she says. "We also enjoy the peace of mind of knowing that we're driving well-maintained cars with the latest safety features. When we used to pick up cars from the rental agencies, sometimes the previous drivers would leave the cars filthy. One time a car we booked had clearly just been in an accident."
There's another aspect of this arrangement: Sometimes the friends go out of town for extended periods and need Sarah and her husband to move their cars for alternate side parking. In this case they get use of a car for free in exchange for moving it. "When this happens, we usually just do a shopping trip or run some errands," she says.
The arrangement, she says, "has been a lovely way to conserve resources and get pain-free access to a vehicle."
Brick Underground articles occasionally include the expertise of, or information about, advertising partners when relevant to the story. We will never promote an advertiser's product without making the relationship clear to our readers.