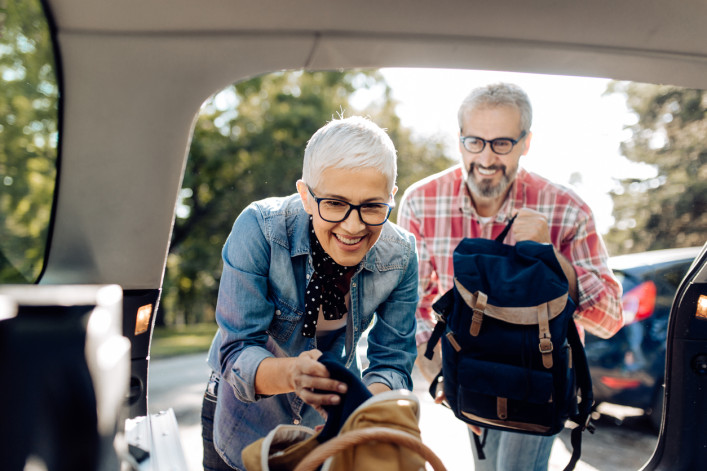 As lifelong New Yorkers who gave up our car, my husband and I recently needed wheels to get to a couple of important events in the suburbs. We tested out a new car rental company, Kyte, which brings the car to you and the results were impressive. Here's my review.
A few years ago, we decided we'd had enough of alternate side parking, DIY snow removal and the high cost of insurance, so we got rid of our car. We decided it would be much smarter to rent one whenever we wanted to leave the city. At first, we were just renting cars for our summer vacations—then our daughter moved to a town two hours from the city, so we needed a car a lot more often—and comparison shopping for car rentals became sort of an obsession for me.
How much does Kyte cost?
I found Kyte by accident—when I sat down to rent a car for our summer vacation from Enterprise—our usual go-to for car rentals, I saw that prices had hit the roof! Enterprise was charging $3,420 (about $1,000 more than last year) for four weeks. 
Seeing the quote, I surfed around and found a car rental company I'd never heard of—Kyte. The price tag for 35 days: $2,083 with delivery and pick up in front of my building included! (That's a no-frills price—I had my own insurance and we never sign up for any extras.) 
This is also cheaper than rentals from Zipcar, a company once ubiquitous in NYC and now less so—friends tell me they've had problems with their rentals getting canceled. (The company's president acknowledged these issues in a 2020 tweet.) Plus, Zipcar is more of a commitment: You need to be a member, either $9 for the month or $90 for a year. The current cost for the least expensive car, a Honda Civic, is $83 a day, secondary insurance and gas included. 
Kyte offers delivery and pick up from your address (bonus!) and the price was right, but I was worried about the never-heard-of part. I asked around and no one else I knew had heard of Kyte either. The Points Guy had, so that gave me some confidence. 
How to book a Kyte car rental
I loaded the Kyte app onto my phone and made my reservation, uploading my license and a selfie, feeling quite adventurous. That was May so I had three whole months to worry about whether my Kyte surfer (their term) would show up at noon on July 21st as scheduled. I toyed with the idea of making a backup booking with Enterprise or some other more familiar company but resisted the urge. 
All my dealings with Kyte before blast off went smoothly. I altered my travel dates at least five times and got a confirmation back quickly every time. One change request was sent at 5:44 p.m. I got the response at 5:51. When I shaved two days off my rental time, I got a credit  that same day. 
At one point I requested someone to call me to answer a question I had about the $300 deposit required but I never got a call back. I asked the question via email and got my answer right away. Phone calls are too old school it seems. Fair enough.  
What I liked about renting with Kyte 
D-Day arrived and there were a flurry of texts that morning. The website had said that I would hear from my surfer 20 minutes before he/she arrived. Sure enough that's exactly what happened. Sadiq was about 15 minutes early. "Don't rush," he said. "I'm waiting downstairs with the car. Come down when you're ready."
When we went downstairs, Sadiq offered to help us load the car! Unusual! We had asked for an economy-sized car when we booked but we had a Chevrolet Malibu waiting for us at the curb. It was spotless inside and out. (We'd had some from Enterprise that were not clean. One particularly memorable one had bottle caps and other travel debris left in the front seat during the height of the pandemic, when the company promised an especially clean car.) The trunk of the Malibu was big enough to hold three bodies (clearly, we stream too many crime shows). All our luggage fit in just fine. 
Sadiq patiently answered a few questions I had about the car—basic stuff like how do I get the trunk open and how do I adjust the driver's seat to fit my 5-foot, 1-inch frame. 
The car was a dream for the month. I even had a few free Sirius channels—we tuned to "Classic Vinyl,'' deciding that "Chill" was too staid for a summer beach vacation. Another freebie was the OnStar emergency call feature, which I activated by mistake one night while trying to turn off the overhead light. The emergency operator came in seconds and asked me how he could help—I was embarrassed but said that what I needed was instructions on how to turn him off. I imagine the feature would be very helpful in an actual emergency.
When it came time to return the car, the experience was as smooth and as pleasant at drop off as it had been at pickup. The surfer, Alleinz, couldn't have been nicer. 
Would I recommend Kyte to my friends? I already have. And I've booked a four-day rental for this month for $318. (With Enterprise, the price would have been $435.)
How does Kyte keep its prices low?
I asked Ludwig Schoenack, one of the company's co-founders, how they manage to keep their prices lower than their competitors. His response: "We're laser focused on efficiency. We don't have branches or need centralized parking structures because we deliver cars to the door from our so-called ghost garages. Given that we apply tech to all elements of the process, we're more efficient than any other market participant and can keep prices low to get more people access to cars on demand at reasonable prices."
Schoenack and two other entrepreneurs, Nikolaus Volk and Francesco Wiedermann, founded their company in late 2018, launched it to the public in February 2019 and brought it to New York in April 2021. When they started out, they were delivering the cars themselves from a garage in San Francisco. Now they have outlets in 13 cities, including Boston, Chicago, Denver, Philadelphia and Miami, and they're planning rollouts in the U.S. and internationally this year and next. 
I wasn't sure what he meant by "ghost garages" so I followed up with Schoenack: "The ghost element refers to the fact that the parking hubs are tucked away from urban life. Cities are turning parking space into outdoor dining, green areas, or other/better mobility uses, accelerated by the pandemic. We believe streets don't need to be sidelined with idle cars, they need to be put to better use while cars are stored and are invisible and only come out when they're needed," he told me. There are four of these ghost garages in the greater New York area.
Brick Underground articles occasionally include the expertise of, or information about, advertising partners when relevant to the story. We will never promote an advertiser's product without making the relationship clear to our readers.