Alex and John had saved about $400,000 for the renovation of their 1,200 square foot loft in Tribeca.  They had a clear vision of what they wanted: flip the loft's layout, add a second bedroom and bathroom, and expand the kitchen.  However, they were quickly disheartened when they met with architects to discuss their plan.  They were quoted prices as high as $200,000 over their planned budget and couldn't understand why.  "I assumed it would be a challenging but manageable process but I was quickly put off by the experience.  The first architects didn't want the business and there was little information to go by," Alex says.
Frustrated with their initial foray into the renovation process, the couple turned to Bolster, a New York City company that has designed a relatively seamless renovation experience.   Unlike other design build firms, Bolster provides homeowners with radical transparency and zero financial risk.  Through the use of a proprietary data-driven estimating tool, Bolster is able to provide homeowners with a more accurate estimate of overall costs. This is no small feat, given that half of the renovation projects in this country go 40% to 200% over budget.
"Our process allows us to absorb the typical pain points for homeowners, like delays and overruns," explains Bolster CEO and Co-Founder Fraser Patterson.  "Customers can rest assured that their renovation comes with zero financial risk, and will be delivered on time and on budget."
Alex and John met with a team of Bolster specialists to thoroughly discuss their project wish list.  They were able to see the cost of each item and why their proposed renovation would come with an actual price tag of approximately $640,000.  Armed with a more comprehensive understanding of their project, they were able to adjust their budget and expectations accordingly.  Working closely with Bolster architect Jessica Wetters, they were able to identify more cost effective alternatives while still bringing their dream home to life.  "In the end, thanks to careful planning, they really didn't have to compromise on anything," Jessica says. 
Watch the video below and then read on to find out how Alex and John realized their home renovation goals within their desired budget, zero risk of delays, and no cost overruns. 
Flipping the layout—and upgrading infrastructure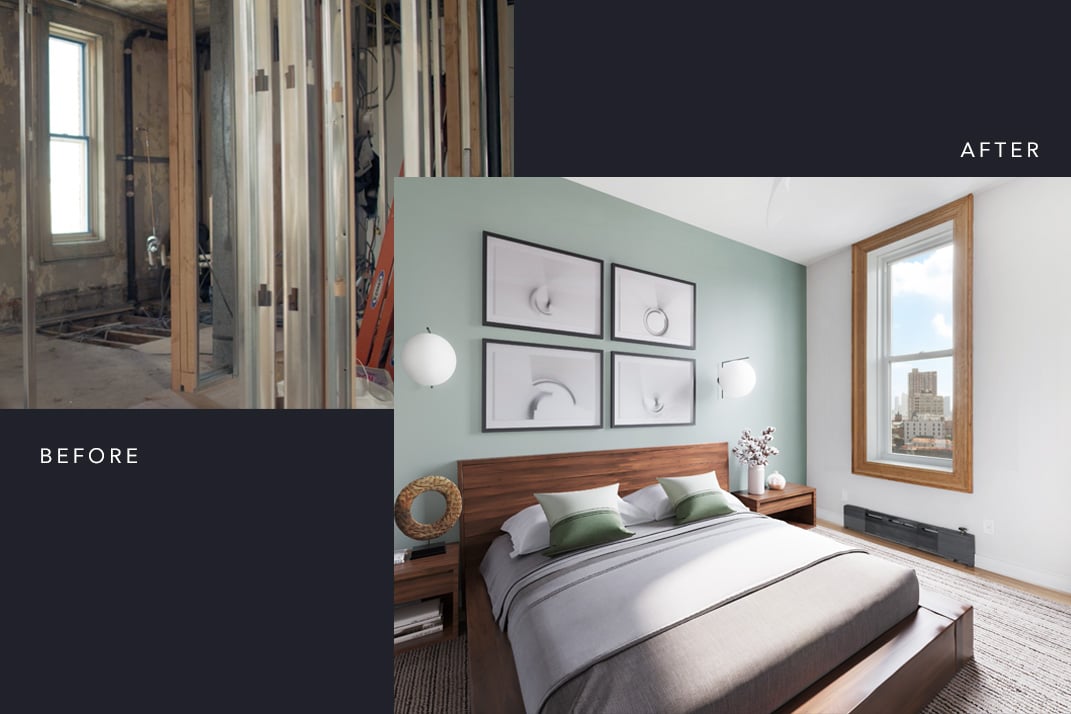 Alex and John decided to reconfigure their entire apartment, requiring a gut renovation.  The existing bedroom was moved from the front of the space to the back along with the addition of a second bedroom, second bathroom, and laundry room.  The kitchen's footprint was significantly expanded and transformed into a grander, sleeker space complete with a large island, storage, seated bar area, and new cabinetry.
Projects of this scale come with infrastructure expenses that homeowners don't always anticipate.  Working with Bolster's specialists eliminates the uncertainty.  "People are always surprised by the fact that the infrastructure work is the most expensive," Jessica says.  "It's not so much the tile or flooring, but the plumbing, electrical, and associated mechanical costs that are the big-ticket items.  Older buildings are very particular about tapping into waste pipes and exhaust ducts.  If you're building a new bathroom, it has to be in proximity to plumbing that already exists, and the condo board has to sign off on it.  A lot of these apartments also don't have sufficient electrical capacity and often require updated electrical panels.  These are costs nobody really figures into their budgets."
NYC Renovation Calculator
What's this?
About Bolster's NYC Renovation Calculator: Bolster's Renovation Calculator enables you to easily calculate the estimated cost of a major New York City renovation. All you'll need to know is 1) the scope, complexity, and type of your project, 2) the quality of your desired finishes, and 3) the area being renovated. [Hint: Bookmark this page for easy reference!]
About Bolster: Bolster is a New York City design-build firm that delivers a seamless, radically transparent renovation experience--beginning with a line-by-line cost estimate that empowers you to plan your scope, budget, and schedule.
Standard: The quality of the finish is acceptable with attention to detail but reliant on big-box store sourced cabinetry, MDF etc. 
Mid Range: The quality of the finish is good (grade A) with attention to detail but reliant on big-box store sourced cabinetry, MDF etc.
High Range: The quality of finish is high (grade AA) and customized with fine finishes and materials being used that can last years, if not a lifetime.
Upscale: The quality of finish is the highest possible (grade AAA) and labor-intensive, with every surface bespoke, new, and beautifully finished.
Low: Simple design, no layout or structural changes, elevator in building.
Medium: Average design, moving of some systems and/or structural changes, no elevator in the building.
High: Complex design, complicated engineering, lots of logistics (e.g. boom lifts, suspended scaffolds, etc.), dangerous working conditions.
Small: Changes to surfaces only (e.g. painting, tiling).
Medium: Small + Changes to the finishes themselves (e.g. removing plaster, replacing flooring etc).
Large: Small + Medium + Changes to the building's infrastructure (e.g. replacing all systems, walls, floor joists etc).
Design & Build: Full architectural services including schematic design, design development, construction drawings and approvals from the DoB and full build services.
Build with some Design: Full build services and some design with minimum compliance.
Build Only: Full build services with no design input (performed by another architect or not required at all).
Project & Site Management
0
0
Workers Comp Insurance
0
0
General Liability Insurance
0
0
Start Your Project With Bolster
Another way Bolster ensures budget compliance is through providing homeowners with more cost effective alternatives. Although Alex and John had their windows replaced, Jessica was able to preserve their original moldings, giving the apartment a touch of a classical look.  "We intended on repainting them, but their natural color was so beautiful," Jessica says.  "Even though this is now a contemporary-leaning apartment, we preserved some remnants of the original structure, and they blend really nicely together."  Another area of savings and design inspiration was the flooring.  "They also have a gorgeous natural color.  We thought we'd go with a dark stain but then everyone was blown away by how nice they already looked," Jessica explains.
The last step in the renovation process is selecting your fixtures, finishes, and appliances.  Alex and John were able to decide where they wanted to spend on luxe details or opt for something more affordable.  Alex was able to find some savings on marble countertops for the kitchen and bathroom, for instance, after some thorough research.  Keeping an eye out for sales helped the homeowners go with high-end products in many areas.  
Selecting fixtures, finishes, and appliances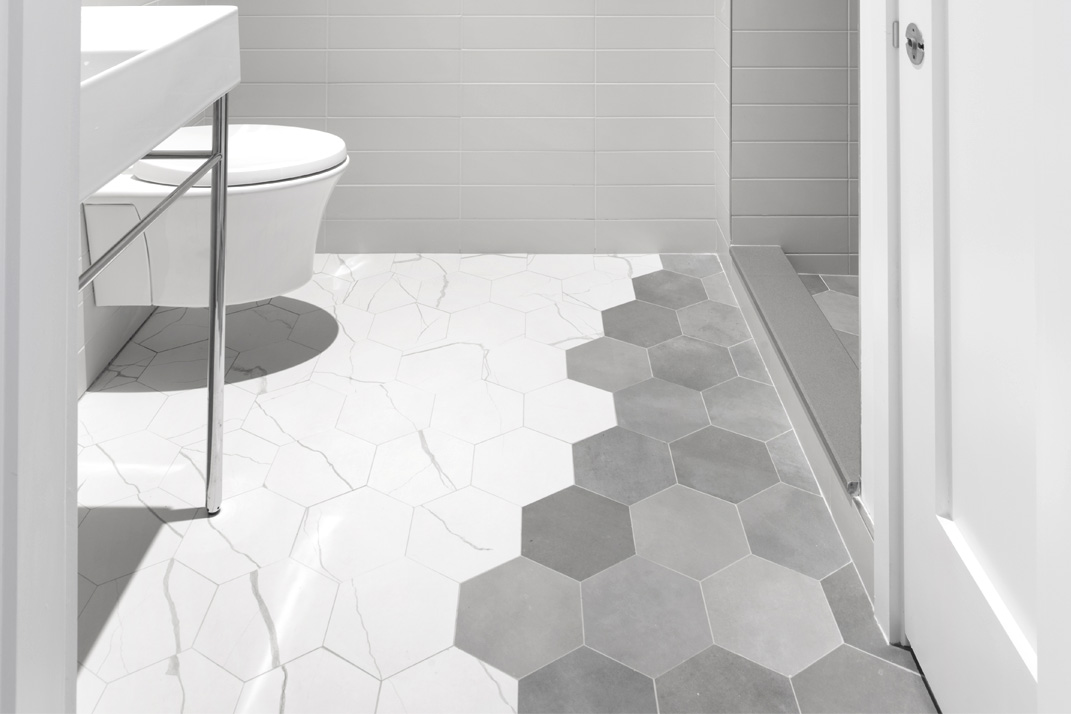 Armed with Bolster's estimating tools and the financial guarantee, the homeowners were able to proceed with a zero risk renovation on the scale they were hoping for.  Bolster's policy of radical transparency at every step of the project provided Alex and John with critical feedback for each item on their wish list.  This empowered them to make informed choices, stay within budget, and create the luxe two-bedroom loft they envisioned.
---
Every year, New Yorkers waste over $700M following the usual renovation process.
Bolster has uncovered the drivers behind these inefficiencies and has developed a proprietary solution that applies to every home renovation project. Bolster is the first company to bring radical transparency, analytics, and accountability to the entire process. They promise that every project is thoughtfully designed and beautifully delivered for a fair price, on time, and on budget. To start your major home renovation project, visit bolster.us
The Bolster Promise video