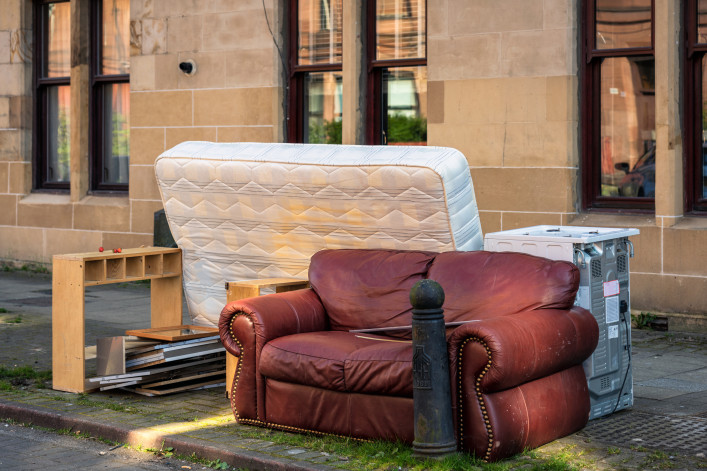 Not much in life is free but in New York City, you can always find someone giving away something. Maybe it's a couch on the sidewalk waiting for trash collection or a CraigsList post advertising free items from a moving sale. Either way, if you need a cheap (and quick) way to snag furniture for your apartment, second-hand freebies are a good way to go.
That's because it's an unspoken rule in NYC that if an item is on the sidewalk, or next to a building stoop, or outside a building's gated area, it's up for grabs. This is how I have unloaded free shoes, books, and a dining set that I didn't want. 
And these days your neighbors might use sites like Nextdoor, CraigsList, and OfferUp to advertise freebies. Why are people getting rid of seemingly good stuff? Sometimes it's not worth moving furniture to a new place—or maybe they're Marie Kondo-ing their apartment. But one person's trash is another person's treasure, right?  
Most of the time, the only consideration for these free finds is figuring out how to move them to your apartment, especially a large item like a couch or bed frame. But there are other things to ask before lugging home that chair you found on your Sunday stroll around the neighborhood. 
Read on for four questions to ask yourself before furnishing your place with freebies. 
1) How are you moving it? 
When you find free furniture on sites like NextDoor and Craigslist, it's nearly guaranteed that you will be responsible for picking it up and moving it to your place. Of course if you have a large enough car, you lucked out. But if not, you have to find an affordable way to move it or the "free" aspect is pointless. 
The easiest (and cheapest) way is to ask roommates, friends, or neighbors to help you if the item is nearby. If you need to move it from another neighborhood, consider renting a U-Haul pick-up truck because it's usually cheaper than renting a cargo van or moving truck. (My boyfriend and I rented one for just over $100 to move a newish couch we scored for $200 from the Bronx to Queens.) You can also hire a TaskRabbit to go and pick up the piece for you—if it's worth paying the cost. And if you've found multiple free items from the same place, a last resort is to hire a moving company, but this will probably cost a decent amount.
2) Are there signs of bedbugs? 
Maybe the most important thing to consider about free furniture (especially anything with upholstery like a couch) is bed bugs. You don't want to bring home something free that will cost you a lot of trouble (and money) in the long run. So if the person doesn't mention that the items are coming from a bedbug-free home, don't be afraid to ask. And if their response isn't reassuring, inspect the furniture yourself. 
How can you spot signs of bed bugs living in that free couch? Look along the seams, tags, and piping for brown or reddish spots, according to the Environmental Protection Agency. You can also look out for eggs which are pale yellow and excrement, which shows up as darker spots. If it's a table or desk, check along the corners and even in screw heads. If there are any signs of bed bugs (or other pests) you should move on. 
3) Are there broken or missing parts? 
It can be tempting to bring home something like a solid wood dresser even if there's a missing drawer, especially if it's in otherwise good condition. But there are a couple of things to consider. First, if it is missing a drawer, there's a chance someone else may have claimed it and will return to get the rest so you should move on, P.J. Gach, the user behind Instagram account nycfreeatthecurb recently told The New York Times.  
And if you think it will be easy to order a replacement piece think again: Ongoing supply chain issues are delaying deliveries for weeks or months. If you have the time, you can look for similar furniture that you can take parts from, browse stores like Big Reuse, or pay someone to refurbish it. (I have a cousin who spots abandoned furniture and antiques on the side of the road and finds ways to restore it—but we don't all have her time and commitment.)
4) Is it really worth it? 
Just because it's free, doesn't mean it's worth it. For example, items like linens should be left because they might have stains, or bedbugs. Mattresses should also be left on the sidewalk. Just because the mattress looks nicely wrapped in plastic, doesn't mean it's new and ready for you—the city requires mattresses to be wrapped in plastic for trash pick up. 
And if you already have a desk, couch, or whatever else you find, leave it for someone else who might really need it—and save the space in your apartment. Yes, it's okay to pass up freebies. 
Brick Underground articles occasionally include the expertise of, or information about, advertising partners when relevant to the story. We will never promote an advertiser's product without making the relationship clear to our readers.