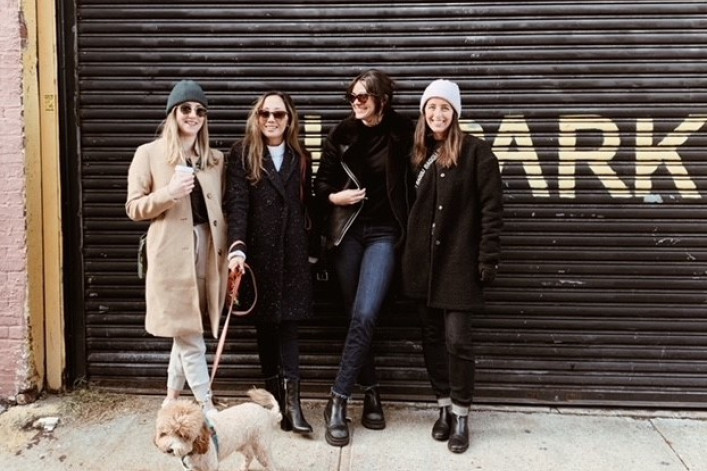 At first Jess, a corporate litigator, loves living in Williamsburg. But the area is changing and her commute is long. With interest rates dropping, she decides to buy her first New York City apartment and lands in Dumbo in a historic building that was converted to condos. She loves the quiet, picturesque cobblestone streets of her new neighborhood. Here's her story.
I was born in Seoul and adopted by my parents when I was a few months old. I grew up in the Midwest in a picturesque town that might remind one of a Norman Rockwell painting. I attended college in New York and then studied at the London School of Economics. After that I came back to New York for law school.
Most recently, I was living in South Williamsburg in a third-floor loft. It was around 1,000 square feet, and I paid around $4,000 a month in rent. There was also parking in a back lot I paid a small extra fee for and other than that, the building had no amenities, but I liked the simplicity of not having a doorman or gym. Thankfully there was a washer and dryer in my unit.
---
[Editor's Note: Brick Underground's series "Transitions" features first-person accounts of what it's like to move from one New York City neighborhood to another. Have a story to share? Drop us an email. We respect all requests for anonymity.]
---
It was a unique place to live in one of the best neighborhoods in New York. I liked the style of the four-story building—two lofts per floor—with each loft an open space that welcomed creativity. The building seemed to attract an artistic, non-transient crowd, which made it feel more like a home than the other luxury buildings I've lived in. The building is also a block away from the new Domino Park where I would often run or walk my dog Winston, a Cavapoo who is now one and a half years old.
Williamsburg is a great neighborhood to live in because of the wide variety of food, quality restaurants and bars, shopping, and proximity to cool art and music venues. I enjoyed meeting friends for drinks and did quite a bit of shopping at the vintage stores in the area.
Some of my favorite eateries in the area were: Maison Premiere, Café Mogador, Hotel Delmano, Misi, Lilia, Four Horsemen, Marlow & Sons, Rabbithole and Radegast. For coffee I went to Butler, Depanneur, Devocion, or Partners. My favorite shops were Leif and Catbird. And for being social I love Brooklyn Bowl. I did most of my food shopping at a nearby Whole Foods.
I'm a corporate litigator. I work at a large, international firm and focus on general corporate litigation, investigations, and antitrust.  I also do pro bono work in the international human rights field. On the side I write essays (and a Substack newsletter, forthcoming), and do some photography as well (see @jcpwright on Instagram). I used to walk 15 minutes and then take the L train to Midtown where my office is. This commute was a pain, especially in the winter. The L train is packed during rush hours and it took me over an hour to get to work in the mornings and evenings. 
I decided to move right before the pandemic. I love how lively Williamsburg is but my old apartment was right next to a night club/bar and the noise was getting to be too much. In addition, Williamsburg was starting to feel too commercial for me. The neighborhood seemed to be morphing into something different, perhaps less authentic.  
During the pandemic interest rates dropped substantially, and it seemed like a perfect time to look into buying a place. I had always dreamed about owning a loft, and so I began scouring the listings, primarily through Compass and StreetEasy.
I found Mary Elizabeth Smith, an agent at Corcoran, and we started to search. I was looking primarily in Brooklyn Heights, Soho, and Dumbo because I've always loved those neighborhoods and their vibes, but I was open to almost any neighborhood in Brooklyn and Manhattan. I was looking for at least 1,000 square feet at $1.3 million or less, and I was flexible on amenities.
I viewed most apartments remotely through FaceTime because I was traveling. I viewed several apartments in Brooklyn Heights, Fort Greene, and Williamsburg and put in offers on a co-op and also a condo in Brooklyn Heights and Williamsburg. 
The owners decided to go with another buyer for the co-op, and I decided not to move forward with the Williamsburg condo for a number of reasons. (I was concerned the building's reserve wasn't solid enough, there were not enough owner-occupied units, and there were high common charges.)
Then I found a condo loft, viewed it in person, and put in an offer the next day. There was no interview and I filled out a detailed questionnaire/application. I offered the asking price and ended up going slightly over at $1.26 million. There was a bit of a bidding war but the owners liked my application and decided to go with my offer even though it wasn't the highest. From offer to closing, the process took about three months. There were some delays with the mortgage because the bank was very busy at the time, but otherwise it was all surprisingly easy thanks mostly to Mary Elizabeth, who is very responsive.
I moved in May 2020. My new building is in Dumbo near Vinegar Hill. It is a landmark and was built in 1894 by Kirkman & Son, a soap company, and designed by William Bunker Tubby, the Pratt family's principal architect. The five-story, elevator building was converted into loft apartments in 2004. The building itself is very well maintained and has a doorman seven days a week from 8 a.m. to 8 p.m.
My fifth-floor loft is east- and north-facing with a view of the East River and Manhattan. It is quite a majestic space with 14-foot, vaulted ceilings. I have a washer and dryer in my apartment. The previous owners did a great job with the design, but I'm currently working with an interior designer, Crystal Sinclair (@crystailsinclairdesigns) to make it feel more like my own space.
The neighborhood is quiet and beautiful—the old cobblestone streets are still intact, and the warehouses give the neighborhood an old-school industrial vibe. Dumbo proper, with all of its shops and restaurants, is a few blocks away, as is Brooklyn Bridge Park, which is like my dog Winston's backyard. 
As for the neighborhood, I love Vinegar Hill House and Celestine, as well as Cecconis, Atrium, and Café Gitane. I have friends who are members of Dumbo House, a great place to relax and get drinks. I shop for food at Foragers (favorite grocery in New York), as well as Dumbo market. I love Front Street General for clothes, jewelry, and household items, and Le Chien Bleu for Winston. La Catrina Flower Studio is a lovely shop where I go for all of my fresh flowers. I'm still exploring the neighborhood, and I'm sure I will find many more gems.
I have been working from home because of Covid, but my commute is easier and faster now. I walk five minutes to the F train and I'm in Midtown in 30 to 35 minutes.
Lots of friends have come to visit, as well as my family! Everyone loves the loft, the neighborhood, and the building. It's very quaint and picturesque and everyone at the building is super friendly. I love being a homeowner and living in Dumbo. It's nice to be able to make renovations and make the space uniquely mine knowing it's going toward the value of something I own. I plan on staying in Dumbo for the foreseeable future. 
Brick Underground articles occasionally include the expertise of, or information about, advertising partners when relevant to the story. We will never promote an advertiser's product without making the relationship clear to our readers.