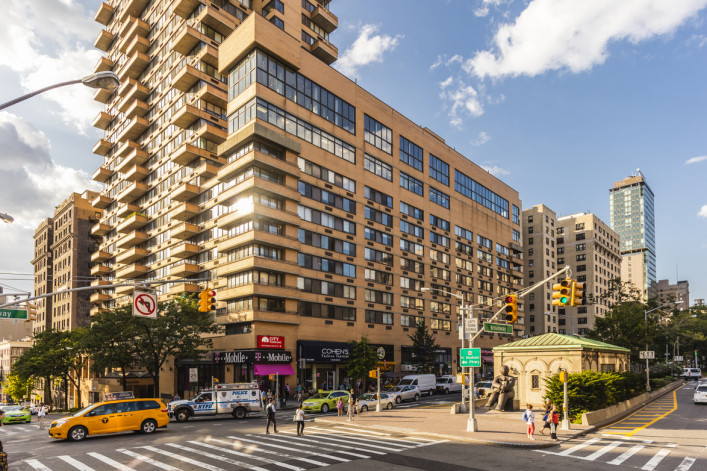 Frank had a Covid discount on his Upper East Side rental, but when it came time to renew, the landlord wanted a significant increase. That was the incentive Frank needed to buy a condo. He explains that owning real estate is really big in Chinese culture, but as an architect he had very particular apartment wish list. He found what he was looking for on the Upper West Side. Here's his story.
I was born and raised in Flushing, Queens. Most recently, I was renting on the Upper East Side. My apartment was a 1,200-square-foot, two bedroom, two-bathroom with big windows and views of the city. It had a large, walk-in closet and an open kitchen. It was in a luxury building with a doorman, concierge, gym, and roof deck.
I had a washer/dryer in my unit so that made life easy. I used to shop at Whole Foods and didn't order in much because I preferred going out and enjoying the neighborhood and the experience.  
I liked the UES because it is very clean and, in my opinion, way quieter than the West Side. However, I am a single guy, so I don't mind a little noise.
When I went out in the neighborhood to eat, I'd go to Sushi Seki and Sushi of Garibaldi's as well as Sandros for Italian. Barking Dog for brunch is good too. Equinox was close by if I wanted to work out in a place other than my own building.
I work as an architect and my office is in Midtown. Commuting was easy because I tend to take an Uber to work and back and would also sometimes ride a Citi Bike. I didn't go out much on the Upper East Side. My social life was primarily in Hell's Kitchen so I'd Uber from my neighborhood to go out and meet my friends. 
---
[Editor's Note: Brick Underground's series "Transitions" features first-person accounts of what it's like to move from one New York City neighborhood to another. Have a story to share? Drop us an email. We respect all requests for anonymity.]
---
All was fine living on the Upper East Side, but when my lease came up for renewal, things changed. My lease had started in June 2020—the rent was $7,000 with two free months—I had a discount because of the pandemic, and now my landlord was proposing a significant rent increase to—$7,900.
This was the catalyst for me to look for a place to buy. I was eager to actually own something in NYC and this year seemed the perfect time. 
I am a first-generation American and my parents really wanted me to own my own home instead of throwing money away on rent. Owning real estate is really big in Chinese culture.  
In May, I started seriously looking for a place to buy. I wanted at least 1,000 square feet, two bedrooms, two baths, luxury finishes (marble with high-end appliances), clean lines, not too far from a park, an attended lobby and it had to be under $2.5 million with a relatively low maintenance.
Having a gym in the building was on my wish list but wasn't a deal breaker because I can always go to Barry's or Equinox, which have many locations. I really wanted to live somewhere impressive so I could enjoy my best life and feel really excited about coming home. I had been saving for years and this felt like the right opportunity to get exactly what I wanted.  
I found a great real estate agent: Matylda Pearson from Corcoran. She was very helpful and showed me five apartments. I saw some great properties, including an apartment at the Apthorp, which was unfortunately out of my price range; a very fancy apartment at 2 Waterline Square, which was very modern and had great amenities but would have been a financial stretch; and a great two bedroom at the San Remo, except I decided against living in a co-op after hearing some resale horror stories.
Thankfully I was one of the first people at an open house for the Upper West Side condo I ended up purchasing. 
I loved the large windows and the partial river views, which really grabbed my attention. The hardwood floors, large marble bathroom, and immaculate kitchen really sold me. Overall, all the rooms in the 1,400-square-foot condo are extremely spacious and the place has a very positive energy. 
I love my new building—it's clean, located in a central location, and has great amenities, including a gym, yoga/Pilates room, outdoor space, and it is close to subways.
The whole process from offer to closing took about three months. Matylda negotiated the asking price down for me. The asking price was $2.6 million and I paid $2.5 million. In hindsight, if I had purchased in 2020, I am sure I could have gotten a better deal, but I still feel fortunate to get a deal below asking price, especially since it is a super aggressive seller's market now. I have friends that are in bidding wars, and it isn't a good feeling overpaying for a property.
My move wasn't bad at all; the movers did everything for me from packing boxes to unpacking them. However moving costs were definitely more expensive than my previous ones; I think movers raised their rates because of the pandemic, and I had to book 45 days in advance! They were very backed up. 
While I am not saving money right now because the cost of my mortgage payments is a bit higher than my rent— I'm paying 1,500 more each a month—I am sure this is a great investment. Ten years down the road I will absolutely be coming out ahead—my thinking is the property will significantly appreciate. I also have to pay common charges and real estate taxes, which are additional expenses. But I finally have a place that I own and it is worth it for me despite the added expenses.
The UWS has many restaurants and bars so I am very excited about living here now. Absolute Bagels has the best whitefish salad other than Zabar's and Barney Greengrass. And I love both of those two for their prepared meals. Moonrise Izakaya is good for meeting with friends and having hot sake. Sushi Kaito was good but feels like it has gone downhill since the pandemic. Bar Boulud is the fancy place I take my parents when they visit. I really am trying my best to be out and about and make new friends in the neighborhood. Hell's Kitchen is also very close for socializing and going to bars and out dancing. 
Food shopping is still great. I go to Fairway but it's usually pretty crowded compared to the Whole Foods I went to on the UES. I cook a lot and I rarely order in.  
I still primarily use Uber for all transportation so my location change hasn't affected my commuting. Citi Bike and walking are easy too, both of which I have been opting for more since the pandemic.
My parents are very happy to know I own my place. And friends love it too! It's a much easier get to Hell's Kitchen, so my friends pregame at my apartment and then head down. I have entertained and the kitchen really works for me. I love to cook and entertain and finally have a place to create elaborate meals.
The location is perfect and there are unique and quirky people around—just like me. I plan on staying a long time. Moving to the UWS is one of the best decisions I ever made.
Brick Underground articles occasionally include the expertise of, or information about, advertising partners when relevant to the story. We will never promote an advertiser's product without making the relationship clear to our readers.